In very simple terms, Business Process Management (BPM) is the science of making business processes as efficient as possible.
Before understanding business process management solutions, let's take a look at BPM as a whole.
Business process management (BPM)
BPM involves a cycle of modeling processes, executing them, and then evaluating and improving them. This is done by breaking down processes into a series of data-capturing forms, sequential tasks, and the people and systems involved in the various steps.
What is a business process management (BPM) solution?
Business Process Management (BPM) solutions are software tools designed to carry out the essential operations of business process management: namely modeling, executing, evaluating, and improving business processes to ensure optimal efficiency and productivity.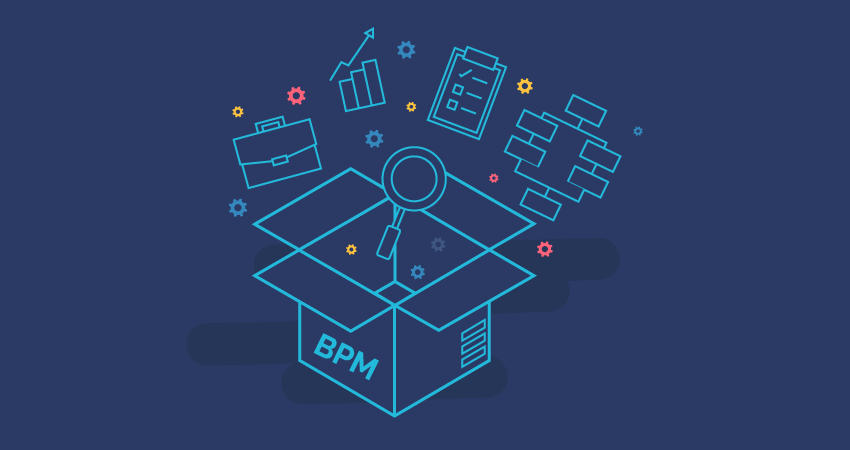 Business Process Management (BPM) solutions may be on-premise or cloud-based in terms of installation and come in a variety of shapes, sizes, and prices.
Key features that BPM solutions need
When looking for the right Business Process Management (BPM) solution for your company, look for the following crucial features.
A visual-based approach to BPM is the best way to go. With this feature, you can drag and drop common elements to define forms in your workflow or logically structured processes.
Rule-based workflows
BPM is done by arranging workflows as a sequential series of tasks, accompanied by data-collecting forms, and defining the team members involved in various stages. A rule-based workflow dictates the flow of data through a process, routing it by making logical decisions, which in turn are defined by 'rules' set by the user.
Automation in the context of BPM simply refers to the routing of data and sequential execution of tasks, without any manual intervention.
Simply modeling and executing a process won't help you carry out true BPM. For this, you'll need a good Business Process Management (BPM) solution to offer the ability to monitor, analyze, and provide insights into business processes.
Cloud technology
Most newer Business Process Management Systems(BPMS) are cloud-based, meaning they don't have to be installed on site. This makes for instant use–you can start using them the moment you complete payment. Fees are also significantly lower with a cloud-based BPM like Kissflow.
Picking the right BPM solution in 2022: Top Choices
1. Kissflow
One of the easiest Business Process Management (BPM) solutions to handle, Kissflow Process follows a visual and straightforward approach to BPM. Suitable for everything from small and medium-sized businesses to enterprise operations, this Business Process Management (BPM) solution is an affordable cloud-based choice.
A web-based drag-and-drop interface makes designing workflows quite simple, and you can choose the level of insights you want. Kissflow can be integrated with other apps like Zapier, making it quite versatile.
G2 Leader Winner 2020 – 4.3 / 5 (446 Reviews)
2. Bizagi
Also targeted at SMBs and enterprise organizations, Bizagi is available both as a cloud solution and as an on-premise software installation. Some of the functionality is lost in the cloud version, however.
Bizagi can integrate with a certain set of other software solutions and is on the slightly more expensive side of things, priced at around $800 per user. It also uses BPMN, a notation system that requires a lot of experience to work with as you design forms.
3. Nintex
Nintex follows a web-based drag-and-drop interface, similar to Kissflow. It also targets SMBs and enterprise businesses, with advanced workflows and integrations.
Pricing for Nintex is by quotation and is based on usage. In contrast to Kissflow's single product packaging, the various modules of Nintex need to be obtained separately.
⋙ Check out why these
6 BPM Software
are at the top of the competition!
Summary
You now know the basics of Business Process Management (BPM) solutions, and essential features any BPM software should have. This list is by no means a comprehensive one, but three of the more popular choices in the BPM space.
Most business process management (BPM) solutions, including Kissflow Process, offer a free trial. Try one today to see if it fits your organization's business processes.