---
You are Here: BPM Platform >> Business Process Management (BPM) Applications
---
No matter what industry you belong to, consistently improving process efficiency is crucial to growth. Ignoring business process management altogether is a surefire way to stagnate or, worse, fall behind in the competition.
What Is a BPM Application?
A BPM application is a tool that allows organizations to manage, automate, and optimize their recurring business processes. Business process management applications generally consist of a customizable digital form to collect information for the process and an automated workflow of tasks to process the information.
BPM applications come in all shapes and sizes (and price ranges), but they all exist to make processes more efficient and exert more control over the process.
Why Should I Use a Business Process Application?
The traditional pen-and-paper method of business process management is fraught with inconsistencies, loopholes, and human errors. BPM applications give you a way to exert more control over standard processes in your organization. They can reduce the time it takes to process items, improve communication, and obtain more oversight into how a process is functioning in real-time.
While legacy business process management software overcame some of those challenges, many options have proved to be inefficient with respect to time and money. Cloud business process management (BPM) applications are specifically built to address all these challenges. They are perfect to bring order to chaotic processes and improve efficiency.
Getting Started With a Business Process Management Application
BPM applications are easy to use if you pick the right platform. Some BPM application platforms require you to know a lot of coding, or be well-versed in specific process terminology and notation. A solution like Kissflow can help you build your own application without any coding. All you need to know is exactly how you want the process to run.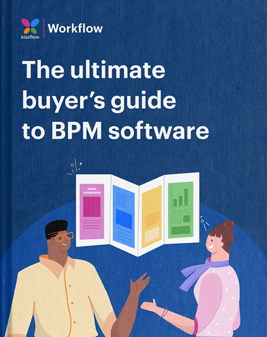 #Free eBook
The Ultimate Buyers guide to BPM Software
Here's a quick overview of how simple it is to build a BPM application inside Kissflow.
1. Choose the appropriate app
Kissflow has 40+ business process management applications ready for you to use. There are apps for HR, procurement, finance, and many more. Find the BPM application you want and install it.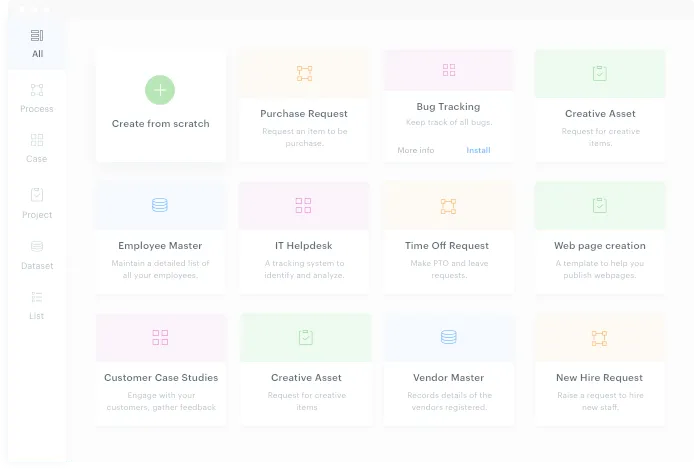 2. Design the form
After installing the BPM application, you'll want to customize it to your needs. Start with the automated form. With the drag-and-drop interface and over 14 types of fields, you can capture almost any kind of data you need. You can also create pre-populated fields, add tables, group similar data into sections, and use logic to design a comprehensive form.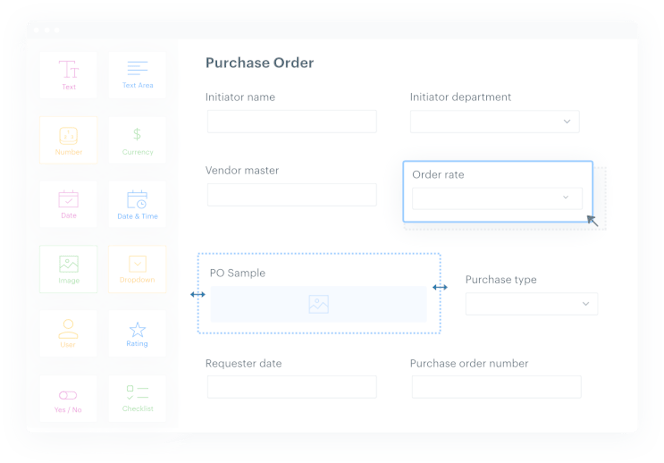 3. Define the workflow
The next step in customizing your BPM application is to look at the workflow. Here you can set deadlines, create conditions, and model your process. Kissflow allows you to create simple or complex workflows depending on the nature of the process.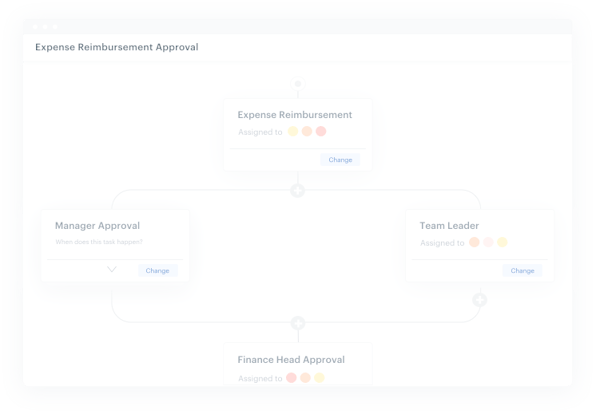 4. Change permissions
At this stage, you can boost the security of your business process management application data by setting role-based access. You can decide if certain fields should be editable, read-only or hidden for every task, or set the permissions based on individual tasks.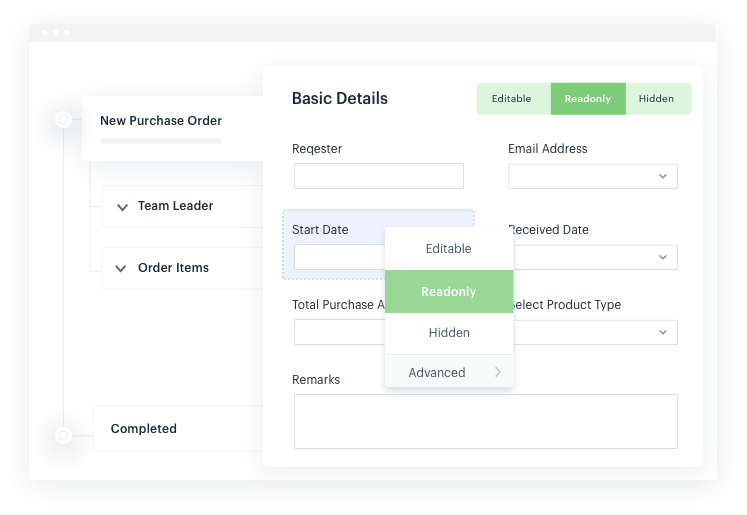 5. Publish and begin the workflow
A single click makes your BPM application live. No matter what device you use, you can manage your process with ease. You can choose which users have access and control the rollout.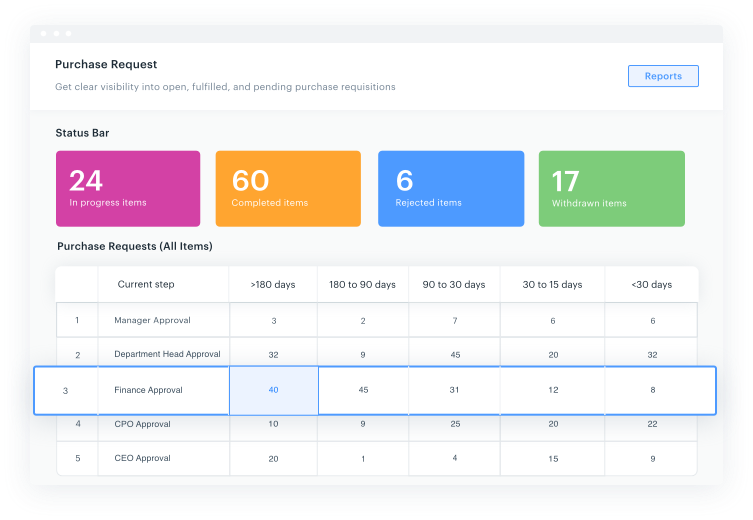 6.
Monitor progress

Optimize your BPM application on the go by identifying bottlenecks and inefficiencies. Status notifications and status tracking allow you to stay updated on the estimated time of completion.
Where Can a Business Process Management Application Make a Difference?
Given that BPM applications are built purely to improve productivity, any industry can benefit from using them. Here are some areas where they are being used extensively and with great results.
Purchase Order Process
When it comes to purchase orders, multiple details can get lost along the way and cause unnecessary upheaval.
Some of the major stages include:
Purchase order creation and approval process
Processing the purchase order
Delivery
Payment
Since organizations need multiple purchase orders fulfilled on a regular basis to keep their businesses running, it is extremely risky not to have a watertight workflow in place. Business process management applications can make the entire purchase order process from creating an online purchase order till the payment, elegantly simple and provide accountability at every important juncture.
Content Marketing
Content marketing as a process can often seem deceptively straightforward. The truth is that there are many tasks go into producing the final output.
Some aspects of content marketing include:
Writing
Editing
Designing
Optimizing content for search engines
Publishing
Distribution
Monitoring
Analytics and insights
BPM applications not only provide smooth workflows for content marketing processes, but they also allow stakeholders to identify redundancies and inefficiencies and fix them to achieve desired marketing outcomes.
Healthcare Management
The process of healthcare management can be very arduous if not done right. Poor admissions and discharge process workflows alone can increase patients' trauma.
Admissions process involves multiple stages such as collecting patient information, obtaining medical records, checking insurance details, accommodating room preferences, and so on.
During the discharge process, hospital staff need to complete tasks such as
Bill generation in consultation with various departments such as nursing team, surgical team, housekeeping team, and so on.
Obtaining approval and payment from insurance companies to settle bills.
Providing discharge summaries with input from relevant medical departments and
Setting up follow-up appointments.
Taking Efficiency to the Next Level
BPM applications can ensure that no details are lost and the processes are executed smoothly thereby improving staff productivity as well as offering employees a hassle-free experience. Cloud BPM applications can elevate your organization's productivity and efficiency and give you a significant advantage against your competitors.
Keen on taking your organization's productivity to the next level? Kissflow's BPM solution allow you to build custom business processes that can respond quickly to changes without overburdening your IT team. Learn how Kissflow allows you to visualize processes, collaborate across different teams, automate repetitive tasks, integrate third-party apps as well, increase efficiency and much more.