Treading through the purchase requisition minefield without purchase request software is tricky. Relying completely on outdated tools like paper forms, emails, and excel sheets can dramatically reduce your chance of survival. Even a small error could lead to a procurement disaster that will take your organization eons to recover from.
Despite the fact it has a direct impact on the organization's bottom line, several businesses are not ready to reinvent their manual purchase requisition process. What these organizations don't seem to realize is that the more money they spend on procurement-related activities, the fewer resources are available for the rest of the organization to utilize. To help you bring your organizational spend down and improve savings, we have just the ebook for you.
In order to maximize value in every purchase, organizations need to spot and regulate the expenditures associated with both direct and indirect spend. Manual procurement processes are not cut out for that. The first step to eliminating maverick spend and dark purchasing is streamlining the purchase requisition workflow.
Here's all you need to know to create a robust purchase requisition process.
What is a purchase requisition?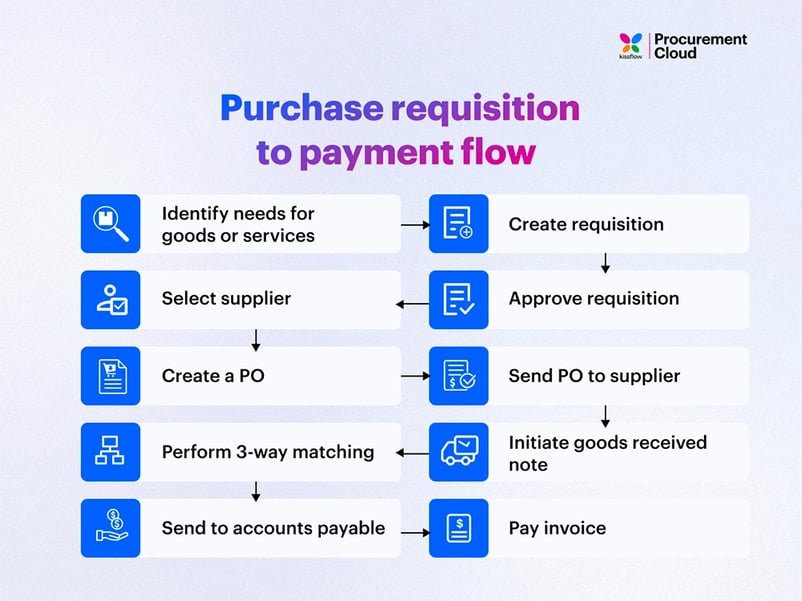 Purchase requisition is an internal document used by the employees to raise a purchase request for the goods and the services required. It contains details of the product, its quantity, price, and the name of the requestor along with the department.
Steps Involved in a Purchase Requisition Process
While the steps covered by a purchase requisition workflow can differ from one organization to another, the basic outline of the process remains the same. There are three stakeholders and three corresponding tasks as mentioned below:
Step 1: Purchase request submission
Accountable person: Requester
When employees spot needs, they can request the items or services by raising purchase requests. The requester holds the responsibility to fill out the purchase requisition form legibly with accurate information.
Step 2: Request screening
Accountable person: Purchasing Agent
Once a purchase request is created, the purchasing officer will receive an alert to verify the information. If the purchase request form is incomplete, the purchaser could either fill out the missing information or return the PR back to the requester. If everything seems to be in order, the purchasing agent can forward it to further approval (if required) or generate a purchase order.
Step 3: Manager review
Accountable person: Requester's manager or Finance Team
In some organizations, the purchase request form is forwarded to the requester's manager to ensure that the value of purchase doesn't exceed the department/requester's spending limit. The manager can either approve and forward it to the finance team for PO generation or send back the request to the initiator with specific comments as to why the request was rejected. A great way to handle all these with ease is to automate the purchase requisition process. And, here's an ebook to help you know the benefits of automation.
The Importance of Purchase Requisitions in Procurement
By implementing a good purchase requisition software, organizations can help their employees plan their purchases better and optimize organizational spend.
It also significantly eliminates indirect spend while reducing the time and effort spent by employees chasing paperwork and emails to maintain purchasing records.
Here are seven reasons why purchase requests play an important role in the procurement process.
Initiate the purchasing process
Make the procurement process transparent
Help in assessing the legitimacy of the need
Prevent chances for fraud
Serve as evidence of communication
Establish an audit trail
How to Automate Your Purchase Requisition Workflow in 15 Minutes
If you're new to the concept of purchase requisition workflow automation, the idea of automating a complicated process might seem daunting. However, in reality, you can create a customized workflow in a short span of time using a custom purchase requisition software.
Although there are a number of packaged purchase requisition software available on the market, choosing an online procurement system will give organizations the power to create a robust purchase requisition process that caters to your unique purchasing policy.
Organizations like Specialty Earth Services, LLC, use Kissflow to build a reliable purchase request app to see who is requesting what and when. These automated purchase requisition apps reduce emails, tone down redundancy, and establish a better audit trail. Here's how you can develop an efficient purchase requisition process in six simple steps using Kissflow
1. Map out the process
Most businesses neither document nor define their processes. So, the first step of the plan is to jot down the entire purchase requisition process. Being as thorough as possible will help organizations create a robust purchase request workflow.
The next step is to draw the complete process flow. A purchase request process is full of conditions, checkpoints, and dependencies. The main goal here is to keep the workflow as simple as possible by eliminating redundant steps.
2. Create digital forms
Now that the entire process and workflow is mapped out, it is time to create a digital version of it. Businesses can just log into a purchase request automation tool like Kissflow and create a purchase requisition app from the ground up or draw inspiration from the existing purchase requisition form templates.
3. Customize the process
Once the basic outline of the digital app is ready, organizations can customize data fields and workflows to fit their unique business process. Organizations can define rules, set exceptions, make feels conditionally visible, and more.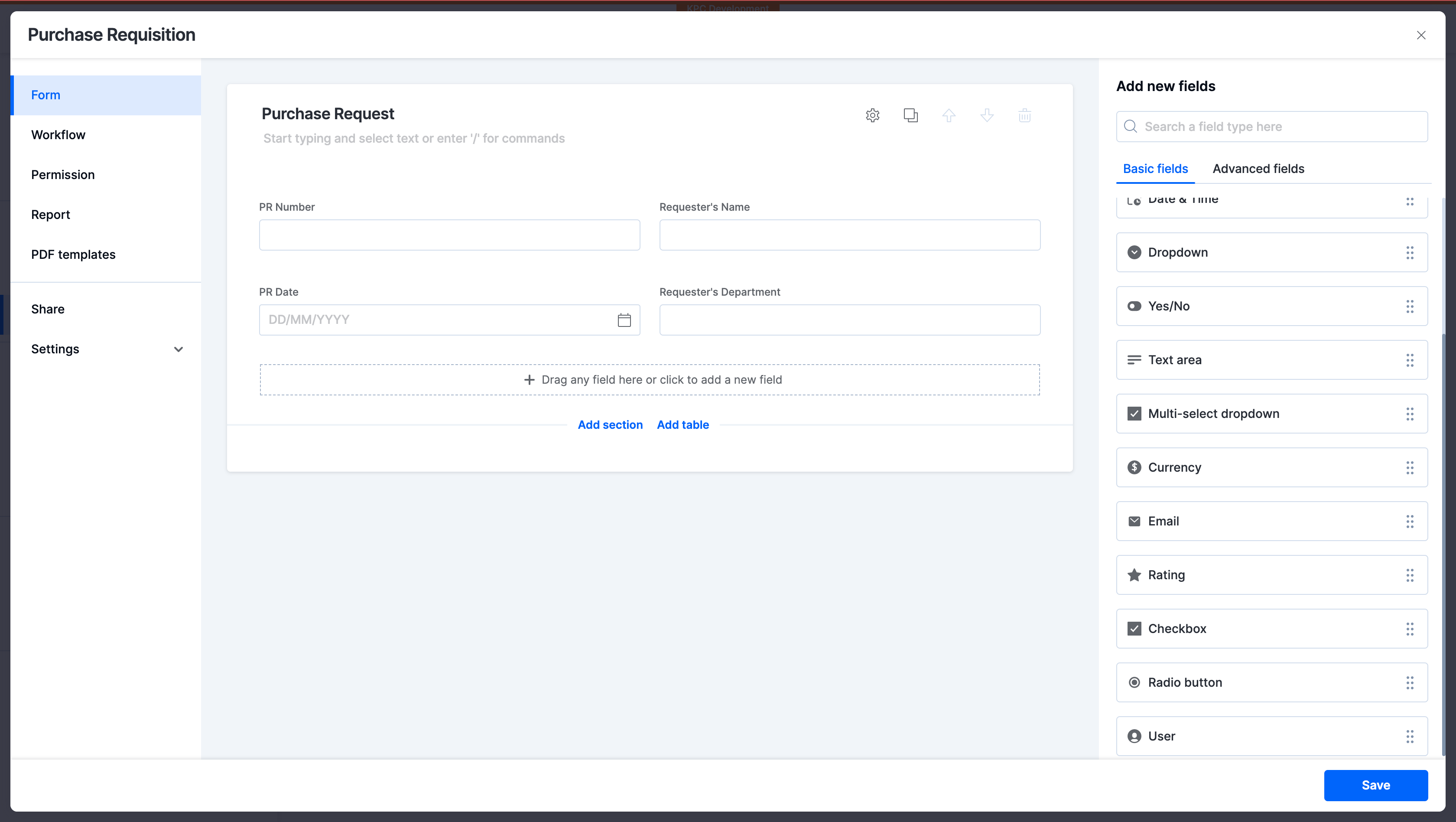 4. Implement System
A user-friendly purchase requisition system like Kissflow lets businesses collect, process, and approve/reject purchase requests effortlessly. Users can define every step of the process and set accountability for each one by assigning a stakeholder.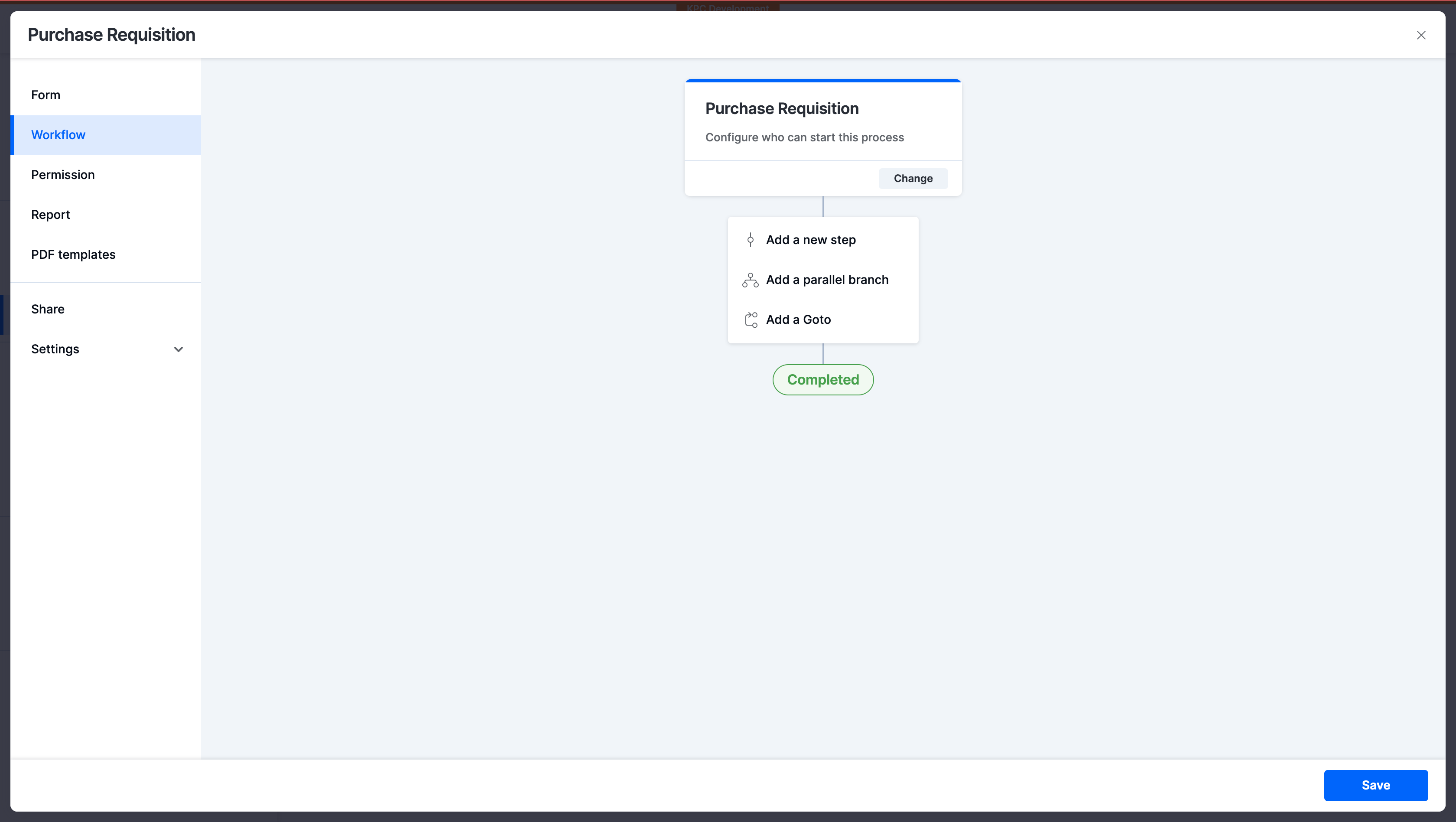 5. Publish, integrate, and measure
Now that the app is tailored to fit around an organization's purchasing process and policy, it is ready for launch. Purchase request apps created using Kissflow can be connected with other procurement software through API integration.
The strength and shortcoming of an online purchase requisition process can be measured easily with Kissflow's reporting engine.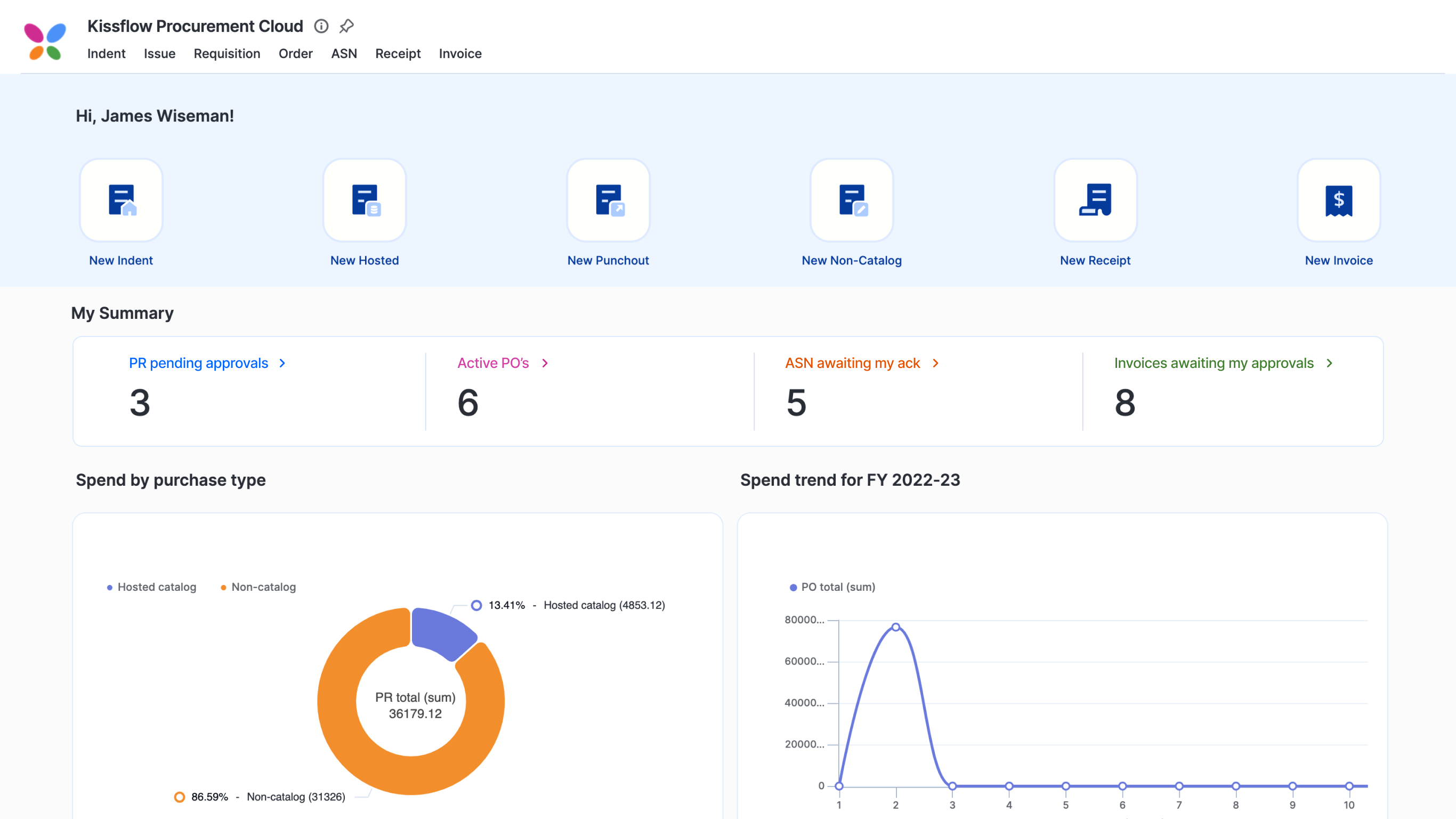 Automate Purchase Requisition with Kissflow Procurement Cloud
With a low-code platform like Kissflow Procurement Cloud, businesses can automate their procurement processes with ease and go live in less than 4 weeks' time. Users can raise a request from a hosted catalog, punchout catalog, and even non-catalogs items. In case of a non-catalog purchase, the requester can recommend a supplier by submitting a Recommend Supplier form.
When it comes to workflows, a three-tiered approach is followed - Management approval chain, Category approval chain, and Finance approval chain. Kissflow Procurement's functionalities also extend in skipping recurring approvals and the ability to set approval thresholds. What's more? Request a free demo to experience the product and start your automation journey now!