---
---
Paper-driven procurement has a cascading effect on an organization's bottom line. Manual inefficiencies cost organizations a huge chunk of cash in long purchase cycles, missed discounts, and transaction disputes. Trying to speed up procurement processes with outdated tools like spreadsheets and emails is like trying to start a microwave with steel and flint.
To take advantage of early purchase and payment discounts, organizations need to toss stone-age procurement practices out the window and embrace technological solutions. A great way to do that is to automate your procurement process. It comes with a host of benefits. Modern procurement tools can transform a painfully slow procurement strategy into world-class overnight.
If your procurement process still relies on ancient tools, it's time for a major technology makeover. Here's all you need to know to power up the procurement process.
What is Procurement?
Procurement is a technique and structured method used to streamline an organization's procurement process and achieve desired results while saving cost, reducing time, and building win-win supplier relationships. Procurement types can be direct, indirect, reactive, or proactive in nature.
What's the difference between indirect, direct, and services procurement?
Direct, indirect, and services procurement are subsidiaries of the overarching procurement process and differ in definition, assignments, and more. By taking a deeper look at the difference between these processes and understanding what they comprise, stakeholders will have an easier time taking appropriate measures to fulfill their needs.
| Direct Procurement | Indirect Procurement | Services Procurement |
| --- | --- | --- |
| Acquisition of goods, materials, and/or services for manufacturing purposes | Sourcing and purchasing materials, goods, or services for internal use | Procuring and managing the contingent workforce and consulting services |
| Ex: Raw materials, machinery, and resale items | Ex: Utilities, facility management, and travel | Ex: Professional services, software subscriptions, etc. |
| Drives external profit and continuous growth in revenue | Takes care of day-to-day operations | Used to plug process and people gaps |
| Comprises of stock materials or parts for production | Used to buy consumables and perishables | Used to purchase external services and staff |
| Establish long-term, collaborative supplier relationships | Resort to a short-term, transactional relationship with suppliers | Maintain one-off, contractual relationships with suppliers |
What is a Procurement Process?
The procurement process is a structured method of procuring goods and services needed for an organization. This process saves cost, reduces time, and builds win-win supplier relationships.

The procurement process is the series of processes that are essential to get products or services from requisition to purchase order and invoice approval. Although we use procurement and purchasing interchangeably, they differ slightly.
While purchasing is the overarching process of obtaining necessary goods and services on behalf of an organization, procurement describes the activities involved in getting process comprises the steps that must be followed while reviewing, ordering, obtaining, and paying for goods/services them. The procurement process in an organization is unique to its context and operations.
Regardless of the uniqueness, every procurement management process consists of 3 Ps', namely Process, People, and Paperwork.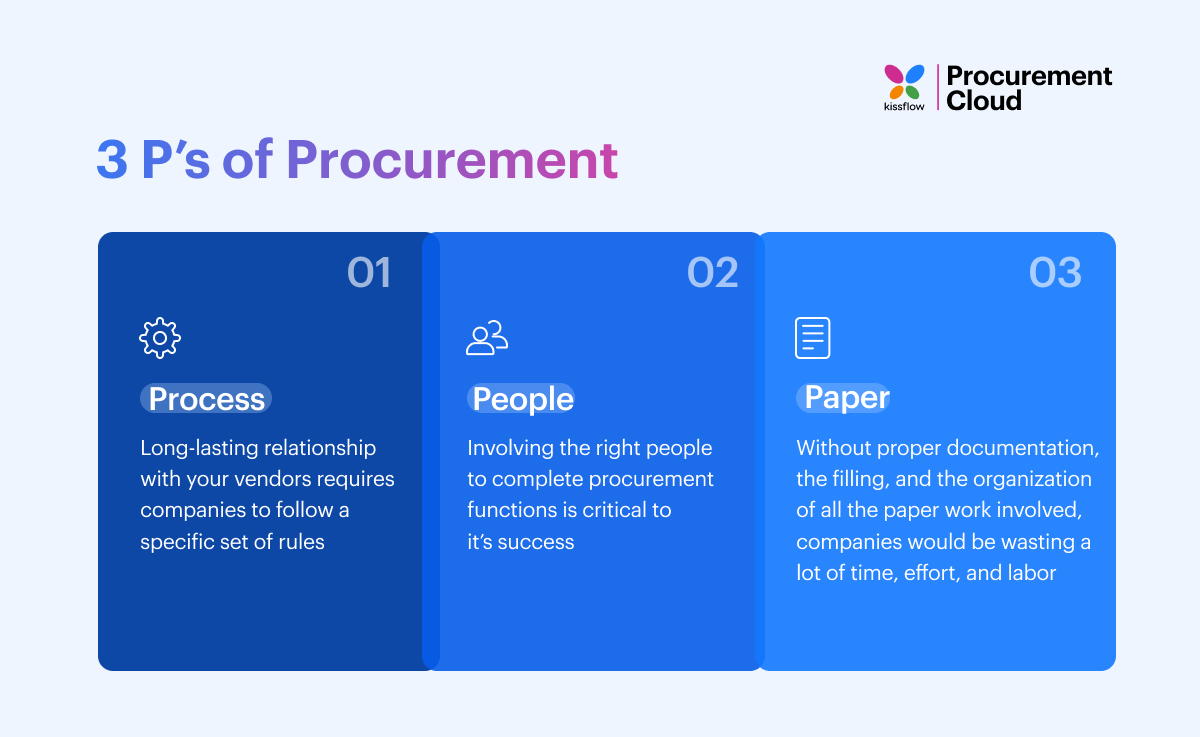 1. Process
Process comprises the steps that must be followed while reviewing, ordering, obtaining, and paying for goods/services.
2. People
These are stakeholders, and their specific responsibility in the procurement cycle is to initiate or authorize every stage of the process. The number of stakeholders involved is directly proportional to the risk and value of the purchase.
3. Paper
This is the paperwork and documentation involved in every stage of the procurement process – all of which are collected and stored for reference and auditing reasons.
Steps involved in a Procurement Process
Procurement process involves several elements, including requirements determination, supplier research, value analysis, raising a purchase request, reviewal phase, conversion to purchase order, contract administration, monitoring/evaluation of received order, three-way matching, payment fulfilment, and record keeping.

Here are the seven steps involved in the procurement process flow:
Step 0: Needs Recognition
Step 1: Purchase Requisition
Step 2: Requisition Review
Step 3: Solicitation Process
Step 4: Evaluation and Contract
Step 5: Order Management
Step 6: Invoice Approvals and Disputes
Step 7: Record Keeping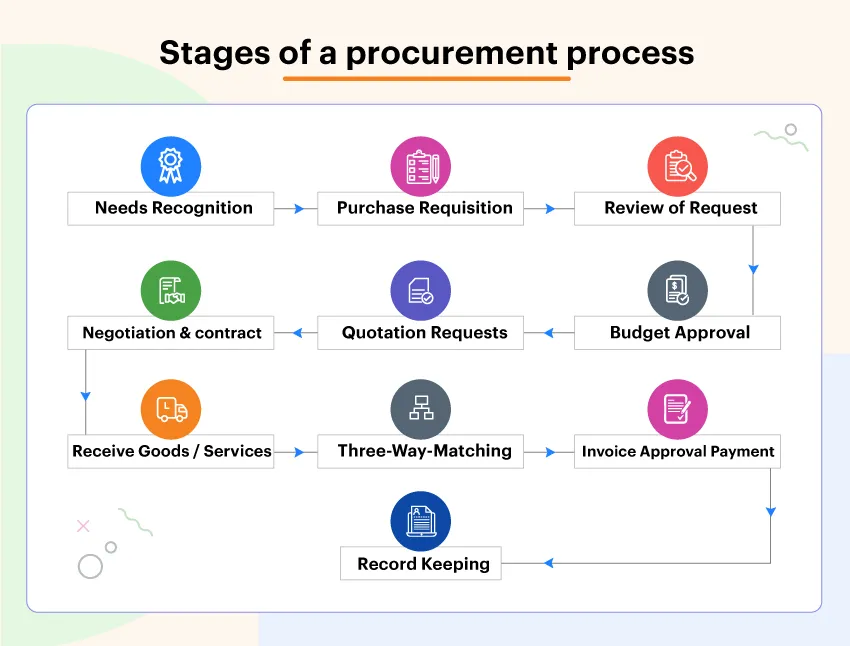 Step 0: Needs Recognition
The needs recognition stage of a procurement process enables businesses to sketch out an accurate plan for procuring goods and services in a timely manner and at a reasonable cost.

Step 1: Purchase Requisition
Purchase requisitions are written or electronic documents raised by internal users/customers seeking the procurement team's help to fulfill an existing need. It comprises key information that is required to procure the right goods, services, or works.
Step 2: Requisition review
The procurement process will commence only after the purchase requisition is approved and cross-checked for budget availability. In the review stage, functional managers or department heads review the requisition package, double-check if there is a genuine need for the requested goods or services, and verify whether necessary funding is available.

Approved purchase requests become POs (purchase orders), while rejected requests are sent back to the requisitioner with the reason for rejection. All these can be handled with a simple purchase order software.
Step 3: Solicitation process
Once a requisition is approved, the procurement team will develop an individual procurement plan and sketch a corresponding solicitation process. The scope of this individual solicitation plan ultimately depends on the requirement's complexity.
Once the budget is approved, the procurement team forwards several requests for quotation (RFQ) to suppliers to receive and compare bids to shortlist the perfect supplier.
Step 4: Evaluation and contract
Once the solicitation process is officially closed, the procurement team and the evaluation committee will review and evaluate supplier quotations and delivery times to determine which supplier will be the best fit to fulfill the current need.
Once a supplier is selected, the contract negotiation and signing are completed, and the purchase order is forwarded to the supplier. A legally binding contract activates after a supplier accepts and acknowledges a PO.
Step 5: Order management
A purchase order is issued to the selected supplier either against the newly executed contract / standing agreement / list price. The supplier delivers the promised goods/services within the stipulated timeline. After receiving them, the purchaser examines the order and notifies the supplier of any issues with the received items.
Step 6: Invoice approvals and disputes
This is a crucial step in the procurement process and having procurement software like Kissflow Procurement Cloud gives you a competitive edge over others. With Kissflow, you can perform three-way matching between GRN, Supplier Invoice, and PO to check if you have received the order correctly and if there aren't any discrepancies. Once three-way matching is complete, the invoice is approved and forwarded to process the payment.
Step 7: Record Keeping
After the payment process, buyers record it for bookkeeping and auditing. All appropriate documents, from purchase requests to approved invoices, are stored in a centralized location.
Challenges in Procurement
However, you will face many challenges without a comprehensive procurement software to streamline the above steps. Here are some key pain points you're likely to face with procurement:
Fragmented supplier base:
Procurement often involves engaging with numerous suppliers across various categories.
Managing a fragmented supplier base can be challenging, leading to inconsistent service levels, complex contract management, and difficulty leveraging volume-based discounts or negotiations.
Lack of visibility:
Limited visibility into procurement spend can complicate tracking and analyzing expenses. This lack of visibility can hinder cost control efforts and impede budgeting and strategic decision-making.
Maverick spending:
Procurement may involve multiple organizational stakeholders who make purchases independently. This decentralized approach can lead to maverick spending, where employees bypass established approval processes, resulting in higher costs, inconsistent quality, and missed savings opportunities.
Manual processes:
Reliance on manual and paper-based processes for procurement can be time-consuming, prone to errors, and hinder efficiency. Manually handling tasks such as purchase requisitions, approvals, and invoice processing can be labor-intensive, impacting productivity and increasing the risk of inaccuracies.
Compliance and risk management:
Procurement involves compliance with internal policies, legal requirements, and supplier agreements. Managing compliance and mitigating risks, such as supplier non-compliance and data breaches, can be challenging and time-sensitive.
Limited strategic focus:
Procurement activities can often be transactional, focusing more on operational needs than strategic value. This can hinder identifying cost-saving opportunities, supplier consolidation, and strategic partnerships.
Addressing these pain points requires organizations to adopt efficient procurement processes to improve data visibility, promote stakeholder collaboration, and implement strategic sourcing practices to optimize procurement operations.
Optimize your procurement process
Now that we have covered the challenges to procurement, here are different strategies you can implement to easily overcome them and establish a solid and optimized procurement process in your organization.
Streamline processes with automation:
Leverage technology and automation tools to streamline and digitize the procurement process. Implement a source-to-pay procurement solution to manage your suppliers, purchases, invoices, and contracts and automate workflows, reduce manual errors, and improve process efficiency.
Centralize procurement activities:
Establish a centralized platform where your procurement team can manage all procurement activities. This will streamline and automate the procurement workflow, ensuring transparency and accountability throughout the process leading to improved efficiency and cost savings.
Conduct spend analysis:
Perform a thorough procurement spend analysis to gain visibility into expenditure patterns, identify cost-saving opportunities, and prioritize categories for strategic sourcing initiatives. This analysis can help consolidate suppliers, negotiate better contracts, and leverage volume discounts.
Implement strategic sourcing:
Strategic sourcing enables you to source the right suppliers, conduct competitor bidding and negotiate better. This will help you Identify critical suppliers and build strategic partnerships to enhance supplier relationships and achieve long-term cost savings.
Establish clear procurement policies and guidelines:
Develop regulatory requirements, clear internal policies, and industry standards. This will help you monitor and manage approval processes, spending limits, and supplier risk. It also supports audit trails and documentation to demonstrate compliance.
Foster stakeholder collaboration:
Engage and collaborate with various departments and stakeholders to understand their requirements and align procurement activities accordingly. Involve end-users in the supplier evaluation and selection process to ensure their needs are met and increase user adoption.
Ensure that all the different tools you're using, like accounting software and ERP systems, are connected to ensure a seamless flow of data. This also reduces duplication of effort and improves overall process efficiency.
Monitor supplier performance:
Regularly assess supplier performance and establish key performance indicators (KPIs) to track service levels, delivery times, quality, and pricing. Use this data to evaluate suppliers and make informed decisions regarding supplier retention, contract renewals, or exploring alternative options.
Continuously improve:
Embrace a culture of continuous improvement in indirect procurement. Encourage feedback from stakeholders, monitor industry trends, and implement feedback loops to identify areas of improvement and drive ongoing optimization initiatives.
By implementing these strategies, organizations can enhance their indirect procurement process's efficiency, cost-effectiveness, and strategic value.
How to optimize your procurement process with Kissflow?
Sounds like a lot of work to do? A streamlined procurement platform like Kissflow Procurement Cloud can provide a centralized platform to manage all stages of your procurement cycle.
Invest in a good procurement software like Kissflow Procurement Cloud to help you:
Manage all stages of your procurement cycle: Sourcing, Supplier management, contract management, purchases, inventory management
Integrate with your existing tools to ensure a seamless flow of data
Get reports and analytics on your procurement spending to help you make data-informed decisions
Maintain a centralized system to manage all stages of your procurement cycle
Customize procurement workflows to adapt to your existing way of business
Enhance collaboration among internal stakeholders and suppliers
Automate purchase processes to reduce manual work and attain efficiency.
Summary
Cloud-based procurement automation tools like Kissflow are suitable for both SMBs and enterprises. Kissflow procurement cloud allows organizations to create a dynamic procurement management process that provides them with a tactical advantage.
Organizations can resolve procurement hurdles they face with archaic procurement tools. Today's e-procurement tools are capable of straightening the procurement process flow in an instant. Kissflow offers tools and resources every business needs to automate end-to-end procurement and scale it up or down to meet their business needs.
Looking for software that strengthens the procurement process and minimizes the chance for fraud and errors? Read this head-to-head comparison of popular procurement tools in the market.