Procurement Management Process - The 2021 Guide
Paper-driven procurement has a cascading effect on an organization's bottom line. Manual inefficiencies cost organizations a huge chunk of cash in long purchase cycles, missed discounts, and transaction disputes. Trying to speed up procurement processes with outdated tools like spreadsheets and emails is like trying to start a microwave with steel and flint.
To take advantage of early purchase and payment discounts, organizations need to toss stone-age procurement practices out the window and embrace technological solutions. Modern procurement tools can transform a painfully slow procurement strategy to world class overnight.
If your procurement process still relies on ancient tools, it's time for a major technology makeover. Here's all you need to know to power up the procurement process.
What is Procurement?
Procurement refers to techniques, structured methods, and means used to streamline an organization's procurement process and achieve desired results while saving cost, reducing time, and building win-win supplier relationships. Procurement can be direct, indirect, reactive, or proactive in nature.
What's the difference between indirect, direct, and services procurement?
Direct, indirect, and services procurement are subsidiaries of the overarching procurement process and differ in aspects like definition, assignments, and more. By taking a deeper look at the difference between these processes and understanding what they comprise, stakeholders will have an easier time taking appropriate measures to fulfill the need.
| Direct Procurement | Indirect Procurement | Services Procurement |
| --- | --- | --- |
| Acquisition of goods, materials, and/or services manufacturing purposes | Sourcing and purchasing materials, goods, or services for internal use | Procuring and managing contingent workforce and consulting services |
| Ex: Raw materials, machinery, and resale items | Ex: Utilities, facility management, and travel | Ex: Professional services, software subscriptions, etc. |
| Drives external profit and continuous growth in revenue | Takes care of day-to-day operations | Used to plug process and people gaps |
| Comprises of stock materials or parts for production | Used to buy consumables and perishables | Used to purchase external services and staff |
| Establish long-term, collaborative supplier relationships | Resort to short-term, transactional relationship with suppliers | Maintain one-off, contractual relationships with suppliers |
What is a Procurement Process?
It's the series of processes that are essential to get products or services from requisition to purchase order and invoice approval. Although we use procurement' and purchasing' interchangeably, they slightly differ from each other.
While purchasing is the overarching process of obtaining necessary goods and services on behalf of an organization, procurement describes the activities involved in obtaining them. The procurement process in an organization is unique to its context and operations.
Regardless of the uniqueness, every procurement management process consists of 3 Ps', namely Process, People, and Paperwork.
1. Process
The list of rules that need to be followed while reviewing, ordering, obtaining, and paying for goods/services. Checkpoints/steps increase with the complexity of the purchase.
2. People
These are stakeholders and their specific responsibility in the procurement cycle. They take care of initiating or authorizing every stage of the process. The number of stakeholders involved is directly proportional to the risk and value of the purchase.
3. Paper
This refers to the paperwork and documentation involved in every stage of the procurement process flow, all of which are collected and stored for reference and auditing reasons.
Procurement automation is more than saving time and money
What Is the Procurement Process Flow?
To keep the procurement management process fair, transparent, and efficient, a good understanding of the procurement process flow is key. Although the procurement process of organizations differs from each other, the flowchart below sums up the important steps in a procurement process.
Steps involved in a Procurement Process
Every procurement management process involves several elements, including requirements determination, supplier research, value analysis, raising a purchase request, reviewal phase, conversion to purchase order, contract administration, monitoring/evaluation of received order, three-way matching, payment fulfilment, and record keeping. These are the important stages in the procurement process flow: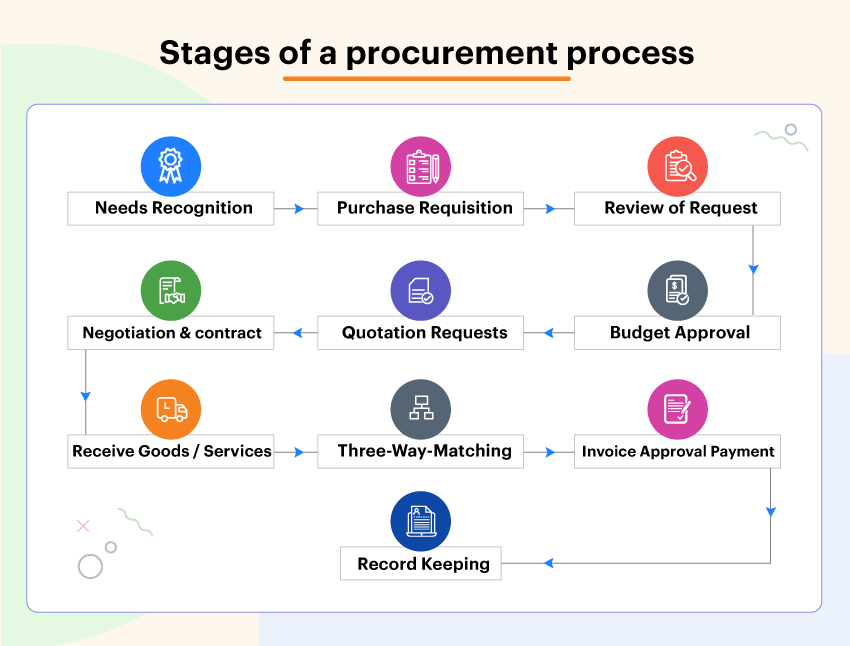 Step 0: Needs Recognition
The needs recognition stage of a procurement process enables businesses to sketch out an accurate plan for procuring goods and services in a timely manner and at a reasonable cost.
Stakeholders

Procurement officers, department heads, functional managers

Documents

Fact-finding agenda, emergency justification form, piggyback request form, needs analysis form, total acquisition cost finder, due diligence research

Questions

1. Is there a real need for goods/services?

2. Can an existing contract or established source fulfill the need?

3. Will it require special approval of any sort?
Step 1: Purchase Requisition
Purchase requisitionare written or electronic documents raised by internal users/customers seeking the procurement team's help to fulfill an existing need. It comprises key information that is required to procure the right goods, services, or works.
Step 2: Requisition review
The procurement process will officially commence only after the purchase requisition is approved and cross-check for budget availability. In the review stage, functional managers or department heads review the requisition package and double-check if there is a genuine need for the requested goods or service and also verify whether necessary funding is available.
Approved purchase requests become POs, while rejected requests are sent back to the requisitioner with the reason for rejection. All these can be handled with a simple purchase order software
| | |
| --- | --- |
| Stakeholders | Procurement officers, end users, departmental heads |
| Documents | E-requisition submission form, purchase requisition form, sole-brand procurement, RFI template, fast track RFP |
| Questions | 1.What is the available or approved budget for this purchase? 2. By when should the purchase be delivered by? 3. Where should the requested items be delivered? |
Step 3: Solicitation process
Once a requisition is approved and PO is generated, the procurement team will develop an individual procurement plan and sketch out a corresponding solicitation process. The scope of this individual solicitation plan depends ultimately on the complexity of the requirement.
Stakeholders
Procurement managers
Documents
Letter of invitation for suppliers, request for information, supplier general information worksheet, evaluation committee member participation form, market analysis worksheet.
Questions
1.Are solicitation documents cross-checked for consistency and completeness.
2. How are we planning to handle queries from suppliers (written correspondence and/or by a pre-offer conference)?
Once the budget is approved, the procurement team forwards several requests for quotation (RFQ) to vendors with the intention to receive and compare bids to shortlist the perfect vendor.
Step 4: Evaluation and contract
Once the solicitation process is officially closed, the procurement team in conjunction with the evaluation committee will review and evaluate supplier quotations to determine which supplier will be the best fit to fulfill the existing need.
Stakeholders
Procurement team and evaluation committee
Documents
Evaluation committee agenda, RFQ cost negotiation (best and final offer), contract terms and conditions, request for clarification, supplier technical evaluation template, solicitation review summary sheet.
Questions
1.Is there a potential conflict of interest situation with any suppliers?.
2. Have we shortlisted compliant/acceptable offers, and rejected non-responsive offers?
Once a vendor is selected, the contract negotiation and signing are completed, and the purchase order is then forwarded to the vendor. A legally binding contract activates right after a vendor accepts a PO and acknowledges it.
Step 5: Order management
The vendor delivers the promised goods/services within the stipulated timeline. After receiving them, the purchaser examines the order and notifies the vendor of any issues with the received items.
Stakeholders
Inventory managers, requisitioners, vendors, and procurement team
Documents
Purchase order, shipping notifications, goods receipt notes, purchase invoices , goods return shipments, product/service quality check template, supplier assessment report.
Questions
1. Are there any discrepancies in the three-way matching?
2. Is there a significant amount of variance between the expected and actual performance of the vendor?
3. Is there a significant amount of variance between the expected and actual performance of the vendor?
At this step, three documents purchase orders, packaging slips (that arrive with the order), and vendor invoices are lined up and reconciled to pinpoint discrepancies and ensure that the transaction is accurate. Discrepancies should be addressed once they are discovered.
Step 6: Invoice approvals and disputes
Once three-way matching is complete, the invoice is approved and forwarded to payment processing depending on organizational norms.
Stakeholders
Procurement managers, evaluation committee, arbitrator, and vendors
Documents
Original supplier contract, invoice approval form, dispute settlement form, complaints registration and meeting minutes, arbitration documents, settlement receipts.
Questions
1. Was the settlement handled within the stipulated time?
2.Was the settlement handled within the stipulated time?
3. Were the dispute resolution clauses helpful in resolving any conflict?
Step 7: Record Keeping
After the payment process, buyers make a record of it for bookkeeping and auditing. All appropriate documents right from purchase requests to approved invoices are stored in a centralized location.
Stakeholders
Procurement officers and requisitioners
Documents
Procurement process evaluation report, contract closure report.
Questions
1. Was the requirement adequately fulfilled?
2.Were the evaluation criteria and methods appropriate?
3. What problems were encountered?
4. Recommendations to avoid similar situations.
Ditch Emails and Sheets
Automate these Steps in 15 Minutes
Why Should You Automate Your Procurement Management Process?
A solid procurement software can streamline the cluttered procurement process and keep it transparent. No information is lost and stakeholders can raise, approve, or reject items on time. A streamlined procurement process offers better control over every stage of the procurement lifecycle.
Furthermore, an efficient procurement automation software:
Minimizes the chaos made by paperwork
Shortens the procurement lifecycle
Reduces human dependency intervention and errors
Lessens the workload of all stakeholders
Keeps the process accurate and consistent
Injects transparency into the process flow
Sticks to the predefined procurement cycle
Choosing an automated procurement management software rather than depending on emails and excel sheets will speed up the procurement process, ensure accuracy, enhance efficiency, and save time and resources.
Summary
Cloud-based procurement automation tools like Kissflow are suitable for both SMBs and enterprises. Kissflow procurement cloud allows organizations to create a dynamic procurement management process that provides them with a tactical advantage.
Organizations can resolve procurement hurdles they face with archaic procurement tools. Today's e-procurement tools are capable of straightening the procurement process flow in a jiffy. Kissflow offers tools and resources every business needs to automate end-to-end procurement and scale it up or down to meet their business needs.
Looking for software that strengthens the procurement process and minimizes the chance for fraud and errors? Read this head-to-head comparison of popular procurement tools in the market.
Automate Your Manual Process
Drag & Drop. Easy & Flexible. Get Started Now.