A Complete Guide to Vendor Management System (VMS)
What is a vendor management system?
A Vendor management system (VMS) is a software suite that helps businesses take care of the processes involved in the end-to-end vendor management process, from initial contact to final closure of a deal or establishing a business relationship.
Taking a modular approach, they usually have specific modules or apps that take care of processes like vendor onboarding or vendor payments.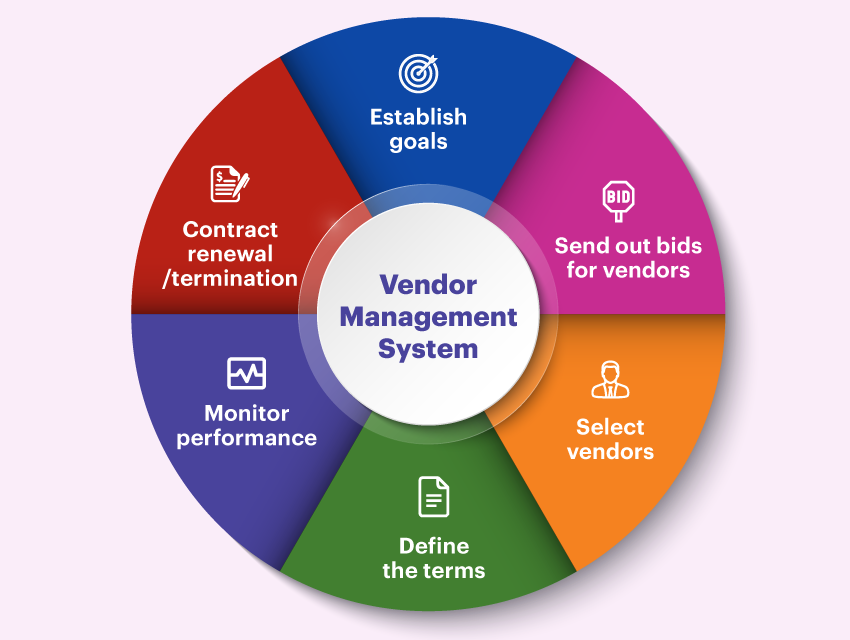 Why do you need Vendor Management System?
Vendor management is key to the success of any procurement team, and using the best vendor management system like Kissflow helps you make the most of your supplier relationship. From supplier onboarding to allowing them to create & manage catalogs to capturing supplier performance, Kissflow Procurement Cloud comes with loads of benefits. Here are some of the other advantages of having a vendor management system.
Your procurement team establishes a successful vendor relationship management initiative with minimal expenditure of resources, both personnel and financial
Goods are delivered, and services rendered, in time
Customer relationships improve too, as you deliver consistent results
Vendor management systems bring consistency and efficiency into the end-to-end processes involved
You can introduce automation to tasks like vendor management, and then analyze vendor performance with zero manual effort
Compartmentalize vendors according to factors you choose, using custom reports
Optimize productivity within procurement management
Features to look for in a Vendor Management System
1.Easy vendor onboarding
The system must make it possible for you to register vendors quickly and easily, use multilingual catalogs, and access vendor information instantly.
2.Comprehensive vendor rating
The ability to rate vendors using key performance metrics like policy compliance, delivery quality, timeliness, and more.
3.Vendor self-service
Giving vendors the ability to easily update their information, and get alerts on order and payment details.
4.Quick vendor screening
Retrieve and verify supplier data like business reports, financial and credit risk data.
5.Corrective actions
With sub-par supplier performance, initiate corrective action plans (SCAR) or offboard them
Vendor Management System Checklist
Before picking a vendor management system, make sure the answer to each question given below, is a 'yes'.
Can the system process purchase requisitions and purchase orders?
Can it control all aspects of vendor management (vendor onboarding, rating, etc.)?
Can it handle invoicing tasks?
Does it allow easy integration with accounting systems or ERP?
Does it provide reporting and metrics, specific to the vendor management process?
Will it work well with other procurement tools?
Can it scale well?
Is the system user-friendly, and will it garner employee buy-in?
Ensure the vendor management system pricing is within your budget
Why should you choose a comprehensive procurement software over a standalone Vendor Management System?
While a standalone Vendor Management System is effective at everything to do with suppliers, it is more or less disconnected from the overall procurement process and operates in silos. For this reason, it is always wiser to go with a comprehensive procurement software that has all the functionalities including vendor management. Kissflow Procurement Cloud is a great example.
Some of the benefits of adopting a procure-to-pay software like Kissflow are as follows.
Transparent purchase requisition approval process
Better vendor relationship management
Centralized management of purchase requisitions, invoice payments, billing information, and contracts, as well as other procurement processes
Unified interface to manage vendors and their work
Better security and compliance management
Visibility into the spend
Integration with the other tools in the company
More detailed information about the performance of the suppliers and the vendors
Availability of past records for audit trails
Ability to make informed decisions about the choice of vendors.
Why choose Kissflow Procurement Cloud?
While an automated vendor management solution brings the best of cutting-edge procurement technology into the process. Procurement tools like Kissflow Procurement Cloud take things up a notch, bridging the gap between various procurement functions, and streamlining purchasing as a whole. If you're still not sure, request a free demo of Kissflow Procurement Cloud Cloud to see how well it can address your procurement team's vendor management needs.