So before we dive into the intricacies of a vendor management system, its features, and the benefits, let's start with the basics.
What is a Vendor Management System?
A vendor management system or VMS, is a software suite that helps businesses take care of vendor management processes end-end, from initial contract to final closure of a deal or while establishing a business relationship.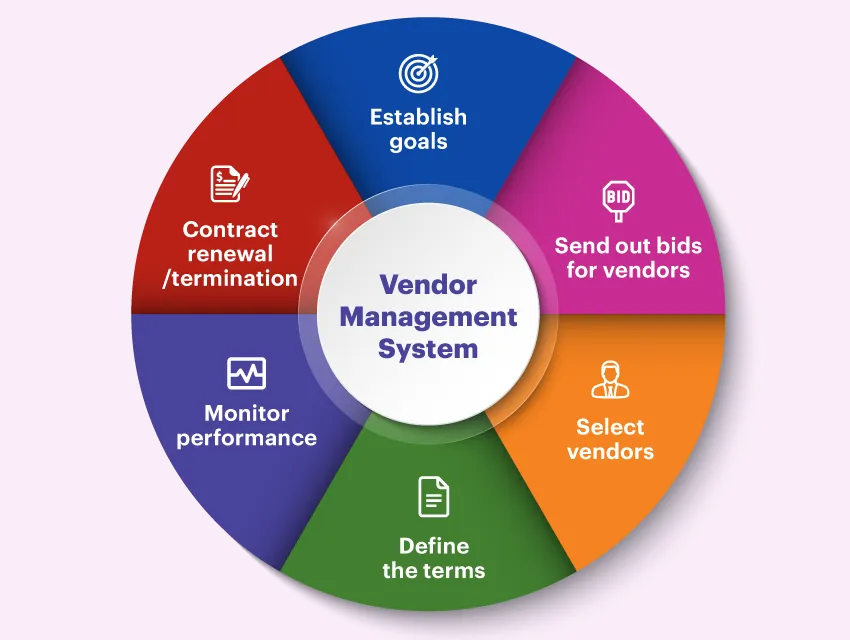 Why do you need Vendor Management System (VMS)?
Vendor management is key to the success of any procurement team, and using the best vendor management system helps you make the most of your supplier relationship. From supplier qualification to onboarding to allowing them to create & manage catalogs to capture supplier performance, a vendor management system like Kissflow Procurement Cloud comes with loads of benefits.
Here are some of the other advantages of having a vendor management system:
A successful

vendor relationship management

initiative enables minimal expenditure of resources, both personnel and financial
On-time delivery of goods and services
Customer relationships improve too, as you deliver consistent results
Vendor management system

brings consistency and efficiency

into the end-to-end processes involved
You can analyze vendor performance with custom reports and KPIs. All this with zero manual effort
Optimize the procurement process for maximum productivity
Vendor Management capabilities in Kissflow Procurement Cloud
Here's what a system like Kissflow Procurement Cloud offers you in terms of vendor management capabilities.
Supplier self-service
Suppliers can manage their catalogs and other information by themselves, and so can you.
Supplier registration
Have suppliers provide registration details without having them log into Kissflow Procurement Cloud.
Supplier onboarding
Onboard suppliers with detailed information such as remittance details, payment terms, shipping terms, certificates, financials, and more.
Supplier rating
Rate your suppliers based on several factors such as timely delivery, product quality, and more.
Avoid duplications
Avoid onboarding the same supplier more than once & maintain good master data hygiene.
Supplier categorization
Map suppliers to one or many categories by leveraging pre-populated UNSPSC standards.
Effective controls
Configure granular details such as access controls of the supplier's users, 3 way or 2-way matching type, PO transmission mode, PO transmission method, invoice limits, & more.
Why you should choose a comprehensive procurement software over a standalone Vendor Management System?
While a standalone Vendor Management System is effective at everything to do with suppliers, it is more or less disconnected from the overall procurement process and operates in silos. For this reason, it is always wiser to go with a comprehensive procurement software like Kissflow Procurement Cloud that has all the functionalities from source-to-pay
Some of the benefits of adopting a procure-to-pay software like Kissflow are as follows.
Better vendor relationship management
Centralized system for purchase requisitions, invoice payments, billing information, contracts, and all other procurement processes
Unified platform to qualify, manage and analyze the performance of vendors
Transparent

purchase requisition, purchase order, and approval process
Better compliance management and visibility into spend
Seamless integration with the other tools in the company
Availability of records for audit trails
Ability to make informed decisions about the choice of vendors
While a standalone vendor management tool is good, an end-end procurement platform like Kissflow Procurement Cloud take things up a notch, bridging the gap between various procurement functions, and streamlining purchasing as a whole. If you're still not sure, request a free demo of Kissflow Procurement Cloud to see how well it can address your procurement team's vendor management needs.