Purchase Order Process – Everything you need to know
In today's global workforce, a slow purchase order process can cripple your business. Manual purchase order processing and archaic systems hamper the purchase order process and do more harm than good.
Relying on a manual purchase order process with emails and spreadsheets is like using a bank account with no ATM access. When you think of how easily ATMs function in the world of banking, it's hard to imagine standing in line for a long time only to have a teller make an error when handling a simple transaction.
In the same way, old-school processes are out of place in the modern world of technology. Digitalization makes clunky processes work like a charm. It's perfect for the tedious and labor-intensive administrative processes like purchase orders, invoice approval, and more.
In the technological era, it is would be wise to take advantage of a cloud-based solution for purchase orders. Before we delve deeper into a procurement system for successful PO management, let's take a look at the current state of purchase order management, and figure out its major flaws.
[Free On-demand Webinar] Learn how digital procurement can help save 45% of an organization's spend
What is the purchase order process?
The purchase order process is the journey of a purchase order (PO) from creation through purchase order approval, dispatch, delivery, invoicing, and closure. It also includes budget checks, contract management, quality checks, and more.
Once a purchase order is accepted by the vendor, it becomes a legally binding document. A purchase order outlines the required items, the agreed-upon price, delivery expectations, and payment terms.
Purchase orders provide concrete instructions for the vendor while offering buyers a solid paper trail that can be used as a point of reference when clarity is required in your procurement process.
What are the steps involved in a purchase order process?
The purchase order process consists of several compliance checkpoints and approval/input tasks to ensure timely PO processing. Here are the most common purchase order process steps:
PO Creation
Purchase Order Approval
PO Dispatch
Binding Contract
Goods Delivery
Three-way Matching
PO Closure
1. PO creation:
Purchase orders are created from approved purchase requisitions or prepared from scratch in the case of piggyback or recurring purchases.
Stakeholders: Procurement team and administrative staff
2. Approval flow:
Once purchase orders are created, they are sent to sign-off authorization to accommodate last-minute requirement changes.
Stakeholders: Requisitioner, sign-off authority, finance team, and procurement officers
3. PO dispatch:
Once approved, purchase orders are forwarded to the selected vendor depending on the vendor's preferred mode of communication.
Modes available: Paper, fax, email, and cloud storage
4. Binding contract:
A legally binding contract is invoked once the vendor accepts the PO and it can then be used to resolve any legal disputes between the supplier and the buyer.
Must include: Buyer details, PO number, delivery date, vendor information, pricing, order details, payment terms, and payment information
5. Goods delivery:
The vendor delivers goods, and the buyer does a quality check and notifies the sender in case of defects.
Recipient: Administrative staff, warehouse manager, or procurement officer
6. Three-Way matching:
The buyer's procurement team then performs three-way matching (with PO, GRN, and invoice).

7. PO closure:
After PO matching, if there are no discrepancies found, the approved invoice is forwarded to the finance team for payment processing after which purchase orders are closed.
PRO TIP: How to automate your purchase order process 75% faster with Kissflow?
Purchase order process flow
The purchase order process flow is the lifecycle of a purchase order from order creation to closure. A predefined purchase order process flow allows the purchasing team to process a PO without missing any steps, and follow it up easily to avoid delays.
This purchase order process flow depicts the action steps in PO processing as follows:
Send out multiple requests for quotation(RFQ)
Analyze and select a vendor
Negotiate contract and send PO
Receive goods/services
Receive and check invoice (3-Way Matching)
Authorize invoice and pay the vendor
Record keeping
Purchase order closure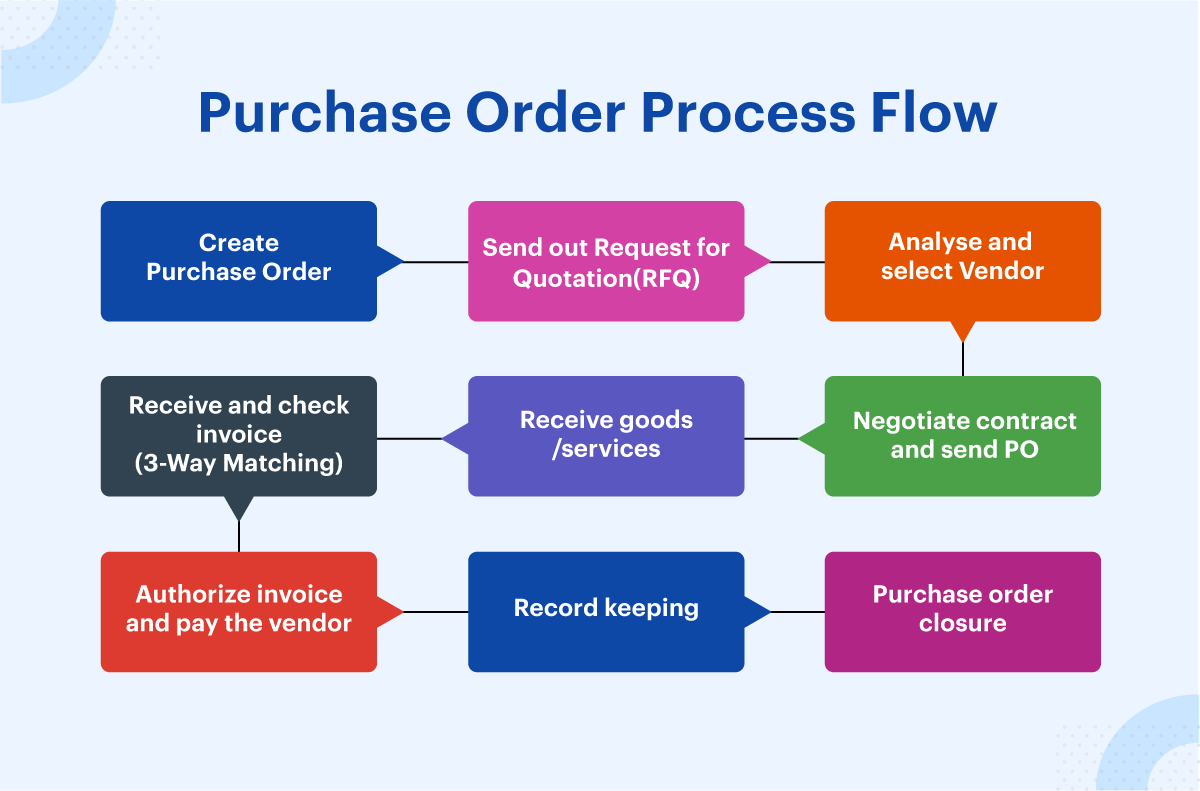 The pain points of manual purchase order processes
Manual purchase orders are costly, inefficient, and time-consuming to maintain. There are too many documents required to process a single purchase order.
Acquiring, storing, and sending them through the approval loop while ensuring they don't get lost or damaged along the way is extremely tedious.
According to a recent APQC study, manual PO processing can cost organizations as much as $506.52 per purchase order.
A manual purchase order process:
Lacks visibility
Spikes organizational expense
Drags PO processing cycle
Depends on human intervention
Has process bottlenecks and compliance issues
Involves an endless loop of emails and people
Is cumbersome, inaccurate, and error-prone
Automate your Purchase Order Approvals
Dynamic Forms. No Coding. Easy Drag & Drop.
Benefits of a digital PO system
Here are six reasons why every organization needs a procurement solution with a purchase order management system. Digital purchase order systems can:
Enhance efficiency in PO management, with no lost or delayed POs
Improve PO processing speed
Accelerate purchase order approvals
Streamline order and stock management
Improve the vendor-buyer relationship
Prevent procurement fraud
Recommended Reading:
---
---
Summary
Say goodbye to illegible handwriting, missing POs, and endless hours of data entry. A cloud-based procurement software like Kisssflow transforms bundles of paperwork into easily traceable digital forms that are stored securely on the cloud.
While implementing a procurement solution can sound deceptively simple as a band-aid solution to all your PO-related troubles, the process itself is very complicated. That's why it is critical to have some purchase order best practices that will ensure that your procurement tool is performing the way it must.
The right procurement best practice can fix your broken PO process, improve efficiency, and deliver more ROI. While the theory of what purchase order is may sound complex, taking a look at some most common best practices can clear it up once and for all.
Streamline Your Procurement Process With Kissflow