In today's global workforce, a slow purchase order process can cripple your business. Manual purchase order processing and archaic systems hamper the purchase order process and do more harm than good. Relying on a manual purchase order process with emails and spreadsheets is like using a bank account with no ATM access.
A great way to overcome this challenge is by automating your procurement process. Digitalization makes clunky processes work like a charm. Still not convinced? Here's a free ebook that talks about the importance of procurement automation.
Before we delve deeper into a procurement system for successful PO management, let's take a look at the current state of purchase order management, and figure out its major flaws.
What is the purchase order process?
In the technological era, it would be wise to take advantage of a cloud-based solution like Kissflow for purchase orders. Because it would help you to track POs end-to-end. But before we delve deeper into a procurement system for successful PO management, let's take a look at the current state of purchase order management, and figure out its major flaws.
Purchase order process flow
The purchase order process consists of several compliance checkpoints and approval/input tasks to ensure timely PO processing. Here are the most common purchase order process steps:
Send out multiple requests for quotation(RFQ)
Analyze and select a vendor
Negotiate contract and send PO
Receive goods/services
Receive and check invoice (3-Way Matching)
Authorize invoice and pay the vendor
Record keeping
Purchase order closure
Example:
To understand a PO process, consider this real-life example. Jeni, an HR Manager is looking out for new laptops to onboard new joiners. She creates a PR, which auto flips and becomes a PO, thanks to procurement software like Kissflow. The purchase order has information on the number of laptops, the specifications, and the time she needs them. Based on the PO, a Request for Quote (RFQ) is sent to the suppliers to get the quotes. Based on the quotes received, their quality, and estimated delivery time, a vendor is selected. Post selection of the vendor, he/she is contracted and the PO is shared. The vendor delivers the laptops requested, Jeni receives them and verifies the products. Post this, Sathish, Accounts Manager from the Finance team performs 3-way matching with the help of Kissflow Procurement Cloud and then pays the vendor if there aren't any discrepancies. The records for the transaction are kept safe, and the PO will be now marked as closed.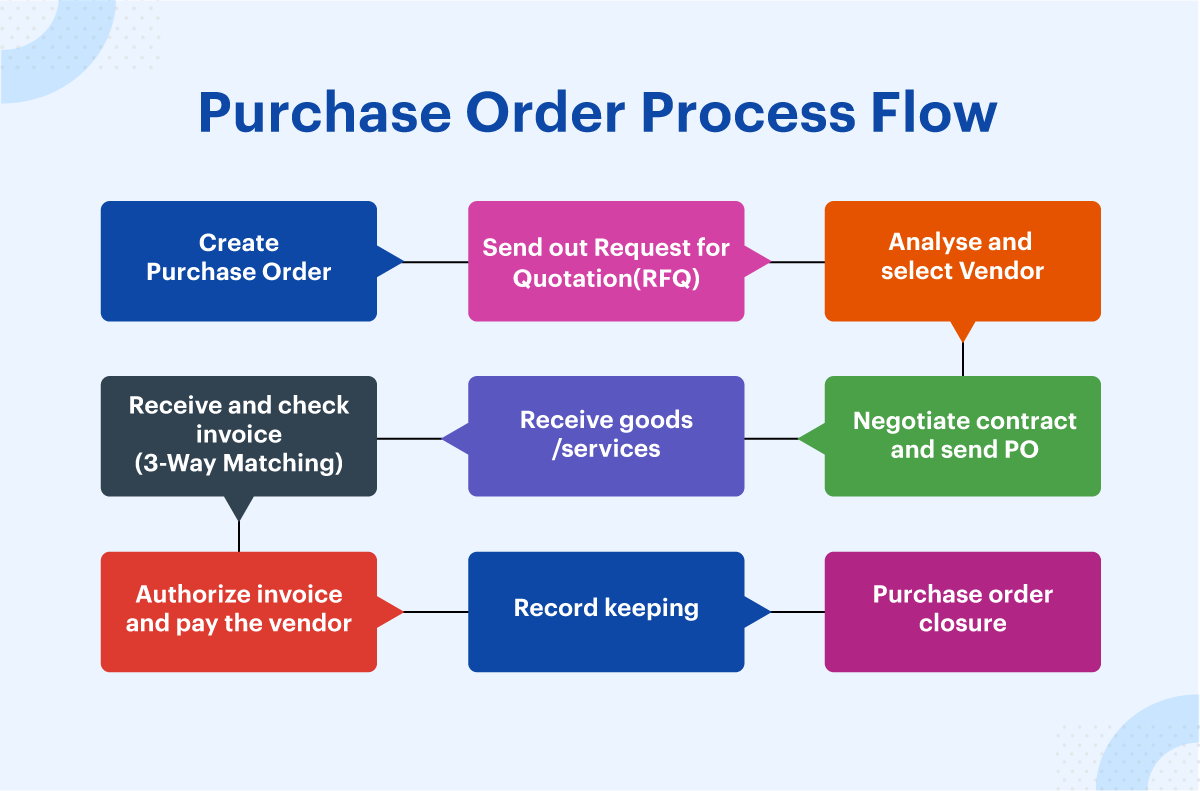 The pain points of manual purchase order processes
Manual purchase orders are costly, inefficient, and time-consuming to maintain. There are too many documents required to process a single purchase order.
Acquiring, storing, and sending them through the approval loop while ensuring they don't get lost or damaged along the way is extremely tedious.
According to a recent APQC study, manual PO processing can cost organizations as much as $506.52 per purchase order. A great way to reduce this cost is by automating your procurement process.
Here are some of the disadvantages of a manual purchase order process:
Lacks visibility
Spikes organizational expense
Drags PO processing cycle
Depends on human intervention
Has process bottlenecks and compliance issues
Involves an endless loop of emails and people
Is cumbersome, inaccurate, and error-prone
Benefits of a digital PO system
Here are six reasons why every organization needs a procurement solution with a purchase order management system. Digital purchase order systems can:
Enhance efficiency in PO management, with no lost or delayed POs
Improve PO processing speed
Accelerate purchase order approvals
Streamline order and stock management
Improve the vendor-buyer relationship
Prevent procurement fraud
Summary
Say goodbye to the endless paper trail, missing POs, and endless hours of data entry. A cloud-based procurement software like Kisssflow transforms bundles of paperwork into easily traceable digital forms that are stored securely on the cloud.
While implementing a procurement solution can sound deceptively simple as a band-aid solution to all your PO-related troubles, the process itself is very complicated. That's why it is critical to have some purchase order best practices that will ensure that your procurement tool is performing the way it must.
The right procurement best practice can fix your broken PO process, improve efficiency, and deliver more ROI. While the theory of what purchase order is may sound complex, taking a look at some most common best practices can clear it up once and for all.