Procurement team members are like a modern-day Hercules. Each one of them faces a daunting quest they must complete with little outside help. As a team, they are expected to drive down the cost-efficiently and effectively while sourcing quality products/services that offer more value than the amount spent.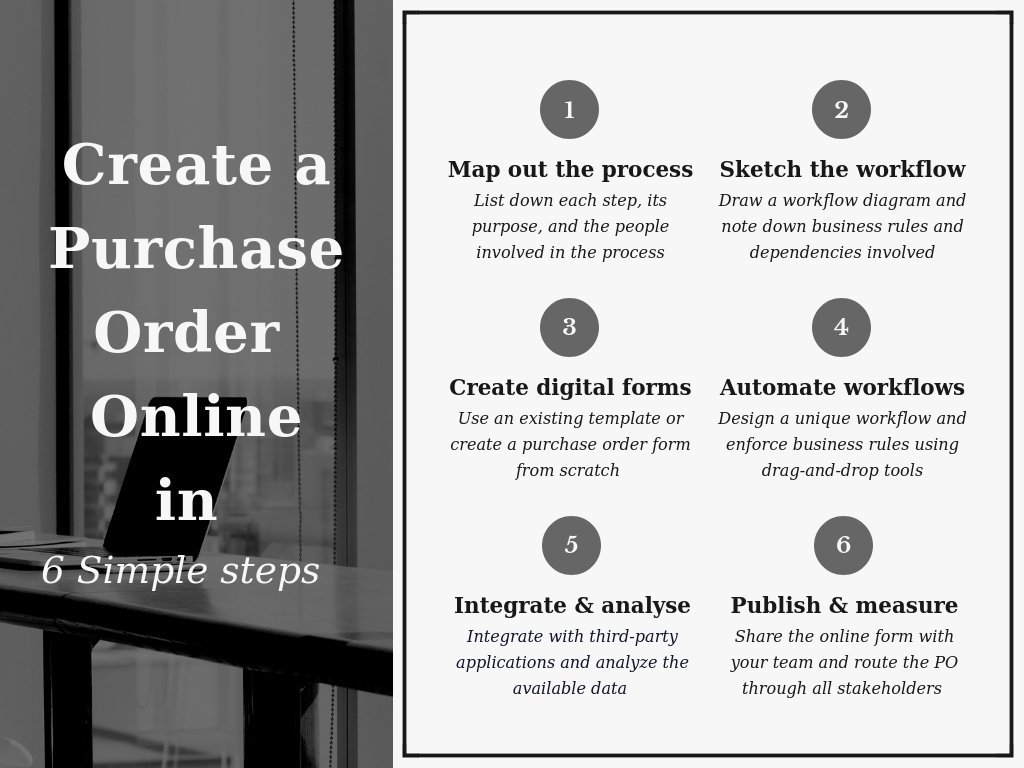 In order to achieve that perfect balance, organizations need adopt a sophisticated, strategic purchase order software that will not only automate and optimize the whole process but also build a good relationship with vendors.
Instead of borrowing someone else's solution, you can create a purchase order system yourself. You can make a purchase order system complete with automated workflows and smart forms without having to rely on your IT team or hiring an expensive development firm.
Create a Purchase Order in 15 Minutes with Kissflow
Here are six steps you can create a purchase order online with automation.
Step 1: Map the Process
Although it sounds a bit strange, most organizations don't document or define their business processes. So, the first step is to document the complete purchase order process. The aim here is to be as thorough and as exhaustive as possible.
Write down each step, make a note of the purpose of each task, and then list all the people involved in the process. Even if it seems like a simple task that occurs only at a specific condition, write it down, and note down the exceptional criteria.
Step 2: Sketch the Workflow
The second step is to sketch the whole process workflow. As the purchase order process is complex, it is easy to get caught in several conditions, dependencies, and decision points. The goal here is to make the workflow as simple as possible. It is a good idea to share the workflow diagram with the other people involved in the process.
Business rules and conditions allow organizations to curtail repetitive activities and enforce exceptions. When organizations create purchase orders online, they need to parameterize business rule application to automate decision making. So, identifying and defining business rules is equally necessary to make purchase order process flow smoothly like a well-oiled engine.
Step 3: Create a Digital Form
Now that you have the list of steps and the complete workflow ready, it is time to create an automated purchase order. You can just log into your purchase order automation platform and create a brand new form for purchase orders to start. If you would prefer a bit of inspiration, you can choose one from the list of pre-designed purchase order template, and customize it.
Once the new form is ready, you can start editing data fields and setting preferences. Intuitive process automation tools like Kissflow allows users to do much more than merely capture data. Organizations can show or hide fields with conditional visibility, connect a field or list with a master database, auto-fetch user information from login credentials, and more.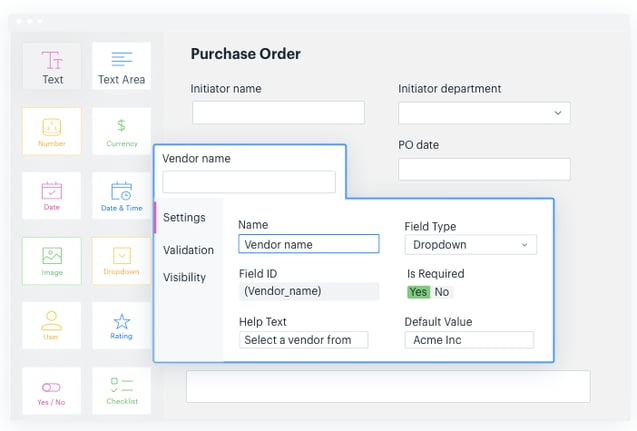 Step 4: Automate the Entire Workflow
Organizations can bid goodbye to manual intervention, and let the purchase order software do all the heavy lifting. You can create seamless workflows to collect, send, and approve purchase orders easily. Define every step and assign a stakeholder for each one to improve accountability. Defining each key step and role clearly will break down the process to a granular level, and offer an unprecedented level of transparency.
If process owners or business users aren't very proficient in business process modelling, it is a good idea to opt for simple purchase order automation platform like Kissflow. In Kissflow, organizations can draw a digital version of the paper-based workflow using drag and drop tools and a visual workflow builder.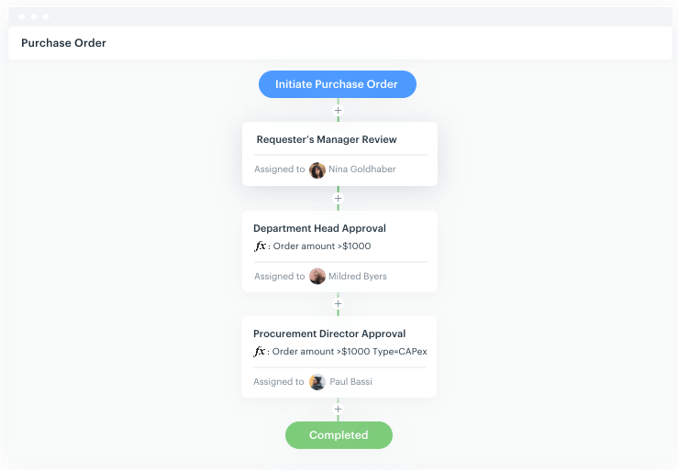 Step 5: Monitor and Check
The major advantage of using a cloud-based purchase order tool like Kissflow is that it offers real-time information about processes and KPI. Its inbuilt analytical engine speeds up decision making and improves transparency with readily available graphs, charts, and reports. Through API integrations, you can easily connect this automated PO process to other important purchasing software like an accounting system, invoice processing tool, etc.
Now that the digital form and the automated workflow are ready, and you have the reporting tools you need, this might seem like the last step. Sadly, though, it is not. You simply cannot implement an automated purchase order process without testing it. Involving the people who are part of the purchase order process will help you spot process bottlenecks faster.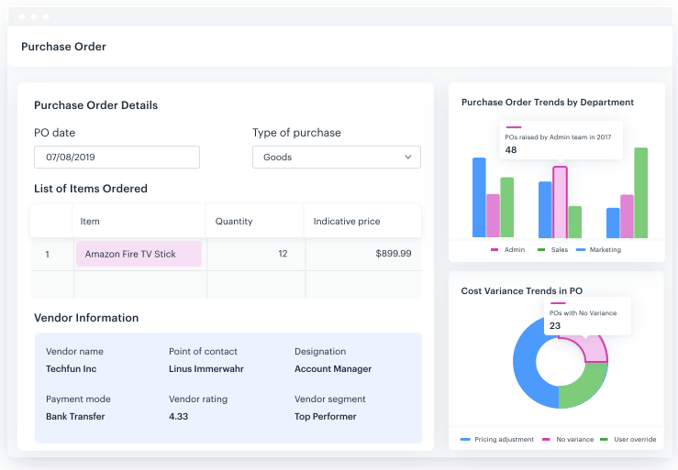 Step 6: Publish and Improve
Once the workflow and digital form are tested appropriately, it is time to implement the online purchase order across all departments. Simply implementing it wouldn't be enough; people need to embrace it. For that to happen, they may have to let go of the old practices and start using this tool instead. A well-designed training program can give employees the confidence to use the new PO process.
Now that the process has been rolled out to the whole organization, you need to set up metrics to measure the efficiency of an automated purchase order process. Defining the parameters up front will help organizations capture data and narrate the story of improvement effectively.
Why Use Kissflow to Create Purchase Order in Minutes?
Identifying how and where to automate the process is key to optimizing efficiency and obtaining additional value while keeping the cost factor down. Following the six steps outlined above will ensure that purchase order automation efforts will return benefits like time saving and cost effectiveness.
Irrespective of the process you focus on, you'll want to automate your business process in a reliable platform that connects seamlessly with your existing processes and systems, making collaboration easy.Kissflow is one such tool that can be used to create an electronic purchase order system.
Kissflow will optimize the whole process, reduce costs, save time, and improve collaboration. Its easy-to-use workflow builder and form automation features will help organizations kick up the speed of purchase order processing, while ensuring proper oversight and compliance.
Just like Iolaus stayed by Heracles' side when he set off to hunt the fabled hydra, Kissflow will stay by the side of your procurement team heroes when they face the complex menace, purchase order process. Take a look at Kissflow Procurement Software and see why it is the better way to create automated purchase orders.