BPM
Business Process Integration
Workflow
What Type of BPM Software Integration is Right for You?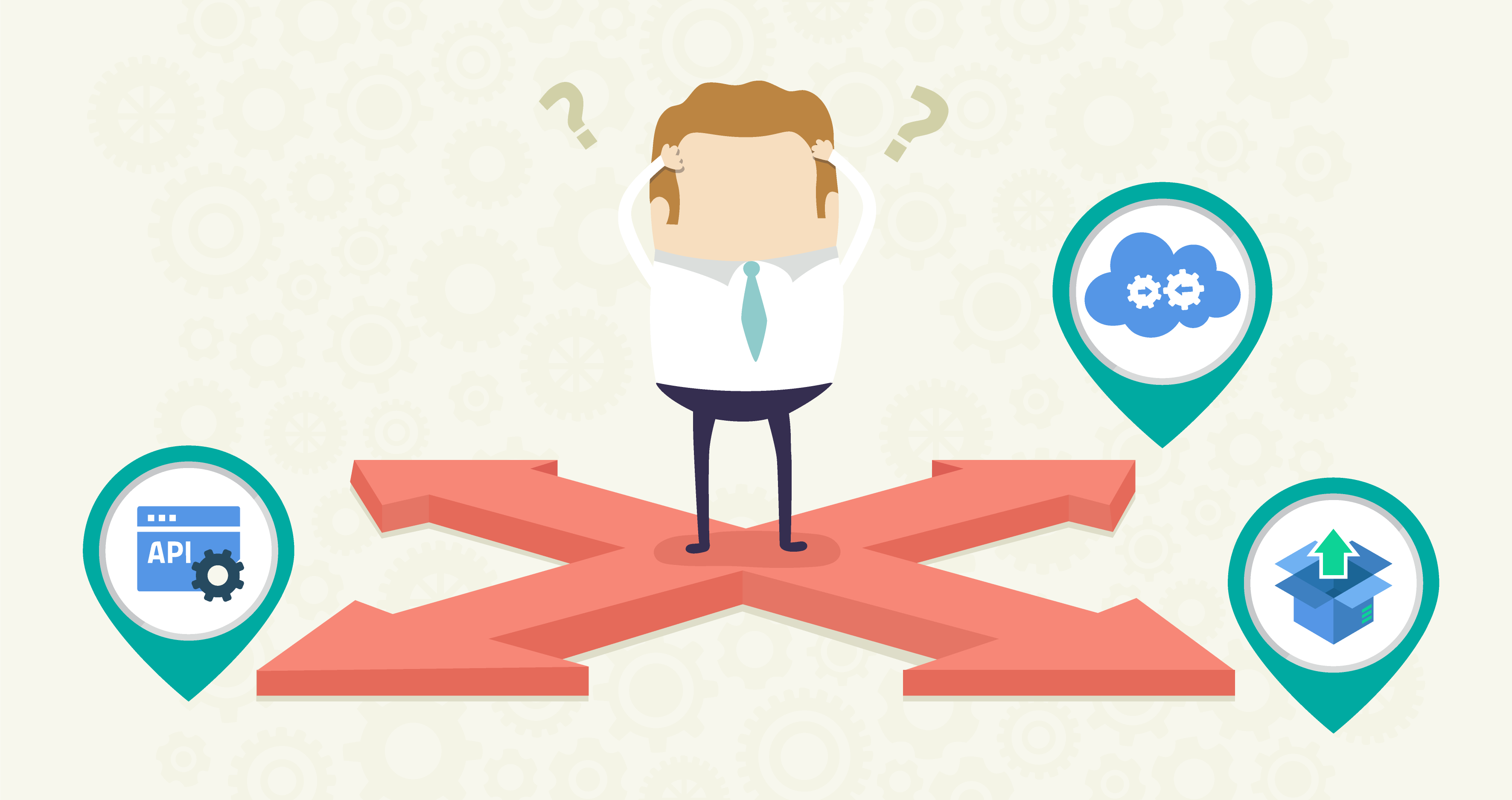 John has been facing a lot of heat lately. He's the Global Application Manager at a multinational enterprise, and he just recently finished launching a new business process management (BPM) suite.
He followed up on his boss' mandate to buy a good cloud BPM system for the company, and after reviewing many options online, he went with the one that mentioned integration as one of its features. Each department in the enterprise is dependent on different software, so it was important to be able to link automated processes with different systems. The option John chose fit his budget and seemed like a good fit for the departments looking for a workflow solution.
But now the marketing, sales, and product development heads are complaining that the software doesn't measure up with their existing tools. The new system offers integration, but only through API coding. That means John has to find time for his already-stressed technical team to sit with each one of the departments to set up their integrations, and again anytime they want a small change.
John's boss is frustrated at the number of increased tickets his team has after the launch and the department heads are growing even more impatient waiting for their turn.
Why Integration Matters
Software integration is more important than ever, especially when you are evaluating features for a BPM software. But not all integration is the same, and some vendors may be deceiving you as to just how easy it is to plug in with other software.
For example, some vendors use Single Sign-on (SSO) as an example of integration, when it is really an authentication feature. When a vendor says that their software integrates, they may be referring to a variety of types of integration.
Exploring Integration Types
John is not alone in misunderstanding the many choices available for software integration. A large number of enterprise users don't fully understand the truth about integration and the many options that are available there. That fact is, integration is an evolving discipline and you have many options to adopt it.
Let's take a detailed look at what integration options are available out there, and when to use them.
1. The Workaround Integration
When the app development industry was just taking off, software only had a few integration options available (SOAP, XML-RPC, etc.). So developers had to find a workaround to connect the different systems. The oldest trick in the book was to make use of APIs, which stands for Application Programming Interface.
APIs enable programmers to write certain sets of code to make two software platforms talk to each other in a mutually understandable language. This way, systems can share data and communication. APIs might open your possibilities to integrate well with other systems, but it demands technical expertise and time dedication.
Although it predates other integration options, APIs are far from obsolete. Many enterprises still rely heavily on legacy software that can only be integrated through APIs. Therefore, integration through APIs is still relevant for connecting new software with the long-standing systems that operate within the realm of an enterprise.
2. Integration On A Platter
Vendors in the last decade have started to make their software integration-ready because of the increasing mandate on software integration and the rising popularity of cloud applications.
There are some who offer out-of-the-box, plug-and-play options that allows even the most technically inept users to connect. One example is the Google Drive integration in Kissflow. Admins have the option to make all attachments automatically connect with a user's Google Drive. The integration is baked into the product.
These options are the easiest but are usually limited to only the most obvious and far-reaching integration needs. For example, your accounting software is not likely to come with built-in integration to the new task management software you use to organize your to-do list, because it's just too specific a use-case.
3. The Catalyst Integrator
In a world where there are new applications being introduced every now and then, a software vendor can't make their products compatible to the applications that haven't been released (or conceived of) yet.
For circumstances like that, you have a solution like Zapier, probably the best known cloud-based integration platform. It allows users to create a connection (or a Zap) between two or more software platforms and automate tasks through the integration that follows. For example, if you are trying to achieve a business process integration between a CRM and a sales app like Pipedrive, you can connect them with Zapier.
Zapier-based integrations have emerged as an excellent solution for enterprises that use a wide variety of cloud-based applications. The best part about using Zapier for integration is that there is no coding required; setup and editing is simple enough that any department manager should be able to do it.
Where Do We Go Now?
John learned his lesson quickly that not all 'integrations' are the same. When evaluating integrated business process software, focus on ones that offer pre-built integration with major software suites and are open to Zapier-type integrations. When sitting through demos, ask specific questions about how integrations work and ask to see some developed in real time.
Treat integration as an uncompromising feature in your priority list to ensure you don't regret wasting your time and resources in adopting something that doesn't interlock properly with your existing software portfolio.
Try Kissflow Process today and our experts will show you just how easy it is to create an integration, just like this one with Google Calendar!
⋙ Check out why these
6 BPM Software
are at the top of the competition!
Related Resources