The success of every business boils down to its people. Organizations that manage their employees well are more profitable, lead more effectively, and retain their talent better. The employee experience is often sculpted by the human resource team.
There are a number of internal business processes that the HR team is responsible for. HR workflows are not only incredibly nuanced to handle but have a significant impact on how employees perceive their workplace. This is why it's vital that HR teams are able to leverage technology to simplify these processes and improve the way they operate.
What is a Human Resource (HR) Workflow?
An HR workflow is a series of steps that help the human resource team manage an internal business process. Employee onboarding, performance appraisals, and offboarding are a few examples of human resource workflows.
Traditionally, these internal processes or requests were handled manually, often involving emails, spreadsheets, and other outdated tools. These methods are not only extremely error-prone but can significantly impact productivity. Using HR workflow templates can help HR professionals visualize their business process, automate certain aspects, define roles, and bring about better results.
Benefits of Having an HR workflow
Increased collaboration
Some HR processes involve carrying out functions across teams and business units. A HR workflow enhances collaboration by clearly defining roles and creating a forum for cross-functional collaboration.
Process definition
Workflow templates for human resources create a functional framework of HR processes. As a result, HR teams are able to create processes that are consistent with internal policy and standards.
Time management
HR workflow templates significantly save time. They automate certain aspects of HR processes and ensure roles are clearly defined. This ensures the elimination of redundancies and improves efficiency.
Better compliance
When HR processes are governed by digital workflows the business is able to adhere to stricter compliance standards. Regardless of the industry, HR workflow templates ensure faster approvals and better security.
Improved output
HR, as a business function, heavily relies on consistency. Workflow templates can help streamline and automate repeatable HR tasks, increasing overall efficiency and minimizing room for errors.
10 Best HR Workflow Templates of 2023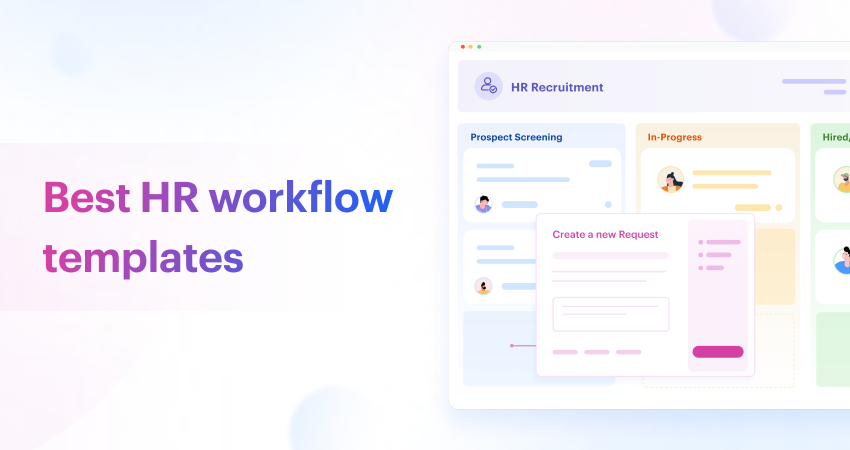 Here are 10 of the best HR workflow templates Kissflow offers.
Performance Appraisal
Internal Job Application (IJP)
Employee Referral
Training Feedback
Interview Feedback
Training Request
Performance Bonus
Employee Feedback
Employee Offboarding
Employee Onboarding
Performance appraisal
A performance appraisal template allows managers to assess the employee's job performance over time to determine their weaknesses and strengths. While the performance appraisal process differs depending on who is leading the review and the evaluation period, it always covers key sections like strengths, areas of improvement, achievements, overall rating, and the area of focus for the next review period.
Internal Job Application (IJP)
The internal job referral workflow is used when current employees want to apply for available positions in other business units. The template allows the applicant to explain their candidature, interface with the hiring manager, add attachments, and track their application to closure.
Employee referral
An employee referral template helps employees refer candidates for available job openings. Employees use this template to recommend friends, family, or acquaintances within their professional networks. The template offers a more structured way to organize how HR teams receive such referrals, handle evaluations, keep candidates informed, and close the loop.
Training feedback
The main goal of corporate training is to ensure workers have the knowledge and skills they need to meet business goals and objectives. By collecting feedback, HR knows how to make training more effective and engaging for employees. A training feedback template asks the right questions to help HR know how to improve its training programs.
Interview feedback
Interview feedback keeps interviewers objective and gives them guidelines on the important aspects of evaluating candidates for specific roles. An interview feedback template allows for faster documentation, better training of hiring managers, and provides objective feedback on the hiring process.
Training request
A training request template is used by department heads to request specific departments to organize training for their team members. It is also used when employees want to gain manager approval to attend off-site training events. The process dictates the route every request takes from initiation to approvals and completion.
Performance bonus
A performance bonus is a supplementary compensation offered by an employer to an employee when they surpass performance goals or agreed-upon objectives. Performance bonuses are typically part of an employee's variable pay. The performance bonus template can help managers evaluate performance and coordinate with HR on the documentation and payroll process.
Employee feedback
When done tactfully, employee feedback can help create a stronger, more harmonious workplace. Feedback—whether positive or negative—is important because it helps reinforce positive behavior, break bad habits, and ensure teams work together toward their goals. An employee feedback template enables employees to share important insights into how they feel about their workplace and what they would like improved.
Employee Offboarding
Offboarding employees can be a complex procedure. When an employee quits or is terminated, HR teams must ensure that the employees are kept aware of any procedures that need to be completed. This can include departmental handovers, documentation, asset returns, exit formalities, and payroll termination. An employee offboarding template helps streamline these activities while ensuring employees have a smooth exit.
Employee Onboarding
Employee onboarding usually involves significant planning and paperwork. An employee onboarding template decreases the processing time for documentation and onboarding activities such as signing contracts, completing asset registration, access approvals, etc. It also helps HR to ensure that new employees receive all the necessary equipment and system access in a timely manner.
Kissflow's HR Workflow Templates
Automating HR processes can save a company both time and money. A comprehensive work platform like Kissflow ensures your HR teams are working optimally and at the highest level of productivity. With Kissflow, you can build your own workflows from scratch or replicate ready-made workflows from Kissflow's template marketplace.
Take your HR workflows up a notch. Try Kissflow.