In today's corporate world, businesses have become more customer-centric than ever. Your customers now have more options to get the products and services they need. One major criterion they consider when deciding whether or not they want to patronize you is the quality of the services you provide.
This is why prioritizing customer support and experience is very important. Your customer support department has its work cut out. Considering the complexity of their daily responsibilities, they'll need customer support workflow templates to better organize their workflow and ensure a seamless support experience for customers.
What is a Customer Support Workflow?
The customer support workflow is a comprehensive guide that details all the steps to be followed sequentially to achieve a specific customer support objective.
In addition to improving the overall customer experience, the customer support workflow helps employees have a standard, repeatable, and simple sequence to follow. This enhances the process of delivering support to customers.
Benefits of a Customer Support Workflow
Using a customer support workflow offers multiple benefits for your organization. Even the initial process of documenting the steps can help you spot inefficiencies and fix them before you start applying the workflow. Employees can follow the steps highlighted in the workflow to continuously replicate success.
You can pinpoint potential workflows for automation and introduce measures to help create a consistent experience.
Following a standard workflow ensures that your customer support team can deliver the best experience at any given time. It also makes it easier to onboard new prospects. Since there's a streamlined workflow to follow, everyone now knows what needs to be done and who needs to do it.
Why do you need customer support workflow templates?
A customer support template is a customizable document that serves as an outline of all the steps in a standard customer support workflow. The template details all the steps involved in delivering a specific customer service duty or process.
Most customer support processes such as call processing, issue resolution, order management, and so on tend to be simple. It's even easier when the workflow for completing these processes is fully captured with a template.
A customer support workflow template can be adapted to the specific workflow you're dealing with as quickly as possible. You can either deploy it right away or customize it based on your specific needs. It provides detailed process documentation and improves the overall productivity of your customer support team in delivering their most basic responsibilities.
Top customer support workflows that every CS team should automate
The following are some of the top customer support workflows you can consider automating,
Product feedback loop
Customer onboarding workflow
Customer issue resolution workflow
Shopping cart workflow
Many of the steps and processes involved in delivering quality customer support are repeatable. And if anything is repeatable, it means it can be automated for efficiency. Workflow automation can help simplify and complete several steps in your customer support workflows. This saves time and improves the overall quality of service you deliver to customers.
Product feedback loop
Collecting, documenting, and acting on feedback from customers involves several steps, many of which can be automated. Automating your feedback loop ensures that every customer feedback is properly captured and acted on as quickly as possible.
Customer onboarding workflow
Providing onboarding support for new customers boosts conversion and is crucial to the overall growth of your company. Many aspects of your customer onboarding workflow can be automated to help them get started with using your service as quickly as possible.
Customer issue resolution workflow
This is arguably one of the most important customer support workflows that you can automate because it impacts the overall customer experience. Automating this workflow can help reduce issue resolution time and retain customers better.
Shopping cart workflow
Sometimes customers pause on making a product purchase decision after coming close to buying. Putting automated measures in place to detect and reach out to customers with abandoned shopping carts can help you find out where the problems are and fix the issues if possible.
7 Best Customer Support Workflow Templates 2023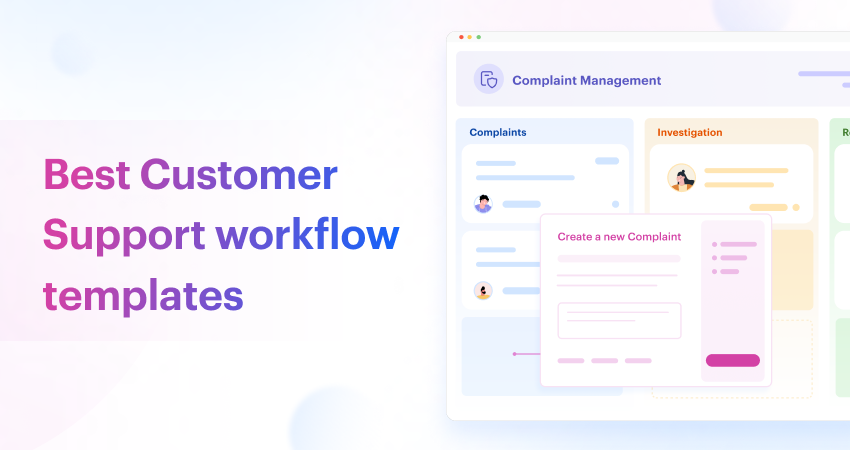 The following are some of the best customer support workflow templates offered by Kissflow.
Customer Onboarding
Technical Repair
Customer Satisfaction Survey
Churn Management
Customer Help Desk
Concierge Service
Complaint Management
Kissflow offers customizable customer support workflow templates to simplify, track and automate each step of your customer's journey.
Customer onboarding
The customer onboarding workflow template details all the steps of the workflow that gets your customers acquainted with your product and integrate them as full customers. As a customer success manager, you can deploy this template seamlessly in a matter of minutes and customize it to suit your customer onboarding journey.
Technical repair
The technical repair template outlines the workflow your technical support team follows in recording, prioritizing, and resolving technical issues that customers may experience. This template helps in tracking and prioritizing customer repair requests from initiation to resolution while providing a delightful customer experience.
Customer satisfaction survey
You can capture actionable feedback from customers more effectively when you use a customer survey workflow template. This template streamlines key steps in creating surveys, validating customer responses, and recording data from these surveys.
Churn management
The churn management workflow template details the different measures and steps put in place to curb customer attrition and improve how long you retain individual customers. You can customize your customer retention workflows and standardize service delivery with ease using this workflow template.
Customer help desk
Every business strives to deliver services that go above and beyond customer expectations. This is where the help desk function comes in handy. The customer help desk template is a standardized workflow template that details the steps your customer support team follows to raise support tickets, investigate them and resolve them.
Concierge service
This template is specifically for hotels and other related services that handle a variety of activities to keep guests satisfied throughout their stay. Concierge service requires a great degree of collaboration in handling customer requests, being able to make decisions, and obtaining approvals quickly. The template serves as a guide for configuring their workflow for optimal efficiency.
Complaint management
Complaints are an unavoidable part of every business. Effective complaint management helps dissipate tense situations, prioritize complaints, and address them as quickly as possible. You can manage customer complaints with greater efficiency by using a standard complaint management workflow template.
Enhance your customer support workflows with Kissflow's ready-made templates
Managing customer support shouldn't be a struggle for your organization. Building workflows can simplify the process of delivering quality customer support for customers and ensure the consistency of your service. Fortunately, you don't have to build a customer support workflow from scratch.
Check out one of Kissflow's fully-customizable workflow templates that you can deploy for your customer support needs right away.