Purchase orders act as a security blanket that helps track purchases and enforces payment terms in cases of a dispute.
While paper-based purchase orders are easier to maintain, in the long run, managing all the paperwork is a hassle. The more purchases you have, the harder it is to track. That's why it is essential to go digital and use a reliable purchase order system that meets your requirements.
However, creating an automated purchasing system is not as easy as firing up a spreadsheet. It takes time! But, with Kissflow Procurement Cloud's low-code platform, you can create an automated PO system in 15 mins!.
What is a purchase order system?
A purchase order (PO) system is software that manages your purchase order process, end to end. A good purchase order system will not only generate purchase orders swiftly but also track and manage all associated paperwork securely.
An automated cloud-based purchase order software eliminates redundancy from the purchase order process and improves purchasing efficiency.
If done right, a purchase order process system can significantly improve productivity and offer better visibility into organizational spend.
Do small businesses also need a purchase order system?
Investing in a web purchase order system might not be the top priority of small businesses. The purchase order process could either be ignored as a mere back-office operation or the purchasing volume might not be high or chaotic enough to demand technological assistance.
While a small business might not need an end-to-end procurement system that controls every aspect of purchasing, there are still important purchasing pitfalls to avoid such as duplicate purchases and overspending.
If you can build a purchase order system for your small business for a small cost, then it makes sense to build in the automated culture from the beginning.

Benefits of a purchase order system
Online purchase order management systems are easy to set up, and they can untangle a messy purchase order process within a few hours.
Here are eight reasons why every organization needs a purchase order system. The best purchase order systems will:
Enhance process efficiency
Improve document management
Reduce manual processing

and the chance of errors
Accelerate

purchase order approvals
Streamline order and stock management
Improve the vendor-buyer relationship
Offer spend visibility

and improve decision making
Prevent procurement fraud
Steps to create a purchase order system in 15 minutes with Kissflow
Create your own forms
List the steps in the process
Design workflow
Define roles and access
Implement the PO system
Obtain feedback and improve
Following these steps, organizations can create an automated purchase order system from scratch using tools like Kissflow.
1. Create your own purchase order forms
The first step to designing a good purchase order system is to create digital forms (purchase requisitions, purchase orders, etc). You can either create one from scratch or use automated purchase order templates to collect necessary information like order details, vendor details, item price, etc. Kissflow Procurement Cloud is completely flexible and allows you to create your PO form based on your business process.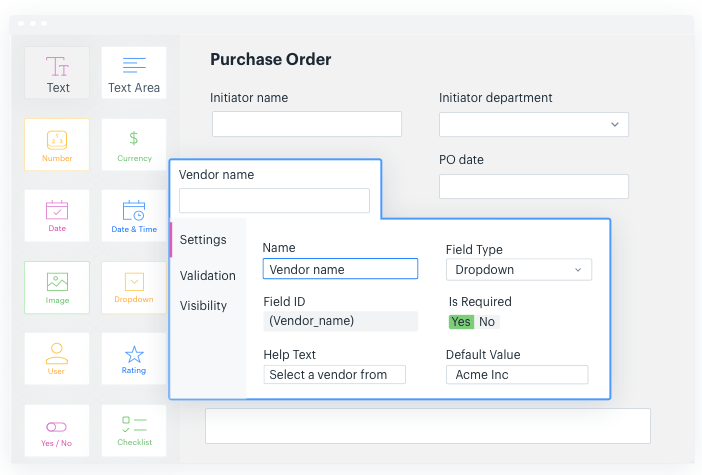 2. List out steps in the process
The purchase order process may differ from one organization to another, depending on the policy and business needs. So, before automating the process on a purchase order system, you need to have a thorough understanding of the process flow and tasks involved. This also helps organizations identify redundant tasks and process gaps.
3. Design purchase order workflow
Once the digital form is ready and you're aware of the tasks that need to be completed, it is time to create the workflow.
Depending on the process, you can make it collect data (input task) or allow the stakeholder to review the form and take action (purchase order approval). For the requestor who initiates a PO, it will be an input task. For the finance staff who evaluates the purchase order by cross-checking it with the allotted budget and inventory, it will be an approval task. Automated reminders will keep the process on track and complete it within the deadline.
4. Define roles and permissions
Once the workflow is ready, you need to assign stakeholders and set access permissions. Specific roles and responsibilities should be assigned based on the part a person plays in the purchasing process. Consider this scenario, while a requestor might need access to input purchase details, the manager and finance staff who review it only need permissions to view order details. While this might sound complex, Kissflow Procurement Cloud provides easy-to-use toggle options to get you started.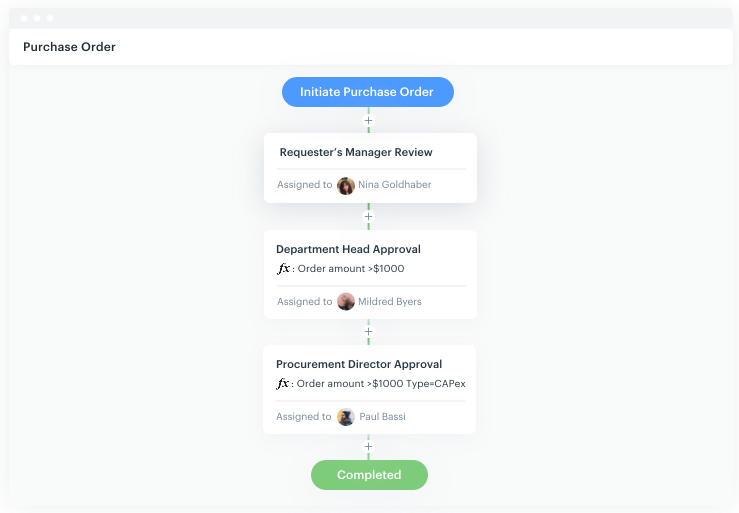 5. Implement the purchase order system
Your purchase forms are ready. Tasks are automated with a dynamic workflow, and the roles and rules are set. The final step is to publish the app and share it with everyone in the purchasing team.
However, it would be wise to release the purchase order process system to a small team of people who take part in the procurement process and ensure everything works as it should.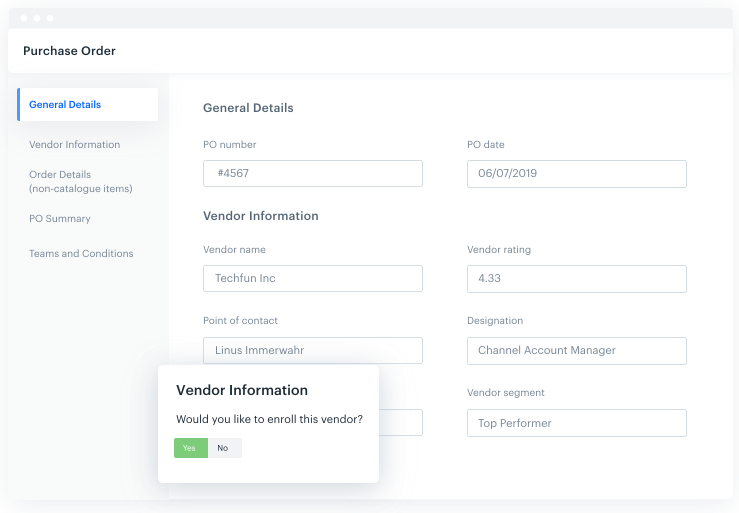 6. Obtain feedback and improve
Once the purchase order process system is released to the wider audience, it will collect a lot of feedback. If your easy purchase order system, lacks just a few nuances, it would be wise to incorporate those suggestions and update the app.
But, if it lags in major functionalities or has process gaps, it would be better to withdraw the application altogether and work on improving it.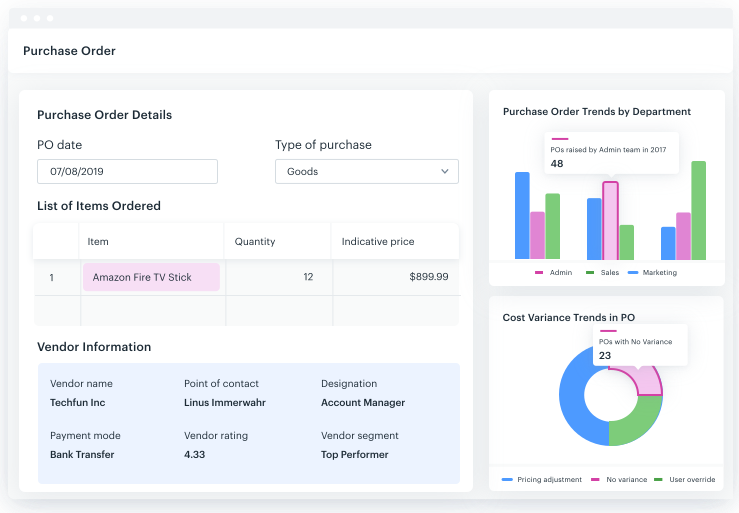 Why should you choose Kissflow Procurement Cloud?
Kissflow Procurement Cloud's easy-to-use drag-and-drop tools and low code platform lets you create an end-to-end procurement system without any coding background. It helps you extract purchase order details easily from approved purchase requisitions and sends them to the approval loop without any human intervention. The purchase orders are then stored in the cloud, so there's no question about security. What's more? You can tailor-make your purchase system according to your business needs. Request a free demo to know more!
PO System FAQ
How to set up a simple purchase order system for small businesses?
Identify Requirements: Understand your business needs and the essential elements you want to include in the purchase order system, such as item details, quantities, supplier information, and approval processes.
Choose a Software: Consider using a cloud-based purchase order software that fits your budget and requirements.
Design Purchase Order Format: Design your own standardized purchase order format that includes all necessary fields, such as item description, quantity, price, total, and relevant vendor details, or use automated purchase order templates using comprehensive purchase system software like

Kissflow Procurement Cloud

.

Approval Workflow: Establish an approval process for purchase orders based on your business's hierarchy and budgetary requirements. Determine who needs to authorize various purchase amounts.
Issuing Purchase Orders: Generate purchase orders when needed, filling in the required details for each order, and ensure the necessary approvals are obtained before placing orders.
Maintain Records: Record all purchase orders issued, received, and processed. This can be done manually or by using a digital filing system like Kissflow Procurement Cloud.
Receiving and Inspection: Upon receipt of goods, match the items with the purchase order and inspect quality and quantity.
Invoice Matching: Match vendor invoices with corresponding purchase orders to verify accuracy before processing payments.
Regular Review and Improvement: Regularly review the purchase order system, gather employee feedback, and make improvements to streamline the process and enhance efficiency.
By following these steps, small businesses can establish a simple yet effective purchase order system to manage their procurement needs, control spending, and improve overall purchasing processes.
Our happy clients say about us
2,157 people have said about how good Kissflow

Kissflow Procurement Cloud allows any level of customization. It is easy to use and is flexible enough. It is also a business process compliant system.

Kaveri
Web developer, Kissflow
Read case study

Kissflow Procurement Cloud allows any level of customization. It is easy to use and is flexible enough. It is also a business process compliant system.

Kaveri
Web developer, Kissflow
Read case study