Any organization irrespective of size is driven towards the objective of achieving maximum business productivity within a limited budget. It is with this objective in mind that all functional workflows and business tasks are planned and implemented. Through the course of executing these processes, a lot of unprecedented and fragmented data is generated. This data, when collectively aligned and integrated, would provide a deeper insight into the processes using which the organizations can easily achieve optimization and enhance productivity. The organization's level of success is greatly influenced by how well the business processes are managed, integrated, and utilized.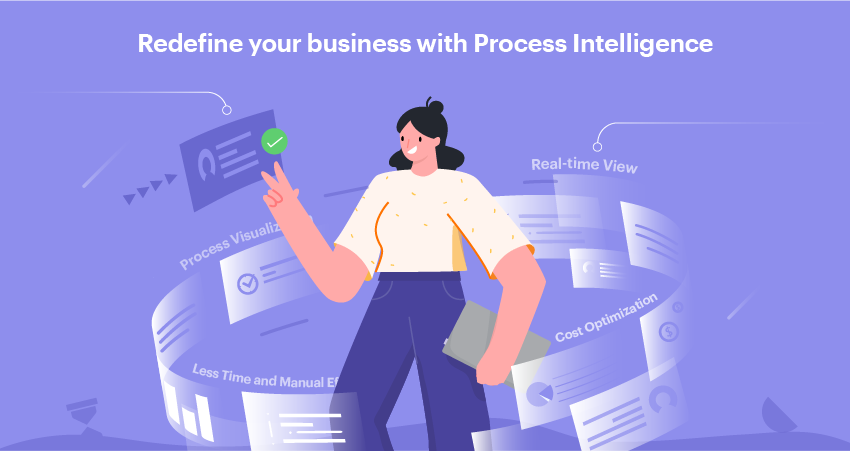 Business processes being such a critical part of an organization must be streamlined and managed effectively, making sure that they lead to an overall productivity enhancement. Even though today's business process automation technologies and tools are designed to provide analytical insights and key performance indicators of various processes, certain critical questions that remain unanswered are:
Does the performance of this task impact the other tasks within this process? If yes, what is the level of impact?
Is the performance quality up to expected standards? If not, why?
It is almost impossible to achieve higher operational efficiency without answering these questions. This is where Process Intelligence comes into the picture.
What is Process Intelligence?
Process intelligence refers to the collection and analysis of data related to business processes or operational workflows in order to identify and address bottlenecks and improve efficiency. By systematically gathering and analyzing this data, organizations can gain a better understanding of their processes and make informed decisions about how to optimize and streamline them.
Process intelligence exceeds process automation and helps in identifying operational bottlenecks and improvement of overall process efficiency. It is considered as an evolutionary platform where you leverage powerful and advanced capabilities using which business-critical processes can be tracked, analyzed, managed, and improved.
So how does process intelligence actually work?
With the power of discovery and advanced algorithms, process intelligence extracts and interprets the timestamps used to document specific events along with the processes. These timestamps are visually modeled to instantly identify deviations from the standard process flow, enabling you to discover the bottlenecks causing inefficiencies and potential improvements that could be made to enhance overall business productivity.
How Process Intelligence Helps Businesses?
With the data generated from various processes across your organization, Process Intelligence performs a deep-dive analysis and sheds light on:
How effectively processes are executed
The inefficiencies caused by bottlenecks in the processes
How to eliminate bottleneck and make

continuous improvements
The tasks that are disintegrated with the process
The processes that are dysfunctional and causing hindrance to overall productivity
With process intelligence, you can gain a comprehensive understanding of your entire business operations, providing actionable insights and enabling you to make informed decisions for improved results.
Process Visualization:
It provides you with a clear visual model of your workflow throughout the entire process, enabling you to understand where and what is the bottleneck causing the delays and incompetencies.
Real-time View:
It helps you understand how exactly your processes operate, giving you real-time visibility and an opportunity to rectify and eliminate inefficiencies, giving bigger space for best practices and improvements.
Less Time and Manual Effort:
It aids in eradicating the manual interventions, leading to the lesser occurrence of errors and progressively speeding up the processes, and enhancing business productivity.
Cost Optimization:
With the bottlenecks being eliminated and processes performed effectively, the operational costs are automatically reduced, making it convenient for you to identify and invest in other critical improvement opportunities.
Reinvent Business Processes with Kissflow
Having highlighted the key advantages of Process Intelligence, if you're looking to explore more and attempt to transform your process structure to optimize efficiency in your organization, then Kissflow can provide you with a seamless, end-to-end process automation solution.
Kissflow Process is a no-code platform that can help you automate business processes in a matter of 15 minutes. Its drag-and-drop form builders and visual workflows allow you to effortlessly build processes of varying complexity.
Elevate your Business Processes to Next-Level with Kissflow Process:
It is your go-to process automation platform designed to effectively

streamline your workflows

of various processes, giving you the agility and flexibility to run your business operations hassle-free.
With its powerful reporting and analytics features, you are provided with valuable insight that can guide your process improvement efforts. You can secure your data with role-based conditional access.
It enables easy integration with other software in your organization. It is built to scale effortlessly so that you can focus on growing your business without distractions.
Would you like to explore what powerful and easy process management feels like? Try Kissflow Process today!