Business Process Automation (BPA) helps streamline your business and achieve digital transformation by automating manual business processes. Its main aim is to cut costs, create more transparency, drive efficiency, and facilitate process compliance. To put it simply, there is no limit to the benefits that BPA can bring to an organization.
Here are the five common problems that business process automation can help solve:
1. Streamlining business processes across the organization
One of the biggest advantages of business process automation is that it can help consolidate all the processes within your company and transform them into one overarching solution.
Most businesses have a complex environment consisting of numerous disparate applications. As your organization grows in size and new technologies are adopted, the complexity increases as well.
With business process automation, you can use point to point integration to make all the applications work together seamlessly. Of course, the more processes you have, the more time you need to spend in integrating them together. With the right business process automation tool, you can automate the entire integration process–whether you have legacy systems, on-premise apps, or cloud-based solutions.
2. Finding and rectifying manual errors
With numerous applications and high volume of data, the room for manual human errors is also bigger. Human errors can be made while manually entering data or sharing files, and the cost of correcting these can be incredibly high for your business.
Business process automation can solve this problem by automating manual data entry tasks which in turn leads to higher productivity and no manual errors whatsoever.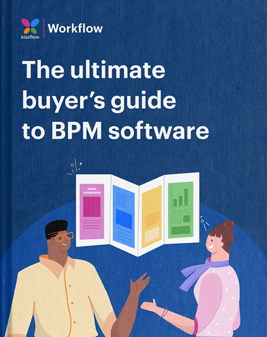 #Free eBook
The Ultimate Buyers guide to BPM Software
3. Time-consuming manual reporting
To make sure your enterprise is running smoothly and you are able to make informed business decisions, you need access to accurate reports that are extracted from a high volume of data.
Compiling data and manually creating reports is not only a tedious and time-consuming task, but it can also lead to errors.
By implementing business process automation in your organization, you can automatically create accurate reports that can be updated in real-time whenever the data associated with it is changed. Getting rid of manual reporting means your team will have more time to focus on critical business tasks.
4. Following necessary compliances
Depending on the type of industry your business is a part of, you are required to comply with some or the other kind of regulations. These compliances can often put a strain on IT resources.
Instead, you can streamline the processes involved in giving auditors information about your company through business process automation tools.
For instance, if your company is required to stay in line with the data security and protection regulations, then you can encrypt data at all levels of the company through automation.
At the same time, business automation also creates transparency and stops the blame game within the company as you can see exactly who approved what step of the process.
5. Waiting on approvals
Depending on how the documents are shared and saved in your company, teams may have to wait for approval from the higher-ups before they can start the work which can often lead to delays. In case someone is on leave or out of office, it can throw everyone else off schedule.
Business automation tools like Kissflow Process make getting approvals as easy as clicking a button. With all the data and files added to the workflow, the approvers can get direct notifications, check the relevant files, and approve or reject it right away which can save time and keep your teams always on schedule.
You can sign up for a 30-day trial of Kissflow to do to know how it can help streamline business processes in your organization.
⋙ Check out why these
6 BPM Software
are at the top of the competition!