What is MDM?
Every enterprise relies on a host of master data to run their core processes. Master Data concerning products, vendors, suppliers, customers, and anything critical to the enterprise's growth is stored in disparate systems. However, outside these systems, data evolves continuously over a multitude of events. There is no central hub where the master data is stored and can be updated. With tons of information exchanged, there's plenty of room for data mismatch. Eventually the data becomes stale and as good as dead.
For every mid to large enterprise this is a nightmare. Organizations are desperate to have their master data 100% up-to-date or as close as possible at all times. To solve this, most businesses have no better choice than to settle for solutions from mega-vendors known as "master data management", MDM in short.
Gartner says that by 2017, CRM leaders who do not adopt Master Data Management will attain erroneous results that can pique customers and result in a 25% reduction in potential revenue gains.
A simple workaround.
Recently, a manufacturing giant signed up for kissflow and we reached out to them to understand what they are doing with our product. We were pleasantly surprised to learn that they were using kissflow to solve their MDM challenges. We couldn't contain the curiosity and approached them to understand better as to what actually transpired.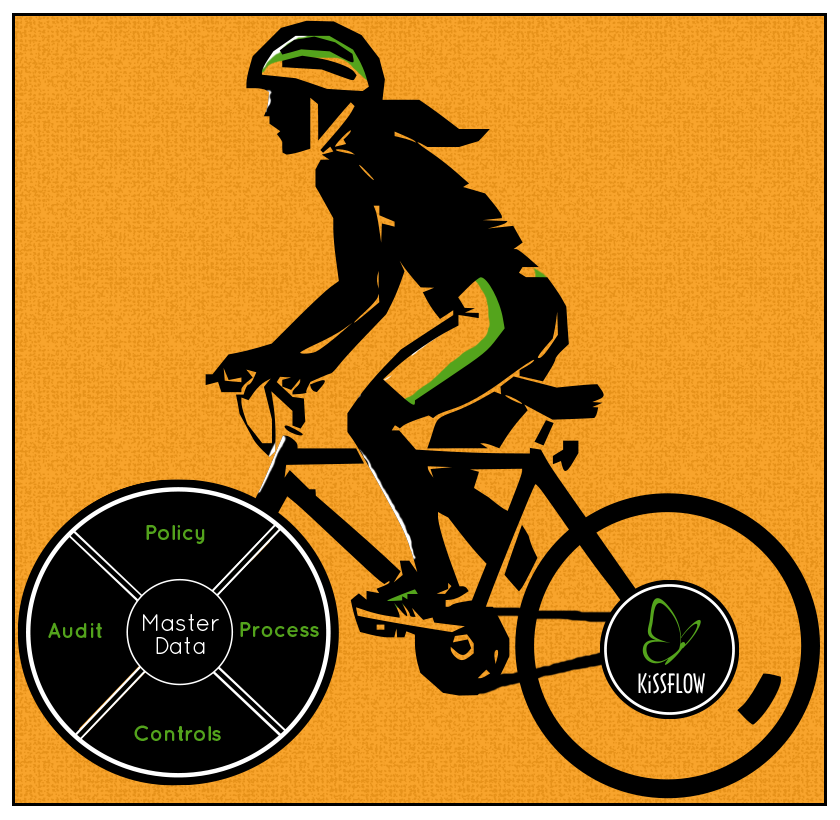 The customer is a massive enterprise with a global footprints and billions in annual revenue. Needless to say, it is of extreme significance for them to hold consistent master data. We spoke to a senior representative of the organisation who stressed that even the slightest inconsistency in data could lead to a loss of customers and revenue.
For example, if the customer data is flawed, the whole operation cycle is affected. The end product may not meet the compliance set by the customer, causing loss to the business. When you extrapolate this scenario across the organisation's numerous locations and divisions, you can see the need to effective MDM. With diverse business units accessing and making hordes of changes to the master data, the possibility of the data remaining uniform throughout the organisation is highly improbable.
They considered some of the off-the-shelf MDM solutions, but it was entirely too expensive. The IT team at this global enterprise turned out to be a lot more smarter. Instead of spending a truck load of money on mega-vendor solutions, they were on the look out for a flexible workflow automation tool that they could to tailor to their MDM needs.
How did they do it?
They created a Maker-Checker-Process on kissflow to manage their master data. The workflow process, as the name says, involves 'makers' and 'checkers'. The maker initiates a process to update a master record based on events and requests.. The checker verifies the accuracy of the maker process and gives a green signal for master data updation.
Integration Eliminates Verifier Role – Normally, there is a audit process called "verification" that is performed after master data updation. In this case, our customers were able to integrate kissflow with their enterprise systems. With this integration, nothing falls through the crack of human errors and the need for a verifier role doesn't exist. Of course, in the process, this saves money too.
The ability to build well defined workflows made kissflow their preferred choice. If you are looking for a cost-effective MDM solution, kissflow is what you need!
The approval process designed by our customer for master data management was a novel idea, something we had never thought of. At kissflow we are delighted to have innovative power users and that's how you keep it simple & smart! 😉
Note : kissflow is not an ready-made MDM solution. However, the core of MDM is to request process for making updates to the master data through a strictly regulated approval process, that is a cakewalk for kissflow. 🙂