More Than You Ever Needed to Know About the Purchase Order Process
Shivasankari Bhuvaneswaran
October 18th, 2018 • Procurement Process • purchase order
In today's global workforce, a slow purchase order process can cripple your business. Manual purchase order processing and archaic systems hamper the purchase order process and do more harm than good.
Relying on a manual purchase order process with emails and spreadsheets is like using a bank account with no ATM access. When you think of how easily ATMs function in the world of banking, it's hard to imagine standing in line for a long time only to have a teller make an error when handling a simple transaction.
In the same way, old-school processes are out of place in the modern world of technology. Automation makes clunky processes work like a charm. It's perfect for the tedious and labor-intensive day-to-day administrative processes like purchase orders, invoice approval, and more. In the technological era, the future of an organization depends on how well you can adopt and adapt to automation.
Before we delve deeper into how automation creates the best procurement system for your purchasing team, let's take a look at the current state of purchase order management, and figure out its major flaws.
What Is the Purchase Order Process?
The purchase order process is the journey of a purchase order (PO) from creation through purchase order approval, dispatch, delivery, invoicing, and closure. It also includes budget checks, contract management, quality checks, and more.
Once a purchase order is accepted by the vendor, it becomes a legally binding document. A purchase order outlines required items, the agreed upon price, delivery expectations, and payment terms.
Purchase orders provide concrete instructions for the vendor while offering buyers a solid paper trail that can be used as a point of reference when clarity is required in your procurement process.
What Are the Steps Involved in a Purchase Order Process?
The purchase order process consists of several compliance checkpoints and approval/input tasks to ensure timely PO processing. Here are the most common purchase order process steps:
PO Creation
PO Dispatch
Binding Contract
Goods Delivery
Three-way Matching
PO Closure
1. PO Creation:
Purchase orders are created from approved purchase requisitions
2. Approval Flow:
POs are approved after budget and document verification
3. PO Dispatch:
Once approved, purchase orders are forwarded to the selected vendor
4. Binding Contract:
A legally binding contract is invoked once the vendor accepts the PO
5. Goods Delivery:
The vendor delivers goods, and the buyer does a quality check and notifies the sender in case of defects
6. Three-Way Matching:
Buyer performs three-way matching (with purchase request, PO, and invoice)
7. PO Closure:
After PO matching, if there are no discrepancies, purchase orders are closed
Stuck With Manual Purchase Orders?
Automate Your Purchase Order Process Now.
Purchase Order Process Flow
The purchase order process flow is the lifecycle of a purchase order from order creation to closure. A predefined purchase order process flow allows the purchasing team to process a PO without missing any steps, and follow it up easily to avoid delays.
This purchase order process flow depicts the action steps in PO processing as follows:
Send Out Multiple Requests for Quotation(RFQ)
Analyse and Select Vendor
Negotiate Contract and Send PO
Receive Goods/Services
Receive and Check Invoice (3-Way Matching)
Authorize Invoice and Pay Vendor
Record Keeping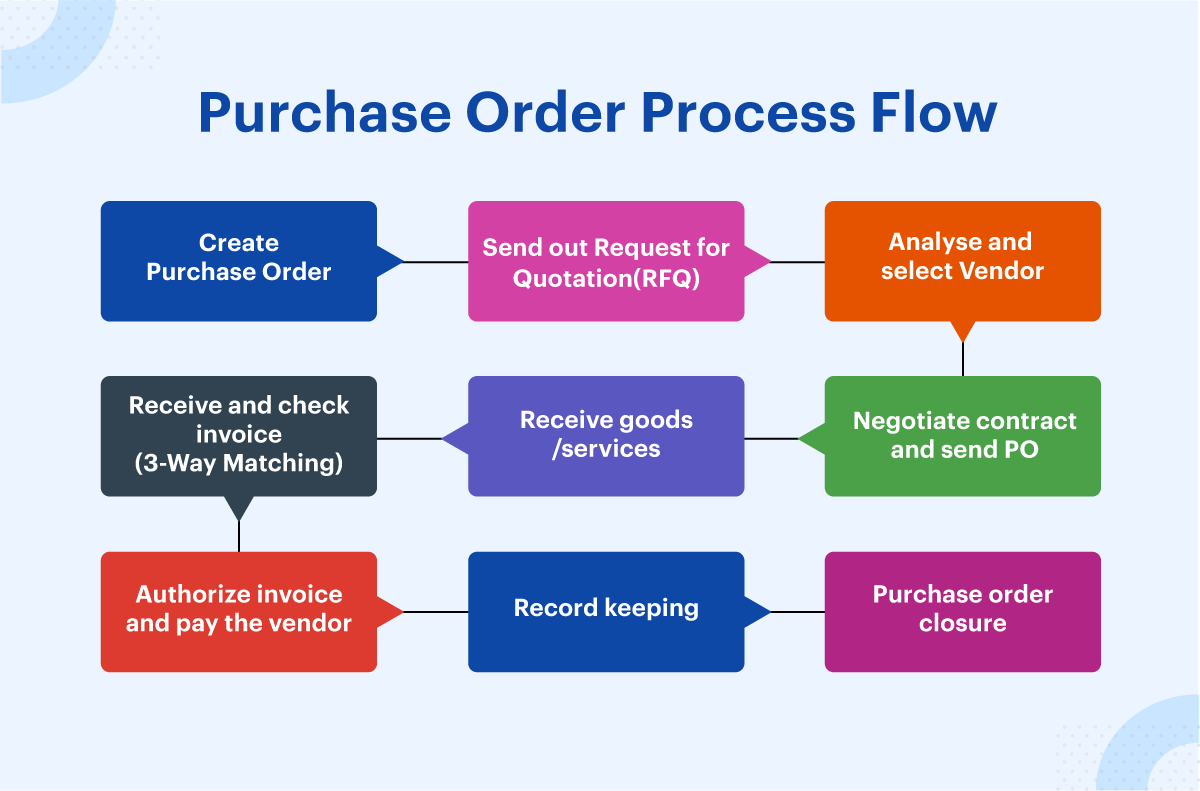 The Pain Points of Manual Purchase Order Processes
Manual purchase orders are costly, inefficient, and time-consuming to maintain. There are too many documents required to process a single purchase order.
Acquiring, storing, and sending them through the approval loop while ensuring they don't get lost or damaged along the way is extremely tedious.
According to a recent APQC study, manual PO processing can cost organizations as much as $506.52 per purchase order.
A manual purchase order process:
Lacks visibility
Spikes organizational expense
Drags PO processing cycle
Depends on human intervention
Has process bottlenecks and compliance issues
Involves an endless loop of emails and people
Is cumbersome, inaccurate, and error-prone
Why Is Purchase Order Automation the Ideal Solution?
While it is a substantial shift for organizations used to paper-based processing, the move to automation can open up huge opportunities. Automated purchase orders inject efficiency into processes, by enabling better inventory and payment tracking.
With manual processes, purchasing teams focus on paper files, spreadsheets, and manual matching. But automation allows them to take on a new role — a role where they can do much more than paper-pushing and become a real driving force behind the organization's financial success. Plus, automation can speed up your purchase order process by 75%.
Using an automated purchase order software, can help organization save 65% of operating expense.
Purchase order automation will capture key information, store it securely, route purchase orders to the appropriate team member, and obtain necessary approvals without manual intervention.
Steps to Automate Your Purchase Order Process
1. Install the Purchase Order App
Install an automated purchase order app from the list of 48+ pre-built workflow apps or create your own customized purchase order template from the ground up, in a few minutes
2. Customize the App
Tweak your application to meet your organization's needs with visual drag-and-drop tools and advanced KiSSFLOW features. Add formulas, conditions, exceptions, and more.
3. Implement the Purchase Order Process
Eliminate paper-based purchase order process with your brand-new PO app. Once your data fields are set, move on to defining workflows, setting permissions, and approval tasks.
4. Track Your Progress
View the status of every purchase order, and quickly spot bottlenecks. Make real-time changes to create a seamless purchasing experience.
5. Improve the Process
Make your purchase order process more accurate and fast using analytic, reports, and other readily available visual insights
Managing Purchase Orders Using Emails or Sheets?
Try KiSSFLOW for FREE and Get Rid of Chaos.
Benefits of an Automated Purchase Order Process
A robust purchase order process is essential to control organizational spend. Creating and following a purchase order workflow is essential to:
Build a better buyer-vendor relationship
Streamline communication
Minimize financial risk
Control budget
Manage inventory better
Maintain an evidence for audits
Ensure consistency and accuracy
Summary
Say goodbye to illegible handwriting, missing POs, and endless hours of data entry. Automation can transform bundles of paperwork into easily traceable digital forms that are stored securely on the cloud. Your purchase orders will be routed through flexible, rule-based approval workflows and validated against available budgets automatically with the help of an easy-to-use purchase order management software.
Organizations that fail to embrace automation will to miss out on its benefits. Over time, they risk becoming industry laggards. Organizations that take advantage of automation will unlock value, boost profit, and eventually deliver more ROI. Having a clear view of how to approach and implement automation in their purchase order processes will take them down the road to success.
Having trouble finding the perfect automated online purchase order system? Sign up for a free trial and make your own with KiSSFLOW. Use our simple interface to take control of your purchase order process and achieve the ease of automation you've always wanted.
Say Goodbye to Tedious Manual PO Processing
Automate Your Purchase Order Process in 15 Minutes