More Than You Ever Needed to Know About the Purchase Order Process
In today's global workforce, a slow purchase order process can cripple your business. Manual purchase order processing and archaic systems hamper the purchase order process and do more harm than good.
Relying on a manual purchase order process with emails and spreadsheets is like using a bank account with no ATM access. When you think of how easily ATMs function in the world of banking, it's hard to imagine standing in line for a long time only to have a teller make an error when handling a simple transaction.
In the same way, old-school processes are out of place in the modern world of technology. Digitalization makes clunky processes work like a charm. It's perfect for the tedious and labor-intensive administrative processes like purchase orders, invoice approval, and more.
In the technological era, it is would be wise to take advantage of a cloud-based solution for purchase orders. Before we delve deeper into a procurement system for successful PO management, let's take a look at the current state of purchase order management, and figure out its major flaws.
What is the purchase order process?
The purchase order process is the journey of a purchase order (PO) from creation through purchase order approval, dispatch, delivery, invoicing, and closure. It also includes budget checks, contract management, quality checks, and more.
Once a purchase order is accepted by the vendor, it becomes a legally binding document. A purchase order outlines required items, the agreed upon price, delivery expectations, and payment terms.
Purchase orders provide concrete instructions for the vendor while offering buyers a solid paper trail that can be used as a point of reference when clarity is required in your procurement process.
What are the steps involved in a purchase order process?
The purchase order process consists of several compliance checkpoints and approval/input tasks to ensure timely PO processing. Here are the most common purchase order process steps:
PO Creation
PO Dispatch
Binding Contract
Goods Delivery
Three-way Matching
PO Closure
1. PO creation:
Purchase orders are created from approved purchase requisitions
2. Approval flow:
POs are approved after budget and document verification
3. PO dispatch:
Once approved, purchase orders are forwarded to the selected vendor
4. Binding contract:
A legally binding contract is invoked once the vendor accepts the PO
5. Goods delivery:
The vendor delivers goods, and the buyer does a quality check and notifies the sender in case of defects
6. Three-Way matching:
Buyer performs three-way matching (with purchase request, PO, and invoice)
7. PO closure:
After PO matching, if there are no discrepancies, purchase orders are closed
The Pandemic Crisis Management Handbook for Procurement Managers
Purchase order process flow
The purchase order process flow is the lifecycle of a purchase order from order creation to closure. A predefined purchase order process flow allows the purchasing team to process a PO without missing any steps, and follow it up easily to avoid delays.
This purchase order process flow depicts the action steps in PO processing as follows:
Send out multiple requests for quotation(RFQ)
Analyse and select vendor
Negotiate contract and send PO
Receive goods/services
Receive and check invoice (3-Way Matching)
Authorize invoice and pay vendor
Record keeping
Purchase order closure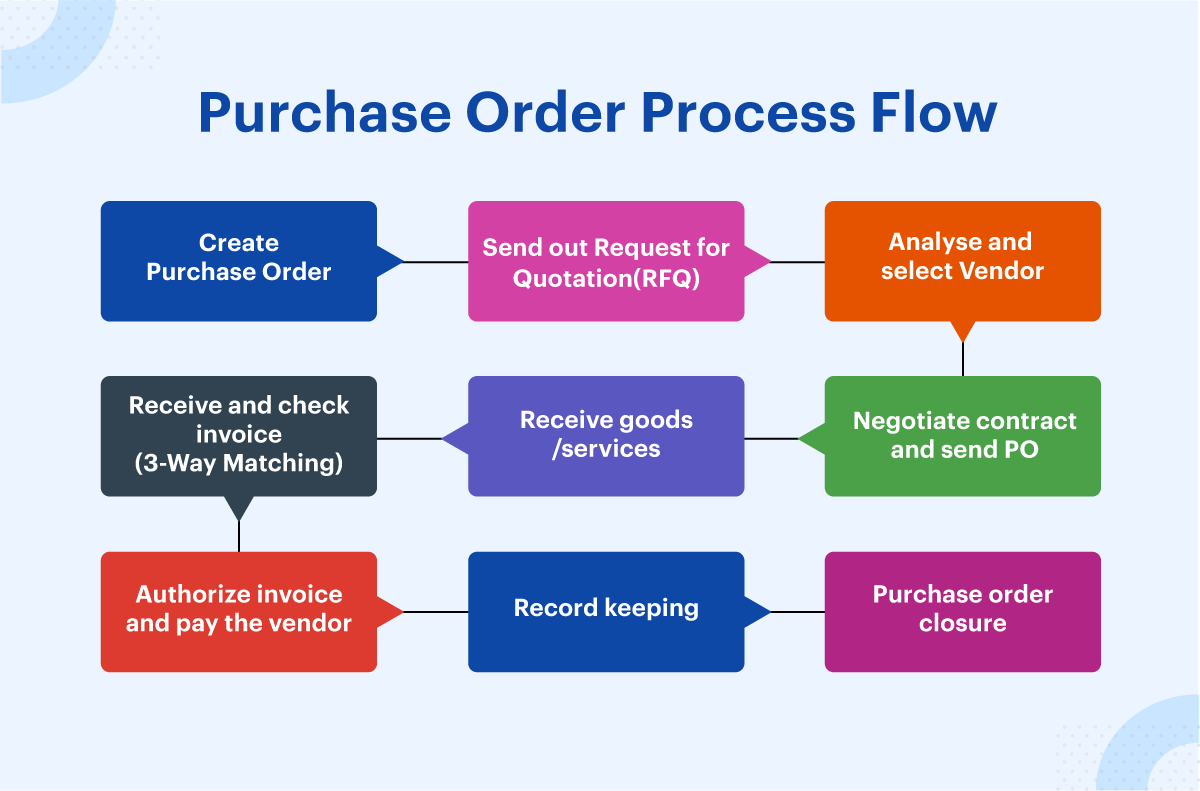 The pain points of manual purchase order processes
Manual purchase orders are costly, inefficient, and time-consuming to maintain. There are too many documents required to process a single purchase order.
Acquiring, storing, and sending them through the approval loop while ensuring they don't get lost or damaged along the way is extremely tedious.
According to a recent APQC study, manual PO processing can cost organizations as much as $506.52 per purchase order.
A manual purchase order process:
Lacks visibility
Spikes organizational expense
Drags PO processing cycle
Depends on human intervention
Has process bottlenecks and compliance issues
Involves an endless loop of emails and people
Is cumbersome, inaccurate, and error-prone
How e-procurement transforms purchase order processing
1. Auto-routed requests, PR-triggered POs, and more
Using an e-procurement system, purchase requests are quite simple–you simply enter the appropriate details of the purchase request into the system. Then, requests are routed to all the appropriate stakeholders according to the path you've defined in advance. Once the final approval is sent in, a purchase order is automatically initiated.
The purchase order gets routed through the system too, all the way down to invoice approval and payment.
With a cloud-based procurement tool taking care of POs and purchase requisitions, you have instant access to any purchase order within the system. Archived POs can be brought up in a second whenever you need to, and no purchase order ever gets buried 'in the system'.
Just as with digital purchase requests, automated routing and relevant notifications work together to ensure that all POs are signed and approved by the right people, at the right time.
2. Automated three-way matching
Procure-to-pay solutions offer more than cloud storage and auto-routing of approvals. Three-way matching is one such feature that compares purchase orders against their respective purchase invoices and requests, to eliminate the chance of manual error.
3. Insights into purchasing
This is where digital purchase order management offers a significant advantage over the traditional paper- or email-based process. One of the best parts about taking purchase orders digital, reports and analysis help you understand what's going well, and where inefficiency is costing you money.
Since purchase orders are a vital cog in the procurement wheel, it's good to have process transparency and visibility. You can pull up the status of any order instantly, analyse vendor performance metrics, and more through custom reports and analytics.
Streamline Your Procurement Process With Kissflow
Manage. Monitor. Optimize
Benefits of a digital PO system
Here are six reasons why every organization needs a procurement solution with a purchase order management system. Digital purchase order systems can:
Enhance efficiency in PO management, with no lost or delayed POs
Improve PO processing speed
Accelerate purchase order approvals
Streamline order and stock management
Improve the vendor-buyer relationship
Prevent procurement fraud
Summary
Say goodbye to illegible handwriting, missing POs, and endless hours of data entry. A digital procurement solution transforms bundles of paperwork into easily traceable digital forms that are stored securely on the cloud.
Your purchase orders will be routed through flexible, rule-based approval workflows and validated against available budgets automatically when you use a cloud-based procurement solution like Kissflow. Organizations that fail to embrace digitized purchase order management will miss out on its benefits. Over time, they risk becoming industry laggards.
With Kissflow Procurement Cloud, your procurement team can improve value, boost profits, and eventually deliver more ROI. Still unsure if you need Kissflow? Take a look at Kissflow, and you can see for yourself how your purchase order process gets transformed, along with the rest of procurement.
Streamline Your Procurement Process With Kissflow