Low Code
Types of Low-Code Platforms For Enterprise Businesses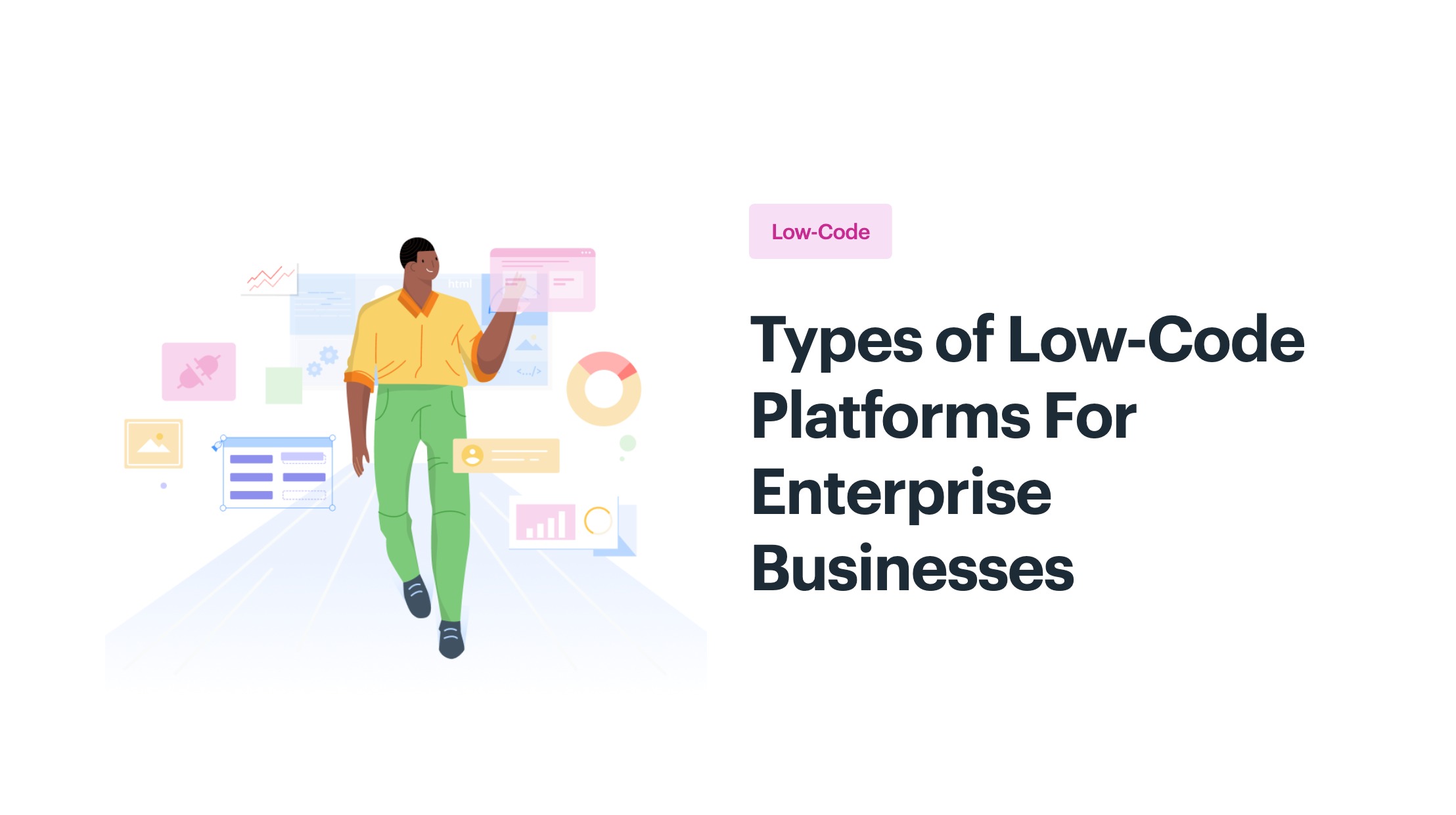 Low-code is no longer the new kid on the block. As a growing industry and popular technology, most organizations that are serious about improving their development process have at least experimented with low-code.
But all low-code platforms are not the same, and they're not all built to serve one user base. If you're in the market for a low-code development platform, you need to understand the differences between each platform before you pay the vendor of your choice.
Low-Code Platforms Classified by Use Case
Low-code platforms cater to different use cases. Depending on the intended usage or purpose, there are a variety of different low-code platforms.
Here are The 5 Main Types of Low-Code Platforms.
General Purpose
These platforms can create virtually any type of application. With a general purpose platform, you can build an app that serves a wide variety of needs and can be deployed anywhere. General purpose low-code platforms can include developing the front-end or back-end of the application, depending on the requirement.
Process
These platforms focus specifically on apps that run business processes–including forms, workflows, and integrations with other systems. In process improvement terms, this is known as low-code BPM, or business process management. Process-based platforms are ideal for approval workflows and going paperless.
Request-Handling
Request-handling low-code platforms are similar to process-based low-code, but are less capable. They can only handle processing requests for fixed processes.
Database
These platforms are restricted even further; they only allow access to pull data from databases programmed inside the system. Database low-code platforms are great if you have large amounts of data you need to feed into a system, without a lot of time to spend on the task.
Mobile Application Development Platform (MADP)
These platforms help developers code, test, and launch mobile apps for smartphones and tablets. Using these platforms, you can write code for one platform and port the app to different mobile platforms.
Low-Code Platforms Classified by Different Users
Low-code platforms offer a great advantage to either developers or business users. However, it's rare to find a platform that does both. If the platform leans towards improving the speed of developers, it is usually too complex for the common man. If it tries to make coding easy enough for anyone to use, then developers will be frustrated at the lack of customizing.
Low-Code Platforms for Business Users
Low-code platforms designed for business users push for as little code as possible, providing a platform where business users can create applications. With these platforms, business users become citizen developers, users who don't have a working understanding of any programming language or coding in general, but can create applications using the platform.
The reason these platforms are called low-code platforms is because they're designed to cater to most requirements citizen developers have. However, there will be some situations where the citizen developer will need the help of an actual developer to create and deploy the functionalities they require.
Low-Code Platforms for Developers
The main intent of a low-code platform for developers is to ensure they reduce the time they spend working on an application as compared to traditional hand coding. Using visual interfaces, drag-and-drop modules, and more, these low-code platforms reduce the manual effort of coding to a great extent, but will need some coding requirement to completely build an application. They're perfect for developers to create applications of any complexity, and are generally not limited to any single platform unless otherwise restricted by the vendor.
Conclusion
Different types of low-code platforms cater to different needs and users, and you'll need to understand the specialties of each type before you make a purchase. With the right platform, development can be easier than ever for your organization. But with the wrong platform, you'll end up wasting time and money on something that isn't a fit for you.
If you're looking for a solid start to your search for a process-based low-code platform for business users, then check out Kissflow, a business process management low-code platform designed to automate workflows and improve processes. Get a free trial to see if Kissflow Low-code is right for your organization.

Kissflow Low-Code Development Platform
Get in touch with us to learn more about how you can transform your application needs.