Remote Work
Remote Work vs Work From Home vs Flex Work vs Telecommuting: What's The Difference?
Remote work gained tremendous popularity in 2020 as more people were forced to quarantine and work from their homes. The exponential rise in the number of remote workers and the clear positive results of working remotely has now led organizations to offer remote working as a permanent perk to their employees. After all, 77 percent[1] of remote workers report higher productivity as they have to deal with lesser distractions.
But to find the right remote work strategy which aligns with your company culture and employee needs, you need to understand the different variations of remote work.
'Remote workers' is a rather broad umbrella term which includes:
People who work from homes
People who work from coworking spaces or cafes
People who work remotely, but on a flexible schedule
People who work remotely, and also come to the office from time to time
The distinctions in remote work have further given rise to other terms including work from home, flex work, and telecommuting. While these terms may be slightly overlapping, they still have clear differences.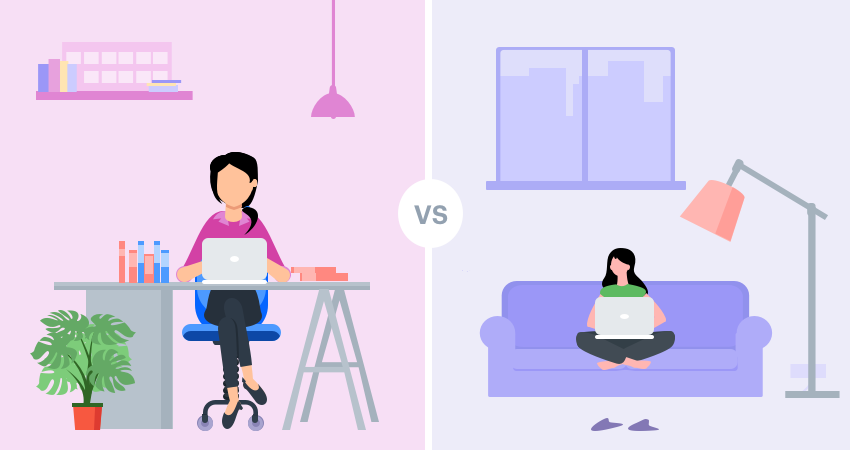 What does working remotely mean?
Remote work means working from anywhere other than the office, which can be your home, cafe, or just a coworking space.
Instead of coming to the office and interacting with team members face to face, remote workers use digital tools to handle tasks, complete projects, and communicate with their team. You can work remotely from anywhere, as long as you have a laptop and a steady internet connection.
Employees can be fully remote or partly remote. Fully remote employees don't have to come to the office at all, but partly remote employees might be required to come to the office at least a few times every month.
Partly remote employees are required to live close to the office, so that it is easier to commute. But fully remote employees can work from any part of the world.
Some companies with dedicated working hours ask remote employees to work during those specific hours only, even if it means working through a night shift. Other companies are more flexible in their approach, and they don't mind when the remote employees get the work done, as long as they accomplish all the tasks at hand.
Remote working outside the office without ever meeting your co-workers requires a different set of skills, resources, and abilities that not everyone has. When you work remotely, you are required to have a self-starting attitude along with optimum management skills. Moreover, you also need to have proactive communication skills so that you are always up to date about what the whole team is doing.
The biggest advantage of remote work is that you get to create your own work environment according to your personal working style. Some people like working in crowded spaces, others like to concentrate in complete silence. With remote work, you can optimize your productivity by creating a workspace that aligns with your needs perfectly.
As a result, remote work has become a desirable perk for many job seekers and it helps companies hire and retain top talent. It also leads to positive employee experience, higher productivity, and lowered infrastructure overhead.
Work from home
WFH Meaning – when you work remotely but only from your home. However, working from home doesn't have to be just for fully remote employees. It can also be for people who might want a few days away from the office just to concentrate on a few important things. You can work from your living room, your bedroom, or even have a dedicated home office. You might even take your laptop and set it up on the kitchen table while cooking lunch.
Working from home in a general sense represents a significant change in your normal work pace, which can be a good thing for many people. It is different from the normal way of working, but it is also very effective.
Working from home for a prolonged time also requires more adjustments than working from an office or a co-working space. Not only do you need to create a dedicated workspace, but you also need to create clear boundaries between work and home life.
Since the pandemic forced almost all public places to close down, including offices, cafes, and coworking spaces, most people have had to work from their home. As things open up post-lockdown, many current work from homers may go back to the office while others will continue working remotely from their homes.
The biggest advantage of working from home is that you get work from your own personal space and miss the office commute. For people with kids, working from home provides a great opportunity to look after their kids without compromising on their work.
Flex work
Flex work or flexible work simply means that you don't have to work the usual 9-hours a day. If you are a part of a remote team, then flex work means creating your own flexible schedule that works for you. This way of working is mostly adopted by remote teams that work from different time zones. Though flex work doesn't necessarily mean remote work. Flex work can also mean working from office for a compressed number of hours or in different time shifts.
The biggest advantage of flex work is that you get the freedom to decide when and how you work so that you can give enough time to other aspects of your life. While remote work gives you the freedom to decide when you work, flex work gives you the freedom to choose 'when' you work.
Telecommuting
With telecommuting, employees aren't usually required to come to the office, but they have to come in from time to time for important meetings or discussions.
The term telecommuting was majorly used for people in the sales, marketing, and customer service departments who needed to constantly travel from one location to the other just to get their work done. They would use 'telecommunication' or mobile phones to stay in touch with their team sitting in the office. Telecommuters would also be required to sometimes come to the office to report to their seniors or finish important documentation.
But now, telecommuting means working remotely and then coming to the office from time to time. Employees use instant messaging, video calls, and digital workplace platforms to stay in touch with their coworkers in the office.
The biggest advantage of telecommuting is that it allows employees to work from their own comfortable space to maximize productivity, but it also gives them the opportunity to have face to face interactions with the rest of the team which in turn leads to better team coordination and collaboration.
Create the right remote work strategy for your organization
Remote work can mean different things to different companies. You don't have to pick one type of remote work and ignore the others for your organization. It can be a combination of remote work and flex work, or a combination of telecommuting and work from home. Reflect on the positive aspects of your company culture and business needs to come up with the right type of remote work that works for you and your employees.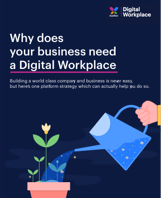 Wondering if your start-up needs a Digital Workplace?
Building a world-class company and business is not easy, but here's is one platform strategy which can actually help you do so.
3. Collaboration
Collaboration is easy for employees when they are in an office and their colleagues sit physically close to them. But when you are working remotely, collaboration as a skill becomes all the more important and challenging as you need to stay constantly connected to your colleagues and managers who might be working from different locations and time zones.
To collaborate successfully, remote employees need to build trust with their team members and have routine check-ins to ensure everything is going as planned. They should also try to get to know their coworkers on a more personal level to build camaraderie.
4. Communication
While instant messaging and video meetings are common and useful for remote teams, most remote employees prefer asynchronous communication that does not warrant a real-time response and allows for everyone to contribute to the discussions according to their own availability.
But that means, by the time your colleague sees a message you sent, you may not be available online to clear out any doubts that they may have. Therefore, it is crucial for remote employees to be as clear, succinct, and direct as possible when sending out messages to team members.
In a remote work setting, every message, email, and call needs to be effective to improve productivity and save everyone's time.
5. Adaptability
Adaptability is an essential skill that all remote employees should have to manage the constantly changing remote work environment.
Remote employees have to constantly learn to work with new team members, collaborate with a geographically dispersed team, adapt to new technologies and tools, manage work in case the internet goes down or laptop stops working, and keep an optimum work-life balance. While many consider adaptability as a natural skill, it can also be steadily acquired by understanding the numerous requirements of your job and creating solid work schedules that take into consideration your home and work needs.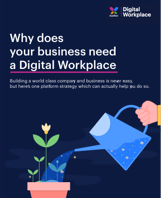 Wondering if your start-up needs a Digital Workplace?
Building a world-class company and business is not easy, but here's is one platform strategy which can actually help you do so.
6. Teamwork
Remote employees should be able to work as part of a team just as well as work independently. In a remote team distributed across different locations, effective teamwork becomes the key to success. Teamwork essentially includes communication, respectfulness, conflict management, and the ability to listen and understand your team member's opinions.
Companies can build an ideal collaborative work environment where employees have access to the right digital tools that they need to collaborate and communicate, but employees can only make the most of those tools when they have the right teamwork skills.
7. Self-motivation
Remote employees need to have enough self-motivation to get things done without the need to be constantly monitored. In an office setting, your manager would walk by your desk to get updates or even help you if you are stuck. But in a remote work environment, you need to remind yourself about the things you need to get done every day.
Ideally, remote employees should be self-starters who don't require a lot of direction. They should have the ability to create a remote work schedule, set their own goals, estimate timelines, and achieve those goals in a timely manner.
Remote work is the future
Work is going to be a lot different in the post-pandemic world. While employees might not be strictly working from home, they will still end up spending more and more of their time working outside the office. As a result, companies will be looking to hire individuals who can work remotely in a professional, effective, and productive manner. Hence, employees need to understand the changing digital culture and develop skills that can help them become a successful remote worker.
Build Your Apps with Kissflow Low-Code