Think of Google Apps like The Avengers. Each app individually possesses great superpowers to fight the many evils it faces in the office. But sometimes a little teamwork is needed.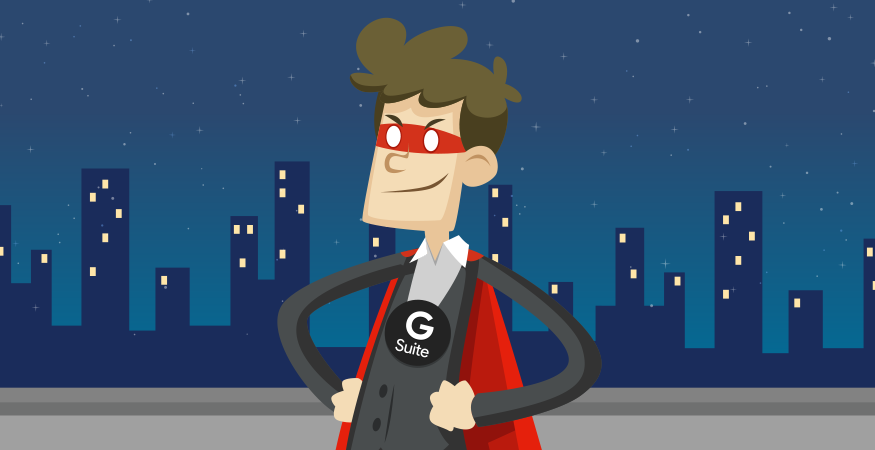 G Suite – the new christening for Google Apps – is an amazing set of collaboration tools to get jobs done faster and better. Gmail lets you to organize conversations, Docs lets you collaborate in real time, Forms runs quick company-wide surveys, and so on. Even the lesser-known hero Apps Script can infuse some interactivity across the apps. The G Suite team has become a core part of the IT infrastructure for many enterprises worldwide.
But sometimes a super villain like Office Chaos is just too much for the team and a new hero is needed. The biggest problem with G Suite is that most of the apps sit in the same place all the time, expecting data to come into it. But outside of a one-step workflow like a Google Form to a Google Sheet, data doesn't automatically move around. The Apps sit there waiting for a manual push, and people have to remind each other through Gmail to respond. Collaboration works best when tasks run in an automated workflow.
What is really needed is a new team member who can get data flowing to really extinguish Office Chaos once and for all.
The Missing Team Member
Here comes kissflow, ranked in the Most Popular apps category in the G Suite Marketplace. kissflow complements Google Apps' simplicity of use, economy, and continuous app development.
kissflow takes all of your regularly iterating business processes and automates them so that data in a protected form flows easily from one task to another.
Automation
An automated business process means that once a process is initiated, no one has to worry about making sure it gets done. Notifications are automatically sent to task owners who simply do the work and click a button. Systems can be leverages to perform easy data-processing and migration steps to cut down on manual errors.
Tracking
One of the biggest problems with manual workflows in a Google Apps enterprise environment is seen when someone asks "Where is that request?" The default response is to open up Gmail and give your best guess at a search term, followed by another email or a phone call to check up on the item. Without the ability to track items, projects can get delayed or tasks might not be completed at all. On the contrary, giving users the power to track individual items offers visibility and ensures accountability.
[blog_signup button_text="Signup" headline_type="Workflow for Google Apps" sub_headline="Take a free trial of Kissflow Process"]
However, with kissflow, you can instantly check the current task, current task owner, and estimated completion time of any item in a workflow and know exactly where it is and when it is expected to be finished. All of your items appear on one unified dashboard.
Advanced Reporting
Reports are an essential tool for businesses that want to get an insight on their markets, improve their business processes, know their customers better, and achieve higher gains. And it's a tool that's amiss in the Google Apps enterprise.
Very few workflow management tools for Google Apps have interactive, easy-to-navigate reporting that lets users drill-down to the issues in-depth and interpret data accurately. Reports play a huge role in making businesses identify the pain points in their existing process and reflect on the possibilities to reach new horizons. A well-made reporting feature allows businesses to know answers to some very important questions, like:
Average time taken for a process to complete
Frequent bottlenecks in a process
Volume of work accomplished within a certain timeframe
The reporting feature, in combination with Google applications for business, can help your business achieve predictable goals and take greater control of your business processes.
When you look at the amazing core team of your Google workflow applications for business, you may think your existing lineup is good enough. But powerful villains await you that your team can't handle on its own. Check out how Kissflow Process can get your data flowing.