Businesses are constantly looking for ways to optimize their day-to-day operations. Automation solutions have become commonplace with organizations largely moving away from manual, mundane tasks and process management. But for someone still trying to navigate the automation space and unaware of the solutions in the market, choosing the right workflow automation software for their business can be a daunting task. And especially so considering the world is still dealing with the aftereffects of the pandemic.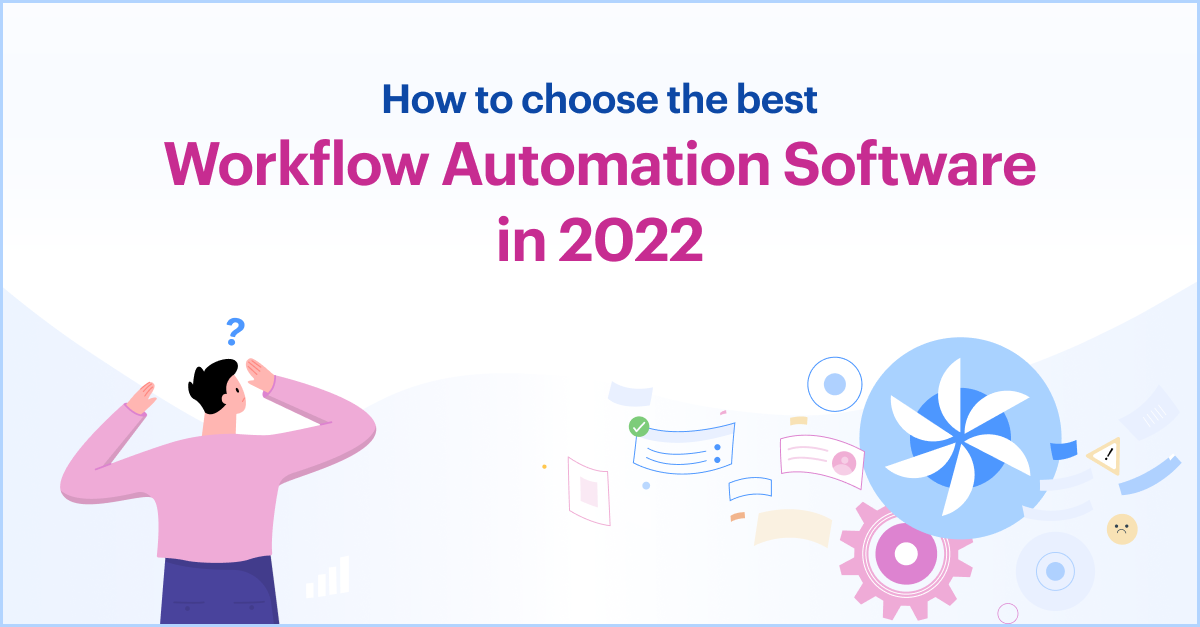 Before we get into a step-by-step process of picking a solution from a crowded marketplace, it's important to understand the 5 most important capabilities of workflow automation software.
Top 5 Features of a Workflow Automation Software
Here are the top 5 features to look into in any workflow automation software:
Workflow Visualization

Task Assignment

Collaboration

Visibility

Analytics
A workflow automation software, at its core, helps streamline processes by breaking them down into simple steps, enabling transparency, and driving swift completion. Every solution is built differently—some may offer better strengths than others but fundamentally, the solution you pick should fulfill some basic requirements.
A great workflow automation software should help users imagine their workflows according to the requirements of their organization. It should aid them in specifying actions and defining the route of every request from start to finish. Each step within a task is assigned to an individual who needs to stay accountable while the ticket is in their queue. In addition to this, it should be able to collect crucial information to give operators access to basic information, investigative data, and context to help push the request to resolution.
Task assignment
Task assignment plays a huge part in ensuring an even workload distribution. Defining the criteria of who takes up new tasks, how to account for complexity, distributing workload, etc are all problems that need addressing. This not only prevents employee burnout but goes a long way in establishing a system where everyone knows what they are responsible for.
Collaboration
Collaboration is a crucial tool in simplifying operations. Any request that comes in requires a level of cohesion, team work, and a grounded understanding of the process. Some tasks may even require specialists or management to step up and weigh in on the situation based on circumstance. A workflow automation platform should account for complexity, enable requests to seamlessly be assigned or reassigned to appropriate members of the team to drive better outcomes.
Visibility
Gaining visibility of the status of tasks can go a long way in identifying bottlenecks in the process. Managers can step in and reprioritize tasks in case of delays, and drive them to closure. This also means that businesses can track every request and keep customers apprised of resolution times and delays.
Analytics
Efficiency is everything in business. How resources are utilized, how time is optimized, and how fast things are done has a trickle-down effect on costs, service, and customer satisfaction. A workflow automation platform should be able to help managers derive actionable insights, make adjustments, and boost productivity at all level. And this is only possible if the platform captures the right data and metrics that are relevant to the business.
Questions That Need Asking?
Choosing the right workflow automation software isn't an impulse decision. It requires serious deliberation and thoughtfulness.
Below are 5 questions that need answering before delving into the selection criteria:
Do I have a real need for a product?
What volume of work am I looking to automate?
Do I have the budget for it?
How many of my employees/colleagues will use it?
How much of the problem will the product solve?
Choosing the Right Workflow Automation Tool in 2023

Pick one that fits the budget
Your budget most often acts as a filter for products that you can or cannot afford in the market. While there are products for every business regardless of size and function, it is challenging to find solutions that fit the budget as well as fulfill the features that are required by your business. And more often than not, software sometimes comes with additional costs that are not mentioned upfront. This is something that business leaders need to be aware of.
Pick one with good reviews
Review sites like Capterra and G2Crowd present a hive of information. This can range from listing capabilities, clearing up any category questions, and providing user feedback. It goes without saying that the criteria here is to pick a product that has great reviews. But the real nugget is reading real first-hand feedback from product users that highlights the product's key strengths and weaknesses. This can draw a clear picture on what products suit your business and which ones don't.
Pick one that helps you get started quick
An important aspect to consider when picking a workflow automation tool is how quickly you're able to implement and hit the ground running. You do not want to commit to a product that takes you months to get onboard with. A free limited trial may give you a sense of that and maybe even give you an insight on the functionality, UX, and features that you can use to make a more informed decision.
Pick one that helps you scale
Business leaders often look for ways to grow their business. But one thing that is often overlooked is whether the solutions they have in hand are able to grow with the business. As businesses grow, so do their requirements for more advanced features, the ability to handle larger volumes, and better analytics. A great workflow management software keeps up with these requirements, helps organizations scale, is able to seamlessly onboard more users, and handle increasing workloads. A view of the solutions' pricing page can be a source of comparison.
Pick one that centres around constant improvement
There are a number of products that are great at the base level but are not able to offer additional support. The frequency of updates can tell you a lot about how seriously they take bugs, defects, or systemic upgrades. The capability to offer professional services, round-the-clock customer support, and customization services are all crucial. Providing professional services is also an important factor once your organization grows to the level that requires such support.
Getting Started with the Top Workflow Automation Tool
We hope you found the tips listed above helpful. And while you're here, we'd like to throw our hat in the ring.
Kissflow is a comprehensive, all-in-one workflow automation tool centred around the philosophy of simple. It allows you to visualize and visualize complex workflows without the need to bank on coding experience or knowledge. The intuitive UI not only makes it incredibly simple to use but allows business users to get onboard and implement processes without going back to the IT teams for help. Intrigued? Click here to learn more.