Despite the meteoric rise of collaboration tools like Slack and Microsoft Teams, documents remain the center of collaboration and communication for all information-driven teams. Whether they're contracts, manuals, invoices, requests, quotes, briefs, reports, etc.—documents are an ideal channel for communicating information in a structured format that's easy to share, interpret, and act upon.
Managed well, documents offer an easy avenue for teams to share knowledge and stay on the same page regarding anything you're working on vs. creating endless email threads that eventually skip the input of key members of your team and lead to endless back-and-forth.
But to get the most value out of them, documents typically require input from several members of your team to ensure they're 100-percent in line with company policies and document management best practices.
Here's where document approval workflows come in. A document approval workflow is the series of steps of human input required to ensure a document meets internal standards before it's approved for usage. Document approval workflows serve as a QA element for ensuring documents created in an organization meet the need for which they're created.
In this article, we explore what document approval workflows are, how they work, and how they fit into the big picture of your organization's efficiency.
Why do you need document management workflows?
Currently, your team might do a huge part of your document management in Slack via chat, email, or right there in Google docs, running through a series of edits before you finally hit done.
So, why should you even bother looking into management workflows for your workflows? Here are some key ways by which workflows can simplify the document management and approval process for your team.
Document approval workflows:
minimize and eliminate human error from documents. With several rounds of reviews for your internal documents, it's harder for mistakes to fall through the cracks unseen

simplify document management since now, it's easier to run through a specific number of steps vs. start from scratch every single time

enable you to automatically pass documents through several levels of input vs. having to collaborate manually via email, Slack, or Google docs

reduce the amount of input and resources required for document QA and approvals, since document management now follows a defined pattern

makes it easy to improve your workflow management over time by analyzing the workflows you run with.
Well-designed workflows form the basis of simpler, smarter document management and help you do more with less.
How to create a document management workflow
Workflows are a significant step forward in the document management process and enable you to simplify knowledge sharing no matter how large your team is, or how much input is required. Here's the step by step guide to creating them.
Choose a workflow management tool
To a significant degree, the workflow management tool you choose to work with determines how much functionality you can get out of your workflows, and how fast you can process documents. When hunting for a workflow management tool, insist on one with:
an intuitive interface that's easy to understand and start building with,

vast integration capabilities, ideally one that syncs with your work/document management suite, i.e. Google Drive, Box, Dropbox, etc.

drag and drop functionality that's easy to create, design, edit, with little or no technical expertise, and

smart team management so you can easily assign tasks and assignments to team members.
Map out all the stages of input you need
Ideally, a document management workflow is made up of the layers of human input required to either edit, review, or control access to the document. As a result, before jumping into actually creating the workflow, it's important that you accurately map out the stages the workflow will include.
This offers an opportunity to perform a surface review, discuss with stakeholders that'll be responsible for the workflow, and analyze to ensure it includes all the steps it should, as well as whether work can flow through it with little or no hitches. This stage is where any issues identified can be marked out and resolved before building out the workflow.
Create a digital form with the necessary fields to include details about the process.
Two primary fields you might want to include are due dates and attachments. Make sure the form is easy to scan and consume. Don't overload the form with unnecessary data that might confuse people.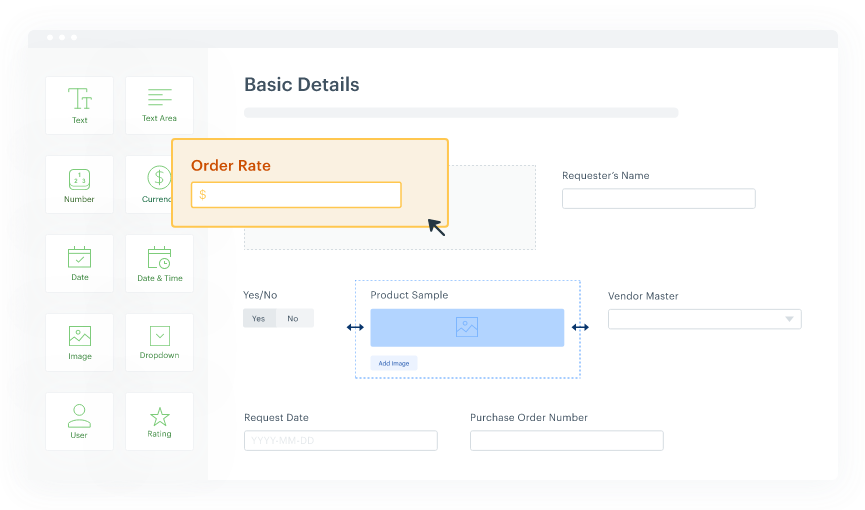 Design the workflow
The workflow shows all the steps of the approval process. Split the different stages of the approval process into separate steps. Name each step clearly and assign specific stakeholders that are accountable for particular steps. You can also assign two approvers, split into parallel steps (like in the image) that happen simultaneously.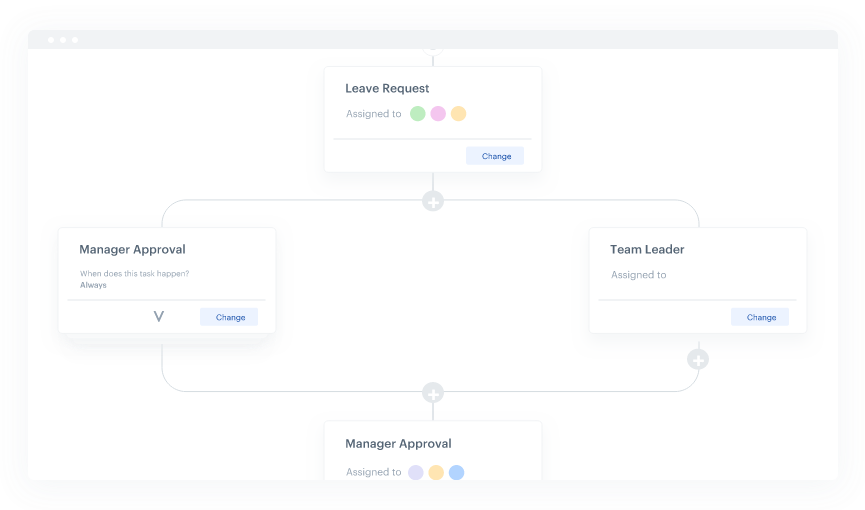 Set permissions and rules
One advantage of workflow automation is the ability to control data accessibility. You can configure each field to be either editable, read-only, or hidden for specific users or user groups.
If there are approval conditions based on the values of certain fields, you can assign specific actions for each condition.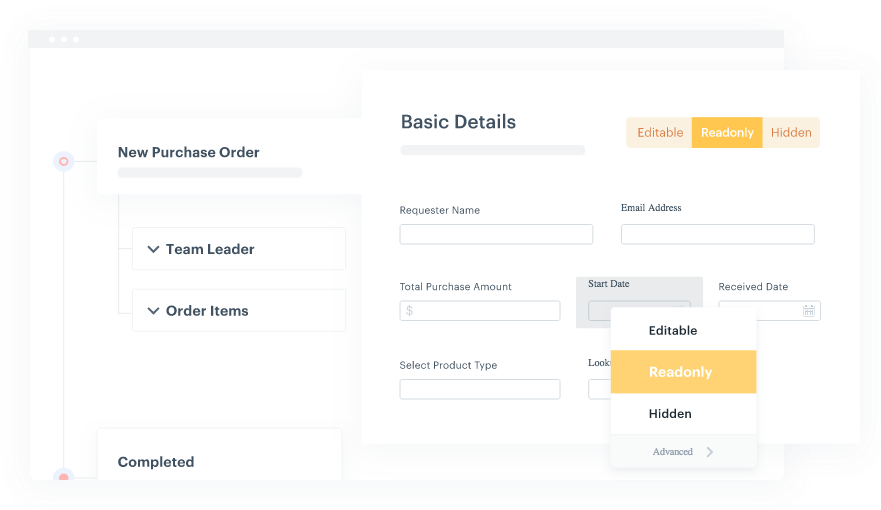 Do a test run and deploy
Test the workflow by creating requests and submitting them a few times. Check if all the conditions you set work without any errors.
Before you deploy it full time, make sure all the stakeholders are familiar with the tool. The primary stakeholders of the approval process should know how to make simple changes in the process without any help. Your approvals shouldn't get stuck if the system needs to be tweaked.
Build the ultimate document management workflow
Beyond just managing several layers of approvals and input for managing documents, a simple factor holds the key to next level functionality for your document management workflows.
Smart integrations with your work suite.
With a workflow management tool like Kissflow Workflow, you can connect directly to Google Drive, Dropbox, Box, or wherever you store your documents so you can organize your work and collaborate faster and with greater visibility.
Kissflow Workflow makes it easy to focus on doing your best work vs. fishing through folders every single time so you can get the files you need. Instead, you can focus more simplifying your document management workflow so your team can spend more time reviewing and brushing up documents vs. having to manually move data from Google docs to your document management workflow.
With Kissflow Workflow, you can:
sync with several cloud storage tools to manage all your documents in Kissflow Workflow,

create two-way triggers so an action in Kissflow can trigger an automation in Google Drive; likewise, a trigger in Google Drive or Dropbox can update a document workflow in Kissflow.

create, assign tasks to team members, and manage their input with ease