Where tech meets strategy, CIOs, and BTPs are the rockstars driving efficiency and innovation. They know that process documentation - often forgotten in the hustle - is a secret weapon for businesses of all sizes.
Don't mistake process documentation for just paperwork. It's a powerhouse for boosting efficiency and meeting customer needs in a world where options are a click away. It's the underestimated champion of long-term success.
This guide is custom-made for CIOs and BTPs. It dives into the magic of process documentation, revealing its power to transform your business. From ramping up operations to keeping customers happy, this guide arms tech leaders with the knowledge to make process documentation a strategic priority. Welcome to your competitive edge in the digital world!
What is process documentation?
Process documentation is an essential discipline of business process management that involves recording a detailed outline of process steps from beginning to end to show how a process is executed. Commonly mapped in a flowchart, it provides a clear, top-down perspective for employees and managers to visualize and understand process workflows.
What is the goal of process documentation?
The goal of process documentation is similar to that of business process management. It improves business performance and operational agility by optimizing core processes. Documenting processes during execution enables employees to learn by doing, gleaning insight from both mistakes and successes to refine processes.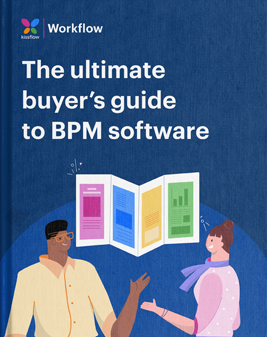 #Free Ebook
The Ultimate Buyer's Guide to BPM Software
What are the benefits of process documentation?
Regardless of an organization's size or purpose, process documentation is important. Even if it's a one-man show, looking to the future when processes and employees will be multiplied is paramount. The lack of documented, standard procedures leads to repeated mistakes and continuing inefficiencies at significant costs to your business.
Consistency – Mistakes are reduced and less time is spent reinventing the wheel.
Reduce operational costs – Through process documentation, inefficient processes are uncovered and revamped, and

repetitive processes are automated

to maximize efficiency.
Mitigate risk – The ability to prove that operations meet compliance regulations reduces the costly risk of noncompliance.
Heighten employee engagement – As employees document processes and tackle problems, they begin to take ownership.
Simplify training – Process documentation should yield a user-friendly guide for employees down the road.
Stress-free outsourcing – When processes are well-defined, it's easy to bring on remote workers without sacrificing consistency.
Retain process knowledge – Process knowledge is not lost in the face of unexpected employee absences or turnover.
Patents and trade secrets – Both require process documentation for filing and defense.
What are some process documentation tools?
If the thought of beginning process documentation is daunting, don't worry, there are plenty of process documentation tools available. The most basic process documentation tool is Microsoft Word, but its clunkiness and sharing capabilities aren't ideal. Web-based tools make for much simpler collaboration and editing.
You'll find most process documentation tools can be used for a multitude of organizational tasks, so look for one that meets your specific business needs to get the best value proposition.
Below are the top 3 process documentation tools in 2022:
Lucidchart
Designed for any-size business, Lucidchart is a flowchart platform that offers a comprehensive range of features and integrates nicely with popular applications. Users with limited technical know-how can create attractive, professional diagrams and fully utilize its extensive functionalities intuitively.
SmartDraw
Similar to Lucidchart, SmartDraw is a diagramming software with plenty of templates to help you get started. Because it integrates with a host of apps, chart sharing and collaboration are easily achievable. SmartDraw is known for its user-friendliness and affordable price.
Bit.ai
If you are looking for a comprehensive document collaboration solution, Bit.ai combines an endless number of tools on a sleek, modern platform. Rich media can be embedded with its documents for an extra layer of context.
How can Kissflow support process documentation?
Kissflow is a business process management software for turning workflows into automated actions. Instead of mapping a process in a standalone process documentation tool, repetitive process workflows are simultaneously mapped and automated in Kissflow.
Automation
It's no-code, simple design empowers citizen developers to collect necessary process information in a form. Through a drag-and-drop interface, the workflow is charted, including all steps and stakeholders. Integration and conditions are added, notifications and reminders are set, a trial run is performed, and automation begins.
Process steps travel in sequence according to the charted workflow. Manual document routing and other tedious tasks are eliminated. For example, rather than physically creating file and folders in Google Drive, it is done automatically when a new form is completed.
Metrics
Real-time analytics let stakeholders know how processes are doing. KPIs, SLAs, and other performance metrics are consistently monitored. Weak areas are improved, strong areas are capitalized, and performance is optimized.
Collaboration
Kissflow Process provides a centralized platform to define and track workflow. Workers can post clarity or rework requests, comments, and shared documents directly in the workflow. The number of apps and users can easily be scaled up or down according to business needs.
Face the Facts
Wrapping up, it's clear that process documentation is not just a 'nice-to-have'—it's a business essential. Businesses can benefit immensely from well-structured and maintained process documentation regardless of size or industry. It's a secret weapon that drives efficiency, aligns teams, and meets customer needs swiftly and effectively.
If your business isn't already suffering from chaotic operations, it's only a matter of time before process complexity increases and disarray sets in. Process documentation is vital to maintaining a healthy, productive business. Getting a firm handle on your core processes early on can facilitate explosive growth while sustaining excellent service delivery.
CIOs and BTPs have a unique role in championing this aspect, bridging the gap between technology and strategy. With process documentation, they can guide their organizations to navigate the digital landscape competitively.
In the end, process documentation isn't about paperwork but progress, performance, and prosperity. With Kissflow at your side, you're well-equipped to harness the transformative power of process documentation. So, do you need process documentation? The answer is a resounding yes! Embrace it today, and unlock your organization's full potential for tomorrow.