Organizational silos are enterprise black holes – self-feeding and self-destructive. Silos block the communication arteries, leading functional teams to isolation and bringing workflows to a grinding halt.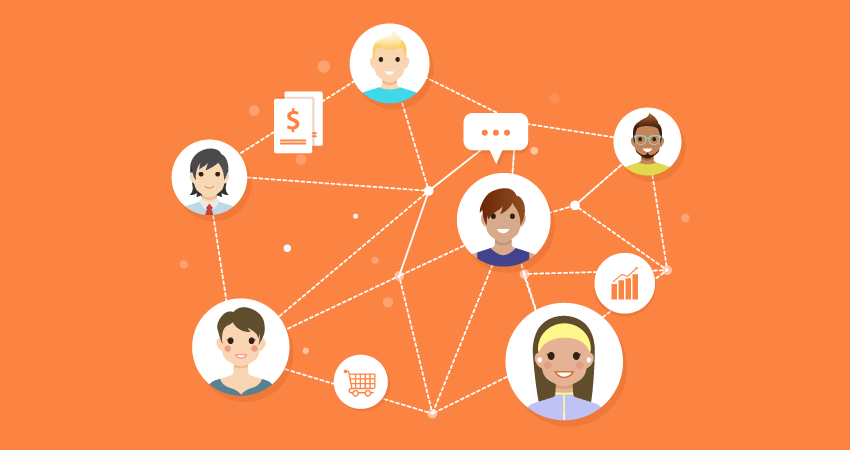 Gia's small e-commerce company is going through similar chaos right now. In her 6 years as CEO, Gia has never seen such a sharp divide between her teams. They remind her of high school cliques who get along fine within departments but get nasty and territorial when they have to cross a border. Gia is afraid that the silos might someday grow into a Berlin Wall-like situation.
Despite the hostile situation, many standard processes in a business need to flow in and out of several departments. However, these cross-functional workflows are doomed if your teams can't communicate. To bring down the wall standing between her office teams, Gia wants to experiment with automation to allow the different departments to be very clear with exactly the details they need. Gia assumes that if all the negative energy can be directed towards creating a common process, a lot of the silo problem will go away.
She believes that creating interdepartmental workflows will not only exploit the expertise of people from different teams, it will also create a symbiotic work effect that a single functional team cannot achieve.
5 Cross-functional workflows that can be automated:
Here are examples of some of the workflows that Gia implements in her firm:
Marketing and Sales Workflow
The marketing team does a lot of ebooks and webinars to attract leads, but the process of handing over the details of the leads to the sales team is very sloppy.
Instead of having different workflows for the teams to work on, Gia gets the department heads to create a single workflow where the data traverses from one team to another in a single, end-to-end process. This makes sure the sales team gets the exact information they need. The teams also decide to add a notification feature to be sent back to the whole marketing team after a lead converts to a sale so that everyone can celebrate together.
Web Development and Testing Workflow
As an up-and-coming e-commerce business, Gia's software engineers are always busy improving the website's loading time and adding new features. A separate testing team would run their own data on new developments and go back to the development team for fixes. However, the development team felt like the testing team was abusing their position and not appreciating their work.
They created a combined automated workflow to go from inception to full testing so that everyone was involved in the same process, rather than each team having their separate workflows.
The new automated process not only leads to better results, it helps the teams realize that they are all part of the same team since a feature is not done until it completes all the testing. Thanks to the new workflow, programmers can now send a code for testing as soon as they are done working on it. Also, a rejected feature comes with a detailed explanation which prevents any likelihood of misunderstanding.
Leave Approval Workflow
The HR team at Gia's company was understaffed and notoriously guarded. So, when a leave request was approved by a manager and was forwarded to the HR team, many other teams thought it was a black hole. They never heard back if it was approved, and it was difficult for employees to check their leave balances.
Gia worked with the HR team to create a leave request form that automatically included the number of days available on the initial form. HR only needed to step in if there was an exceptional situation. Like Gia expected, the workflow process reduced the chances of employees' leave being canceled or delayed when they mistakenly asked for leave days more than they were eligible for. The system wouldn't allow employees to bypass the pre-calculated leave balance. If someone were to ask for special consideration, their manager could make an exception from within the workflow platform.
Seamless Purchase Order Workflow
The finance team held the purse strings tight and other departments complained that they couldn't order a pack of gum without approaching three different vendors first. There were often complications as well during purchase order approval that happens within a department, but then a few days later the finance team would write back asking for more details. Finance complained that each department had their own system of approving, essential items were delayed and everyone was frustrated.
Gia asked the finance team to create a single purchase order workflow that everyone could follow. It contained conditional approvals only if an item was above a certain dollar amount. This helped standardize everything and made it easier for everyone to work with finance. Besides purchase order automation, Kissflow also lets you automate your invoice approval workflow, with its simple and easy-to-use invoice approval system.
Training and IT Approval Workflow
New hires at Gia's company had to go through a one-week training to be acquainted with the software application their department was using. In many cases, the teams depended on IT to install software on a computer, update the older versions, and extend other IT support important for the employee's transition.
But like any other workplace that has manual workflows, getting the IT to help them with such requirements was a pain for every department. IT often had other priorities and each department ended up handling their own training. Then IT would have to come back in and sort things out when security issues sprung up.
So Gia was more than happy to have her HR teamwork with the IT manager to create a uniform workflow to address this onboarding problem. Now the IT could give their support to any team asking for help by just looking at the requirements communicated in the workflow approval process, and without looking smug.
Inter-departmental workflows can be a blessing to your business if it is also going through a similar situation like Gia's workplace. Silos, if not broken down at the right time, can slow down operations, affect growth, and have adverse impact on your bottom line.
To get a feel for how your teams can benefit from creating cross-functional approval workflows, try Kissflow Workflow for free. Start your free trial and bring that wall down!