What is a procurement cycle?
Procurement cycle is the sequence of steps involved in the procurement process from the start till the end. It encompasses the steps required to manage procurement from your first interaction with the potential suppliers until the delivered goods are taken care of and are put to use by the appropriate department within the organization.
Understanding the procurement cycle will give your organization an easy-to-follow blueprint for building out your procurement operations and running them efficiently and effectively.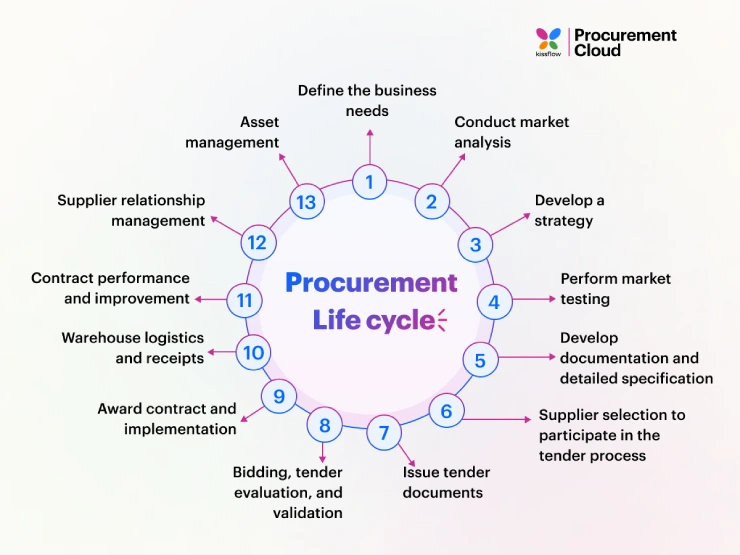 In this article, we'll explore the 13 steps of the procurement cycle, examine what tasks and responsibilities they cover, and their significance to your organization's procurement operations.

1. Define the business needs
The first step of the procurement cycle is completely internal.
Here's the stage where stakeholders within your organization define a need that should be filled.
Whether it's a product or a service that needs to be acquired to support your internal operation, the aim at this stage is to identify the need, frame it, and define it in terms of what it should do for you within your organization.
Defining needs also involves developing specifications to determine exactly what the supplies in question should offer in terms of actual usage.

2. Conduct market analysis
Once you have a clear picture of what the supplies you're looking to acquire look like, the next step is to conduct appropriate market research. This involves analyzing the options available from different vendors and determining what it'd cost to either produce the need in-house or acquire from a third party.
3. Develop a strategy
Strategy planning is the stage where you've defined your needs and agreed upon a supply tactic. Next up is to define how you intend to leverage the option you chose at the market analysis stage.
If, for example, you realize that your company makes up a significant portion of your potential suppliers' turnover, this will provide you an opportunity to demand competitive prices or invite suppliers to bid for your business.

4. Perform market testing
Market testing is simply testing out market sentiments to determine what needs to change in your procurement strategy.
You take a small fraction of your procurement budget and make moves in the market to acquire your desired supplies.
At this stage, you take note of determiners such as prices, legislation, and market dynamics to get a clear picture of what your supply circumstances look like. For example, if your desired supply is scarce over the holidays, your strategy might change to stockpiling them ahead of the holiday price hikes.
Market testing informs you on how your procurement strategy needs to change to adapt to prevalent market forces.
5. Develop documentation and detailed specification
The specification stage is where relevant stakeholders define the requirements you need for each supply item, including the product quality, quantity, and functionality specifications.
Your aim here is to develop detailed preferences to guide your procurement choices to ensure the supplies you're buying will serve the intended purpose.
6. Supplier selection to participate in the tender process
Depending on your industry, it might be impossible to have all the possible suppliers bidding for your business.
The ideal tactic to utilize here is to create a list of desirable tactics and use that to shortlist suppliers who qualify to participate in the tendering process.
7. Issue tender documents
Tender documents, including Requests for Quotations, and Requests for Pricing are sent out to shortlisted vendors with a definite timeline for their reply.
8. Bidding, tender evaluation, and validation
After shortlisted suppliers have sent in their bids, the evaluation process involves making a thorough, transparent analysis of each supplier and their offerings to determine which bid offers the most benefit to your organization.
As the penultimate stage before procurement contracts are awarded, you conduct in-depth reviews of each supplier's capacity to deliver on their bids, including analysis of previous projects undertaken, and sampling products and services, if available.
9. Contract award and implementation
Once you've agreed on a preferred vendor, the contract award stage is where a contract spelling out the terms of the customer-vendor relationship is drafted and once both parties have an agreement on contract performance KPIs, supply dynamics, logistics, invoicing, and contract management terms, the contract is signed and work on the items agreed upon commences.
10. Warehouse logistics and receipts
With the supply contract binding, the vendor is responsible for delivering supplies at the customer's request matching the specifications agreed upon during the contract award stage.
Logistics and warehousing agreements that were made earlier on apply here to ensure smooth, efficient management of the supply deliveries. This includes product coding and classification, spacing, layout, racking, and frequency of delivery agreed upon.
11. Contract performance and improvement
From time to time, as stipulated in the terms of the contract, both parties, i.e. the vendor and you, the supplier should conduct periodic reviews to determine how efficiently the customer-vendor relationship has been operating, identify any lapses in the customer-vendor relationship, and chart a way forward to support improved performance.
12. Supplier relationship management
Supplier relationship management is the ongoing process required to manage your relationship with your vendors, analyzing each supplier to gauge the right level of input required to maintain your relationship to realize your strategic goals.
13. Asset management
Over time, your organization's needs might change due to a variety of factors, from changing your focus to new niches in your industry, expanding or adjusting your product line.
As a result, from time to time, it's important to evaluate your procurement needs to determine if there's been any change and how you can adapt your procurement to the changes you've discovered.
Asset management is the process of staying on top of your procurement needs to ensure your procurement process can still support your business operations.
Kissflow streamlines the procurement lifecycle
A procurement management software like Kissflow empowers organizations of all sizes to run the procurement cycle efficiently and effectively, freeing you up from manual tasks with intelligent tools. With Kissflow, you can
Communicate effectively with stakeholders using tools like chat, comments, and @mentions

Automate manual tasks with workflows and processes

Assign tasks to team members and stakeholders

Manage and share files efficiently

Match invoices, purchase orders, and receipt notes with three-way matching

Support multiple payment options, and

Manage vendors proactively
Kissflow serves as the final link you need to complete the procurement cycle and empower your procurement for speed and efficiency.
Learn how Kissflow Procurement Cloud can transform your procurement here.