The Ultimate Guide to a Truly Effective Procure-to-Pay Process
Shivasankari Bhuvaneswaran
January 8th, 2019 • Procurement Process
Siloed, fragmented procurement software complicates the procure-to-pay process. Outdated procurement solutions are expensive, inflexible, and inefficient. Still, most organizations continue to 'make do' with their old-fashioned procurement software.
According to a Paystream 2018 Procurement Insights report, 80% of organizations still use manual or semi-digital tools to manage their procure-to-pay cycle. Most organizations are using the procurement module integrated with their ERP or accounting software. This is similar to using a flashlight to crack a nut. Although it gets the work done, it is still not the right tool.
Before long, this misapplication will stir up trouble. The consequences of using archaic procure-to-pay software, or worse, no solution at all, will ultimately damage an organization's bottom line. In order to survive the competition, organizations need to move away from their traditional approach and embrace the right procurement technology.
Here's all you need to know about choosing the right procure-to-pay solution, to make your procure-to-pay process truly effective.
What Is a Procure-to-Pay Process?
The procure-to-pay process is the coordinated and integrated action taken to fulfill a requirement for goods or services in a timely manner at a reasonable price. It involves a number of sequential stages, ranging from need identification to invoice approval and vendor payment. Steps in a procure-to-pay cycle need to be executed in a strict order.
The Procure-to-Pay Process Flow
Based on organizational practice and the requirement in question, procurement leaders choose to complete the most relevant stages of a procure-to-pay process. Here are nine logical steps of an ideal procure-to-pay cycle.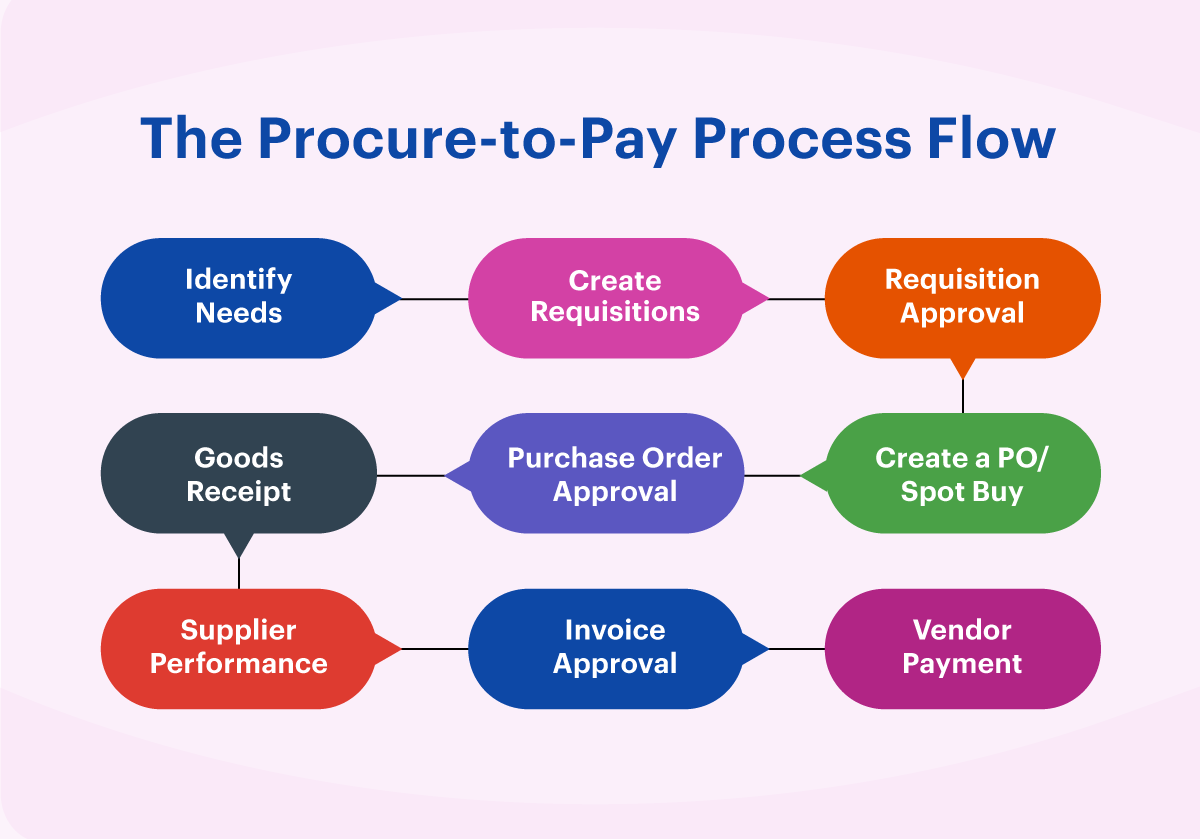 Step 1: Identify Needs
The first step of a procure-to-pay process is to determine and define the business requirements with the help of cross-functional stakeholders. Once a valid need is identified, procurement teams sketch out high-level specifications for goods/products and terms of reference (TOR) for services, and statements of work (SOW).
Step 2: Create Requisitions
After finalizing the specifications/TOR/SOW, a formal purchase requisition is created. A requester submits the filled out purchase requisition form after ensuring that all necessary administrative requirements are met. Requisitions can be created for any type of procurement from standard purchases to subcontracts and consignments.
Step 3: Purchase Requisition Approval
Submitted purchase requisitions are then reviewed by department heads or procurement officers. Approvers can either approve or reject a purchase requisition after evaluating the need, verifying the available budget, and validating the purchase requisition form. Incomplete purchase requisitions are rejected back to the initiator for correction and resubmission.
Step 4: Create a PO/Spot Buy
If the requested goods/products have characteristics such as unmanaged category buys, one-time unique purchases, or low-value commodities, then a spot buy can be performed. Else, purchase orders are created from approved purchase requisitions.
Step 5: Purchase Order Approval
Purchase orders are now sent through an approval loop to ensure legitimacy and accuracy of specifications. Approved purchase orders are then dispatched to vendors. After reviewing the purchase order vendors can either approve, reject, or start a negotiation. When an officer approves a purchase order, a legally binding contract is activated.
Step 6: Goods Receipt
Once the supplier delivers the promised goods/services, the buyer inspects the delivered products or services to ensure that it complies with the contract terms. The goods receipt is then approved or rejected based on the standards specified in the purchasing contract or purchase order.
Step 7: Supplier Performance
Based on the data obtained from the previous step, the supplier performance is evaluated. A number of factors like quality, on-time delivery, service, contract compliance, responsiveness, and Total Cost of Ownership (TCO). Non-performance is flagged in existing rosters and information systems for future reference.
Step 8: Invoice Approval
Once a goods receipt is approved, a three-way match between the purchase order, the vendor invoice, and the goods receipt is performed. If there are no discrepancies found, the invoice is approved and forwarded to the finance team for payment disbursement. In the case of inaccuracies, the invoice is rejected back to the vendor with a reason for rejection.
Step 9: Vendor Payment
Upon receiving an approved invoice, the finance team will process payments according to the contract terms. Any contract changes or reviews liquidated financial security will be taken into account. A payment made to a supplier will fall into one of the following five types: advance, partial, progress or installment, final, and holdback/retention payments.
Automate Procure-to-Pay Processes in
15 Minutes with
Used by Pepsi, Motorola, Domino's and 10,000+ Businesses. No coding required.
Best Practices in the Procure-to-Pay Process
The following five best practices can help organizations improve the efficiency and effectiveness of their procure-to-pay process:
Implement procure-to-pay software
Keep the process transparent
Improve supplier engagement
Optimize inventory
Streamline contract management
Key Performance Indicators in the Procure-to-Pay Cycle
Key performance indicators (KPIs) in the procure-to-pay process monitor the efficiency of the process. These procurement KPIs enable organizations to control and optimize the spend, quality, and time of the procure-to-pay process.
Based on their purpose, procurement KPIs can be split across three groups:
1. Quality KPIs: Increase Quality
Compliance rate
Below par quality and poor compliance rates cause a rise in indirect and rouge spend. A clear procurement contract with penalties can improve the compliance rate.
Signs:
% of disputed invoices to total invoices
difference between the price paid and the price quoted
Supplier defect rate
Supplier defect rate tracks the percentage of substandard products delivered by a supplier. They are usually measured in defects per million. Low defect rate=high reliability.
Defect rate= Number of defective products/Total number of units tested
2. Delivery KPIs: Improve Delivery
Supplier lead time
Supplier lead time captures the average amount of time a supplier takes to fulfill an order. This metric is often measured in days
Lead time = Delivery time (Goods receipt by buyer) – Order time (PO acceptance by a vendor)
Purchase order cycle time
It is the average amount of time between requisition submission to PO placement. This KPI covers the end-to-end ordering process.
3. Cost-Saving KPIs: Receive Savings
Cost per invoice and purchase order
The cost of purchase orders and invoices are the most disputed KPIs in the procure-to-pay process. The cost to process these purchasing documents internally often includes a staggering list of variables.
Spend under management
It is generally defined as the percentage of an organization's spend that falls under some form of management (approved supplier, authorized purchase, visibility) by the procurement team.
Procurement ROI
Procurement ROI determines the cost effectiveness of a procurement department. It is best suited for internal analysis.
Procurement ROI = Annual cost savings/Annual cost of procurement
Procure-to-Pay Software
A recent Gartner report claims that by 2025, more than 50% of organizations around the world will have a cloud-based procure-to-pay suite in place. The procure-to-pay automation process is gaining traction, as organizations learn more about the benefits and cost-saving opportunities of using procurement software.
Procure-to-pay software integrates purchase requisitions, purchase orders, goods receipts, and invoices in a single interface. Procure-to-pay automation can streamline the process, optimize spend, improve compliance, reduce cost, and mitigate risk.
Procure-to-pay automation tools like KiSSFLOW deliver a number of functionalities including:
Requesters can pick an existing requisition template, select the required item and preferred vendor from a master database, and forward the request through rule-based approval workflows.
Most procure-to-pay solutions auto-create purchase order from approved purchase requisitions and initiate the PO dispatch process. Anything from sending multiple batch orders to a single vendor to creating multiple POs from a single purchase request can be done.
Procure-to-pay software lets organizations confirm goods receipt and capture invoice information. Organizations can approve invoices, manage exceptions, perform PO matching, and integrate with electronic payments or account payables system.
4. Reporting and Analytics
Procure-to-pay suites offer organizations the ability to generate custom reports while providing a number of inbuilt out-of-the-box report templates.
5. Supplier and Contract Management
Procure-to-pay solutions automate the contract management process end-to-end making it paperless and seamless. With automation, organizations can align goals and drive KPIs to create a better supplier-buyer relationship.
Unlock the Full Potential of Your Procure-to-Pay Process with KiSSFLOW
Procure-to-pay solutions that digitally connect vendors, organizations, policy, and processes are unearthing new savings opportunities. From preventing manual data entry to improving spend visibility, automated procurement software address all existing process gaps.
KiSSFLOW leverages the power of automated workflows, digital forms, smart processes, and detailed analytics to derive more value out of the procure-to-pay process flow. KiSSFLOW's customizable nature maximizes the purchasing experience of the employees while enforcing procurement policies seamlessly.
Say hello to an automated procure-to-pay process with KiSSFLOW. Sign up today to find out why it is the best option to transform your procurement process.
Automate Procure-to-Pay Processes in
15 Minutes with
Used by Pepsi, Motorola, Domino's and 10,000+ Businesses. No coding required.