The Top 5 Procurement Processes You Should Automate
Shivasankari Bhuvaneswaran
December 7th, 2018 • Procurement Process
Is it possible to optimize an organization's spend without hiring new employees or making a huge IT investment? Is there a way to streamline complicated procurement practices like supplier onboarding and contract reviews? How do you go about eliminating costly invoice processing and manual data entry errors?
Rapidly evolving procurement automation processes will address all these concerns, and more. Procurement automation helps organizations easily satisfy the underlying philosophy of procurement management, "procuring the right item at the right time at a right price from the right vendor".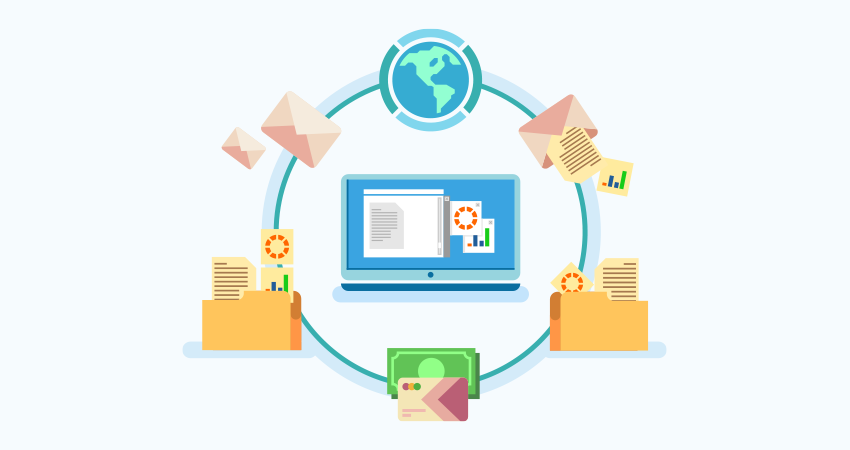 Procure-to-pay automation is proactively invading the procurement space, and soon every process that can be automated, will be automated. Organizations need to embrace the upcoming changes or risk being left biting the dust.
But, what kind of impact will it have on core procurement processes like contract management or purchase order processes? Let's take a closer look.
What Is Procurement Automation?
Procurement automation is used to speed up the procurement process by freeing employees from repetitive and time-intensive tasks, and allowing them to focus on business-critical activities like decision-making and strategizing. It is transforming the procure-to-pay process by enhancing its efficiency and releasing additional value, all while keeping cost factors down.
Top 5 Procurement Processes Every Company Must Automate
Most of the time, purchase requisitions get stuck and consume a lot of time to move through the complex hierarchical structure. Procurement process automation will not only cut down the time of approval cycle but also remove redundant steps in the process and enable purchasing staff to do more in less time.
In a recent survey, nearly 43 percent of organizations admitted having immediate inadequacies in their PO practices despite having a formal purchase order system in place. Procurement process automation allows organizations automate the entire purchase order cycle to deliver improvements in productivity and process efficiency, while saving costs.
Manual invoices move slower than sloths. Manual procurement practices drag the payment cycle, costing organizations early payment discount opportunities. With procurement automation, organizations can keep track of receipts, calculate shipping and taxes, and pay all invoices on or before the deadline with little manual intervention.
4. Vendor Management
Without a clear line of disclosure and process transparency, organizations will end up making a strain in their vendor relationships. With automation, procurement teams can streamline vendor selection and pick the best vendor available. By automating vendor management process, organizations can quickly identify and resolve grievances, forming a better relationship with the vendor.
5. Contract Approval
In manual contract management, all contracts are just dumped in the same filing cabinet or the local drive. As it is disorganized and unstructured, finding contracts or even keeping tabs on them can be a real challenge. Procurement automation organizes all contracts in a central repository that can be accessed in a single click. Additionally, it also ensures that all contracts stay consistent and accurate.
Automate the Procurement Processes in 15 Minutes
Try KiSSFLOW, Trusted by 10,000+ Companies
Automate Your Procurement Processes in 4 Steps with KiSSFLOW
Procurement automation tools like KiSSFLOW let you create a fully automated procurement system without compromising on product functionality or policy compliance.
Step 1: Install an App
You can hit the ground running with a tried-and-tested app template or build a brand new procurement app from the ground up. At this step, you can create the basic outline of your app with digital forms, workflows, permissions, and more.
Step 2: Customize It
This is the stage where you dig deeper into the initial outline and make it fit around your procurement process like a glove. Organizations can customize workflows, enforce policies, assign tasks, set permissions, generate reports, and connect with other software.
You can create a basic app that captures and stores data or make it do more elaborate things like auto-fetching user info from login details or restricting access to confidential data with conditional visibility.
Step 3: Distribute it
Digital forms for purchasing data? Check. Task automation with dynamic procurement workflows? Yeah! Set permissions and defined rules? Of course. Now, you are down to the final step–publishing the app and sharing it with everyone. Before launching it org-wide, it would be best to release the app to a small team to ensure everything works like it is supposed to.
Step 4: Improve it
After launching the app, collect feedback from all users. Measure the efficiency of your app and compare it with the results obtained through manual processing. Look for opportunities to improve your app, incorporate those changes, and keep updating your app to meet your process or business needs.
Features Every Procurement Automation Software Must Have
There are a number of procurement automation systems available in the market today. To ensure whether the software of your choice is up to par, you need to cross-check it with the list of features it offers.
This image display five key features every procurement automation system needs to have: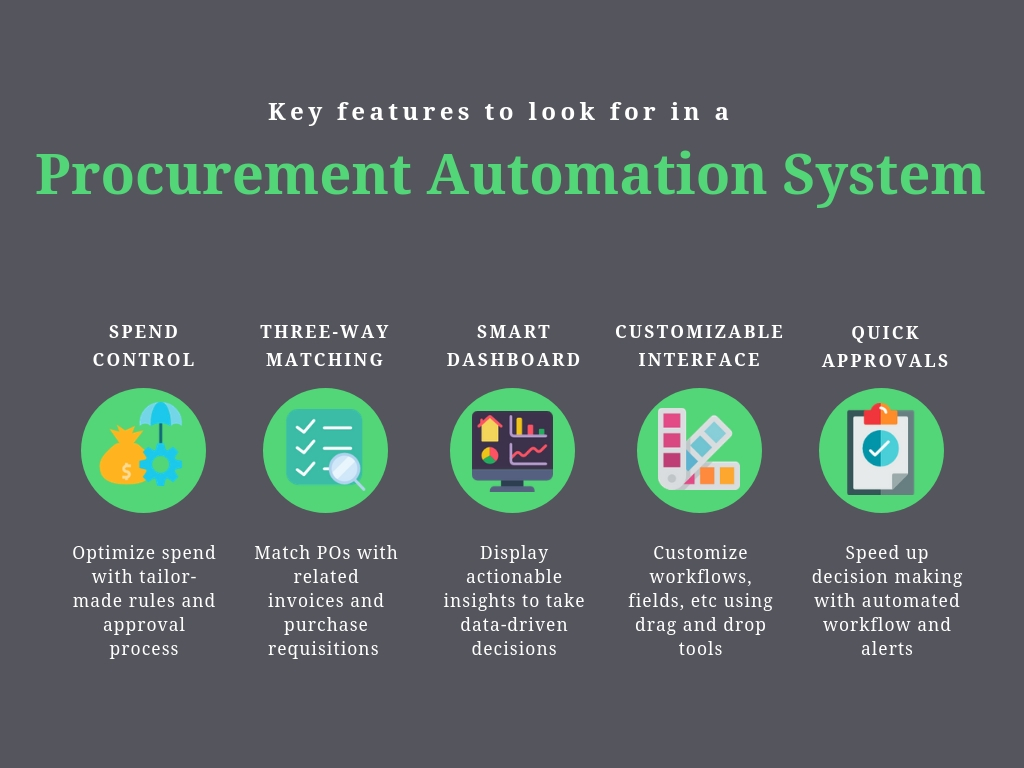 Procurement Automation: KiSSFLOW Does It Right
Procurement automation is no longer an option; it's a necessity.
KiSSFLOW is a procurement process automation software with pre-built apps for almost every core procurement functionality. Purchase requisitions, purchase orders, invoice approvals, contract management, vendor management, and more are all ready to go.
Best of all, you don't need coding skills to build an app. You can just use one of the numerous pre-built templates or create one from scratch. You just need to draw up the logic, and drag and drop required fields or functionalities to create your app.
If you're on the lookout for a procurement automation tool, then KiSSFLOW is definitely worth a try. Sign up for a free trial and see if it's right for you.
Procurement Automation is Just 15 Minutes Away
Try KiSSFLOW, Trusted by 10,000+ Companies