Low Code
Everything You Need to Know About Low-Code Development [Updated 2023]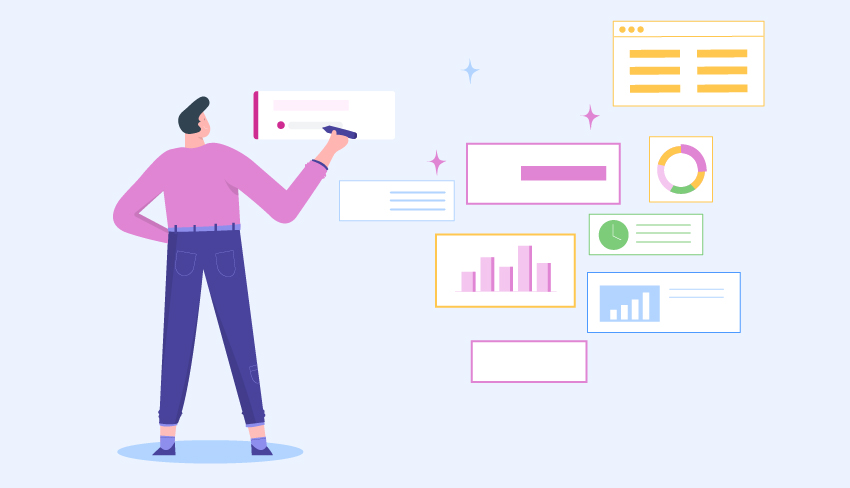 Low-code development is a visual approach to software development. You can abstract and simplify every phase of the development cycle using low-code to speed up the delivery of a wide range of solutions.
What is Low-code Development?
Low-code development is a method of software development that uses little to no coding to create apps and processes. Using complex coding languages, a low-code development platform uses visual interfaces with basic logic and drag-and-drop capabilities. Users with no formal experience of coding or software development may use these straightforward tools to create a
pps for various purposes, including mobile apps and corporate apps.
Why Low-Code Development is Important?
As a quick and easy substitute for traditional software development, these systems have grown in popularity. A low-code platform may be used by professional and "citizen developers" (non-professional developers) to construct apps of different complexity to fulfill corporate demands for development, automate tasks, and expedite technological change.
Essential features of a low code development platform
Visual modeling tools: It takes less time to design applications using visual approaches and models than to design apps using code. Low-code platforms, which are equipped with visual modeling capabilities, employ built-in components to represent any data in a way that anybody can understand – from non-technical business users to expert developers.
Out of the box functionality: OOTB (out-of-the-box) functionality is provided by leading low-code systems, negating the requirement to create fundamental modules for apps from scratch. Some low-code systems, for example, offer data management or customer-facing software modules, including service management or sales process management.
Drag and drop interfaces: Drag-and-drop functionality is available on every well-known low-code platform. It is among the most significant and beneficial elements that facilitate the development process. The ease of drag-and-drop features given during the construction of apps helps both citizen developers and professional developers.
Reusability: The use of pre-configured modules and functionality for apps is a fundamental component of low-code development's OOTB (out-of-the-box) capabilities. These modules feature fundamental functionality that is required by several apps and may be utilized to construct alternative solutions more rapidly. A low-code platform must allow users to reuse pre built or newly generated modules, plug-ins, and full programs to construct necessary apps faster.
Cross platform accessibility: Low-code platforms benefit from multi-device interoperability. The low-code platform's cross-platform interoperability allows users to create apps that operate on all primary platforms and devices, in addition to being able to utilize it on any device running key operational systems.
Security: A low-code tool which is not secure is not even a suitable answer, no matter how effective or user-friendly it is. Before you start utilizing your low-code development platform, be sure it has adequate security to safeguard the apps you're creating and the platform as a whole.
Scalability: Scalability is important for low-code systems. It should be able to create new apps that can manage an influx of new members as your company expands, whether you have twenty or a thousand staff.
Reporting and monitoring: Apps built using low-code may track workflows and processes to see how effective they are. They can also monitor the performance of other applications, which is essential for data analysis.
Application lifecycle management: Several steps of the software development lifecycle, such as debugging, testing, and deployment, are simplified and streamlined with low-code technologies. They provide users with information about the apps they've produced and how they're being developed, as well as the option to return to prior versions if necessary for better application lifecycle management.
Advantages of Low Code Development Platform
Faster market time and accelerated app delivery: You can quickly roll out new apps thanks to a rich ecosystem of simple visual builders, ready-to-use code snippets, form and report templates, and built-in connections. Developers are seeking methods to be more productive and provide the products they need faster as the pace of business change accelerates.
Reduction in cost: Low-code programming necessitates less formal programming knowledge, which aids in closing the IT gap that many businesses confront without needing them to engage more IT professionals. Low-code platforms also allow citizen developers to create apps without involving IT, reducing the IT backlog and reducing resource costs.
Improved customer experience: Consumer expectations are at an all-time high. Low-code platforms allow you to swiftly adjust to market changes and customer expectations by delivering up-to-date apps or updating existing applications with ease to keep up with the newest CX trends.
Uncompromising security: Security elements such as admin tools, network management, and threat assessments are all included in low-code systems. This makes it simple to set and monitor the system's security. Furthermore, industry best practices maintain the security of user data and apps.
Eliminates shadow IT: The need for innovative bespoke solutions in the corporate world is growing at an exponential rate, putting IT teams under strain. Because of the large IT backlog, business customers are forced to adapt third-party programs outside of their approved IT infrastructure. As a result of the growth of apps, there are several security threats and data silos. Low-code solutions enable corporate users and citizen developers to create their own applications without involving IT, removing the requirement for dangerous apps and the sharing of sensitive data with 3rd parties.
Fluidity in business: Businesses need to automate their processes in a timely and cost-effective manner. Organizations must close the IT delivery gap in order to provide essential apps quickly utilizing existing IT resources. Low-code BPM systems enable absolutely everyone inside an organization to speak the same development language and construct apps of any complexity on one platform, thanks to out-of-the-box features, an easy user interface, and robust capabilities for professional developers.
Digital transformation: To stay up with current demands and a changing business environment, businesses must automate procedures. Low-code BPM systems are the backbone of digital transformation, allowing enterprises to speed their transformation cycles, innovate, and react more quickly.
Is low-code and no-code the future of application development?
You've probably heard it before. Every business is now a software business. Without a comprehensive arsenal of enterprise apps to support internal processes, it's hard to meet your business objectives in the digital era. Your staff will be able to extract the most value from data, enhance process efficiency, eliminate manual labor, and boost overall speed if they have the correct tools. Despite this, many businesses are having difficulty providing their employees with the tools they require. Low-code/no-code platforms, fortunately, can address all of the current problems. Low-code capabilities allow developers to work more quickly and effectively. Non-developers may utilize "no-code" technologies to create, adapt, and use corporate programs that meet new demands nearly as soon as they occur. Low-code/no-code software helps businesses to respond quickly and effectively to new requirements. They assist businesses in resolving business issues, improving team cooperation and efficiency, achieving corporate goals, and developing a mature digital ecosystem in order to obtain a competitive advantage. Often, neither off-the-shelf software nor bespoke solutions can meet a company's demand for highly customized business apps to be deployed quickly. Low-code/no-code platforms have risen to prominence as a viable and popular alternative to traditional application development. According to Gartner, by 2024, three out of every four big businesses will be adopting at least four low-code development tools to support IT application development and citizen development efforts. Low-code application development will account for over 65 percent of all app development activity by the same period.
Why choose the Kissflow Low-code platform?
Kissflow is a low-code platform for workflow automation and process optimization that aims to help organizations increase their productivity and efficiency. Kissflow is popular among businesses due to its no-code platform. It gives business users the ability to construct their own apps without relying on IT or consultants. It includes a WYSIWYG editor, a form builder, third-party interface for all of your favorite tools, and rich training materials to assist you in getting started.
Low-code app development enables software developers and business users to create more apps (of any broad idea) in less time than they could with traditional coding. Low-code applications may be drawn and customized instead of programmed in a visual development environment, allowing for significantly faster creation and maintenance. Low-code application development platforms assist enterprises in becoming more responsive and meeting corporate business needs such as process automation, faster company processes, improved customer journeys, and policy and regulatory compliance. Low-code app development, unlike conventional development, uses visual development tools such as drag-and-drop coders, smart services, components, and pre-built connections to enable the quick construction, deployment, usage, and maintenance of sophisticated business apps.