Low Code
Top 10 Business Challenges a Low-code Platform Can Solve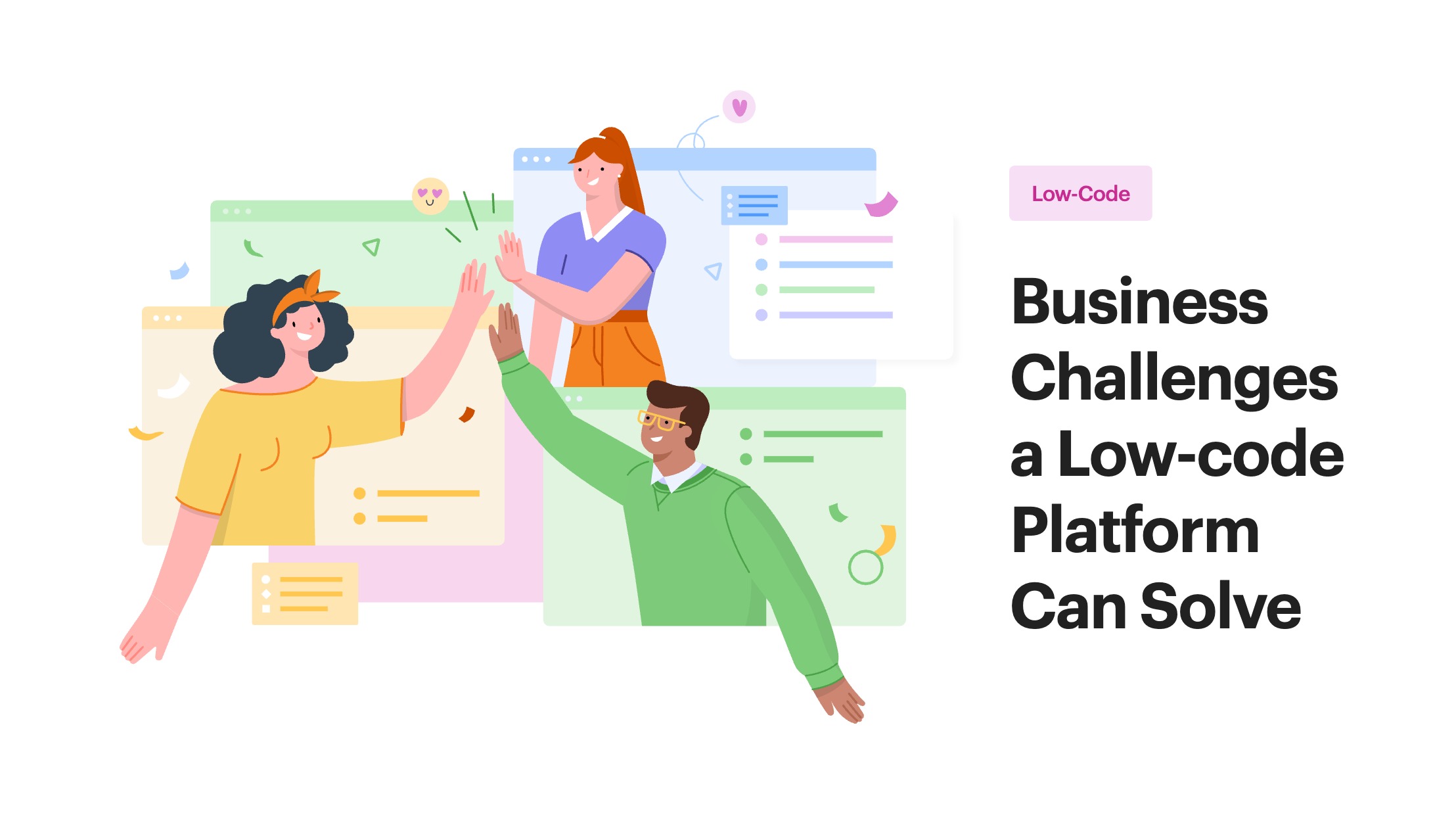 Marketplaces and competitor landscapes are constantly evolving. Businesses must accelerate their digital transformation initiatives and innovate rapidly to keep up. Market pressures are a leading driver of business transformation because 51 percent of the initiatives are birthed by growth opportunities and 41 percent come to life because of increased competitive pressure. The COVID-19 pandemic has also played a key role in helping companies fast-track their business transformation programs using low-code.

Business transformation has become vital for businesses, but according to Mckinsey, 70 percent of transformations fail. One of the reasons for failure is insufficient investment in building capabilities across the organization. It's hard for an organization to transform digitally when IT alone manages the process. Most IT departments have huge backlogs and lack time to work on new projects. The pressure on IT is immense, and most professionals are overworked.

Organizations can accelerate their business transformation efforts by introducing low-code solutions. A low-code development platform allows users to create applications and software through a graphical user interface. Subject matter experts skilled at using technology can develop fully functional business applications on the platform. They can drag and drop the necessary components, connect data sources, and test applications immediately.

When non-developers build their solutions, companies spend less on professional development, paving the way for innovation. Low-code platforms allow developers and business users to make their digital ecosystems more robust.
Business Challenges a Low-code Platform Can Solve
Let's look at 10 business challenges low-code can solve.
1. Slow deployment time
Low-code platforms allow users to build more apps in less time. Solutions that once took months to build now take only days. Development time no longer hinders innovation.
A few years ago, Forrester reported that low code can speed up software development by up to 10 times. Its drag-and-drop functionality, pre-built UI templates, data models, and other features significantly reduce an application's time-to-market.
2. High costs
Low-code platforms mean lower development costs. Since expert coders are no longer needed to develop applications, companies save the money they might have spent on them and use in-house tech-savvy subject matter experts.
For example, a doctor can create a company-specific app instead of relying on a programmer with no medical background. Non-developers use fewer resources to build applications because they know what's needed. An excellent low-code solution can make every employee more productive.
3. Poor security
Traditional app development doesn't always take security into account. Also, hackers have gotten smarter and know how to hack these platforms. But security is built into many low-code platforms. They allow for IT governance and control before people start tinkering. Professional developers maintain and set control over access, automation, and data assets.
4. Minimal control
Organizations with no platform for app development often have to deal with issues caused by shadow IT. These problems arise because employees implement and manage different software without IT consent.
A low-code app development tool gives IT complete control over app development and eliminates shadow IT. New processes and app modifications always fall within an approved framework.
5. Inflexibility
Low-code platforms have revolutionized app building. Enterprises can quickly release new solutions to respond faster to marketplace changes. This results in better working prototypes. App developers can gather feedback much quicker and tweak their apps instead of fiddling until they get things right. Building apps and customizing them is easy. Low-code tools facilitate immediate business change when the need arises.
6. Low productivity
Organizational silos lower productivity and efficiency. Low-code does away with these silos. Since non-developers build applications under IT oversight, they do it quickly. Additionally, the development platforms allow for the automation of mundane and tedious tasks that prevent rapid app development, boosting productivity. Low-code tools empower more team members to become developers regardless of their skills. New solutions can be built easily and quickly.
7. Complex app-building
Traditional app development is a job only professional developers can do because it requires a lot of coding. Low-code technology does away with complex coding. With no formal training in programming, business users and others can quickly build efficient applications by writing little to no code.
They can utilize quick-start tools and pre-built templates to define key app components and deliver viable versions of apps in real-time. Low-Code simplifies the app-building process and frees up IT professionals so they can focus on more complex projects.
8. Lack of system integration with third-party tools
Traditional app-building platforms usually work independently and don't integrate with third-party tools. Low-code platforms do the opposite and simplify work by supporting connections to other apps and services through industry-standard interfaces and protocols.
Integration is an essential feature of a low-code development platform because users can easily manage the data and avoid data duplication and data silos. Business processes can be optimized to work seamlessly with an integrated network.
9. No room for customization
Innovative enterprises want tailored solutions that can be easily updated and scaled. Low-code tools enable the fast development of customized apps. With traditional development, requirements are set initially, so apps can't be customized after deployment. But apps built with low-code technology allow for customization even after deployment. You can customize the web apps to suit your specific requirements.
10. Complex analytical process
In an analytics-driven world, extracting actionable insights must happen fast to enable rapid decision-making. A work platform should also allow users to build data visualizations to understand data better. Low-code platforms have flawless dashboards and visual analytics to convey insights easily. They enable enterprises to leverage data and analytics to grow.
Kissflow - A trusted low-code platform
According to Gartner, by 2024, 65 percent of applications will be built on low-code platforms. Innovation plays a crucial role in introducing new ideas that increase revenue, market share, and customer satisfaction. But to be innovative, you need the right tools. Kissflow, the best low-code platform in the market, empowers non-technical staff to build enterprise applications fast with minimal coding.
Reduce your IT team's workload and embrace rapid application development for agility and speed. Democratize application development and adapt to marketplace changes and trends quickly. Kissflow is flexible enough to handle your unique business challenges and is so easy to use that anyone can quickly create professional, user-first apps.