Low Code
35 Must-Know Low-Code Statistics And Trends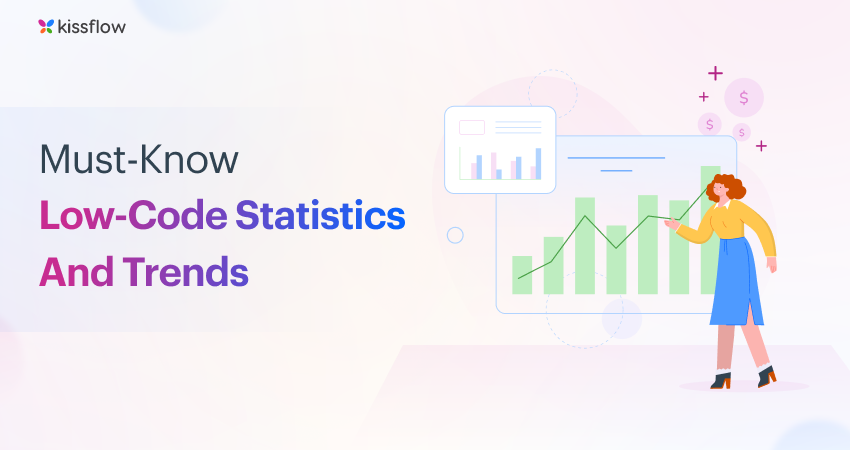 Low-code empowers pro developers and non-developers to build complex enterprise solutions that are easier to integrate, modify, and upgrade. Organizations can adapt more quickly to changes in the market and fast-track their digital transformation efforts.
The platforms help CIOs to steer their organizations through massive business transformation projects. As a result, enterprises become more digital-ready, agile, and data-driven. Low-code development helps businesses transition from being reactive to becoming digitally proactive.
Low-code is the future, and here are 35 interesting low-code statistics that will help you gain a deeper insight into industry trends.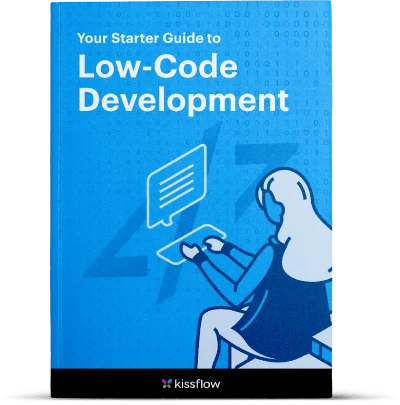 #Free eBook
Your Starter Guide to Low-Code Development
The growth of low-code market
Organizations that want to succeed in highly competitive markets must constantly develop apps to improve worker productivity. Banks, e-commerce businesses, and healthcare institutions—almost every single organization—can improve their market value with the help of enterprise applications. The low-code market is expected to grow rapidly during the forecast period (2020-2030). Eventually, low-code won't just augment tasks but replace tasks currently done by apps like Excel. It will provide a platform for collaborative application development between IT teams and business users.
The low-code development market will generate $187 billion by 2030 [1]
Low-code tools will be responsible for over 65% of application development [2] by 2024.
By 2023, over 500 million apps [3] and services will be developed using cloud-native approaches

Why low-code solution is imperative
Low-code also makes it possible to rapidly deploy applications with little or no IT involvement. This makes it an ideal solution for businesses that need to quickly develop and deploy applications with minimal resources. Individual business units now build, modify, and manage apps. Solutions are built by the people facing the problems and offer an efficient way to fast-track digital transformation projects.
"Low-code and no-code tools are a way to mitigate talent shortages because they allow companies to build software systems without the need for large teams of developers," says Amitha Pulijala, Vice President of Product, Cloud Platform Services, CX, API, and AI at Vonage.
No-code and low-code platforms help reduce app development time by 90% [4].
70% of new business applications [5] will use low-code/no-code technologies by 2025.
In 2021, the low-code platform market was valued at $7.61 billion [6]. It's projected to reach $36.43 billion by 2027 [7].
By 2024, 80% [8] of non-IT professionals will develop IT products and services, with over 65% [9] using low-code/no-code tools.
Compared to conventional app-building platforms, no-code solutions consume 70% fewer [10] resources.
Salary ranges of app developers
Pro developers charge a lot of money because they know their expertise is indispensable. There is enormous demand for their skillset and not enough supply. Good developers aren't easy to find, but companies need them more than ever. Most small businesses don't hire software engineers unless they can generate more revenue than they cost to employ. A low-code approach to developing enterprise apps requires fewer developer resources and is more appealing to small businesses.
According to US News [11], the average salary for a software developer in the U.S. is $110,140.
Low-code allows average companies to avoid hiring two software developers, saving them $4.4 million [12]in three years.
Scarcity of IT developers
One of the biggest hurdles to digital transformation is the talent gap. When companies turn business experts into developers, they empower them to create digital solutions for everyday operations. These solutions comply with IT security regulations and address cybersecurity concerns. As software developers become more scarce, organizations will empower non-developers to build business solutions.
The demand for business-related apps is 5X higher [13] than the available IT capacity.
84% of businesses [14] are adopting low-code or no-code tools to fill the technical gap left by the shortage of developers.
Benefits of leveraging low-code solutions
Low-code platforms are more inclusive and offer a more manageable approach to application development. The solution involves web-based reusable application components and drag-and-drop features, that help in removing complexity from application building and speed up the application design process. Organizations can incorporate changes on short notice, be better equipped to adapt, and easily respond to fast-changing business conditions.
The tools support continuous innovation, increase business agility, and provide better customer and employee experiences while decreasing costs and streamlining processes. Based on data collected from customer reviews on low-code platforms, many people use the words "Ease of use" [15] to describe their experience.
85% of workers [16] say that no-code tools add value to their lives.
No-Code Tools are 10X faster [17] than traditional app development platforms.
Low-code solutions can reduce enterprise application development time by up to 60%[18]
Companies that use low-code platforms to build customer-facing apps increase revenue by 58% [19] on average.
Organizations build solutions 56% [20] faster than companies that use traditional development technologies.
80%[21] of organizations believe that low-code solutions can free developers' time to focus on more business-critical projects.

How low-code solution empowers citizen developers
According to Gartner, most enterprise tech products and services will be built by non-IT professionals by 2024. The company says that the barrier to building technology solutions has fallen due to low-code and no-code development tools. COVID-19 also reduced entry barriers for non-IT workers, who started building technology solutions to serve pandemic-induced needs. These workers are known as citizen developers.
Citizen developers are subject matter experts who build business applications using low-code and no-code platforms. They improve business processes, freeing up IT to focus on more business-critical activities. As skilled developers become more scarce, citizen developers will take over and build important enterprise-grade apps.
How low-code solution accelerates digital transformation
A business's digital transformation success is usually determined by two things: innovation and agility. Implementing digital transformation is a multi-faceted journey that requires new approaches and technologies. Low-code platforms can play a central role in digital transformation by reducing the time and money spent on application development. They empower non-developers to delve into app development regardless of their technical background as they know and understand operational challenges best. The need for organizations to be agile has never been greater, and low-code makes this a reality.
Also, low-code isn't just for simple apps, it's now the go-to technology for building larger enterprise apps and tools for digital transformation. Many organizations are investing in low-code development platforms and building more important applications—enterprise applications, business unit applications, and even applications serving customers and partners.
Low-code adoption challenges
Low-code platforms undoubtedly add greater value to businesses. However, there are a few challenges that can impede low code adoption. some organizations may have legacy systems in place that are difficult to replace while others may not have the resources or budget to invest in low-code platforms. Many businesses are hesitant to adopt low-code platforms due to a lack of awareness or fear of embracing new technology.
93% [31] of IT leaders say they find the process of application modernization challenging and more than 30% of businesses claim that identifying the right tools is an issue.
47% [32] of organizations are concerned about the scalability of the apps created.
While 4 out of 5 businesses [33] in the US currently use low-code while there are still 20% that do not.
Only 12% [34] of enterprises manage their business processes using low-code tools after buying them


Example of low-code development: Building a custom CRM application
Low-code development allows for quick creation of custom CRM applications with features like case management, lead management, and contact tracking. Developers and business users can collaborate to release and refine CRM features incrementally based on changing business needs and user feedback. While business users can provide domain experience, IT can manage governance. Since low-code platforms offer APIs and pre-built connectors, users can directly integrate third-party applications like ERP, e-commerce, and marketing to get complete visibility into customer lifecycle.
Low-code is the coding tool of the future
The coronavirus pandemic has hastened low-code adoption. Companies that had a low-code platform adapted significantly faster to the new challenges of remote operation than those that didn't. And according to a KPMG study [35], 26% of company executives say low-code and no-code platforms are their most significant automation investment. Many companies are spending big on low-code tools.
These 35 low-code statistics show that low code is the future. In the foreseeable future, low-code development platforms will become highly useful to enterprises that want to build better and more modern business applications. They will also reduce complexities that prevent seamless outcomes.
Kissflow is an enterprise-friendly low-code development platform that allows you to build business applications with minimal coding. You can build highly functional and complex applications from scratch or use one of the many pre-built templates and extend them to meet your enterprise needs. With the drag-and-drop editor, you can push out enterprise applications in weeks instead of months, leading to increased efficiency and faster time to market.
Bring domain experts, business users, and developers together on a safe low-code platform and experience faster rollouts.
More resources :