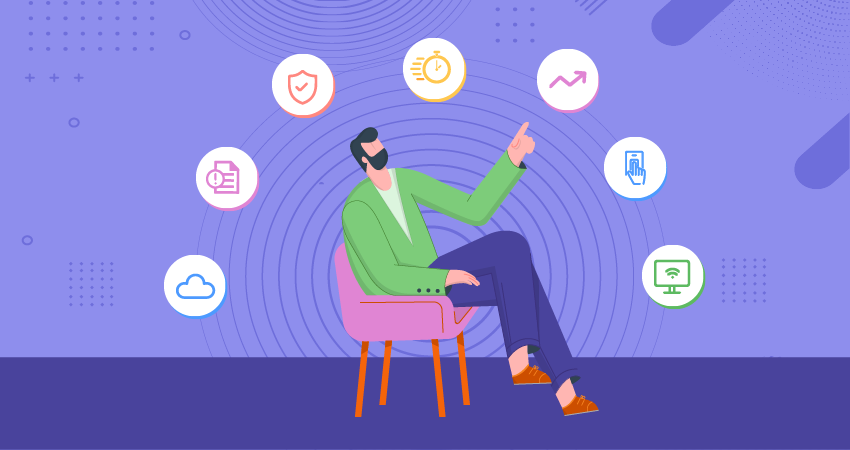 For organizations that want to go completely digital, introducing digital workplaces as part of their digital transformation strategy has now become a necessity. About 95 percent[1] of organizations agree that implementing digital workplaces is important and over 87 percent[2] of CEOs believe that empowering their employees can drive over 5 percent additional growth.
Digital workplaces can give an edge to startups and fast growing SMBs, and help them compete with giant enterprises in an effective way. But just adopting the latest tools and technologies, and hoping for it to work for your growing organization is also not the way to go.
After all, the same hacks that worked for a team of 50 won't work for a team of 500. As a result, you need digital workplace platforms that can grow with your organization and maintain the same efficiency whether you have 50 employees, 500 employees or 5,000 employees.
How digital workplaces can help companies scale effectively
A digital workplace platform helps employees accomplish both unstructured and structured tasks through a unified platform. It combines all the necessary tools that employees need for project management, process management, ase management, and collaboration.
As a replacement of the traditional office space, a digital workplace allows your employees to work from different physical locations. So, a worldwide pandemic or not, your team can keep working seamlessly with the same efficiency and productivity levels regardless of their location.
With a digital workplace, you can digitize internal business processes and streamline them into structured workflows. It is also possible to automate repetitive parts of processes which improves efficiency and saves the precious time of employees.
The benefits of a digital workplace
A digital workplace involves implementing strategies to make it easier for your employees to work, collaborate, and connect. Some of the many benefits for digital workplace, include:
Scalability
For startups and SMBs that are hoping to ramp up their business operations at a large scale in the future, the biggest challenge is picking out digital tools that can scale as the company grows. After all, you wouldn't want to be stuck with tools that become inefficient and obsolete as the number of employees and operations increase in the company.
Picking out a new tool mid-way wouldn't just lead to more costs, but it also disrupts your company processes as employees would have to learn how to use a new tool all over again.
Digital workplaces offer scalability to growing organizations. It allows them to scale at their own pace without worrying about any excessive costs or disruptions in business operations.
More collaboration and transparency
When you give your employees all the tools they need to coordinate and communicate with their colleagues, you are able to create a more transparent and collaborative work culture in the organization. Seamless collaboration tools offered by digital workplace platforms are able to cut down on excessive meeting times and emails, which in turn gives employees more time to focus on their core responsibilities.
By streamlining processes with digital workplace, you can also track the status of any task or project assigned to you which leads to more transparency and accountability across all departments.
Time savings
A digital workplace saves time in a lot of ways. First, by consolidating your work to a single platform, employees don't have to spend a lot of time wondering where they should be doing their core work. Digital workplaces also provide more clarity, so that people don't need to waste time asking about how to perform predictable tasks. Finally, if your digital workplace allows for automation, you can save a lot of time by reducing the amount of time employees spend on boring and repetitive tasks.
Remote work
Digital workplaces store all the company data, applications, and processes which can be accessed online from any device or location. This gives employees the opportunity to work remotely from any location with little to no effect on productivity or efficiency.
Even if your entire team works from the same office or from different cities around the world, you never know when your entire team might be forced to work remotely in its total capacity. The current worldwide pandemic is the perfect example of that. Organizations that had no clear remote work planning quickly fell to dust and it took them weeks to recover.
Moreover, 99 percent[3] of employees want to work remotely at least once in their entire careers, and 90 percent of them want to work remotely all the time. This also means that organizations need digital workplace strategies if they want to attract and retain top talent in their industry, especially now when employees know they can manage their work from home and maintain a better work-life balance.
Better customer experience
With a more efficient, engaged, and productive workforce thanks to digital workplace platforms and digital transformation strategies, you can give your customers the best of talent and technology that your organization has to offer. This directly leads to an improved customer experience and more satisfied customers.
Choose a digital workplace platform that can grow with your company.
Kissflow is a digital workplace platform that streamlines your internal workflow within the company and allows you to access all the projects, applications, processes, and tasks through a single platform. Moreover, it is a highly scalable tool that works just as efficiently for startups, SMBs, and enterprises.
Try it out today and see what kind of benefits you can get by starting your own digital workplace.