Organizations around the world use an average of 16 SaaS applications[1] now. That means your team is probably losing a lot of time going back and forth between applications. Each application has a specialty use case depending on the type of work and what department is using it.
A digital workplace is a central place where all of your important operations data lives and moves. While 95 percent [2] of the organizations around the world agree that a digital workplace is important, only 38 percent of companies have actually implemented it.
As more and more employees are looking for remote work opportunities, it has become crucial for organizations to implement digital workplace platforms as part of their digital transformation strategy.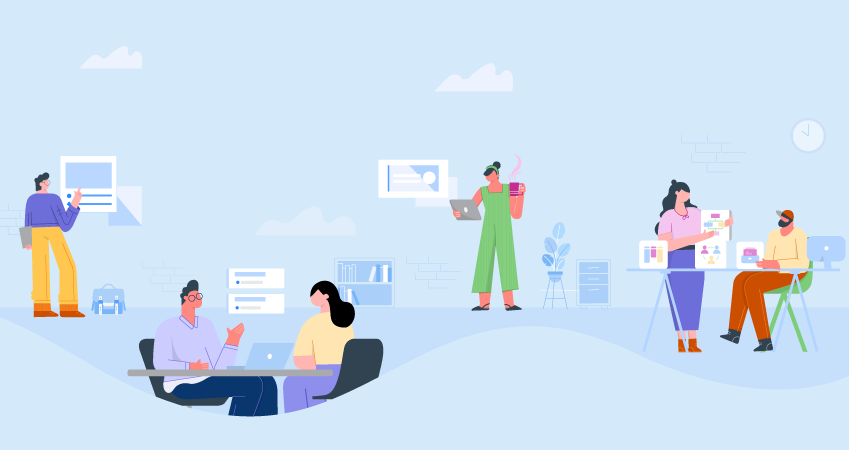 What does digital workplace mean?
A digital workplace is a virtual replacement of the physical office space. It is a single platform that integrates all the major business applications, information, and processes.
With integration and collaboration as the main founding principles, a digital workplace creates a central place for employees to access all the business applications that are used in the organization. It allows employees to perform their work responsibilities from any device and from any location.
The free flow of information in a digital workplace allows employees to be more flexible and in turn improves their overall productivity. At the same time, it also helps increase employee satisfaction and involvement by providing the right information at the right time
A digital workplace should:
Make it easy for

remote teams

to actively participate in work discussions
Be compatible with the existing applications so that the employees don't have to spend too much time toggling between applications
Give users mobile access so that they can check any notification or information while they are on the move
Allow employees to upload and integrate all types of data
Analyze data and generate customized reports.
Digital workplace benefits
Creating a digital workplace involves implementing smart strategies to give employees the tools they require to connect, collaborate, and perform their core job responsibilities. Here are the top benefits of a digital workplace.
1. Creates a more collaborative culture
By providing your employees with all the tools that they need to communicate and coordinate with their team members, you are able to create a collaborative culture in your organization. Smart and reliable communication tools also cut down meeting times and give your staff more room for ideation and innovation.
2. Unites the workforce
Creating a transparent work environment where your employees are easily able to track the status of any task or project. This is in turn leads to less follow ups and emails between employees. When the staff is on the same page, they are able to focus more on the shared business and organizational goals.
3. More time for new ideas
By using the right technological tools and automating repetitive tasks through a digital workplace, you are able to make the work-life for your employees easier, which automatically leads to more productivity. That is because employees are able to use their freed up time for problem-solving and coming up with innovative ideas.
4. Allows employees to work remotely
When all the company data and applications can be accessed online from any device and from any location, it gives your employees more opportunity to work remotely. While over 99 percent of the workers[4] want to work remotely at least once their careers, 90% of them actually want to work remotely for the rest of their careers.
For organizations, that means, implementing digital workplace strategies will not only increase employee satisfaction but also help retain and attract talent.
5. Provide a better customer experience
When you have an engaged, efficient, and productive workforce, your customers are able to get the best of the talent and technology that your company has to offer. This leads to better customer experience and more satisfied customers who will most definitely come back to you for more business.
6. Save costs and invest elsewhere
By choosing a cost-effective digital workplace for your globally distributed teams, you can save costs, which frees up funds for you to invest elsewhere like launching a new service or product to expand your business as well as revenue
7. Enhances the employee experience
A digital workplace brings you the best in employee experience from the get go. With a variety of options to customize and create channels where employees can interact and collaborate, a digital workplace is not just a piece of software. It unites your employees into an entity and catalyzes their ability to perform at their best with as few obstacles as possible.
8. Recruit better talent and retain them
The greatest advantage of a digital workplace is that it is untethered. It is an entity that will keep functioning even when resources are moved or conditions change. This offers a level of freedom and responsibility to employees that the most talented candidates find irresistible. They will function with full responsibility and remain for the culture a digital workplace will instill in them.
9. Brings you agility like never before
A digital workplace platform lets you build the perfectly agile workplace in the shortest time possible. The design of these platforms is such that it makes developing and sustaining an agile culture much easier. Instead of forcing agile on employees and making them conform to organizational diktats, a digital workplace would help your organization transition seamlessly into developing an agile workforce.
Find the right digital workplace tool for your business
Kissflow offers a digital workplace platform which makes it possible for employees to work with minimal disruption. Employees are able to access all the tasks, projects, and applications through a single platform which saves their time and increases productivity. Since it is a no-code platform, you don't need to write even a single line of code to create your own customized digital workplace–you can get started right away
Ready to give it a try? Sign up for a free trial.