Digital Workplace
Technologies for Your Digital Workplace: What Are the Essentials, and What Should Be in the Pipeline?
A decade ago, smartphones were a luxury for many. But today, technology is advancing at an exponential rate where smartphones have become a necessity for every individual. Some companies even mandate their usage by providing smartphones and tablets to employees.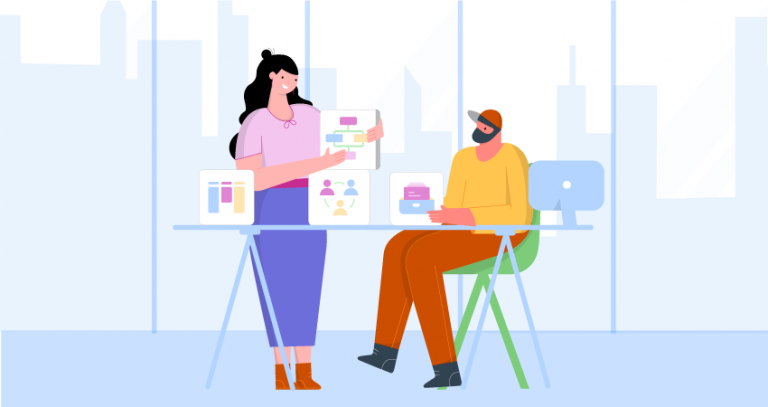 New evolving technologies are finding extensive applications in every aspect of digital workplaces worldwide. It's easy to see talk of new technologies everywhere–artificial intelligence, virtual reality, the internet of things, etc. These technologies are taking the world by storm. But how much of that technology can be used at the workplace?
Where do you start? How do you leverage technologies and strengthen your business? And like mobile, which technologies are going to become mainstream in digital workplaces?
Think 'technology' before 'tools'
Workplaces today are accustomed to the practice of buying digital tools for any and every business problem. While it may seem like the progressive option, eventually you end up with multiple tools that overlap in many of their functions.
Let's say for examples of digital workplace, your finance team uses a specialized tool for invoicing. All the expenses are updated in the tool, and the information is kept organized. A few months later, your sales team needs a system that can track the expenses incurred for acquiring a customer. A new tool can solve the problem for the sales team, but the finance team is now left in a dark corner about the expenses incurred in that department. Since one requirement popped up at a different time, the need for the other was ignored. Now you have two separate tools, both of which need monitored, maintained, and paid for.
When looking into the realm of digital tools, always take a step back and look at the bigger picture. Your entire organization is one unit that operates by various tools and people. These tools are different from each other, and need to work in tandem to help your business. To make sure you extract the best out of these tools, they should not be looked at as quick fixes for particular problems. Tools are investments in new technologies for your digital workplace.
Rather than playing whack-a-mole by throwing a new digital tool at every issue, think holistically about what technologies will help you achieve your broader goals. What technologies are readily available as tools in the market? Which ones do you need right now? Which ones are still under development? How will they solve cross-functional needs? Sorting these questions will clear up your path, and save money in the long run.
Essential technologies for a digital workplace
Here are several digital workplace technologies that make up the core for most organizations. Many have been in the market for a long time, and have reached a plateau in the innovation curve. Others are much newer and will take a lot of strategy to figure out how to incorporate across the organization.
Top 6 Essentials Technology in the Workplace
1. Document management
The amount of data that is created is on the rise each day. Your organization might produce anywhere from dozens to hundreds of thousands of new documents, spreadsheets, forms, and videos every day. Information about employees, business, customers, operations, marketing etc. should be keep it organized for easy accessibility and timely insights.
A document management system in the cloud can be the best way to manage data. They also serve other purposes apart from managing data. They can be adaptive learning platforms for employees where they can access the information they need in the right sequence. Power search features in these platforms have made it easy to access any file across the organization. Employees can also collaborate easily over all forms of data.
Document management systems have evolved into robust products that even offer analytics capabilities for all structured data.
2. Work management
Automation of processes is a basic necessity for organizations trying to be more agile. You can save a lot of time and resources by identifying standard processes in each department and automating them. Automation technology you should offer maximum flexibility to help you design workflows while controlling visibility permissions.
The ability to design user-driven workflows on a case-by-case basis is the second requirement of a workflow tool. Similar to repetitive processes, every department has certain unpredictable workflows that need to be tracked. Customizable case and project management tools can help almost every department manage ad hoc requests which need human intervention at each stage.
Employees should be able to plan, coordinate, manage, and execute work. You can no longer just give employees email, word processing, slides, and spreadsheets and expect them to be effective. Project and process management have become essential to getting work done.
Tools that address work management should be intuitive, and provide room for teams to huddle before their project, execute with optimal collaboration, rectify errors, and evaluate results. These requirements can be met by a wide range of functionalities like chat, email, voice and video calls, meeting solutions, file sharing, etc. The tools should enable employees to manage tasks, projects, and network internally with ease.
Getting maximum functionality could also mean choosing multiple tools. Decision makers should carefully pick out the tools that provide most of the required functions in the same tool. In addition to saving costs, it also helps employees be more productive by reducing tab switching and having contextual discussions.
3. Collaboration and communication
Enterprise social networking is an important sector for an organization in the long run. Apart from employees being able to share news and any relevant information, it can be a great tool to study the engagement of teams and individuals in the digital workplace. Thoughtfully designed workplace social networks can also help avoid distractions by showing algorithm-based relevant posts and not ringing notification bells all the time. People can practice a healthy digital culture by understanding and respecting digital skills and boundaries.
Chatbots are becoming increasingly prominent in both internal and customer-facing situations. They can either be simple, algorithm-based responses, or sophisticated AI-based algorithms that have a wider scope to understand language and conversations.
When used internally, chatbots offer a better employee experience by offering them self-service capabilities for HR and service desk functions. It lightens the load on IT teams by increasing the accessibility of resources.
Chatbots for customer support is where most of its potential lies. They can reduce customer service costs by 30% [1], while giving a better experience for customers. Response time for queries decrease, and support technicians can spend more time attending to unique challenges that arise by automating routine questions.
Team collaboration is increasingly becoming an essential technology with more and more of the workforce being distributed through remote work and flexible work hours. Teams are now more connected and have a wider network as opposed to a hierarchical setup that dictates work to people. The responsibility of today's leaders lie in creating this atmosphere, and working relentlessly towards making it more efficient.
4. Solution building with no-code development
Today, employees are increasingly being given the authority and control over their work. But to truly empower them digitally, employees and mid-level leaders should be given the ability to develop solutions for their requirements on their own.
When IT teams are expected to build tools, timelines get longer. They need to study and understand business requirements before they start building the tools and apps. Skill dependency can be reduced if the business knowledge and power to build solutions is with the same person. You can deploy low code platforms across the entire organization to help departments build their own applications for any business case.
5. Cybersecurity
Ever since data breaches have become bigger concerns, IT leaders have been continuously trying to increase security while providing more spectrum for employees to flex their digital boundaries. Cybersecurity is a built-in element of all cloud based applications. Cloud has reached a position where it is now a more secure mode of data storage than on-premise.
Breaches happen from both sides of the wall–internal and external. Internal breaches can be prevented by identifying and creating restrictions (data policies) for sensitive data, and also deploying network, device, and application monitoring systems.
Email phishing is the most common channel of external malware attacks. Educating employees about best practices and delegating a sense of responsibility towards data security can greatly help prevent breaches.
6. Data analytics
Analytics capabilities are now available from most application vendors as an add-on. Data analytics can provide insights both on an individual scale (employees and customers) and with respect to the workplace as a whole. The power of analytics can be given to end users without assuming any prior knowledge of data sciences.
When used at an individual level, it can provide information about the area of expertise of each employee. Leaders can learn to manage their teams quicker than before when they understand their skills, and interests of individuals. They can also Identify skill gaps with a little more visibility.
With analytics tools becoming more and more powerful, leaders need to pool the data generated in each and every business process effectively. Grouping data in fewer tools is a great way to ensure that data remains sorted. This will also save a lot of data migration costs in the future when better tools need to be adopted.
New technologies for additional control and insights
The following technologies are currently gaining popularity in the workplace technologies market. They are not immediately absolutely necessary, but they should be on your radar and you can start to plan for how you will use them.
Next level of AI
Sentiment analysis is an emerging technology finding applications in marketing, customer support, and also internal purposes. By analyzing text using NLP, very precise predictions about the emotions of a person can be made. In marketing, thousands of reviews can be accumulated to study the overall feel of what the customers think of the products. Customer support technicians can use sentiment analysis to determine which tickets need their immediate attention by separating angry customers from general queries. Sentiment analysis can also study employees' behaviors on digital apps based on certain metrics like rage clicks and frequency of hitting certain buttons. It can be a great instrument to study and improve employee experience.
Virtual assistants (VAs) can assist employees in their everyday tasks. They are the digital equivalent of personal assistants. VAs observe users' behaviors and suggest appropriate actions at the right time. From automating tasks to fetching information, they can be the employee's/customer's power handle. The most useful ability is manipulating and displaying data visually. Many software vendors provide VAs as an add-on with their products.
IoT
IoT primarily concentrates on integrating different devices and networks in the workplace to carry out routine functions in an automated workflow. IoT at the workplace can ensure that all operations run smoothly and on time. The power of multiple systems can be leveraged to create a coordinated workplace that runs itself. Employees need not worry about manually intervening in multiple actions like organizing meetings, setting up facilities, maintaining supplies, etc. They can simply walk into the office and manage appliances like printers and air conditioners on one device.
Technology is just the start
Having a framework of technologies to invest is the first step towards building a stronger system that can help drive business goals, and empower people. The next step is to evaluate and select the right tools that complement these technologies.
After acquiring the right digital workplace tools, your attention should be implementing a program that gets all employees aligned with your vision for your digital workplace. Leaders should steer the efforts to create a healthy digital culture that designs the perfect atmosphere for employees to work towards creating a better future for the company.
Build Your Apps with Kissflow Low-Code