Great workplaces need great collaboration and communication. As the majority of the workforce goes remote, organizations need a central communication platform apart from the usual business tools to provide employees the opportunity to connect and collaborate with their colleagues even when they are working from different locations. This is exactly where enterprise social network (ESN) tools can help.
ESNs take all the benefits of public social media networks, like the ability to share updates with many people at the same time and real-time messaging, and allow organizations to enjoy these benefits in a secure and confidential manner.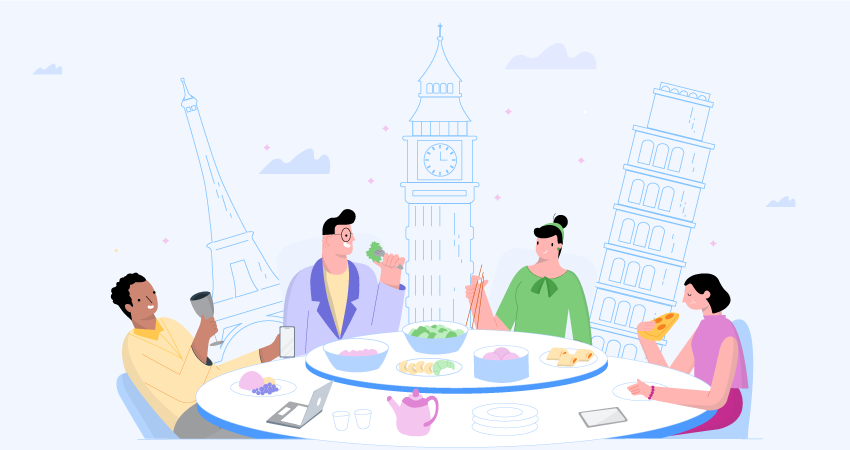 According to a study[1], when teams used ESNs, they found knowledge sharing and collaboration across silos way easier, as compared to teams without ESNs.
But are ESN's right for your organization? Let's find out:
What is enterprise social networking?
Enterprise Social Networking or ESN is defined as the way organizations use social networking, social media, and other similar technologies to connect employees, business processes, and internal activities.
While ESNs are pretty similar to social media platforms, the former is only accessible by employees within an organization. Most ESNs are built with enterprises and organizations in mind which is why their main focus is to make communication seamless and secure for employees. With ESNs, conversations can occur through comments, direct messaging, status updates, and topic threads. It's also possible to broadcast company-wide announcements or important notifications.
ESNs however shouldn't be compared with public social networks like LinkedIn[2] which are aimed at professionals. While platforms like LinkedIn can be useful in connecting with professionals from different organizations and industries, their public nature makes them less than ideal for internal company communications. Instead, ESNs focus on encouraging private connections within the organization.
But just using ESNs to communicate and socialize can make you miss out on their incredible power. Using separate tools for task management, project management, collaboration, and communication can lead to loss of productivity due to continuous context switching.
The only way to get the most value out of an ESN is by closely integrating it with other business applications. You can then transform an ESN into your organization's main collaboration and communication hub.
The main benefits of using an enterprise social network
1. Streamlined communications
ESNs can help reduce inbox clutter by replacing long and confusing email threads with public or private communication channels. While company-wide information can be shared publicly with all the employees, you can initiate direct conversations with team members through private channels and messaging from right within the ESNs. This in turn makes it easier for employees to keep track of all the conversations and ensure they are not missing out on any important information.
ESNs also make company directories more accessible since employees no longer need to hunt down email addresses of their coworkers just to communicate with them. It's possible to find colleagues and reach out to them in real-time directly with ESNs which can boost cross-team collaboration and help avoid communication issues that arise with emails.
2. Knowledge repository
Enterprise social networks work as an all-access platform where employees can find all the important company documents like project related data, training resources, guides, relevant research papers and industry news.
Integrating a cloud-based knowledge repository streamlines document management and allows team members to access the latest version of any file that is shared with them in real-time. A centralized knowledge repository also makes onboarding new employees easier and faster as you can quickly share all the relevant information with them.
3. Centralized collaboration
Putting all of your shared documents, project data, and task assignments in one single platform means your team members always know what needs to be done and by when. As a result, ESNs make collaboration easier even for distributed teams by centralizing the entire process. Whether your team is fully remote or just partly remote, you can ensure all the employees are always in loop with a dedicated ESN.
Moreover, a company-wide communication network where employees can collaborate and reach out to each other in real-time also improves the employee morale. It instills a sense of belonging, especially during times like these when people already have limited face to face interactions with their colleagues.
4. A place for social and informal communication
ESNs are the perfect place for establishing informal and fun channels to build strong camaraderie among employees. You can create virtual spaces to discuss different personal interests and celebrate birthdays as well as important milestones. Encouraging team members to have informal conversations makes them feel more at home, even when they are working remotely from different locations.
5. Inclusive corporate culture
Of course, an ESN cannot make your company's corporate culture. After all, your corporate culture should be in place way before you plan to implement an ESN tool or any tool for that matter. But an ESN can help put emphasis on your corporate culture, especially for new and remote employees who aren't in the office every day. Watching and reading conversations among other colleagues can help new employees get a clear idea about the company culture and make them feel more comfortable in speaking up and communicating more with their coworkers.
The top drawbacks of an enterprise social network
Social media distractions
Enterprise social networks are meant for organizations and only accessible by internal employees, but they can still be just as distracting as public social media platforms.
The goal of ESNs is to help employees collaborate and communicate effectively with their team members. But spending too much time on ESNs instead of focusing on their actual work can end up decreasing the overall productivity and efficiency of employees.
While chatting tools encourage bonding across the organization, spontaneous conversations can quickly get out of hand and become distracting. As a result, it can become difficult to keep track of things if you haven't set up rules and regulations for using the ESN.
Messages and notifications at odd hours
ESNs allow employees to communicate with their colleagues in real-time and get quick responses. But that does not mean employees can reach out to their colleagues any time of the day and expect a swift response. Receiving work messages at odd hours of the day can make employees feel frustrated and overwhelmed. The best way to avoid this is by either allowing employees to restrict notifications when they are unavailable or focusing on important tasks.
Siloed conversations
With separate tools for enterprise social networking, collaboration, document management, and project management, it's easy for conversations to get siloed. Employees might start a conversation in the project management tool only to end up in a detailed team-wide discussion on the ESN tool. At the end of the day, your employees will be digging through conversations on different tools to find what they really need.
Using enterprise social networks effectively to leverage their power
The best enterprise social networks are the ones that closely integrate with your company's existing IT infrastructure without disrupting it in any way. Introducing new tools to your already growing number of business applications will only make things more confusing for employees and further decrease their productivity due to consistent context switching.
Instead, you can implement a digital workplace platform like Kissflow which includes all the features that your employees need to efficiently handle work including project management, knowledge repository, centralized cloud storage, public and private communication channels, and a streamlined enterprise social network.