Automating Purchase Requisition Approvals in KiSSFLOW (Hint: It Takes Just 15 Minutes)
Shivasankari Bhuvaneswaran
January 2nd, 2019 • Procurement Process • Purchase Requisition
What Is the Purchase Requisition Approval Process?
The purchase requisition approval process is used to request approval for purchasing goods and services. Supervisors use it to grant or deny a purchase requisition based on organization policies, the legitimacy of the purchase, and business needs. A manually administered purchase requisition approval process can be expensive and error-ridden.
Purchase Requisition Approval Process Steps
In a manual requisition management process, once a need is identified, a paper-based purchase requisition is created and attached to supporting documents such as quotations and product specifications. This purchase requisition document is then forwarded through an approval loop. Once the request is approved, a purchase order is generated.
While every organization has its own processes unique to its operating style, there are a few basic process steps that are relevant to all companies. Here are four key steps involved in the purchase requisition approval process:
1. Needs Identification
The purchase requisition approval process begins with the identification of a purchasing need. To ensure the genuineness of the need, it is critical for organizations to recognize both the scope of the need and corresponding stakeholders. These questions can be used to understand critical business requirements:
Why is the product/service necessary?
What factors will impact this purchase?
Is the purchase value within or equal to the approved budget?
When are the goods/services needed?
Are there any key approvals necessary? Who must provide this approval?
Can this requirement be fulfilled using an existing contract?
Do the approved suppliers offer the necessary goods/services?
2. Raising a Request
Once a valid need is identified, the request or the procurement professional needs to prepare and submit a purchase requisition form along with other necessary documents, including specifications, to conduct a thorough solicitation.
Requisitions that are submitted for approval must list all adequate details about the product/service required, requester information (name, department, location), allotted budget, vendor details, and all other information pertinent to the purchase.
3. Review Requests
Once a requester submits the purchase requisition form, the request will be assessed and reviewed for completeness and necessity. Every purchase requisition form template must pass through certain approval checkpoints before a purchase order (PO) can be generated.
The purchase requisition approval workflow route will change depending on the organizational hierarchy, purchasing policies, and item value. Purchase requisitions usually just need the approval of the immediate manager and the finance team. If the purchase value crosses a certain threshold, additional approval may be necessary.
4. Generate a Purchase Order
Stakeholders with the approval authority can either approve or reject a purchase request. If the approval process is complete and the purchase requisition form is approved by all levels, a purchase order is generated with the information available in the PR form.
In case an approver rejects the request, the purchase requisition approval workflow will send the form back to the initiator with specific remarks as to why the request was rejected.
Automate Your Purchase Requisition Approval Process in 15 Minutes
Try KiSSFLOW, Trusted by 10,000+ Companies
Create Your Own Purchase Requisition Approval Process in 4 Steps with KiSSFLOW
KiSSFLOW's easy-to-use visual form builder lets organizations build their own automated purchase requisition approval process in less than 15 minutes.
Step 1: Create a Digital Form
You have the freedom to create a brand-new purchase requisition form template from the ground up, or to start at the finish line by installing the purchase request workflow app from the list of 50+ pre-built workflow apps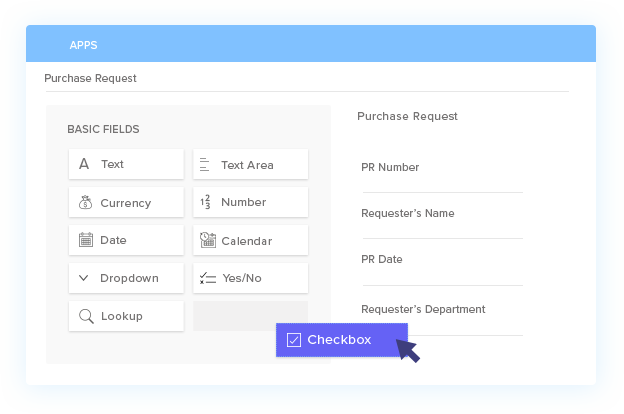 Step 2: Customize it
You can tailor a unique purchase requisition approval process using KiSSFLOW's drag and drop form builder and an arsenal of features that let you create formulas, conditions, exceptions, and more.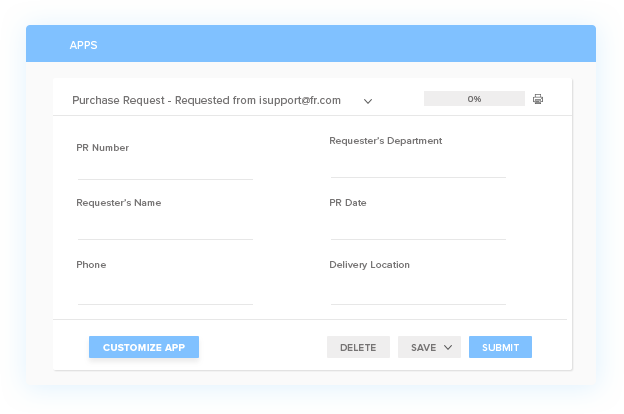 Step 3: Set Up the Approval Process
Once the form is ready, the next step of the purchase requisition approval process is to define purchase requisition workflows, set permissions, add stakeholders, and configure an approval route that replicates the existing process flow.
Step 4: Publish and Track
Once the online form and automated workflow is ready, it is time to distribute the purchase requisition app to all stakeholders and enable collaboration. When the app is live, you can track the status of every purchase requests and spot process bottlenecks instantly.
Automate Your Purchase Requisition Approval Workflow
While several tools out in the market can digitize your purchase requisition approval process, you need to look for the one that automates the requisition management process end-to-end. The best procurement automation tools like KiSSFLOW lets organizations create a robust online form that captures and stores all necessary information securely and accurately.
With KiSSFLOW's user-friendly workflow builder, you can sketch out a visual representation of your paper-based workflows including everything from conditional tasks and exceptions. Additionally, you can measure the efficiency of the purchase requisition approval process and identify process inefficiencies at a glance from the interactive dashboard and insightful reports.
Looking for a way to streamline your purchase requisition approval process? Try KiSSFLOW. It's trusted by over 10,000 companies around the workflow to reduce paper trails and process gaps in the purchase requisition process.
Sign up for a free trial and see how much you can accomplish with KiSSFLOW!
Stuck with Email-based Purchase Requisition Approvals?
Automate Your Purchase Requisition Approval in 15 Minutes