App Development
The Best Practices for App Development Without coding [New]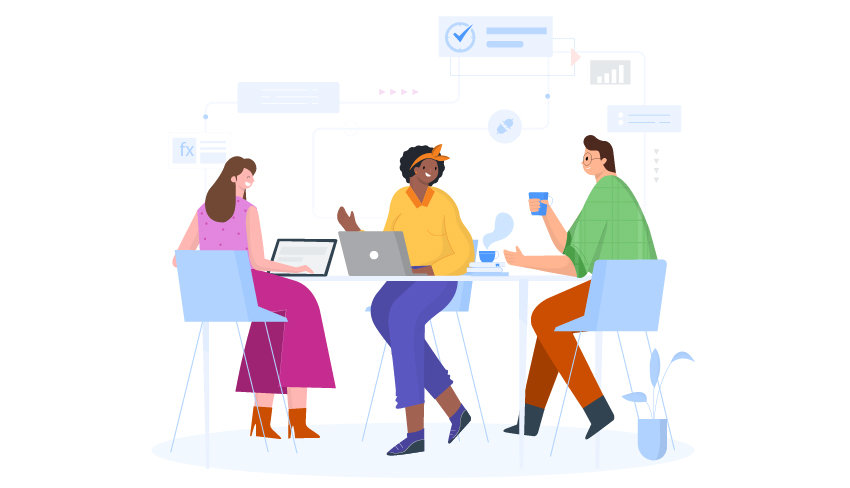 Application development in the past belonged to only a small set of people: those who knew programming languages and could follow a particular process.
However, new platforms on the market claim to not only reduce the amount of coding required, but to do app development without code completely.
Any seasoned developer will tell you this is too good to be true. "Don't believe the hype," they say.
Is app development without coding a real possibility? And will it work for your organization?
How to create an app without coding
In the age of the citizen developer, no-code techniques, development tools, and recommendations help speed up the delivery of mobile, web, and cloud apps for a wide range of organizations. Companies are under more stress than ever to produce apps quicker and in greater numbers, a task that traditional development approaches struggle to do.
Many IT departments are turning to no-code development to speed up app delivery, especially since the COVID-19 outbreak broke out. But how can you make an app without understanding how to code?
Everything is abstracted, so you don't have to worry about which databases to use, what programming language to use, or which UI/UX components to employ. Anyone – from expert developers to business consultants with no coding experience – can use the platform to create applications.
Instead of databases, concentrate on entities: Entities, attributes, and associations are used to break down the database structure. The typical database tables are called entities. Columns and data types are examples of characteristics. The cardinality of two relationships is covered by associations. Rather than worrying about proper table meets, you only have to worry about the relationship between entities in no code. Is it one to many (1-1) or many to many (for example, a single client with many orders)?
Instead of coding, use templates to create pages: After you've constructed your database using easy drag-and-drop processes, you can start designing your user interface. Instead of learning HTML, CSS, SASS, Bootstrap, or javascript, you may start constructing sites with the easy-to-understand templates. A navigation layout, as well as out-of-the-box templates and widgets, make up pages. There are several reusables, out-of-the-box widgets to help you get started quickly. Is it necessary, for example, to use Google Maps in your app? Google Maps may be downloaded.
You may utilize the database and microflow logic that has already been built to generate adaptive or device-specific pages. As a result, you can easily expand your apps to mobile and tablet devices. With the theme generator that comes with every no-code platform, you can simply modify the appearance and feel of your app. Everything you need is included and adjustable right out of the box.
Microflows help to close the coding gap: Finally, business logic is crucial. You want an app that can do computations, integrate data, and do a lot far more than open and close webpages. Microflows fill the void. A microflow is a visual representation of business logic written in Business Process Modeling Notation (BPMN). It helps you to visualize the logic you're developing. Here's an example of microflow vs. code.
Even if you are a seasoned programmer, simply reading and comprehending the code takes time. A microflow, on the other hand, may be seen and understood by everybody. Microflows may be created using simple drag-and-drop techniques, and they may be changed when business rules change.
You've taken the greatest development concepts and design practices from no code platforms and converted them into the Modeler, the tool you'll need to quickly construct any application. These platforms have a Project Portal in addition to the Modeler. You can handle your team, user stories, code, and the whole project life cycle on the Project Portal, from conception through post-production and live date.
Begin small and keep things simple: It might be tempting to construct sophisticated apps that attempt to solve several concerns or target huge groups of consumers when switching to a no-code platform. It may also be tempting to add functionality that consumers don't require, particularly if the platform makes advanced capabilities easy to integrate.
In most scenarios, it's best to focus precisely, beginning with little efforts and simple apps for a certain audience. Even when you've gotten to know the platform, simplicity should still be your guiding concept.
3 simple steps to build your own app without code using Kissflow
The most appealing aspect of a no-code app builder is its name: no human coding is required. All you need is a team member that understands the logic of how the process should work and the data necessary at each stage. When you create your app, you are creating something unique for your department or organization.
Let's imagine you're looking for a tool to assist you to manage your procurement operations, such as managing purchase orders and inventory. You probably won't be able to utilize an off-the-shelf solution since you need to create certain bespoke procedures and fields specific to your company model and connect it to a vendor list.
Ideally, you want to create a custom app that gives you all the functionality you want and the ability to customize it when you need to add a new feature. You will want to connect it to your database using a business process application development platform. When you create your app, you have complete control over how it operates and create whatever you want.
Codeless app building in Kissflow looks like this:
Define roles: Who will be using the app? What permissions do they need to have? What kind of controls should they have?
Create data sources: What kind of data are you going to work with? Where is it located? Is it static or dynamic
Make the process: How will your data flow? What is the end state? Who should act on the data as it moves down the workflow?
After creating the basics of the app, you can make different pages and dashboards for people to get the right information from the start. You can also add integrations with other tools, and share the application with anyone else who needs it.
Built-in features you can make the most of
No-code platforms can help entrepreneurs quickly design and deploy everything from websites to workflow automation and applications. It should have following features:
Visual development: During the app development process, intuitively create full-stack apps and visualize each stage in real-time. Create your application's front-end and back-end in the very same interface around the same time. For both business and IT, this is how continuous improvement and agile development are made simple.
Integrate with any system or database: With built-in open standards and open-source technologies like JSON, XML, SOAP, REST, and OData, you can easily consume or disclose data via web requests. Pre-built connections allow you to combine your apps with external systems like SAP and Salesforce in a smooth manner. Using current databases as a basis.
Multi-tenant: To effortlessly serve numerous sets of users or clients, create apps once and publish them to several portals. With specific functionality, a unique look and feel, and secure database separation.
Benefits of app development without code
Because no-code has established itself as the winner in the IT world, the benefits of creating apps without code are being enunciated with each passing day. The days of app creation requiring the drafting of lines of code are long gone. Even enterprise-grade apps may now be created in a flash! It's no surprise that it's attracting the attention of both citizen coders and IT teams. There are various advantages to working without a code that go beyond the traditional "comfort and convenience." We'll go through them one by one for you.
It is fast: Quickly denotes "very fast" in this context. When you compare this to code, you'll see what we're talking about. A basic app will take no more than a few hours, while a complex client business app will take no more than a few weeks. Traditional development schedules, on the other hand, start with "months" and might go on for years.
It is easy: I have said it before, and I will say it again: no-code tools are extremely user-friendly. They are simple to use and speed up the learning process. They're so simple to use that even high school students can do it. They often contain drag-and-drop capabilities that allow you to quickly develop any customer enterprise-grade application without requiring any coding expertise. Citizen developers can see what they're developing in real time and make modifications as needed because it's all visual.
You can pivot easily: When we term "pivot," we're referring to a shift in the app's target audience or market. You can switch to a different target market without involving the developers if you feel that a certain no-code app will perform well for them. You won't have to spend a lot of money either.
Conclusion
Kissflow No-code: When you think of the essential software tools that a business or department need, you normally start with G Suite, which includes email, spreadsheets, word processing, and more. Most businesses strive to keep using these low-cost technologies for as long as possible, which means email and spreadsheets are used for the majority of their business procedures. However, you soon discover that a fixed database in Excel would not be enough. You'll need something that can work with all of your data. Something that allows it to transport and process data on its own. That is exactly what software programs do. They automate simple tasks and allow you to respond much more quickly than you could before when you had to manually send data around.
---
---