Industry solution
Building a Custom Logistics Management Software Using Low-Code Platform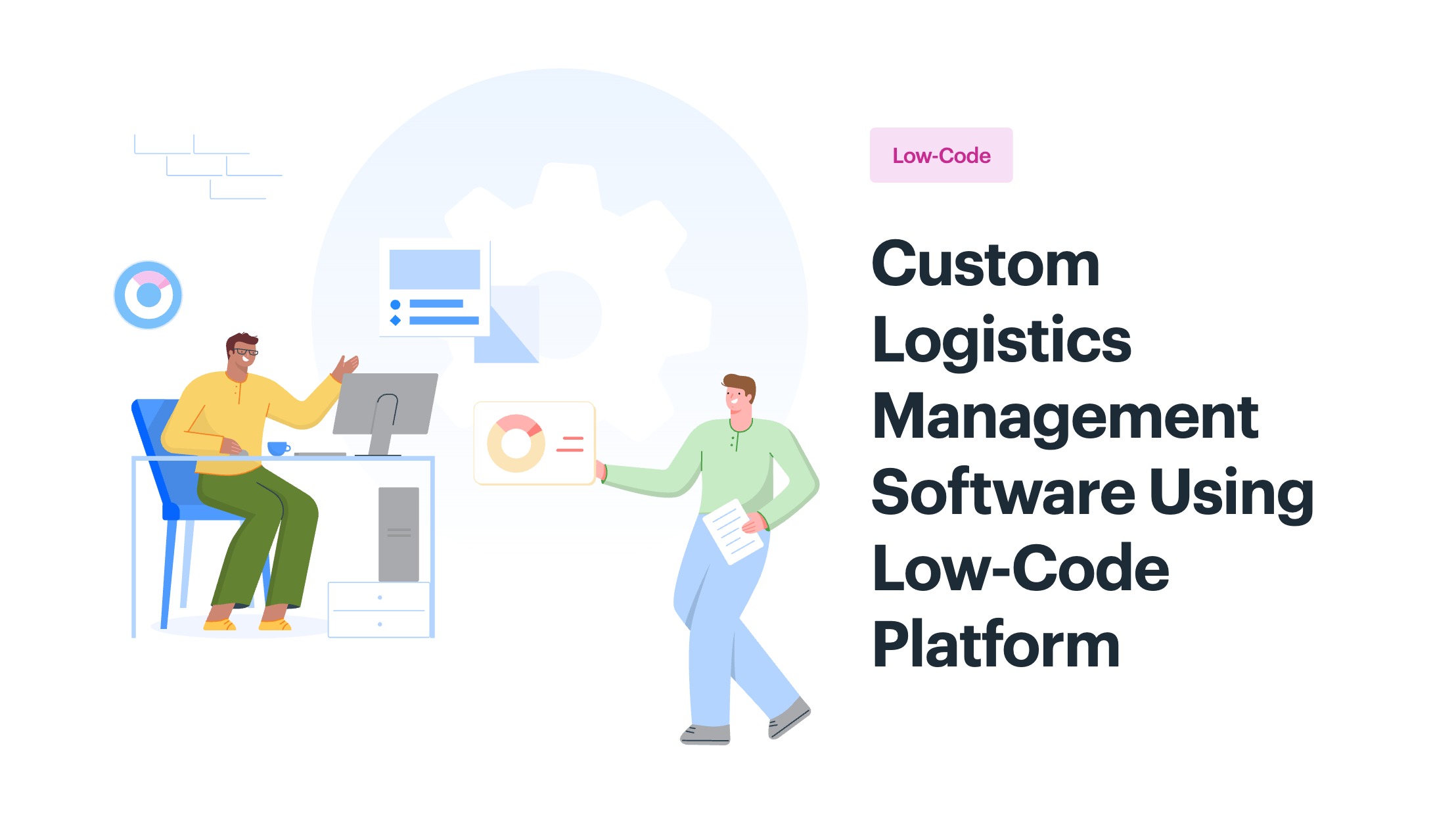 The fallout of the pandemic that started in 2020, and that will continue to have reverberating effects in the coming years, has changed people's priorities. From governments acting on a mission mode for distributing vaccines to their citizens, to the citizens themselves adopting digital lifestyles to shop safely, logistics has become a critical element to keep supply chains running.
The Middle East and Africa region is expected to witness a CAGR of 4.37% in the freight and cargo market by 2027. Several factors are contributing to this –
The Middle East has a growing young population that is driving the internet penetration to over 90% in countries like UAE, Qatar, and Bahrain.
The e-commerce industry is growing thanks to the youngsters. E-commerce platforms include local sites like Cobone (UAE) and of course, the e-commerce giants like Amazon (which acquired the popular English-Arabic platform Souq in 2019).
The Middle East has geographical proximity to some of the world's major suppliers like the Indian subcontinent. It is also a connecting hub for intercontinental traffic flows.
There is a viable opportunity for logistics providers to gain a greater market share in the Middle East. Technology is a key enabler in this regard. But with a vast choice available in terms of logistics management software in the market – the question is, how should you go about finding the right solution for your enterprise?
The Challenges Associated With Middle East Logistics Are Unique
The Middle East region has its unique set of logistical challenges which an off-the-shelf product cannot sufficiently address.
1. Difficulty in finding exact locations based on addresses alone
Addresses in the Middle East are written either in English or Arabic. This requires delivery executives to be well-versed in the knowledge of the local area which may not always be possible.
2. Ground realities in every region are different
There is also the lifestyle factor to account for when it comes to product delivery. During prayer time, routes in Saudi Arabia may have limited mobility, which generic logistics software may struggle to address.
"Middle East and Africa Freight & Cargo Market is Set to Grow at a Cagr of Around 4.37% by 2027, Owing to Increasing Demand for Logistics Across Various Industry Verticals: Says Absolute Markets Insights", PR Newswire, Jan 2020
"MIDDLE EAST AND AFRICA FREIGHT AND LOGISTICS MARKET – GROWTH, TRENDS, COVID-19 IMPACT, AND FORECASTS (2021 – 2026)", Mordor Intelligence.
Middle East Logistics Businesses Need a Powerful, Custom Logistics Management Software to Run Their Operations Smoothly
A generic software for logistics management may have scope for custom features but this is bound to add to your licensing costs. On the other hand, choosing a technology platform to build your own logistics management solution using low-code technology will let you devise features according to your needs, without requiring specialized coding knowledge.
3. Innovative features like geo-tagging can help find the exact location
Advanced functionality like geo-tagging will allow you to convert addresses into precise latitudinal and longitudinal coordinates to ensure accurate delivery. This also saves the delivery executive's time who would otherwise have to hunt for a location by physically knocking on several doors.
4. Delivery schedules can be customized for every region
Your logistics software must take into account ground factors like vehicular movement, traffic restrictions, prayer timings, etc. when scheduling deliveries in countries like Saudi Arabia. This can be easily achieved with custom-built logistics management software.
Steps to Building a Custom Logistics Management Software
1. Define the objectives
Begin by determining what you wish to achieve with the logistics management software. Apart from automating routine processes, you will want to bring several functions of your enterprise onto a single platform for seamlessly executing orders.
Some of the most common goals logistics providers have when designing logistics software include –
Real-time tracking of logistics
Inventory management
Route planning and optimization
Invoicing and contract maintenance
Vendor management
Comprehensive reporting and analytics
Multi-user portal – e.g. portal for logistics managers, supplier dedicated portal, an app for delivery executives, etc.
Additional functionalities that you may want to include are –
CRM
Warehouse management
Enterprise asset management
Supply chain management
Mobile apps for on-the-go functionality
2. Find the right platform
Next, you will need to select a technology platform for building a custom solution. A low-code or no-code technology-based platform is a suitable choice for this. Low-code technology encourages faster development since it offers elements that can be used to build and test several versions of the software before going live. Such platforms are usually subscription-based, which means that for a fixed cost every month, you get almost unlimited flexibility to add new features. For instance, Kissflow Low-Code is an enterprise-friendly low-code application development platform that logistics providers can use to design their own software and apps. Using pre-built templates, form builders, and widgets, enterprises can build features that they want to incorporate in their custom apps in a fraction of time and innovate endlessly to suit their regional logistics requirements.
3. Build modules and their functionalities
You can now start building the modules and the functionalities you need. Since low-code technology is people-centric, it allows you to involve business users along with IT professionals. You can invite feedback while developing the software, iterating as you build. A developer's sandbox like the one that comes with Kissflow's platform allows developers and end-users to work in tandem. The end result is a software that will have greater success after adoption since the actual users of the software will have participated in its creation.
4. Integrate with the larger ecosystem
Once your logistics software is ready, it's time to integrate it with other IT systems. For instance, you may choose to integrate it with the finance system for accurate order and billing or with your HR software for hiring new delivery executives during peak times. Advanced integration features like APIs can help you connect with say, Google Maps, providing your drivers with real-time traffic updates and turn-by-turn route navigation.
A Custom-built Logistics Software Can Revolutionize Your Business in the Middle East
Logistics leaders stand to gain immensely with the software they have designed themselves. Some of the proven benefits of such a solution include –
Automation of routine, manual tasks
Paperless transactions, saving time and eliminating human errors
Route optimization to handle traffic constraints during prayer times, festivals, or lockdowns
Full traceability and visibility into the movement of parcels
Single dashboard to manage all orders
Analyze data to identify gaps and opportunities for strategic business planning
Forecast demands with greater accuracy and predictive maintenance with the use of AI
Contactless last-mile delivery ensures the safety of both the end-consumers and your delivery executives.
Conclusion
Logistics is the backbone of product delivery – and this, in today's hyperconnected world – forms a critical part of a business's success equation. Given the uniqueness of the logistics landscape in the Middle East, enterprises and fast-growing startups must invest in building their own custom logistics management software. This will give them limitless functionality to experiment and design a solution that primes them for success.
A low-code technology platform is a preferred choice of leading logistics enterprises for building their custom logistics solution. Contact us to discover how you can Get Started

Kissflow Low-Code Development Platform
Get in touch with us to learn more about how you can transform your application needs.