What is business collaboration?
Business collaboration is creating purposeful connections, both internally and externally, to achieve goals or solve problems through sharing varied skill sets, strengths, and perspectives. Advanced digital tools strengthen business collaboration between employees and clients to boost productivity and improve communication in a unified environment.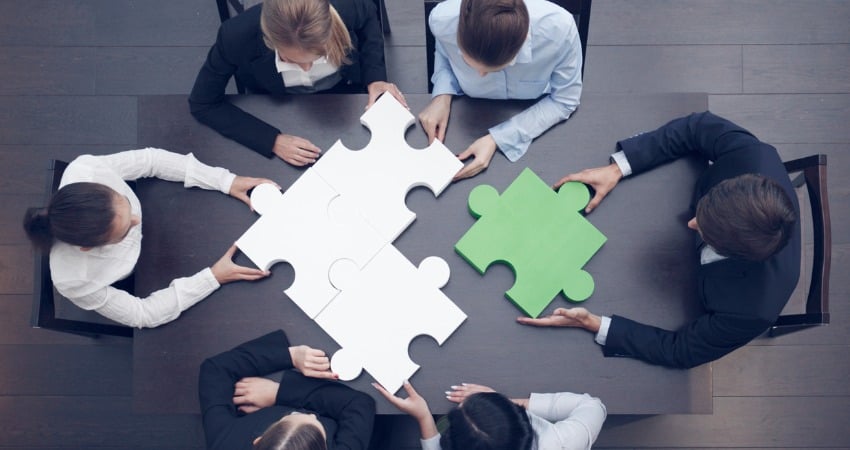 Is your business slowing down, but the root cause remains unclear? Disconnectedness is a hindrance that creeps into daily operations and turns into a deadweight for companies of all sizes. Roadblocks to pertinent information, data silos in departments, and problems adapting to new data systems are just a few challenges employees face in a fragmented workplace.
What is the opposite of disconnectedness, then? Not just a connected workplace, but a company culture centered on business collaboration. Business collaboration can resolve information and communication snags to sustain a healthy, thriving business.

Benefits of business collaboration
Organizations that make strategic connections through business collaboration experience a wealth of benefits. Andrew Carnegie was ahead of his time when he defined teamwork along the lines of collaboration: "Teamwork is… the ability to direct individual accomplishments toward organizational objectives. It is the fuel that allows common people to attain uncommon results."
Fresh inspiration
Day in and day out at the office, it's easy to get stuck in antiquated methods, rarely tackling tasks with different approaches. Open connections provide employees with avenues for new knowledge to discover innovative ways to solve problems and complete assignments. 99.1 percent of surveyed executives, employees, and educators prefer a workplace where people identify and discuss issues truthfully and effectively.
If employees acquire knowledge but keep it to themselves, the potential benefit falls short; when shared with all team members, the impact is more significant. Discussing findings with others widens the application of new knowledge into different contexts and dimensions, driving innovation.
Cut costs
One of the biggest budget busts can be delayed projects. An astounding 300 hours a year per employee is wasted due to the inefficiency of ineffective communications. However, input and feedback through business collaboration can be strategically channeled to keep workflow moving forward. As roles are clarified and progress is monitored, processes are streamlined, reducing the total time, people, resources, and cash spending needed to complete projects on schedule. Internal and external feedback is used in decision-making to improve development and production processes.

Solve problems
Regardless of a company's size, there are always times when extra hands could supply the needed boost over a major growth hurdle. Remote workers add unique skill sets to expedite processes at affordable rates, and business collaboration enables smooth transitions for remote workers and team members alike.
Centralized planning and communication reduce duplicated work and ensure puzzle pieces aren't forgotten. In real-time process tracking, errors are quickly identified, cutting down on rework. Often processes need tweaking, and greater fluidity is possible in a connected, standardized workplace.
Stakeholder alignment
When communication lines between an organization and its customers, partners, and vendors are open, stakeholder alignment is readily achieved. All affected parties are kept up to speed regarding shifts in company direction and understand their role in the big picture.
How can business collaboration help your company grow?
Every year, consumers expect faster response times, despite the increasing complexity and scope of projects. Harnessing collaboration enables companies to keep up with the grueling pace and stay ahead of competitors.
Explore new horizons
Expanding into global markets proves difficult for smaller companies, but complementary businesses can work together to enter a market, making it feasible for both parties.
Business collaboration empowers your organization to hire the best possible workers for a job without being bound by location, increasing productivity and effectiveness.
Strengthen the core
Employees desire a connected workplace to excel in their jobs. To be precise, 89 percent of employees wish to be more connected to their company's mission. A collaborative workplace leads to happier workers who are more likely to stick around and add increasing value, reducing turnover by up to 59 percent.
Empowered with a broad knowledge base, employees can deliver better results, leading to more satisfied customers. External business collaboration increases response time and connectedness with customers, improving their experience as well.
Improve the bottom line
Business collaboration can help a company bring products to the market faster, boost sales, and win bigger contracts. Teams track process data that can be analyzed as a project advances and use actionable insights to improve processes and meet customers' demands.
Types of business collaboration
Achieving business collaboration in one area of a business can deliver results, but why not consider all possible realms?
Team collaboration
Teamwork is nothing new, but the way teams communicate and work together can make or break their productivity. A survey by Aargon's Research Globe revealed that by 2025, team collaboration will be the primary way business people communicate, driven by the demand for higher performance and agility.
Through effective business collaboration, every team member can observe progress without constant briefings. Everyone receives instant updates to factor into their work. If someone hits a wall, there's no need to be shy in a collaborative environment—post an inquiry for fresh perspectives. Other team collaboration examples include using tools such as project management systems, video conferencing, and social media to craft and execute outcome-oriented goals.
Network collaboration
External business collaboration can be just as vital as internal collaboration. Networking with other businesses/professionals or a group of businesses keeps management in-the-know, and standard business objectives bring companies together to ultimately achieve financial benefits.
Groups are formed based on geographical proximity, common labor market, or shared economical units. Usually, members agree to terms of networking or membership in the network, ensuring a fair and safe environment. In a network, businesses exchange information and share resources in various ways, such as allowing guest posts on a company website or hosting podcasts on industry-related topics.
Cloud collaboration
On-premise collaboration is on the decline. Cloud collaboration offers much greater flexibility and range of use. McKinsey's survey revealed 80 percent of businesses employ collaboration apps to improve business operations.
Assigned tasks and automated processes, such as budget requests, are built into projects and integrated with core business applications for smooth data flow. Information gaps are eliminated, so information is readily available to anyone, across departments and projects. Effortless, instant communication helps prevent shadow IT problems and keeps company data secure.
The path to successful business collaboration
Tossing out a couple of

collaboration apps

does not usually render effective business collaboration. Here are some crucial steps for an intentional journey to business collaboration.
Identify and focus on

collaborative processes. For example, most financial procedures are not collaborative, but operations like R&D and customer service rely heavily on collaboration.
Use collaborative tools that are fused with the processes, eliminating the need to toggle between a collaborative tool and work application.
Define the reason for implementing the

collaboration tool

and communicate it to all users.
Follow product innovation and employee engagement metrics to quantitatively measure the value gained from business collaboration efforts.
Establish evident support and participation from top management to ingrain a collaborative company culture.
Offer employee incentives and rewards for effective collaboration.
What is Kissflow Collaboration role in business?
Achieving meaningful business collaboration through collaboration software isn't as complicated as it seems. Kissflow delivers a central, integrated platform on the cloud for communicating and coordinating everything from one-time projects to automated processes and cases. Real-time analytics provide a bird's eye view and actionable insights to improve operations.
Public and private news feed channels are customizable for every type of business. Any employee can view public channels and opt-in or out of notifications for each feed. Company-wide news feeds cover important announcements and industry news from managers and C-suite executives, keeping employees more connected to the big picture. Project-specific communication takes place within the respective work channel, and a wiki search makes it easy to locate data in any department.
Don't let unorganized data and haphazard communication hinder advancement. Knowledge and information can propel a business forward when strategically managed in a connected, collaborative environment. 66 percent of workers want a single platform for workplace collaboration to achieve better workflow, improve productivity, and reduce chaos, so the time for transformation is now. Set a smooth course for effective business collaboration with Kissflow.
Build Your Apps with Kissflow Low-Code Platform