---
Every business needs software or an app to handle diverse business functions. Software developers are in high demand because every organization relies on multiple software. According to Statista, organizations worldwide were using 110 SaaS applications on average in 2021.
For the longest time, application development was left to experts with extensive knowledge of programming languages. But as the need for enterprise apps increased, many companies turned to no-code as they realized developers couldn't handle their app development needs. Programmers with huge backlogs can take weeks or months to build an app.
When it comes down to it, if you really want a software solution, there are only a few options.
Buy something off-the-shelf (and adjust your own business to fit it)
Ask your IT department to build something for you (though they likely don't have the time)
Wait until the market matures to offer you exactly what you need (which might take forever)
Outsource the

app development

(and pay way more than you should)
…or build your own app.
No-code technology has made it possible to turn business ideas into reality. Employees with business expertise and average technical skills can now build apps using no-code platforms. These platforms have recently gained a lot of attention due to their agility and ability to produce faster business solutions.
They have overcome the limitations of traditional app development and made it possible for non-technical employees to turn app ideas into apps without writing a single line of code. This post tells you everything you need to know about creating an app without coding.
Table of Contents
Can people build an app without coding?
You'll need an app builder if you want to make an app without coding. These are programs that include pre-programmed templates and functionality that you may alter and personalize. You may also create unique applications since you may modify the style, content, and functions.
The process of developing an app has been made as simple as possible. Regardless of your technical skills, you will be able to create a fully functional app that gives your team what it needs.
When you think of the essential software tools that a business or department needs, you normally start with basic office productivity tools like email, spreadsheets, word processing, and more. Most businesses strive to keep using these low-cost technologies for as long as possible, which means email and spreadsheets are used for most of their business procedures.
However, you soon discover that a static database in Excel will not be enough. You'll need something that can work with all of your data. Something that allows it to transport and process data on its own. That is exactly what software programs do. They automate simple tasks and allow you to respond much more quickly than you could before when you had to send data around manually.
The benefits of creating an app without coding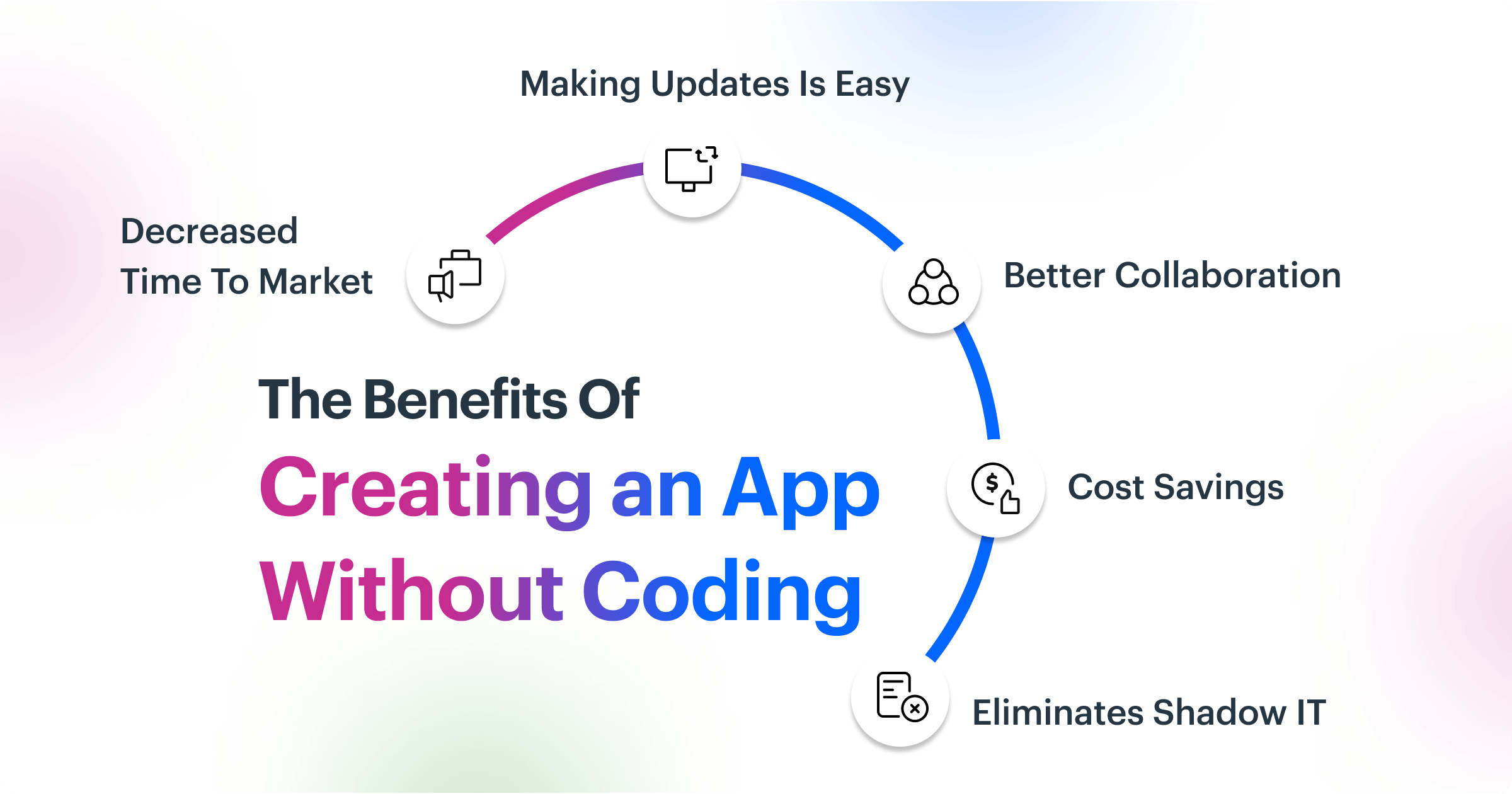 Decreased time to market
Regarding enterprise app development, developers often sacrifice speed for function—or vice versa. Modern consumers expect quick app delivery and seamless experiences across platforms. To keep up with demand, developers work hard to release products into the market as quickly as possible, but time is often a huge constraint.
No-code allows non-developers to deliver projects in a fraction of the time. The visual interfaces bridge the gap between idea and application development. Products get to market faster with fewer headaches.
Making updates is easy
Applications require updates from time to time so that new features can be added, and bugs can be squashed, and so on. Traditionally, this was a tedious process that required the application to be brought down at times. No-code apps have no such restrictions. New features can be added while the app is in use. Deploying changes is also faster than it was before. The current business environment calls for agility, and no-code makes businesses agile.
Better collaboration
Traditional app development creates some disconnect between business units and IT. Business units outline directives and then pass them on to IT who build applications that may or may not hit the mark. Projects get delayed when there's no collaboration, and the results may be subpar.
No-code platforms promote transparency and cross-team collaboration. Business teams can see what IT is working on in real-time. Nothing gets lost in translation and projects are completed on time. And since coding isn't needed, engineers and business analysts can get involved and help bring a product to life.
Cost savings
Complex coding projects require specialized engineers and the apps also need maintenance. Maintaining legacy systems can drain IT's resources and company funds. To modify or fix a complex app, more coding is required. An organization may have to maintain legacy applications simply.
No-code does away with the need to maintain legacy code. The platforms can also work alongside existing business systems, allowing developers to change what doesn't work and keep what does. Apps with zero maintenance costs are built faster, and IT and business teams focus on high-value work.
Eliminates shadow IT
Some business users use solutions not approved by IT to deliver solutions faster. Research by Gartner shows that 41 percent of non-developers build their own solutions. No-code citizen development facilitates development under the watchful eye of the IT department. Business users have the autonomy to create, and IT has the freedom to govern. There's cross-team collaboration and transparency.
No-code app development offers simple parameters for non-IT employees to develop applications. By providing such tools, an organization enables enterprising employees to build apps within a controlled environment—one that's approved by IT.
How to create an app without coding in 6 easy steps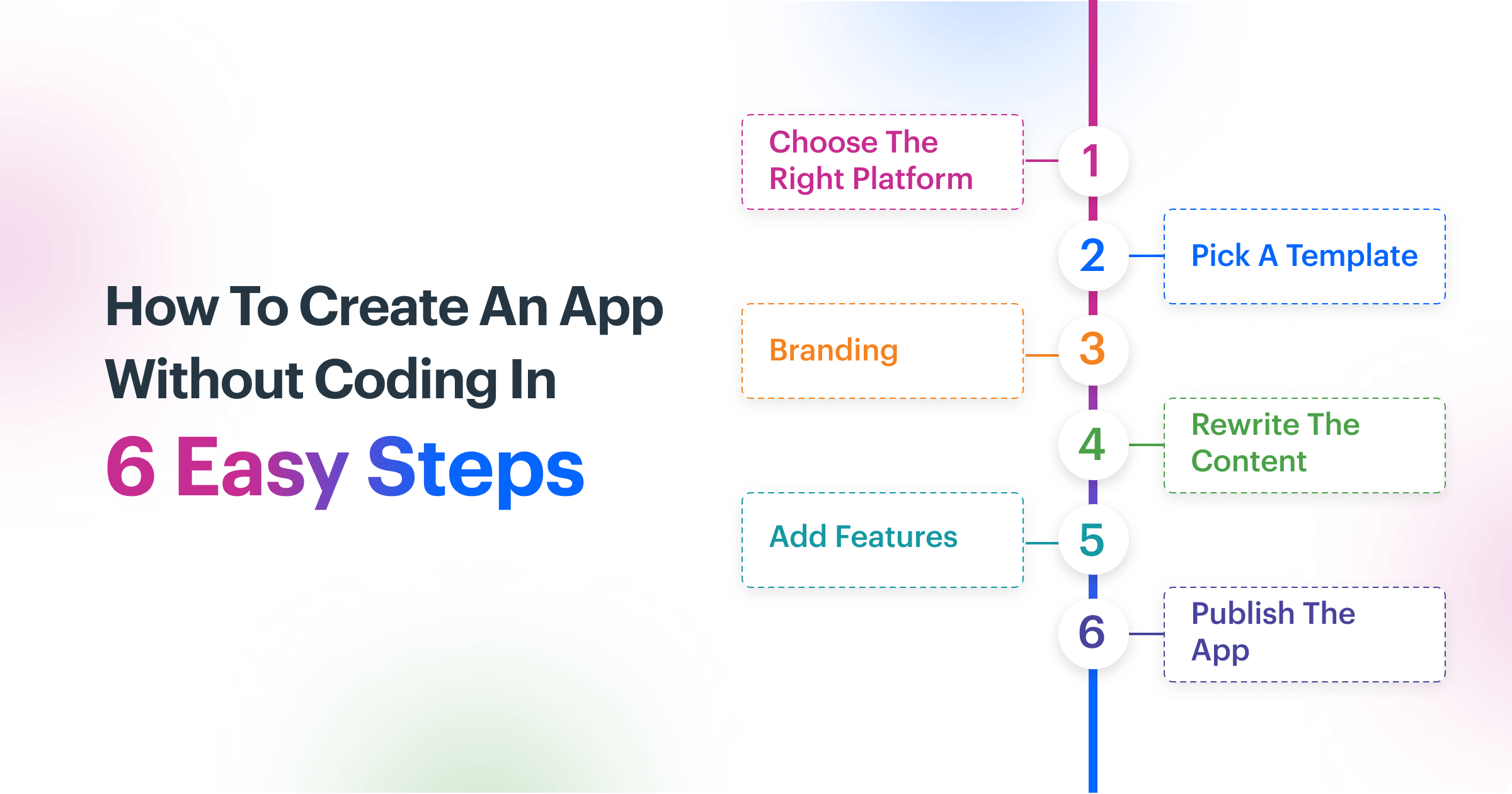 Step 1: Choose the right platform
No-code app development platforms support different application technologies. Business teams and IT must evaluate application requirements against no-code technology components to select the right platform. Common technology components include data capabilities, UI capabilities, integration capabilities, business logic capabilities, and process and workflow capabilities.
Not all no-code app builders have the features to meet your business needs. So take time to choose the best no-code app-building platform. Consider the following factors:
The reputation of the app builder

The user interface

The cost

Customization options
Step 2: Pick a template
Building apps is easier with templates. The template you choose should match the type of app you want to create. All templates have features according to the business function. For example, an HR app template helps HR personnel to create apps for onboarding new employees, offboarding, and other tasks.
If you can't find the features you want, you can customize the template to meet your requirements. Create an app by adding the features of your choice. On a no-code platform, app-building is just a matter of a few clicks.
Step 3: Branding
While the major design elements are added to app templates, you may need to change the layout, colour scheme, or app icon to create a more personalized app. Kissflow's editor provides an app preview to see any changes you make in real-time. Brand your app and create a more personalized product by changing the layout, font, colour scheme, and logo.
Step 4: Rewrite the content
Next, edit the app content. Each template comes with pre-written content you can edit according to your needs. For example, you can edit the content on the onboarding template to make it more relevant to your business. You can also add new tabs to make your app more interactive.
Step 5: Add features
Now add all the features you need in your app. For example, if you're automating a purchasing workflow, state who needs to see the products to approve the purchase. Do multiple people have to approve the document? Set conditions and deadlines, and state who needs to see the data at each step.
Step 6: Publish the app
After adding all the features to your app, publish it. Test your new app to see how it performs. Get some people in your business unit to test it and give you their feedback. With Kissflow no-code, making edits is super easy and doesn't require coding at all. Once your app is live, you can start using it. You can also modify or update it in real-time.
5 essential features of no-code app building
What distinguishes a Kissflow app builder? What drives exceptional software development? Is it all about the speed with which apps are developed, deployed, and modified, or is it all about the quality? Is it the price, or is it something else?
We combed through the top-rated no-code app-building solutions on sites like G2Crowd, TrustRadius, SoftwareSuggest, and others. Then, we sifted through hundreds of unbiased evaluations to find the top characteristics that win Kissflow's highest marks, excluding branding and marketing that have no bearing on the product.
Pre-designed application template: Kissflow's application builder focuses on agile, rapid creation, and modification. That's why having a platform that gives app templates comes in handy. App templates are resizable applications that depict the most common factors. The leave request procedure, for example, is a popular business process. A good quick app builder can give a basic "leave request" app that you may personalize instead of starting from scratch. That's a feature that will almost certainly win you a high rating.
Visual development support: The finest app builders' tools help you avoid writing lines of code by employing a low-code or no-code/zero-code approach. How is this accomplished? A visual approach arranges the data operators on the screen as shapes connected by arrows showing data flow. Yes, it's similar to drawing a flowchart to depict its functionality before actually implementing it. Except for one thing: the app is the visual representation you make. It is ideal for the rapid processing and distribution of necessities of application software.
- A Single Interface: To develop, test, and deploy apps on the go
- Drag and Drop Option: Create and change application fields by dragging and dropping choices
- Customization: Customizable components may be created with minimum code
Lifecycle management: The initial version of an app created using Kissflow app builder is never the final version. The initial version aims to observe and figure out how the solution stack will be built. If your Kissflow allows you to alter processes and organizational models throughout the app's lifespan, you've got yourself a winner.
Cross-platform compatibility: It's not only about the developer; the Kissflow app builder tool's end-user is also important. Today's business users operate on a variety of platforms, with businesses providing PCs, laptops, and even portable devices, or allowing people to bring their own devices. This implies that any of your employees might use the app you design on a computer, specialized desktop software, a cloud service, or a mobile device. For this reason, the cross-platform capability is a highly-rated app builder feature. You've got a winner on your hands if your app builder software allows you to create apps that can be utilized across several platforms such as Kissflow.
WYSIWYG from designers: The drag-and-drop functionalities of a WYSIWYG designer tool are more of a need than a luxury if an app builder tool is going to be used to construct apps that include data collecting through forms. Kissflow is top-rated in drag-and-drop functionality.
- Fluid forms: Customize everything from form layouts to components and data sources to creating completely unique forms.
- Graphical workflows: Using simple visual workflow automation, define the path your information travels through the operation.
- Access control: Define user roles, levels, and the type of form data to determine obligations and accessibility.
Build a no-code app with Kissflow
When you create your app, you are creating something unique for your department or organization. It's a perfect fit for your scenario. Let's imagine you're looking for a tool to assist you in managing your procurement operations, such as buy orders or buy requisitions.
You won't be able to utilize an off-the-shelf solution since you need to put up certain bespoke procedures and fields specific to your company model and connect them to a vendor list. However, you may create the precise app you need and connect it to your database using a business process application development platform.
Here's how quickly you can get ready to launch with a tool like Kissflow to develop your app for a business process.
Define roles:

Who is going to utilize the app? What type of authorization are they looking for? What kinds of protections should they implement? When developing an application, one typical mistake is failing to specify which tasks should be completed by whom at which stage. When no consideration is given to who performs what, certain duties are grouped, and others are overlooked. A lot of work gets lost in the cracks.

Define data sources:

What kind of information will you be dealing with? What city is it in? Is the situation dynamic or static? A no-code platform's core notion is to design and update business workflows and processes in a way that a particular platform can follow. At every level: platform, models, and apps, Kissflow is accessible and adaptable. Information and data from any data source, platform, or service can be integrated.

Define the process:

What is your data flow going to look like? What's the result? As the data moves through the process, who really should take action? For example, the Kissflow No-Code provides certain administrative controls, and with this admin interface, you may have the first line of defense at your fingertips rather than call for help. The technology gives admins authority, allowing them to be accountable for procedures and assure task continuity and data protection.
Key takeaways
No-code opens up app development to non-developers—anyone willing to learn. Specialized workers can use it to create workflows and automation that streamline their work. No-code can power chatbots, helping customers to find the information they need quickly. Employees can also embed forms and customer surveys easily.
Here is what customers say about Kissflow work platform:
Easy to apply changes: Other software needs to make a modification by contacting someone. You can do it all yourself with Kissflow.
Complex processes: If your software has a lot of complicated processes. Kissflow ensures that every stage of the process is followed and that everyone is aware of where the process is at any given time. Nothing can be misplaced.
Easy to use: One of the finance leads of a company said, 'This is so simple that even my mother could do it.' It was really simple and intuitive to use. 'I don't need to call IT to do this,' the watermark read. I'm sure I'll be able to handle it on my own.
No-code expedites app development and gives skilled workers the power to make edits or changes under the watchful eye of IT. They work autonomously rather than having to rely on IT for solutions. Kissflow provides a unified work platform for enterprises to fast-track digital transformation. The work platform combines the entire work management spectrum into a unified experience for enterprise-wide users by embracing the low-code/no-code paradigm.