No code
Benefits of No-Code Development Platform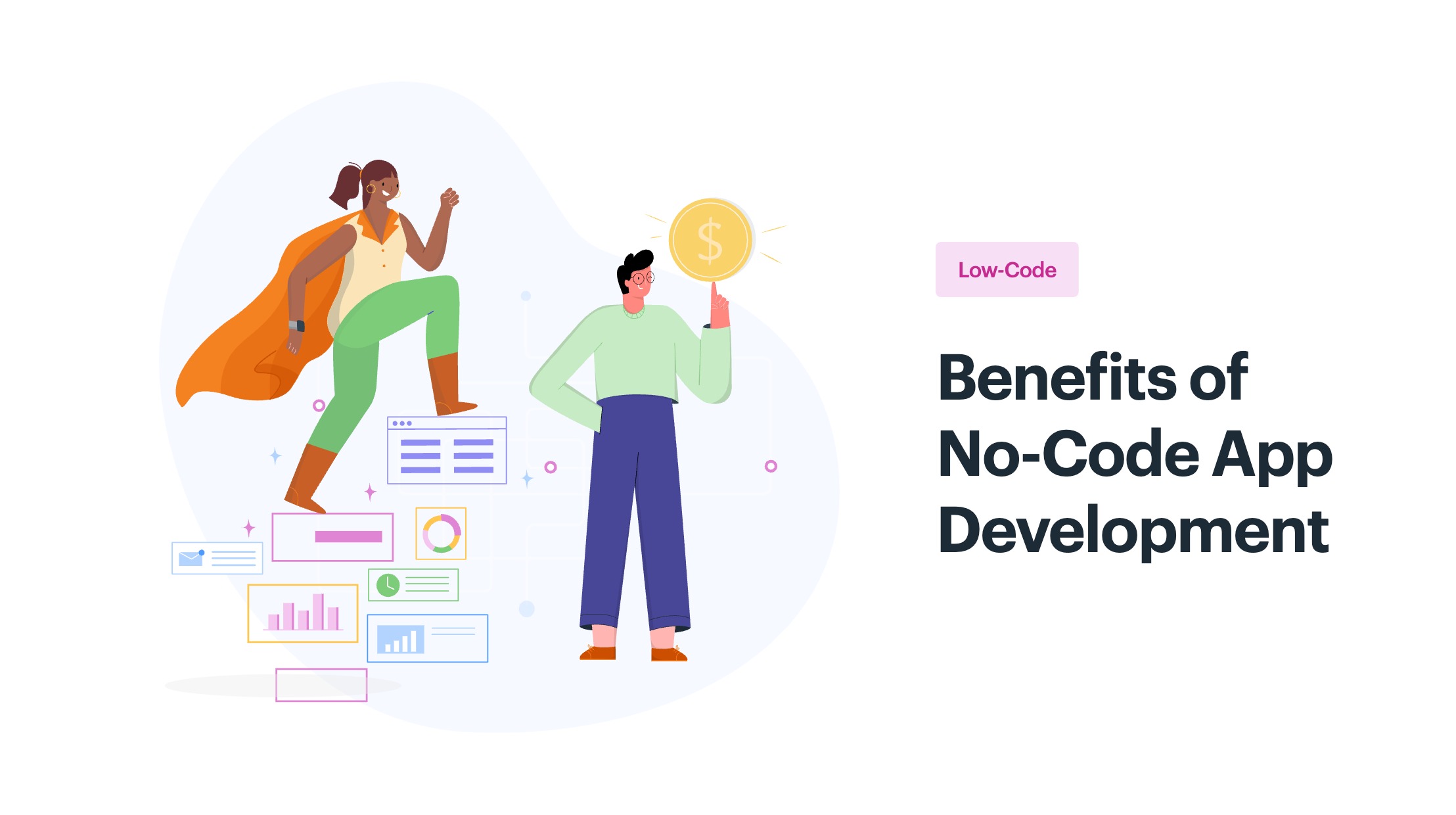 Technological advances are great, but sometimes we all feel like we've seen enough. Sometimes, when everybody wants to tell you about this new piece of tech that's going to "change the world", you think "again?!"
But that can mean you miss out on truly great breakthroughs, like no-code app development.
What Is No-Code Development?
It's all about the apps.
A no-code platform is a visual-based development environment. 'Citizen developers' with no coding knowledge whatsoever can drag and drop elements and connect them to create fully functional mobile and web apps.
Apps have now changed the way we live. Today, you don't stand in long queues to book movie tickets, or even to buy food, and (in the near future) to make appointments. In the same way, apps have taken over the workplace too. They can help boost productivity and efficiency, taking mundane, menial everyday tasks off your hands.
The only challenge was in creating apps. You'd need to learn coding, or hire an extensive team to code apps for you. Often, such internal coding teams are overwhelmed by their workload.
That's where no-code app development platform entered the picture.
Powered by a no-code development platform, you (the non-programmer 'business user') can create apps to solve everyday work issues. Companies have automated leave requests to and sped up their purchase order process by 75%!
Here are 5 Benefits of No-Code Development Platform in your Workplace.
Bridging the IT Skills Gap
Often, true productivity lies just out of reach. And the gap you need to cross is coding knowledge. In process automation, for example, a number of employees know how a certain process (e.g. purchase orders) works, and how to put it on a flowchart. What they can't do is write the code that will transform this idea/flowchart into a working app.
A no-code app development tool like Kissflow no-code can provide a visual interface through which anyone can create and deploy real, working apps.
It's a Whole Lot Cheaper
It's easy to see why low-code development is the way to go, if you aren't on an infinite budget. A four-member developer team that works with extraordinary speed might develop two custom apps for a conservative salary of $45,000 a month. A low-code platform can speed things up for the developers–for the same $45,000, you can get four apps made.
However, with a no-code application development system in place, you completely eliminate the need for an expensive IT team to work on apps which don't require a lot of intricate coding. Your workforce can take care of app development themselves.
When the whole platform only costs a few thousand dollars a month for a large company, you won't need a calculator to see which idea works out cheapest.
Higher ROI, Assured ROI
Risk mitigation is such an important factor in business decisions, and that suits the cause of no-code development beautifully.
Apps developed using a no-code development tool have cross-platform support, data integration and data security features built into them. Plus, they are all customization-ready.
Business heads using no-code platforms for development can focus on solving actual business problems instead of bugs and tech errors.
That's a significant boost for risk mitigation.
⋙ Developers are used to long development cycles and testing periods. Here's how
Rapid Application Development is changing all of that.
Development Happens Much Faster
In this digital age, transformation needs to be fast. Ideally, it should be instantaneous.
Innovation has become an everyday habit, as breakthroughs keep happening across a number of industries. You simply can't afford to wait for your IT team to develop a fresh app based on today's innovation six months from now–there might be another one then, and you'll miss out on the benefits of switching quickly.
No-code development is the way to go if development speed is a priority–less coding work and automated testing are great features to have in your app development solution!
Win the Shadow IT War
Shadow IT sounds like a gang of cute, laptop-wielding ninjas, but the reality is rather serious.
Shadow IT is the cool-sounding name given to a boring, but significant, problem. It is the collective term for apps and solutions that are installed without the knowledge of–and outside the control and protection of–the in-house IT team.
When the HR team uses a third-party solution to keep track of leave requests, they put the entire organization at risk. Putting sensitive, proprietary data on a third-party server is a dangerous move.
Winning the Shadow IT war, though, is simple–you simply find a no-code app development platform like Kissflow, and easily minimize the amount of at-risk data.
Conclusion
Kissflow No-code development has so many things going for it, it's a great idea to hop right onto the bandwagon if you haven't already. Kissflow is a versatile no-code development platform that you can easily create productivity-boosting apps on, with virtually no coding knowledge!
---

Kissflow Low-Code Development Platform
Get in touch with us to learn more about how you can transform your application needs.