Low Code
Benefits of Using Low-Code Platform for Modernizing Legacy Systems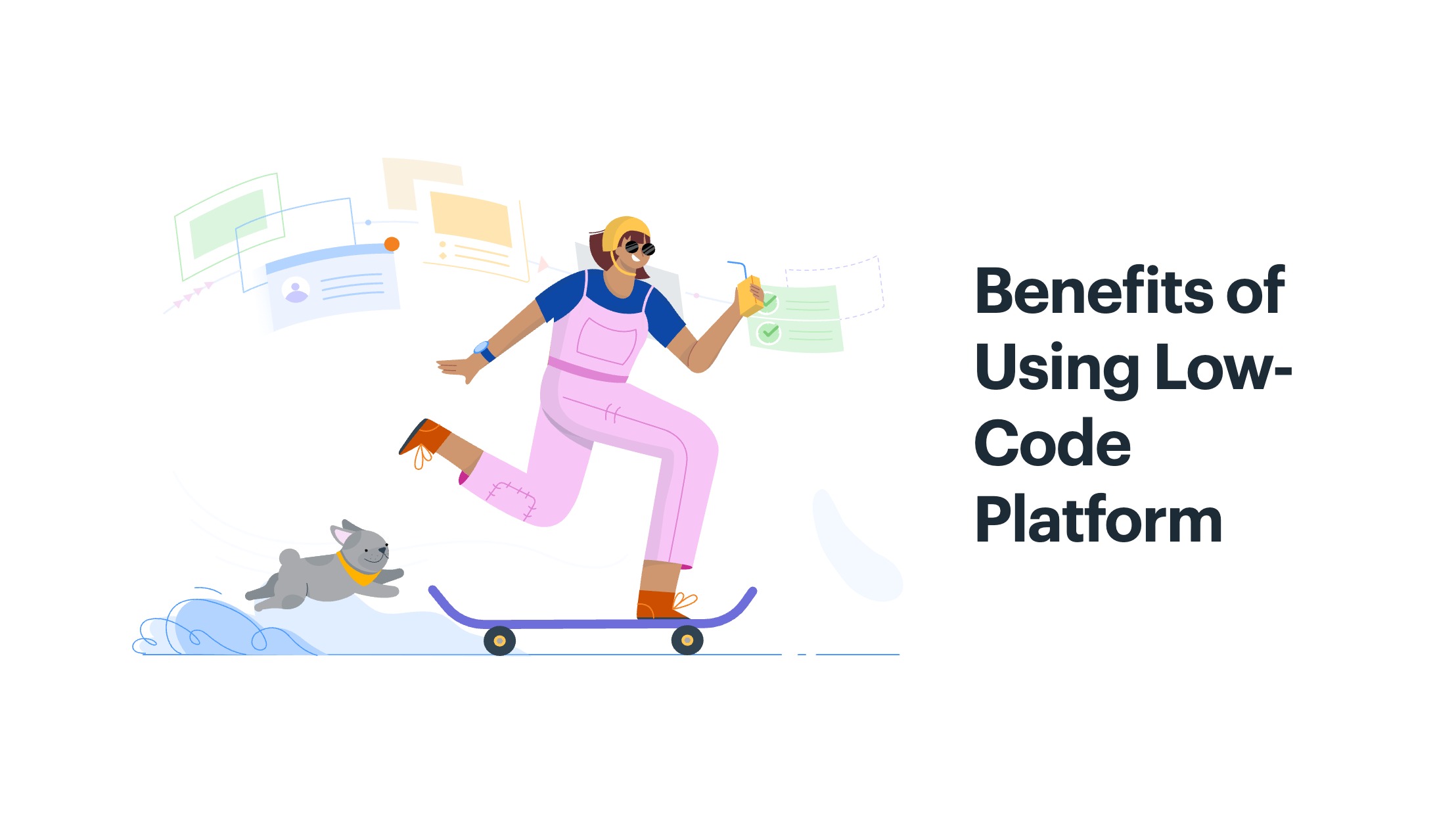 The process of changing or converting a legacy system into a modernized infrastructure to decrease IT expenses, enhance agility, interaction, and uniformity is referred to as legacy modernization. Legacy modernization combines the endurance of obsolete business systems with current technology to create a robust business platform, similar to a software update.
Managing a modern, up-to-date infrastructure is critical for corporate expansion. Maintaining a modernized system will not only ensure that internal procedures are automated, but will also enhance your productivity and client happiness. Kissflow Low-Code, for example, helps any ERP system modernize by converting old applications to a cloud-based, SaaS application while simultaneously converting legacy code.
What is Legacy Software?
The term "legacy software" refers to software that has been around for a long time yet still meets a business purpose. It's mission-critical, and it's connected to a certain operating system or hardware type (vendor lock-in) that's no longer supported. In general, the hardware has a shorter lifespan than the software. As time passes, the hardware becomes more difficult to maintain, yet it is retained since it is installed and (for such time being) functioning and has proven to be too complex and expensive to replace.
Steps to Upgrade Legacy Systems Using Low-Code
Legit low-code platforms like Kissflow Low-Code can replace, augment, or supplement your key legacy systems and applications, whether you're seeking to update a few important business processes or entirely rebuild.
Here's how you can go about it:
Identify the legacy apps:
Outdated systems cannot be retained and used indefinitely; eventually, an enterprise will upgrade its hardware, programming language, operating system, or the corresponding apps. Changing, reusing, or combining legacy software code to comply with current business demands is part of modernization and transfer. For instance, Microsoft stopped support for all versions of Internet Explorer (IE) previous to version 11 at the beginning of 2016. Users who are still using Internet Explorer 6 can do so, however, websites will no longer be interoperable, and any flaws or defects in the application will not be addressed by Microsoft, making all versions prior to IE 11 legacy software.
Extend the capabilities of your systems:
Retain your core system while developing open, extendable apps that fit seamlessly into your current framework. With a low-code platform, additional versions of the application with added features that outweigh the capabilities of the old application, and the whole set of data from the legacy system can be ultimately transferred.
Change to a more modern architectural style:
To gradually replace your legacy systems, create newer apps. Examine your system for areas where you can make progressive steps. It's possible to simplify the replacement process by focusing on the most important components first. You can decommission legacy apps as new ones are released.
Benefits of Using Low-Code Platforms for Modernizing Legacy Systems
Legacy modernization has always required a lot of effort and money. However, organizations have just lately had the option of modernizing using a low-code solution. While the shortened delivery time is generally the first benefit that comes to mind when thinking about low-code for legacy modernizations, it isn't the only reason to think about it.
Increased productivity:

What used to take months may now be accomplished in a matter of weeks or even days. Time is no longer an impediment to true innovation thanks to low-code development. The implementation of low-code facilitates the reuse of modules and functions, which enhances consistency.

Agility:

The visual design features of low-code enable the usage of drag-and-drop components and model-driven logic via a graphical user interface (instead of coding), which greatly reduces development time.

Quality enhancement:

When using low-code, less code is typed, which reduces the likelihood of errors happening. While testing is still an important element of low-code development, standard components and modules offer much of the application's functionality, allowing for a "test once, use many times" strategy.

Adapting to change:

As low-code creates a better working relationship between the company and IT, no solution is ever completely static, and demands for modifications will arise. Low-code development's graphical nature allows for the quick development of first mock-ups and prototypes for business evaluation and assessment.

Reusable data models:

Do you have any out-of-date modules? Do you anticipate any additional business requirements? With low-code, you won't have to rewrite anything because you'll be able to use pre-built modules to create your applications. Since the code is concentrated in one place—the components that will be ingested by the apps—you might not have to modify, fix, or debug it in many places.
How to Modernize Legacy Systems Using Low-Code?
What measures can you take to address the continuous problems that legacy systems present? By its very nature, change is fraught with risk. Instead of transferring your entire application in one move, you have three choices for modernizing your cloud platform.
Rip and replace:

Wouldn't it be thrilling? You might entirely transform the existing system with a new one if you took this approach to legacy modernization. The advantage is that you'd be starting from the bottom, allowing you to create a completely new platform tailored to your unique company requirements. Low-code development gives businesses the freedom to pick the path to modernization that best suits their needs. Ripping and replacing or completely trying to rebuild your design can be costly and time-consuming. Low-code workarounds optimize these processes and enhance you to improve your performance and responsiveness as you bridge the gaps between legacy and modernized systems.

Give your existing legacy app a REST API:

If you want to maintain the performance of your legacy system, connecting your new system to your old one through REST API is the quickest method to get started. A REST API is a design approach for an application program interface (API) that accesses and utilizes data via HTTP requests. It may be used over virtually any protocol; however, when used for web APIs, it generally uses HTTP. This implies that while developing a REST API, developers do not need to install any new software or libraries. By trying to expose systems via APIs and creating or recomposing them, teams can build an API infrastructure that makes it easier to connect data, apps, and devices (such as Salesforce, Facebook, and other contemporary applications) into API-fied legacy systems. This greatly simplifies the process of retiring or modernizing systems.

Migration:

Elements of your old system are taken and relocated to a new platform in this instance. Transferring your digital assets, like processes, workflows, and apps, to the cloud is a basic example. One of the most significant advantages of low-code modernization is that it may speed up normally lengthy and clumsy expansion and migration processes. Following the identification of important systems and processes, development may begin using a DevOps strategy that is cloud-native and built to meet app modernization demands, allowing for centralized administration and quick upgrade release.
How Kissflow Low-Code Can Help Revitalize an Existing Legacy Application Landscape?
Kissflow Low-Code is a low-code app development platform that requires minimal coding efforts no matter which method you go by. You can take data from a legacy system, create a process, and migrate your data to Kissflow. Once your data is in the Kissflow platform, you can use a variety of features to your benefit.
For instance, Kissflow Low-Code ensures a better user experience using legacy systems. If your modernization project's emphasis is on user experience and graphical effect, this is the ideal approach to go by. Use a low-code platform to create a contemporary (web or mobile) user interface on top of your legacy system. Kissflow Low-Code provides you with the building pieces to produce such experiences more quickly. You must use a drag-and-drop feature to integrate pre-defined UI motifs and display themes. Migrating legacy systems necessitates entities developing a system that is both flexible and meets future needs. IT teams do not want the developed model to become a relic of the past. The best part is that transitioning your legacy system to a low-code forum will make the transition process much easier.
The goal of Kissflow Low-Code is to completely automate business operations and eliminate chaos caused due to non-digitization in businesses. If you're interested in a low-code app development platform to modernize your legacy, sign up for a free demo today.

Kissflow Low-Code Development Platform
Get in touch with us to learn more about how you can transform your application needs.