Introduction about Asset Management [Wiki]
Asset Management continues to be one of the primary concerns of organizations all over the world. Why? Assets drive businesses. Modern businesses rely heavily on physical assets to sustain effectively. Asset management process also helps businesses derive more value from an asset and achieve business goals.
While the concept of asset management has been in existence over several decades, it continues to be an ever-evolving domain. So, it is critical to keep pace with the evolution and adapt to changes on the fly. How well firms embrace change will determine which prosper in the years ahead.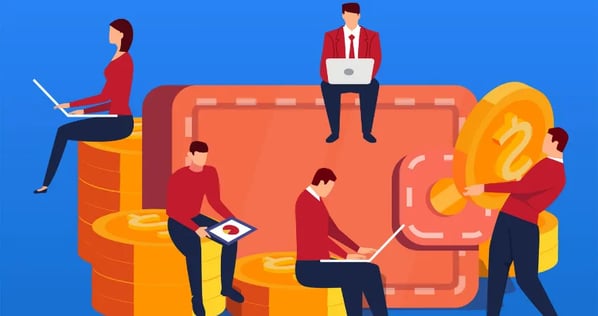 This guide takes a closer look at the asset management definition, the current state, why you should invest in it, the deliverables it offers, and even a forecast into how it might evolve in the coming years.
What is asset management?
Asset management is the process of planning and controlling the acquisition, operation, maintenance, renewal, and disposal of organizational assets. This process improves the delivery potential of assets and minimizes the costs and risks involved. Adequate maintenance and proper deployment of systems, people, and processes ensure a positive enhancement of capital over the asset lifecycle.
What is asset lifecycle?
Asset lifecycle is the number of stages that an organization's asset goes through during the lifespan of an asset's ownership. It is the period that an organization can effectively and efficiently utilize an asset to accomplish its business goals. An asset lifecycle typically covers all phases of an asset's life from acquisition through maintenance and eventual disposal.
Types of asset management
While the definition of asset management may differ from one organization to another, they can be vastly classified into three types: physical, financial, and contractual.
Physical asset management

stands for the process of handling things like fixed asset management, inventory management, infrastructure, and public asset management.
Financial asset management

refers to the process of managing procurement, developing an investment strategy, controlling budget and costs, handling cash, bonds, and stocks.
Contractual compliance

streamlines processes like IT asset management, digital asset management, contractual maintenance, and management of intangible assets.
Pain points in managing company assets
Some of the biggest issues facing asset management is the hurdle with monitoring and managing existing assets manually. When your assets have been on the grid for years, it can end up as loss or worse, compromised.
In addition to this dilemma, manual asset management is subject to the pain points that are listed below:
Manual data entry, error-ridden processes, and inaccurate data
The unstructured asset management process
Lack of authority to enforce asset management policies
Poor or non-existent change management
Little to no tracking and reporting of real-time asset value and location
Inability to assess the potential data risk or prevent it
Seven best practices for effective asset management
An effective asset management process helps businesses monitor and manage their assets using a systematized approach. With a solid process, organizations can improve productivity and efficiency of an asset thus enhancing the return on improvement.
Key components of an effective asset management process include:
Preparing an asset register: An inventory list of available assets
Identify asset conditions and rating system
Track asset depreciation accurately at timely intervals
Determine the value of assets and their replacement cost
Move away from reactive to predictive asset maintenance
Focus more on change management to ensure database integrity
Eliminate paperwork and automate tasks like data collection, asset reporting, and more
How to improve asset management
Implementing an asset management system will not deliver results, if the process itself is mediocre at best. So, before looking for ways to automate the process, it is critical to streamline their existing asset management practices.
Here are seven factors an organization need to focus on in order to bring asset management into the future:
1. Understand the reason behind asset's existence
What purpose does this asset serve?
Why was it procured?
2. Gain knowledge about the asset's condition
What is the asset's current condition?
How well does it fulfill its purpose?
Is it reliable?
3. See how effectively the asset is being utilized
What value is the asset delivering currently?
Is it fulfilling the existing expectations?
4. Identify future demands
Will there be a change of service expectations?
Is the asset robust enough to deliver future demands?
5. Assess the existing maintenance program
What is being done to maintain and improve the asset's lifecycle?
How effective is the current asset maintenance program?
Is the estimate for maintenance costs accurate?
6. Predict depreciation rate and associated risks
Is the useful life of the asset reviewed periodically?
Are the expectations significantly different from previous estimates?
Is the depreciation charge for future periods adjusted accordingly?
What is the impact of this depreciation?
7. Forecast asset disposal
When is the asset expected to be permanently withdrawn from use?
Is the gain or loss from the disposal of the asset noted in the financial statement?
Benefits of automating asset management
Smart businesses don't waste time trying to complete basis and repetitive asset management tasks manually by using the same outdated process over and over again. Investing in asset management software allows businesses to automate tedious and time-consuming asset management activities offering administration team to focus more on value-added activities.
However, implementing an asset management system is a huge decision, so it is better to be sure of the tangible benefits before you take the leap. Ideally, asset management software:
Prolongs the life of your assets
Aids in rehabilitating, repairing, and replacing assets efficiently
Meets consumer demands with a focus on system sustainability
Helps focus on activities that are critical to sustained performance
Enables businesses to meet service expectations and regulatory requirements
Improves responses to emergencies or unexpected risks
5 popular asset management tools in the industry
Now that you've understood the benefits of implementing an asset management solution, it is time to pick the right one. There's no such thing as the perfect asset management software—so you need to pick the right asset management tool according to your unique needs.
Listed below are five popular asset management tools in the industry which is a good place to start your search.
1. ServiceNow
Designed specifically for enterprises, ServiceNow offers a range of asset management services including the likes of inventory management, financial and contractual information management, resource tracking, and more. With a comprehensive asset management tool like ServiceNow, businesses won't have to switch between niche software solutions for each specific HR function.
Pros: Easy to use, consolidated asset database, and customizable reports
Cons: The process of matching all asset entitlements and contracts initially is quite arduous and time consuming.
2. Kissflow Finance and Operations Cloud
This isn't a strictly administration-automation tool, but a finance cloud that you can use to manage basic operation tasks like asset management, facility management, and more. Kissflow is a simple and powerful finance and operations cloud for organizations of all sizes.
Pros: User-friendly, flexible, and consistent user experience across devices
Cons: Simplistic workflow layouts, lack of pre-defined templates, and dashboards

3. SAP ERP Suite
Initially, SAP did not focus much on enterprise asset management, as a result, the product had several functionality gaps. But, now it has evolved to a complete suite of enterprise asset management tools that are relevant for all industries. SAP's major advantage is the convenience of managing everything from materials to assets and costing in a single place.
Pros: Rich functionality, strong service expertise, and powerful user community
Cons: The maintenance scheduling tool is neither flexible nor conducive to industry standards
4. IBM Maximo
Maximo is an end-to-end asset management solution with a detailed maintenance module as the main functionality with other complementary tools for procurement and inventory management. The integration framework of the product is effective and it encourages and well connected asset management platform.
Pros: Product functionality, product roadmap, and future vision
Cons: Clunky UI, bugs in spatial add-in, issues with mobile apps
5. Oracle E-Business Suite
Oracle E-Business Suite offers an all-in-one solution to manage asset management. The application provides a visually rich reporting functionality which stakeholders can use to create a customized analysis report. Organizations can integrate with an array of applications using REST API or SOAP connectors.
Pros: User-friendly, flexible, and consistent user experience across devices
Cons: Cost of maintenance is way too high
Summary
Successful asset management is essential to any organization's success specifically as infrastructural assets with a long life span and substantial capital outlay will provide a foundation of economic activity. The more complex the organization, the more vital it is to have a solid asset management process in place.
While manual asset management practices can get the work done, employees will have to manually wrinkle and iron out a lot of details to ensure their organization makes the most of the available assets. By implementing an asset management tool businesses can manage assets and implement their asset management plans effortlessly.
If you're on the hunt for the perfect asset management software, then go for a solution that not only helps you manage assets but also prolongs their life ensuring they operate efficiently and economically. Kissflow Finance and Operations Cloud enables an organization to acquire, manage, and maintain an asset throughout its lifecycle.
Sign up for a free demo today and see how Kissflow Finance and Operations Cloud can help your company's assets run smoothly.