ERPs have been in full force for nearly two decades now. ERPs successfully consolidated all the resource planning and other essential back-end operations into an accepted platform.
On roughly the same timeline, CRMs did the same thing. They took all the tools out there involved in front-end customer relationships for sales and marketing and put them in a single platform.
But what about the middle? The place where all of your daily operations take place.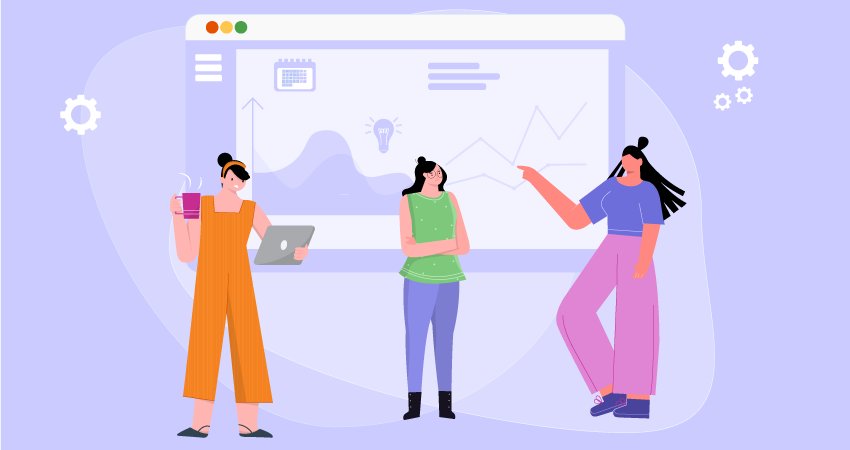 This messy middle is full of fragmented systems. While your entire client-facing team might use one CRM platform, there might be dozens of scattered tools for your operations. Employees spend the bulk of their time jumping between email, spreadsheets, standalone apps, and praying the homegrown integrations don't break down.
Not addressing the messy middle can lead to communication challenges, confusion among employees, and a decrease in efficiency.
This is exactly where the operation management system comes in. It helps manage and streamline the internal processes of a company and in turn, resolves the challenges with the messy middle.
How is the messy middle draining productivity of organizations?
Enterprise Resource Planning (ERP) tools are used to manage the backend functions of a company. They help integrate the core business processes like procurement, supply chain, and finances–everything that goes on outside the company.
On the other hand, Customer Relationship Management (CRM) tools are leveraged by organizations to manage the company's interactions with their current and potential customers.
The messy middle is everything in the middle of the ERP and CRM systems. It includes internal processes of the company like HR, admin, product management, and general operations.
What the messy middle needs is a unified operation management system that can streamline all the internal operations, but what most companies have is a confusing and overwhelming number of tools with no true purpose.
The messy middle is often filled with inconsistencies and a lack of uniformity. In the messy middle, employees are left to deal with email threads, aimless meetings, and multiple disparate applications that take more time than they actually save.
There might be small pockets of efficiency and productivity, but overall, the messy middle is full of delays, roadblocks, frustrations, and inefficiencies.
The biggest problem with the messy middle is that it is not one single entity. Instead, multiple functions are managed with dozens of separate applications that are unique to every team and department.
Instead of using one single application or operation management system to manage the entire middle, companies use dozens of disparate applications.
Challenges of not having a strong operation management system
1. Digital transformation
Organizations want to implement the latest technologies to modernize and digitally transform their business processes. But complete digital transformation of a company isn't possible without sorting out issues with the messy middle.
Even if you use the latest ERP and CRM tools, with the operations management part still in a mess, you will eventually end up facing bottlenecks and inefficiencies even after putting out large investments
2. Fragmented parts
When the entire digital environment is fragmented and disjointed, it can eventually lead to inefficient processes and decreased productivity. Moreover, it also makes it difficult for employees to find relevant data that they need to perform their work activities
3. Excessive costs
Using too many applications with overlapping functionalities in the messy middle will only lead to high licensing costs and more problems. Maintaining multiple applications and training all employees to use them correctly can also lead to wasted time and effort.
4. Employee experience
The messy middle is where employees spend most of their time working. If organizations are not able to provide employees with the right tools and positive work experience, then even performing the simplest tasks can become confusing, overwhelming, and time consuming for the employees.
The verdict here is clear. Failing to address the issues and challenges related to the messy middle can be incredibly costly for companies.
A digital workplace can fix the messy middle
A digital workplace like Kissflow can help replace all the excessive applications in the messy middle with a unified platform. As an operations management system, it allows businesses to streamline their HR, admin, product, cases, and other processes.
Instead of toggling between multiple applications with overlapping functionalities, employees get access to a complete set of digital tools they can use to manage and execute their everyday work effectively. By integrating all the business applications closely together, a digital workplace allows employees to communicate and collaborate closely for better results.
With a digital workplace, you are able to:
Digitize business processes and transform them into streamlined workflows
Automate repetitive parts of processes
Manage and track projects to ensure all the deadlines are being met
Improve

collaboration

with dedicated communication channels
Addressing the messy middle is now more important than ever
Resolving the messy middle challenges is essential for organizations that want to successfully implement digital transformation and actually reap benefits from it. While it can be challenging and it definitely can't be done overnight, it isn't impossible.
You can start by understanding the main issues with the messy middle in your organization and then integrate a digital workplace platform to help resolve those issues and make work more seamless for the employees.