Whether you are choosing collaboration tools for your entire company, or just a team in an established organization, the decision is always overwhelming. Establishing your goals and choosing the tools you need are the right place to start.
Collaboration needs are ever-present and every day that goes by without something in place to capture conversations is another trip to the land of chaos.
But what if you aren't ready to invest a lot of money into an online collaboration tool? Are there good free options out there that will still work?
You may be looking for a free collaboration tool because your needs are very minimal, but that doesn't mean you have to settle for something clunky and ineffective. In fact, a free tool is like a free trial with no time limit. You get to stretch the tool and use it extensively in all situations before you decide to invest in them.
Free online collaboration tools will have limitations, but if you set realistic expectations that cover your basic necessities, you can find an option you can stick with for a long time while also having the option to scale more in the future.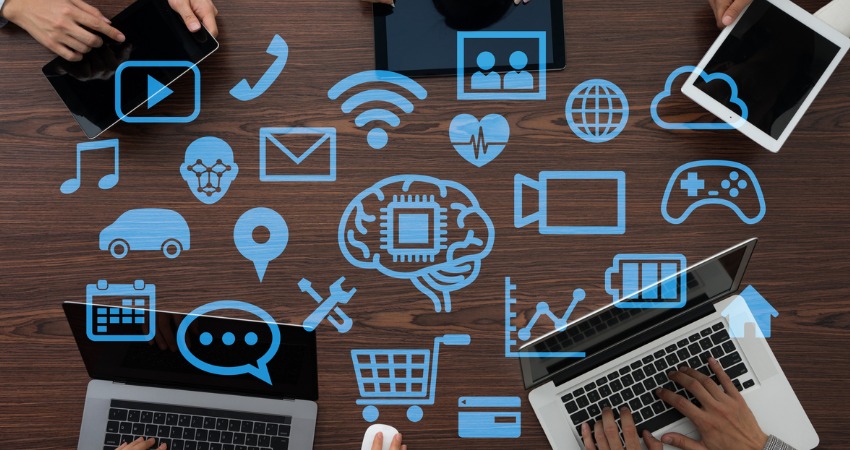 Expectations from a free tool
Even though free tools have limited functionality, here are some modest expectations to have from a free online collaboration tool.
1. Mobile accessibility
Teams now expect to be able to connect from anywhere and on any device. You should have the ability to converse with your teams anytime since there is a lot of discussion happening all the time. A collaboration tool that isn't mobile isn't useful.
2. File sharing
The tool should support sharing of all file types like docs, spreadsheets, video, and audio. A drag-and-drop feature is very handy here. But some tools have file size limitations that are useless for practical purposes. When files bounce between people throughout the workplace, get the most space you can.
3. Channels/groups
Even on small teams, you want the ability to quickly create a new group for a separate project. Having different channels to keep discussions organized according to the nature of work comes handy in many situations. When trying to find past conversations, you shouldn't have to struggle with a long scroll of messages that jump in and out of context.
4. Single sign-on
Most vendors don't give an SSO feature in their free version, but having one will reap benefits such as increased security and convenient usage. Choosing a free tool that doesn't offer SSO might create problems later on if the tool needs to be governed by the IT team.
5. User groups
Standard user groups make it easy to tag teams quickly through @mentions in conversations. It can recreate social media nuances and bring in a sense of familiarity.
6. Social media-style sharing
Your team has been conditioned on how to share thoughts and ideas through consumer-based social media platforms. They will be most comfortable if your tool at the office provides the same level of ease and lets them post things, react, and discuss.
7. Fewer distractions
Once you introduce a collaboration tool, there's a tendency to start overcommunicating. Notification settings that go beyond just ON and OFF can help reduce distractions and keep your team informed at the same time. People should be able to choose the types of discussions they want to be notified of.
8. Smooth user experience
When adapting to a new tool, you are also adapting to a new way of work. Navigating through your tool should be simple and intuitive. You shouldn't need to spend time on documentation and guides for a collaboration tool.
9. Scalability
Here, you need to think about the future. What happens if you add 100 users to the system? 1,000? Will you be able to connect your other tools later on? Does it seem like this collaboration tool will scale with the future as chatbots and other AI tools become more commonplace?
10. Ease of finding conversations
Emails and text messages are very confusing when there are multiple conversations happening at the same time. The threads are confusing to untangle and read. Your collaboration software should make it easy to find not only channels or users but also specific conversations you've had.
The best free online collaboration tools
Here are some free options for you to consider.
Microsoft Teams
Teams integrates seamlessly with Microsoft products. If you have already invested in a lot of Microsoft apps, and you're not ready to consider other options, Teams is the way to go. However, if you are just using teams on its own, it can get expensive if you try to expand later on. The free version of Teams does not offer SSO and user/admin settings. It offers all basic functions like chat and video calls, but the nightmare starts when trying to find a specific conversation. Too many silos make it hard to navigate.
Workplace by Facebook
Workplace has all the basic necessities for an online collaboration tool–chat, video, social networking. Teams adapt to the tool instantly since they are familiar with Facebook's popular social media interface. However, third-party app integrations are not stable enough, making scaling difficult. The inability to control notification settings extensively may toss your team's productivity out the window.
Kissflow
Kissflow Collaboration is a channel-based online collaboration tool that puts collaboration in the context of work. Rather than host your collaboration elsewhere, you can have it right next to all of your core processes and projects. You can create user groups independent from channels and tag them with @mentions. SSO is available in the free plan, unlike other tools. However, built-in APIs are not readily available yet. So you have to manually integrate third-party apps.
Choose the best framework right at the beginning
Take a future-centric approach when choosing an online collaboration tool. When your teams eventually expand to take on bigger challenges, you have to hook in more functionality anyway. Turning to a different tool at a crucial point will take a toll on your team's output. They need to adapt to different methods of working around the new tool and tackle unforeseen challenges.
Having the right collaboration tool in your arsenal lets you focus on work without being tempted to take a peek at other tools. Even if your projects change courses in the future, collaboration tools are a permanent part of your teams. Choose one that fits your needs now and lets you grow!