Building applications is often perceived to be a lengthy process. Traditionally, app development may take months to create effective business solutions from the ground up. The planning, design, development, testing, and deployment stages are delicate and there's little room for error. This is because app development methodologies are based on pre-established phases and the flow of development is unidirectional.
Needless to say, traditional app development is not only ineffective but presents a lot of aspects that further delay the process. And this is why companies need to think carefully about the technologies and frameworks they choose to strengthen their app-building process.
Table of Contents
Benefits of application development technologies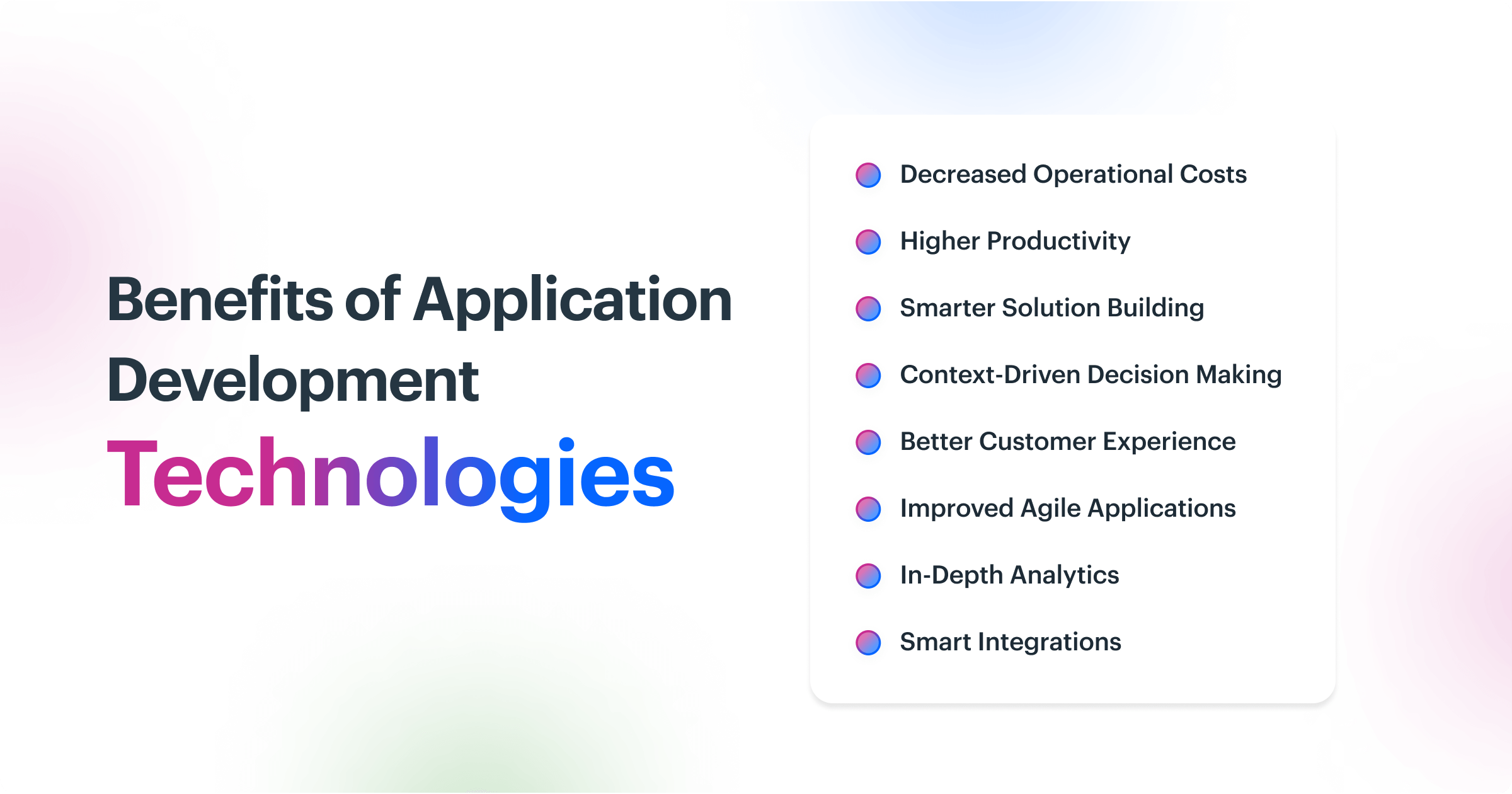 App development technologies and frameworks come with a host of advantages. Here are a few of them:
Decreased operational costs
Higher productivity
Smarter solution building
Context-driven decision making
Better customer experience
Improved agile applications
In-depth analytics
Smart integrations
How to choose the best app development technology?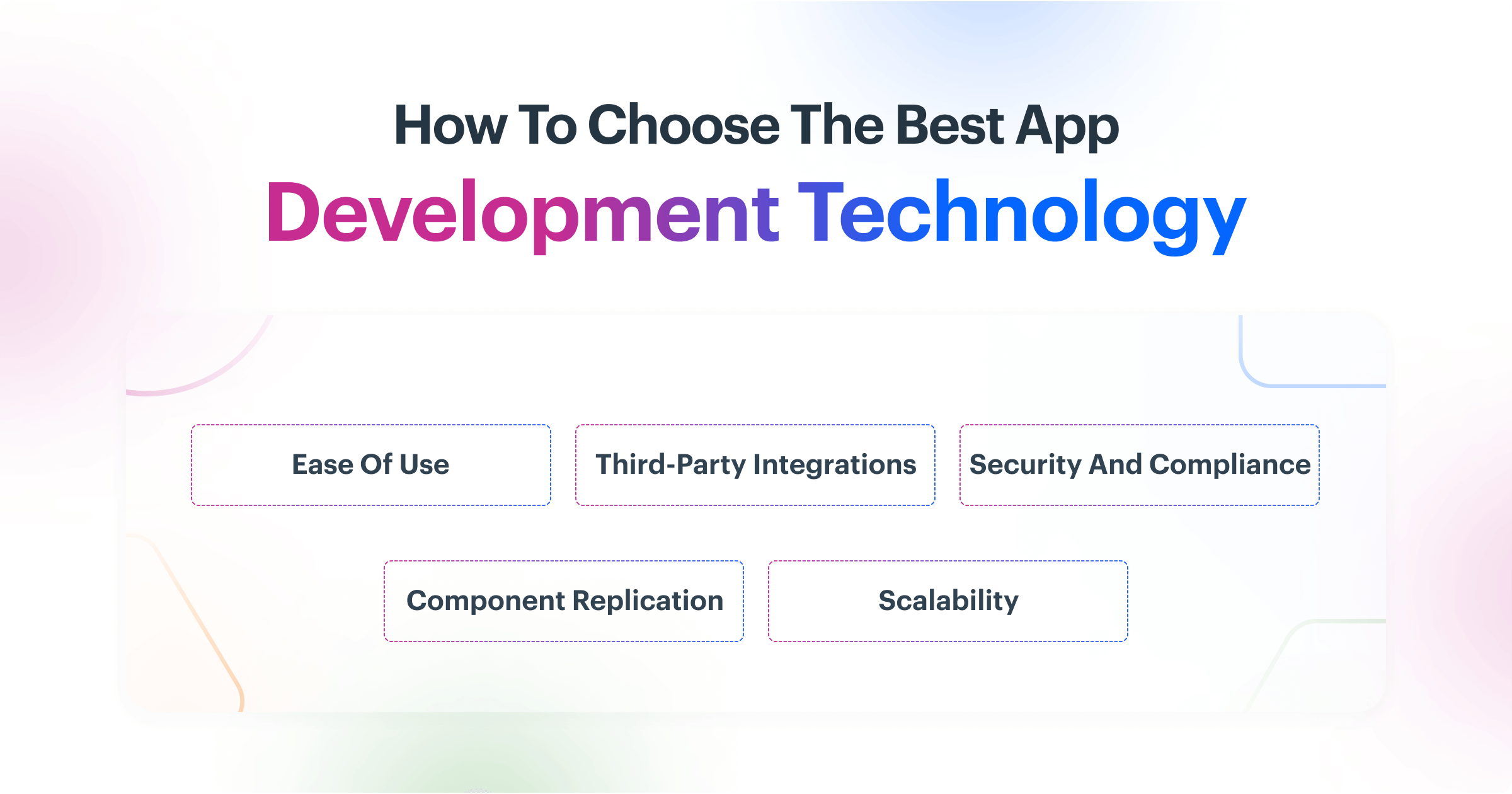 Choosing an application development technology and framework isn't hard. Following are some of the points to choosing it.
1. Ease of use
A good app development platform should have an easy-to-use interface that allows even novice users the ability to build their apps. A low-code app development platform is ideal for users looking to build apps without having to rely heavily on coding expertise.
Learn more: How to develop an application in 2023
2. Third-party integrations
Traditionally, data is left isolated in silos. An effective app development system should be able to help you connect the apps and business processes with ease. This ensures greater cohesion and data efficiency across business processes.
3. Security and Compliance
In today's complex business environment, it's vital to have processes modeled in accordance with industry compliance. When choosing a technology for your business, it's important to ensure a high standard of security, policy, and compliance.
Learn more: Everything about application development security
4. Component replication
It's not enough to enable better results, it's also necessary for businesses to be able to replicate processes. A great app development platform enables processes to be replicated with ease to ensure time is saved in scenarios that call for it.
5. Scalability
Every organization grows at different rates. While it's important to deliver great functionality, it's equally important to choose a solution that grows with the organization—whether that means accommodating needs or adding new users.
Learn more: Digital application development
Top app development technologies to look out for in 2023
While the traditional app development method works, projects are often complex, expensive, and get delayed due to factors such as coding errors, testing challenges, and infrastructure delays. Furthermore, apps built with the traditional approach require a continuous maintenance cycle by developers to keep them secure and up-to-date. That's where new technology in application development comes in.
The top app development technologies in 2023 are
Low Code
Low-code allows pro developers and non-developers to quickly build applications by doing away with the need to write code line by line. Small-business owners, business analysts, office administrators, and other non-IT professionals can build and test applications.
No Code
No-code application development allows non-programmers to build apps through graphical user interfaces and configuration without writing code. No-code significantly reduces the need to write code and increases the speed at which applications are built and deployed.
Both app development technologies enable rapid application development and help businesses achieve their goals with the resources they have, however, limited. They bridge the gap between IT and business units. Non-IT professionals can quickly solve the issues that impact their departments and boost productivity. They don't have to wait for developers.
Learn more: App development for startups
Which app development technology is right for you?
Low-code and no-code, the latest app development technologies, have seen an impact across industries. They help organizations cut app development costs, boost productivity, and streamline operations.
A low-code/no-code platform like Kissflow helps you resolve specific business problems by democratizing development, streamlining operations, and enabling citizen development. Learn how you can build smarter, more intuitive apps with ease.
Low-code and no-code are here to stay
Organizations are quickly realizing the opportunities low-code and no-code platforms have on offer. These approaches also enable complete IT governance over data, systems, and functionality. When IT application development and business teams work together, the result is rapid application development and faster achievement of goals.
Low-code and no-code tools have a shorter learning curve and are cheaper, faster, and more efficient than traditional development methods.
More Resources: