Low Code
Why Open Source No-code Platforms Should Not Be Your Choice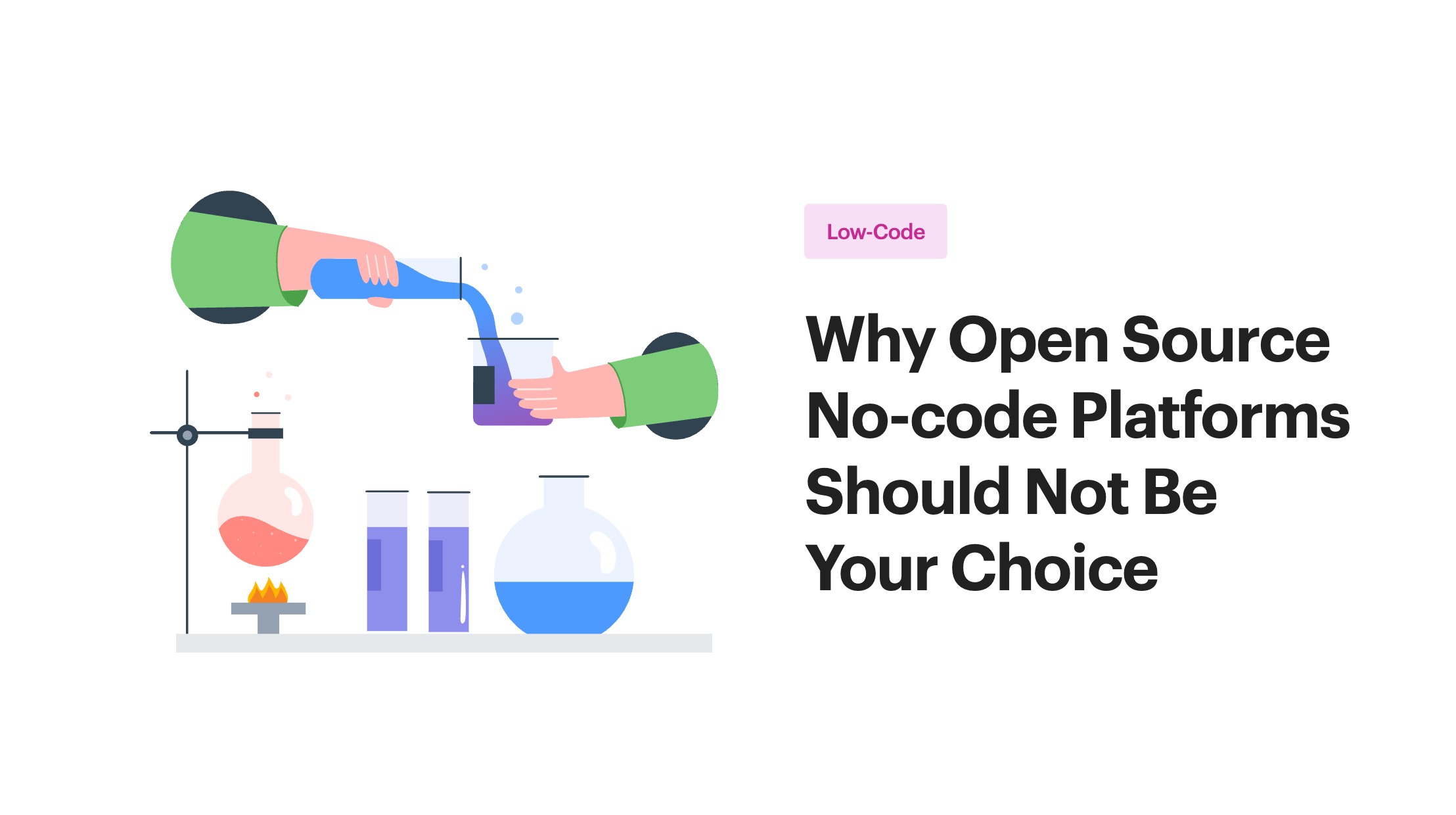 Using an open-source no-code platform has its advantages. They're free to use, easily customizable, and have a lot of people investing efforts into improving the source code. But they also with some limitations.
When you're looking to choose a no-code platform for your business, you have the option of choosing between an open-source tool and a closed-source or proprietary alternative. Going for the open-source option can pose many challenges. Let's examine why open-source no-code platforms should not be your choice and why you should choose proprietary software instead.
Why open-source no-code platforms should not be your business choice
1. Security
The top concern with open-source no-code platforms is the risk of vulnerabilities. Open-source platforms feature freely-editable sources available for anyone to inspect and modify. The implication is that people with malicious intent can also see this code.
The implication is a heightened risk of the deliberate creation of viruses to infect hardware or software, steal data, or commit fraud. Security breaches of this sort are less likely with proprietary platforms since there are more stringent protocols to keep the platform secure.
2. Integration
Integration problems with no-code platforms can take different forms. Open-source no-code platforms depend on the integration of several third-party components to work optimally. The resulting complexity can be challenging to manage.
But for open-source projects, the opposite of this situation arises. Many open-source platforms do not have the standardized protocols needed to connect with the business tools you're already using. Proprietary software is often designed with integration in mind and can integrate seamlessly with other software products with relative ease.
3. Support:
Reliable support from whatever platform you sign up on is a must-have. This way, you can always contact the vendor if anything goes wrong. With an open-source platform, no one takes responsibility for support. This means if anything goes wrong, there's no one specifically to call for help. Many open-source products have an active community of developers that may offer support when you need it, but this isn't always as robust as what you get from a proprietary tool.
4. Usability
Many open-source platforms prioritize functionality over ease of use. While they may work as intended, they're not very user-friendly and there's no incentive to make the platform easier to navigate for users.
With closed-source platforms, usability is always a priority. The company behind the company includes user-friendly features and an intuitive interface that is simpler for users at all skill levels.
What are the alternatives of open source no-code platforms?
Kissflow is a perfect example of a closed-source no-code platform. It has higher benefits compared to the open-source no-code platform in many areas. As an alternative to an open-source platform, Kissflow is a secure, highly flexible, and highly intuitive platform. This proprietary software solution prioritizes ease of use. But more importantly, it offers 24/7 support to help users troubleshoot issues and navigate the platform seamlessly.
Since this is not an open-source platform, no one but the vendor can make changes to the code, add features or upgrade it. It offers enterprise-level security and the latest encryption to secure the platform from hacking and other cyber attacks.
Unlike open-source platforms, closed-sourced solutions are built for profit. This provides an incentive for frequent updates and feature upgrades to keep up with industry standards, ensure customer satisfaction and compete effectively with other no-code.
Benefits of using a closed no-code platform
no-code development platforms simplify app development by allowing users to build fully-functional enterprise applications without writing a line of code. While there are several open-source and proprietary solutions for building apps with no coding, Kissflow is a best-in-class option for several reasons.
Some of the features and benefits of this proprietary no-code platform over both open-source and closed-source alternatives include:
1. Unified development toolkit
Accelerate the process of building and deploying enterprise-grade apps by using a solution that streamlines and centralizes app development. Kissflow offers everything you need to manage your development lifecycle from start to finish but without the hassles of writing custom code from scratch. Kissflow also simplifies app development, allowing you to modify your apps and release new builds without stress, all from the same place.
2. Build with no limit
Build, test, and launch unlimited applications for different use cases using Kissflow. Businesses across various industries will find Kissflow useful for their unique development and business process management needs.
3. Simplicity
Kissflow helps you build functional apps on the go with a simple drag-and-drop editor. You can also expand app functionality, and update and upgrade your app on the go. It is handy when you want to focus more on performing your best work rather than wrestling with complex lines of code.
4. Extensive integrations
Kissflow helps you build apps with widgets, advanced forms, and powerful workflows. Additionally, the platform supports integrations with multiple platforms to further extend the core functionality of your no-code app.
5. Insights and analytics
You can build real-life apps with Kissflow and keep track of your app through a robust reporting and data-management feature and advanced data visualization and analytics.
Kissflow - A trusted No-code platform
Kissflow is just as feature-rich as any open-source tool and is free from all the downsides of using a community-based platform to build apps for your business. Signup for a free trial to see Kissflow in action.