Accounting and financial process management are arguably two of the toughest professional areas in terms of job pressure and work-related stress. Keeping up with the ever-flowing stream of data and numbers leaves even the best accountants tired and dreary. Why?
Because managing the daily flow of expenses across an organization requires a lot of know-how, mental ability, pressure-handling capabilities, and commitment to 13- or 14-hour days on a regular basis.
Bookkeeping and other financial responsibilities today involve much more than complicated math; accountants need to stay on top of changing international financial standards, floating exchange rates, multiple spreadsheets controlled by multiple stakeholders, as well as strategic executive decisions that need to be made instantly.
Cloud financial management is the answer, and organizations across the world are realizing the need to automate financial process management.
What is finance automation?
Finance process automation is the use of software to automate key finance-related tasks like accounts reconciliation, journal entries, and preparing financial statements with minimal human intervention. It enables finance departments to streamline processes and ensure that everything runs as smoothly as possible.
Finance process automation can have multiple effects.
Financial forms can be pre-populated with standard information pulled from a common database like a vendor list.
Data transfers and other mundane work can be set up with system integrations.
Finance business processes

can be routed automatically instead of being reliant on someone remembering the next person it is supposed to go to.
Finance automation helps free up finance department executives to make key strategic decisions that require human experience, intuition, and decision-making abilities.
Finance process improvements

have been known to improve accuracy. Considering that two-thirds of 751 accounting professionals (according to this survey) rely on error-prone spreadsheets, it's time to automate financial processes.
How does finance automation help you?
Finance process mapping eliminates clunky procedures and does most of the heavy-lifting for you.
Here are a few benefits that finance process automation brings:
1. Data Integrity
You may have an awesome finance team in place, but they are reliant on a lot of things beyond their control. Minor mistakes, difficult suppliers, and changing policies make it hard to maintain accurate information. When your data in forms is automated, you can be confident there are no manual errors and you have the correct numbers.
2. Improved Efficiency
Moving from manual processes to automation can help the finance team to smoothen all existing functions. Anything that slows you down is replaced by a reliable and automatic process.
3. Speedy Approvals
Whether it's a budget approval or a reimbursement claim, having an automatic approval system set up will help you save as much as eight hours a work week. As an added advantage, you can also eliminate unwieldy email threads checking on the status of every request.
4. 360-Degree Visibility
When all your systems are connected, you get a complete picture of your financials. You can understand the logic behind your fluctuating financials which will help you make faster and smarter business decisions.

How to automate your financial processes
There is a list of finance processes in your organization that can be automated. Before you switch to finance process automation, there are a few things you need to take care of:
1. Standardize Your Financial Processes
Before you look at automating your processes on a digital platform, sketch out the workflow and form on a whiteboard. You'll be able to see where you need to make changes and streamline tasks. It's also important to talk to stakeholders to get their perspective on what needs to change to make the process better.
Once you've outlined what your process needs, you can evaluate finance management tools that will help you create a digital version of the finance processes you want to automate.
2. Create a Digital Form and Workflow
Build the perfect form to capture all the important information you need. You can customize it to make it even more useful for your team. Then, create the finance workflow, keeping in mind conditional tasks, sequencing, and how to dynamically assign people to different tasks.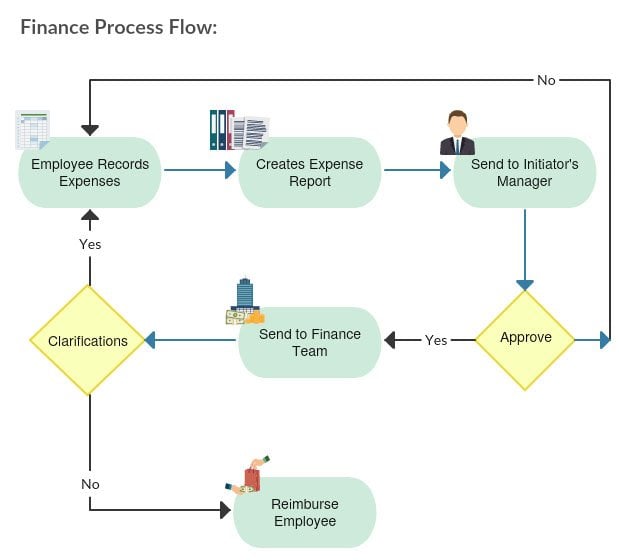 3. Integrate With Other Software
Once you've automated the different financial processes, you need to ensure that your systems are communicating and sharing information with each other. Select tools that can be easily integrated; sometimes a third-party application, like Zapier, can help you with connecting these different tools.
Why the traditional approach isn't working
Outside of automation in finance, operations are usually run following the R2R model, a process that covers tasks from Record to Report. With traditional accounting systems, tasks like balance sheets are a pain to execute to perfection. Each line represents hundreds or thousands of transactions, which are recorded manually on spreadsheets by harried executives.
What's more, the bulk of this gets done towards the end of each month, making it a massive workload with very, very tight deadlines.
The end results are prone to the sloppiness of manual error, misfiled reports, and calculations going haywire because someone made a basic mistake on the monthly expenses spreadsheet.
So, what is the role of automation in Finance and Accounting?
Finance automation doesn't mean having to hire robots in place of accountancy graduates! This exaggerated example is actually a big misconception that finance automation is somehow a threat to jobs. In fact, automation serves as an auxiliary solution, helping bring efficiency and productivity into an existing financial system.
In addition, finance approvals can use a number of insights into decision-making. For example, insurance companies can incorporate details like credit scores and loan history to decide how risky a particular client is, and make automated payout decisions.
There's no denying the major role that will be played by automation in finance. Here's what business experts interviewed by Business Insider have to say:
David Reilly, CTO at Bank of America, believes that finance automation will "change how we insure property, loan money, invest money, deliver technology, write research reports, and what professionals in financial services do every day."
The CEO of online lender MoneyLion predicts that "what was once a sit-down conversation between a client and their personal private banker might now be accessible through a mobile app to broad audiences, 24/7."
Kissflow brings automation to finance. Here's how
According to an EY study, 65 percent of the surveyed businesses believe that automating finance processes will be a significant priority in the future. Options like Kissflow can help you automate your finance processes, with its ready-to-use finance process app templates.
You can use Kissflow Finance & Ops Cloud to implement automation in financial processes like Purchase Orders, Purchase Requisitions, Invoice Approval, Travel Request Approvals, Asset Management (Fixed & Other), and Budget Approvals.
Kissflow is the ideal way to wade into the financial process automation waters and see how effective it can be for you. Signup for a free demo from Kissflow Finance & Ops Cloud and see how much financial chaos you can crush!