As a business owner, you're always looking to improve the efficiency of your processes and the productivity of your teams. When teams are riddled with manual processes, there's a chance neither factor improves; mistakes become an everyday thing, miscommunication becomes commonplace, and never-ending paperwork leads your finance team down a nasty rabbit hole during audits.
It's necessary to have finance process flows in place so that your finance teams can be more efficient and your finance business processes run as smooth as possible.
What is a finance workflow process?
Finance workflow process flows helps businesses streamline tedious and repetitive finance processes like travel requests and purchase requests to increase the productivity and efficiency of the teams involved. It involves defining a sequential path of data input, tasks, and approvals for information to flow without human intervention.
The advantages of having finance process flows
Manual methods like paper forms, spreadsheets, and emails do not take advantage of the predictability of the finance processes. Having a finance process flow in place can help you identify where tasks are hung up and eliminates the need for employees to pass on information manually.
Here are some of the advantages of having a finance process flow:
1. More Transparency
A well-defined finance process flow ensures changes are documented, and that everyone involved in the financial process management stays informed. Information flows automatically to the next person in the flow, and it's easy to identify hung up processes.
2. Increased Compliance
The incidence of fraud among those who submit through an expense management solution is 68 percent less than those who submit manually, according to a Chrome River study. When you define guidelines clearly and communicate that with all employees, there's little chance that they stray from the organization's policies.
3. Improved Efficiency
The overall efficiency of the organization increases because everyone knows what the next step is. Tasks are not stalled or identified promptly when stalled. Employees don't waste time looking for internal information as they know exactly what to do.

How to develop a finance workflow process?
Developing a finance process flow can be a daunting task for most business owners. It helps you organize your finance approvals and makes the process more transparent. Here's what you do:
1. Define Your Goals
Identify and define the goals for implementing any finance process flow. Figure out major roadblocks and find ways to avoid them. In addition, consider the cost of implementing such a workflow.
2. Plan Your Process
Come up with strategies to achieve the goals and have a broad roadmap for the process flow. Identify individuals and their roles in the process flow. Identify the software tools you require to implement the workflow.
Having a flowchart at this stage makes the flow of information clear for everyone involved in the process. For example, a process flow for expense reimbursement could look like this: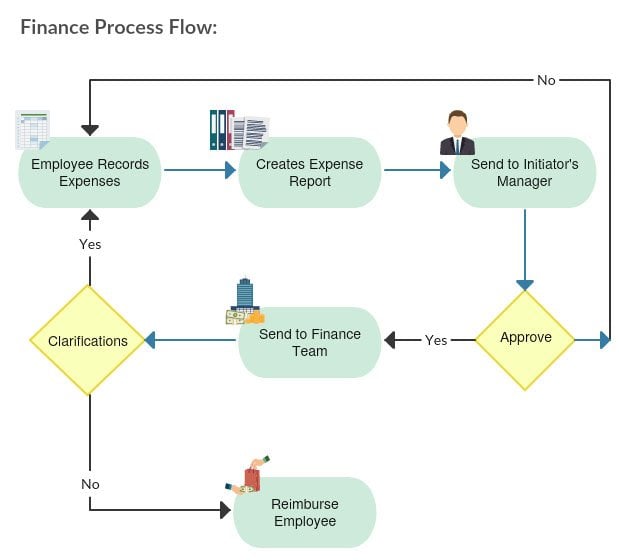 3. Test the Process
Start with a test environment and run the process on a small scale to see how it performs. Measure your results against your goals. Identify the gaps and make adjustments.
4. Implement the Process Flow
Start running the process in a company-wide or team-wide environment. Communicate properly, and train all employees to use these processes.
5. Monitor and Optimize
Review the process flow regularly and analyze the patterns. If the process is able to achieve its goals, replicate this for other finance processes.
Bottom Line: Finance process flows help you grow
Having systematic processes for tedious finance tasks is really important to a growing business. A minor mistake can prove to be costly in finance teams; a missing zero can lead to underpaid or overpaid invoices and it can leave your business reeling from a huge financial blow.
Streamlining finance process flows with Kissflow Finance & Ops Cloud improves your overall efficiency and reduces errors. If you're looking to implement finance process flows, take Kissflow for a whirl. Sign up for a demo and see how it can help you automate all your finance processes and make them a breeze.