Can Workflow Automation Kick Out the Chaos in Your Budget Workflow?
Venkat
December 11th, 2018 • Budget Approval
Creating an effective budget approval is a daunting task. Whether you're running a small business or a department in an enterprise, forecasting your expenses for the coming months is crucial. Budgets rely on expected sales, market conditions, seasonal ups and downs, and take a lot of planning. Without accurate budgets, each department won't know how to reach their goals and targets.
But when you add in an old rusty approval process to an already precarious budget creation, it can turn the whole thing into a sideshow. Unvalidated data and approvals that can drag on for weeks mean that, sometimes, you end up operating without an up-to-date budget which drags the whole organization into turmoil.
Workflow automation can help you not only have more accurate budgets but also make the entire budget approval process faster and more enjoyable for everyone involved.
What is budget workflow?
A budget workflow starts with an estimation of revenue over a specified future period of time. Every department in the organization sets its budget. These are then approved by the finance team. The budget workflow ensures that every department has adequate funds allocated to them for effective functioning.
How to Implement budget approval software in 4 steps
Here are four simple steps to switch to a digital budget approval system using Kissflow
Step 1: Install the budget approval app
Kissflow has a collection of pre-built apps from which you can install the budget approval app. Or, you can easily create your own from scratch with an easy-to-use visual editor.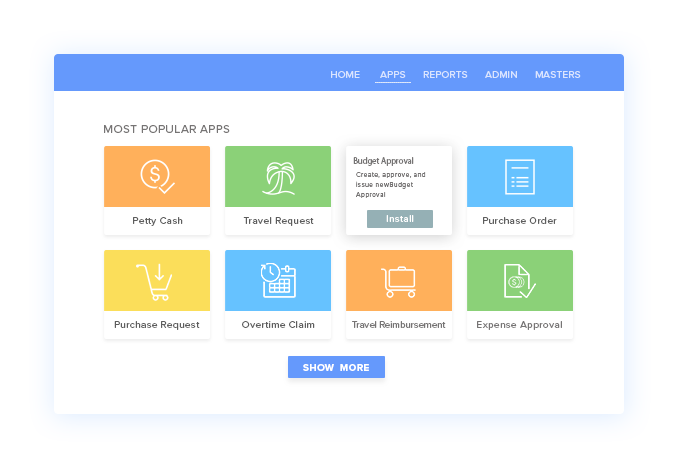 Step 2: Customize the forms
This is where you customize the app to suit your exact needs. Create forms to capture all the necessary details. You can add additional fields, dates, users with drag-and-drop functionalities. There are also options to attach additional documents like proposals, quotes, and more.
You can auto-fetch data from master databases or compute certain fields.
Step 3: Define the workflow
Design the sequential path of tasks and assign the roles and responsibilities of the different individuals in the workflow. Include all the stakeholders, hide sensitive information, and provide role-based access to your team.
Step 4: Track the progress
You can view the status of budget requests and identify bottlenecks in a glance. If your requirements change, you can easily make alterations to the budget approval app to improve the efficiency of your approval process.
Streamlined Budget Approvals with
Create Custom Solutions. No-coding Required
Here are some of the advantages of automating your budget workflow:
More Transparency
A well-defined workflow ensures that everyone involved the budget process knows what the next step is. Reviews and corrections are all documented and everyone stays informed.
Improved Accuracy
When you get data directly from your accounting, payroll, and expense tools to your budgeting software, you can rest assured that there are no manual errors.
Uniform Budgets
Using a workflow automation tool ensures that all the budgets from different department heads have the same readable format, no matter who prepares them.
Faster Approvals
When employees have a clear idea of the organization's policies, they make more accurate and compliant budgets. There's less bouncing back and forth, and approvals get faster.
Flexible Budgets
Quite often than not, budgets are constantly changing according to business conditions. You can't rely on manual processes for a quick re-iteration or what-if scenarios. Automation makes the process more nimble while still keeping the required controls over the workflow and data.
⋙ You're just a click away from creating your own customizable
budget request forms
in just 15 minutes!
Why the future of budget approvals is Automation
As your business grows and branches into multiple departments, budgeting becomes more complex and harder; it becomes difficult to have the desired level of details in your budget.
Using manual processes like spreadsheets and emails only adds to your woes.
A small formula error could botch your whole budget and identifying the mistake is akin to finding a needle in a haystack.
You end up spending more time on maintaining and updating the spreadsheet than analyzing the budget and gaining insights.
Even though a spreadsheet is equipped to track changes and store multiple versions of a document, you can never be sure which version of the budget was given the green light.
You'll never know if changes were made after the approval.
Workflow automation can help you avoid these pitfalls.
Here's a video on how to create budget workflow tool with Kissflow
There are tons of off-the-shelf budgeting tools in the market that can help you create an effective budget workflow. They are easy to use and can take a huge burden off your shoulders.
The only problem with such solutions is that they offer little to no flexibility to meet your exact requirements. A good alternative to these solutions is a workflow automation tool like KiSSFLOW which helps to create a custom budget approval app.
Since KiSSFLOW can be integrated with other popular tools, it's easy for you to connect different systems to consolidate all data.
Automation In. Chaos Out.
Preparing a budget can take a lot of time and resources. There are often lots of people involved in the process and, when you don't have a handle on it, it can get unwieldy. Workflow automation can help you cut through the chaos, plan purchases wisely, and monitor growth.
Budget Approvals are Easy Now with
Create Account in just 15 Minutes