IT leaders are the trailblazers of agility and innovation. They understand the necessity for custom, efficient, and adaptable applications, especially when developer resources are stretched thin.
This is where Rapid Application Development (RAD) steals the spotlight. The magic wand conjures up speedy application development, even when developer bandwidth is a luxury.
But what does RAD look like in the real world? Do we have concrete examples that prove its worth? This blog is designed for CIOs and BTPs; it dives deep into the world of RAD, offering practical insights and showcasing successful RAD implementations. It empowers tech leaders to wield RAD as a strategic tool, ensuring their organizations stay ahead in the digital race.

RAD Refresher
To start, let's quickly revisit the core concepts of RAD.
1. Clearly define the requirements
Anyone working on a RAD project should have an extremely clear vision on what the application should do and what problem it is trying to solve.
2. Rapid prototyping
A real, working application should be constructed within a very short amount of time and changes need to be implemented instantly.
3. Lots of feedback
Stakeholders should give their ideas for improvement continuously and be able to contribute to quick iterations.
4. Testing and deployment
Stakeholder feedback is incorporated and the application is tested extensively before pushing it to a live environment.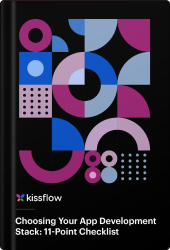 #Free eBook
How to Choose an App Development Platform for Your Enterprise [ Checklist Included ]
What Are Some RAD Examples?
RAD projects examples are easy to show in the context of Kissflow. Here are three process applications you can build quickly using RAD principles.
1. Purchase Order
Collecting data for purchase orders and approving them sounds like a very simple process, but readymade options often complicate it. However, you also want to build them on a platform that gives you more than just basic functionality.
To start this RAD example, gather all the people who know the process best, starting with the procurement team. Bring together current forms and a complete understanding of the workflow. Discuss how you want the app to function. With purchase orders, it's often helpful to also have a vendor database for quick reference to call up information in the form.
Decide what fields should be shown at what steps, and if you want to add some conditional steps that only happen when certain parameters are met.
Then the procurement team can sit alongside someone familiar with Kissflow to build the first prototype. You should be able to have a working form and workflow built within 1-2 hours depending on the complexity of your form and how many databases you want to link it to.
After getting the basic app up and running, it should be shared with those who are going to be using it. Those who are requesting purchase orders may have some additional ideas for how to improve the form or workflow. These changes can be implemented immediately and shown to stakeholders on the spot.
2. Employee Resignation
Another RAD example is handling employee resignation. HR teams have a lot to coordinate when an employee decides to leave the company. This app might seem trickier to build just because there are so many moving parts involved. But you can use the same approach.
HR will be leading the charge on this development. However, they need input from management, payroll, IT, and many others.
Creating the perfect workflow is the key challenge here. As you develop the application, you'll continually think of other people who need to be informed and take action. RAD can play a key role in quickly adding steps to your workflow and testing to make sure that confidential data is hidden from those who don't need to see it.
At some point in the development process, the HR team may also want to handle resignations and terminations in the same application. In traditional development, this means going back to the beginning and building the app from scratch. But if you are using Kissflow and RAD principles, you can quickly go through and create a different workflow for terminations, or make some tasks conditional.
3. Travel Request
The last RAD example we'll look at is Travel Request. This one may be used more broadly by the entire company anytime someone is traveling for official business. Depending on your company, the sales team or the customer accounts team might use it the most. However, it's usually the finance team that is responsible for the application.
The key with travel requests is keeping tight control over adherence to policies. There's usually a lot of chaos surrounding travel. Even if the finance team has set a detailed policy, some departments might find ways around it. That's where building an application in Kissflow with RAD principles can help keep things in order.
The finance team can create a form that displays the written travel policy and validates key data to make sure everything is correct before getting a manager's approval. It's important for the finance team to be able to do a budget and/or cash flow check as well before the travel is arranged.
By using RAD principles, the finance team can quickly create a prototype of the application and get feedback from various departments before going live. With a no-code platform like Kissflow, they can also take responsibility for maintaining the app and make changes along the way.
Finding a RAD-Friendly Platform
The most important thing you can do is select the right platform to build your apps. If you have extremely talented developers, they may be able to build these apps from scratch. But to speed up the development process, you'll likely want to look at low-code options.
If many of your applications are similar, you may even find a great no-code platform. For example, if you primarily need process applications that automate data collection and workflows, you can use a platform like Kissflow to build what you need.
RAD principles translate easily to Kissflow, unlike JAD, because you can build a working prototype in minutes, and the layout is easy enough that your stakeholders can actually participate and drive the development process. With simple drag-and-drop modules, they can build their own forms and workflows without any help from a programmer.
Learn more: How RAD Accelerates Business Transformation
Kissflow Brings Your Applications to Life
Kissflow's low-code platform plays a significant role in RAD. It provides a user-friendly visual approach, allowing users and IT teams to build applications quickly and efficiently.
One of the main features of Kissflow is its low-code capabilities. Users can leverage pre-built, customizable code blocks to construct applications from scratch. This feature enables users to develop and modify enterprise-grade apps without extensive coding knowledge, making the process more accessible and efficient.
Furthermore, Kissflow platform is designed for swift prototyping and feedback during the development and testing, ensuring flexibility and efficiency. This approach keeps the app development process as fast as possible, a key characteristic of RAD methodology.
In addition, Kissflow's platform allows users to automate business processes using RAD principles, enabling the creation of automated apps at a rapid pace, with no coding required in some cases.
Kissflow is an effective tool for organizations looking to implement a RAD framework without lengthy implementation times, making it a perfect fit for businesses aiming for agility and speed in their application development process.