Issue Tracking
Reasons That Make Issue Tracking Software a Must-have Tool for Business Productivity
---
You are Here:
Issue Tracking
>> Why Issue Tracking is a Must Tool for Any Business?
---
In the course of running a business or an organization, you're bound to run into one problem or the other. While it might be impossible to predict what these unexpected roadblocks will be and when they will occur, you must anticipate them and put measures in place to have them mitigated. This is what an issue tracking software helps you do.
Issue tracking has found application across various industries, helping organizations manage issues that arise in daily operations. It is used across different departments, some of the most noteworthy being marketing, finance, human resources, customer success, and facilities management.
In this blog, we take a look at how issue tracking impacts business productivity and some important use cases that make them a must-have tool.
How Issue Tracking Software Impacts Business Productivity
Managing issues is crucial for ensuring business efficiency and customer satisfaction. In addition to being a tool that tracks issues from initiation to resolution, issue tracking software also enables case managers to collaborate more efficiently and keep customers appraised.
The following are some of the ways issue tracking impacts business productivity:
Reduced resolution time
Development and testing teams in medium to large product organizations handle hundreds or even thousands of issues on a daily basis. Handling such large volumes of issues can be quite difficult. The process can be error prone and riddled with bottlenecks that cause delays which can be detrimental to customer relationships. An issue tracking system makes it easier to capture crucial issue information, make smarter decisions, and collaborate more efficiently for quicker issue resolution.
Enhanced visibility
Issues are often reported both internally and externally from different communication channels. When dealing with a high volume of customer issues, there's a high probability of issues getting lost in a crowded mailbox. An issue tracking system provides a single platform to manage all issue tickets. It allows case managers to trace the status of each issue, keep track of who is working on what, and delegate tasks with ease. This encourages team members to work in the open and fosters accountability.
Easier escalations
Resolving issues do not always go according to plan. Sometimes customers are unhappy with the way an issue has been addressed or resolved. And these situations call for the intervention of higher-ups for review, additional action, or response. An issue tracking software makes it easier to identify escalations and assign them to managers as soon as possible. Such queries are duly addressed, leaving no room for dissatisfied customers and negative reviews.
Elimination of manual intervention
As your organization grows, so does the volume of issue tickets. And it becomes increasingly difficult to manage issues in day-to-day processes manually. With an issue tracking system, it becomes easy to automate repetitive issues and allow recurring tasks to follow a predefined workflow pattern without having to step in and manually intervene. Issue tracking systems are easier, more convenient, and more affordable in the long run.
Better NPS scores
For the uninitiated, a Net Promoter Score (NPS) is a feedback question that is used to confirm the likelihood of a customer recommending your business to a friend or colleague. NPS scores are customer satisfaction metrics that hinge on how well an organization is able to deliver services to customers and satisfy their needs.
An issue tracking system helps identify issues early and resolve them without much delay. This makes customers feel like they are being listened to and helps keep them satisfied, directly impacting retention and the probability of getting recommended to other people.
Issue Tracking Software – 5 Use Cases
An issue tracking software is a versatile tool that is valuable for various organizations. The most efficient tools are fully customizable and can be easily adapted to the specific needs and use cases of your organization.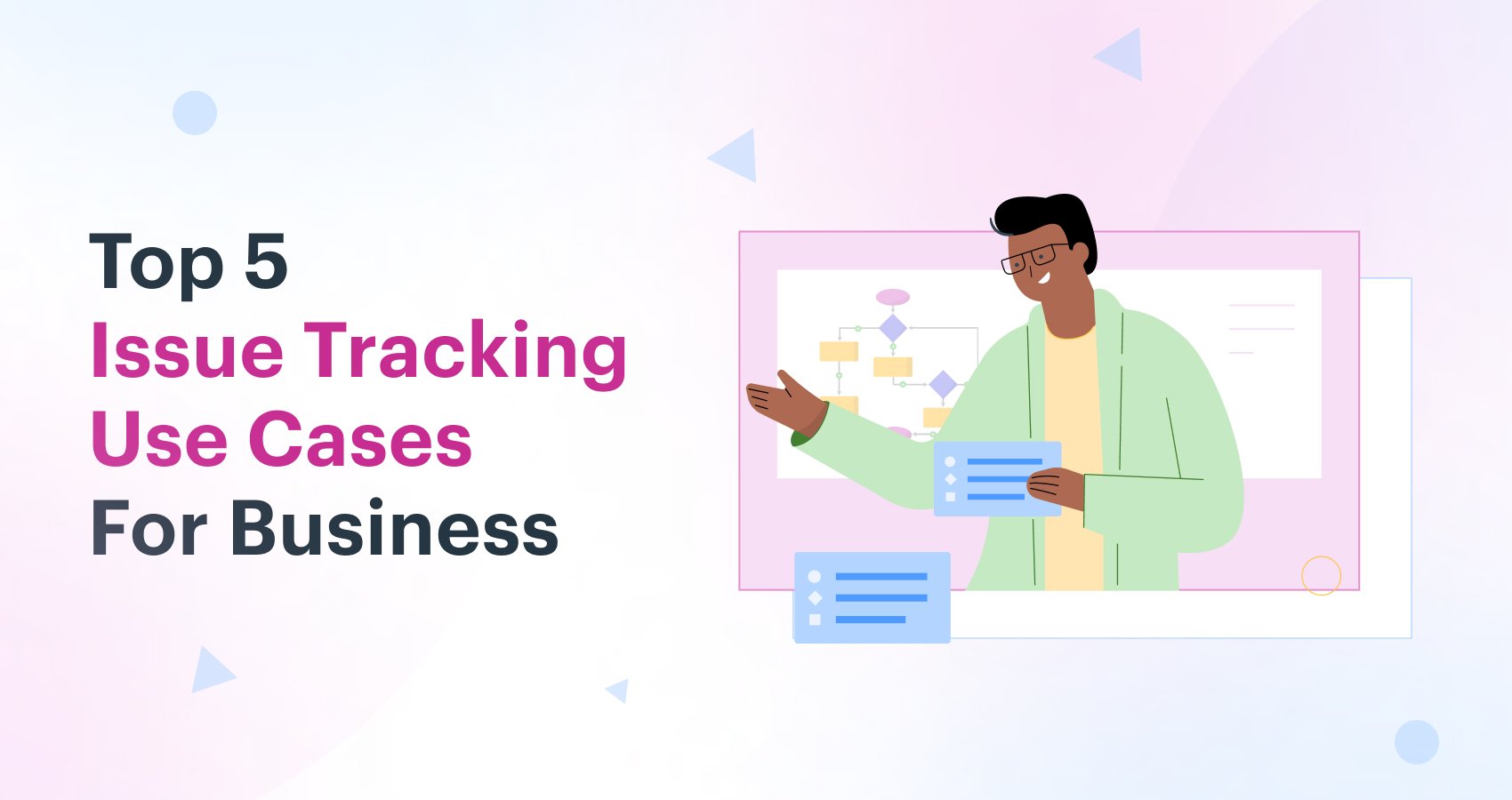 The following are some of the most common issue tracking use cases.
HR incident management
An issue tracking software can be used to manage and streamline the process of dealing with employee incidents in your organization. It has features that allow you to automate complaint and approval processes while helping case managers collect incident information, investigate them and resolve them quickly.
Retail defect tracking
Issue tracking systems have found great use in the retail industry—helping organizations maintain exceptional quality control. An issue tracking software can be used to record product defect reports and manage the corrective actions that are taken to resolve them. They help in ensuring defects are identified quickly so that appropriate teams and individuals can respond promptly to implement issue resolution. The result is better customer satisfaction.
Software issue tracking
Software issue tracking is a key use case. An issue tracking tool enables organizations to manage bugs and software defects reported by internal testing teams and end users. Using a comprehensive platform helps development and testing teams raise bug tickets, categorize issues based on their severity, track them from end-to-end and resolve them quickly.
Website issue management
A website issue management tool makes it easier to report and manage issues reported by internal teams or end customers as they interact with a website. Issues are raised and routed to the web engineering or back end team so they can assess impact, investigate errors, and resolve them as soon as possible. Using an issue management tool for website issues is key in ensuring a seamless website experience.
Patient lifecycle management
Providing timely and efficient service is important in the healthcare industry. Patients rely on the hospital or clinic administration to help them have a smooth experience on their road to recovery. Whether this involves managing outpatient appointments, helping them get the right referral consults, or follow-up treatment, an issue tracking can prove beneficial in ensuring a smooth recovery process and driving satisfaction.
Irrespective of the industry, issue tracking software and tools have a role to play. While there are numerous solutions in the market today, it is important to choose the issue tracking software that best suits your business.
Kissflow Workflow is a highly customizable issue tracking software that makes it easy to track and manage issues from initiation to completion. It is perfect for organizations irrespective of size looking for a cost-effective, feature-rich solution that helps them seamlessly manage their investigative workflows and cases.
What are you waiting for? Discover the smartest, most simple issue tracking solution in the market. Try Kissflow Workflow for free.