What is Issue Tracking Software & What Does it Do?
Software products go through an intensive development process known to every engineer as the product life cycle. This involves creating new features and functionalities that align with the roadmap as well as making small amendments and improvements to existing features to enhance usability, improve efficiency. This process is never straightforward and quite often gives rise to errors or issues that need to be resolved before moving the feature into production. This is where an issue tracking tool comes in handy.
Issue tracking refers to the process of monitoring software defects and problems that arise before or after deployment. Issues could also arise while testing the product early on. This process is essential for building high-quality software that delivers an issue-free experience to users.
What is an Issue?
In software engineering or product development, the term "issue" refers to any problem, complaint, or query that arises during product development or usage. While developers try to address all issues raised during the development stage of a product, some defects may slip through the cracks. They will only start to show up when users interact with the product. Since these issues may negatively impact user experience, it is necessary that a system is put in place for monitoring and resolving issues promptly and efficiently as and when they surface.
What is Issue Tracking Software?
An issue tracking software is a tool that makes it possible to track and resolve issues end-to-end. It provides a centralized platform from which all issues are recorded.
What Does an Issue Tracking System Do?
With a powerful issue tracking software, you should be able to:
Raise issues through a ticketing system
Assess impact of the issue
Route and assign issue tickets to the appropriate teams
Prioritize them based on criticality
Analyze root cause and initiate course of action
Track issues throughout the span of their life cycles
Make smarter contextual decisions and drive timely resolution
Analyze trends and derive actionable insights
Issue Tracking Software Features
A product's user experience is heavily dependent on the ability to track and resolve bugs in as little time as possible. Customers expect fast and effective resolutions that are devoid of issues. This is why using a powerful issue tracking software has become crucial for businesses looking to build impactful, error-free products. But in order to deliver on what is expected, the software needs to provide users with a basic set of features.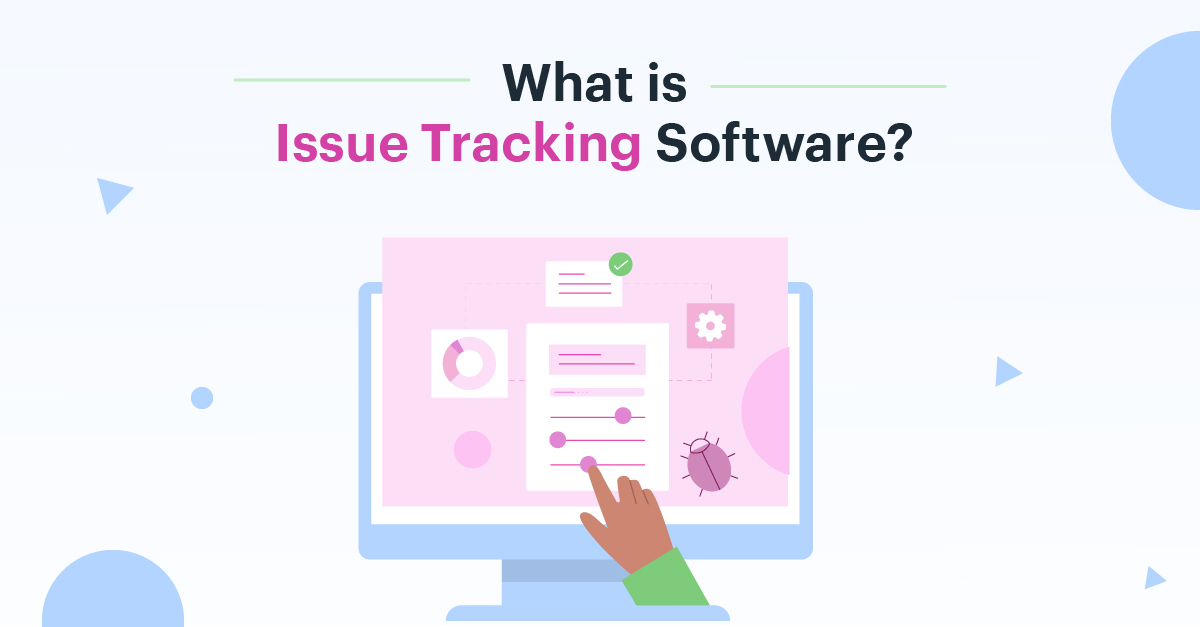 Here are some of the essential features a good issue tracking software should have:
Every issue is unique in the way it presents itself and the way it is handled. A common approach may not always suit the situation. And for this reason, every bug needs a great deal of flexibility to assess impact, determine the best course of action, and drive resolution.
Life cycle tracking
Once issues are raised, it is important to keep track of them from initiation to resolution. This ensures that the necessary information is collected and issue tickets only move on to the next stage when certain actions have been carried out. Moreover, once tickets have been resolved, life cycle tracking makes it easier to notice trends and make process improvements. And so, every issue tracking software should have a board or list view of issues at various stages of their life cycles.
Collaboration
Issue tracking is a collaborative process. The process typically involves push-backs, repeat fixes, testing (and re-testing), and a high degree of coordination. And in order to facilitate such a process, it is important for the tool to be able to rope in team members, leave notes, and collaborate synchronously and asynchronously.
Task routing and resolution
For any process to be successful, it is important for every team member to know and understand their role within the process. Once issues are identified, it is important for the head of product development to assign issues (or steps within the issue flow) to their team members and drive resolution. The ability to route tasks has a definitive impact on how fast the issue is resolved.
Trend analysis
Over a period of time, the data from issue tracking gives rise to trends. Being able to capture these trends, place them within context, and derive actionable insights can be key in making process improvements, understanding performance, and improving the efficiency of the product development and testing teams.
Integrations
Issue tracking is a data-rich process. But data usually exists in silos making it difficult to collate. And so, it makes sense to have an issue tracking software that integrates with other tools. This makes it easier to push requests, import data, and leverage various resources from other enterprise management tools when resolving issues.
Conclusion
Finding the best issue tracking software is not easy. There are many solutions in the market today. Some come with great features but at a higher price point. While some others just don't have the capabilities to help companies scale. This is why Kissflow Workflow stands out.
With Kissflow Workflow, you have access to a comprehensive, feature-rich issue tracking system that is built for performance and elegance. The platform boasts the most sophisticated form builder to ensure no detail goes amiss. You can now manage all your bugs within a central interface, prioritize them based on criticality, and drive resolution in double-time. We'd love to show you how it's done. Experience hassle-free issue tracking with Kissflow Workflow today.